September 18, 2022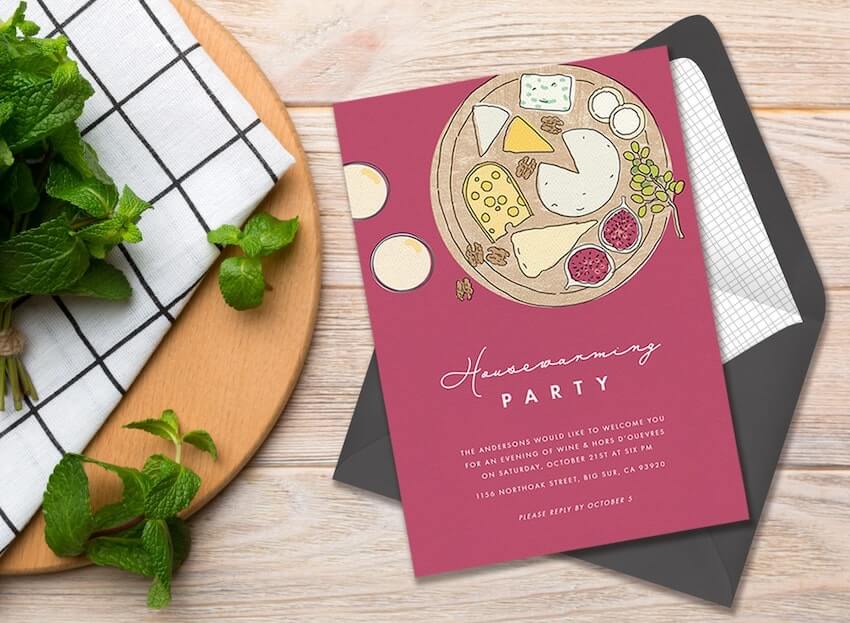 Congratulations! You just got a new home. This calls for a major celebration — get ready to throw the most epic housewarming party your friends and neighbors have ever seen!
Whether you want to host a housewarming party that helps you get settled, one that helps you meet the neighbors, or one that welcomes your close friends and coworkers to your new place, this guide will help you nail down every detail (even if you aren't done nailing pictures into the walls).
Use these 25 housewarming party ideas — from themes and invites to activities and menu items — to celebrate your new place. Here's everything you need to get your party started.

9 Housewarming Party Themes
We love a good party theme. It can make your party planning so much easier — just think up a theme and everything from your invites to your decorations will come naturally — and it can make the whole event feel more festive. For a housewarming party, these nine themes are fun, festive, and fitting for the occasion.
Empty house party:

If you have a couple of weeks between your closing and your move-in date, celebrate with an empty

house party

. You can bust out your favorite

playlist

and use the empty floor space for dancing or games. Bonus: There won't be anything in the house, so nothing will get broken if your guests forget their

housewarming party etiquette

.

Unpacking party:

If your friends are willing to work for their food and drinks, ask for help

unpacking

. You can make it a contest with a prize for whoever unpacks the most boxes or whoever comes up with the most innovative organization solution.

Open house:

This is an ideal way to meet the

new neighbors

. With an

open house party

, you'll send out invites or pass out flyers to everyone on your street or block. Schedule your

open house

during a four-hour window and encourage neighbors to drop by for a drink or snack at any point during that time frame.

Trash to treasure:

When you move, you often clear out your stuff in the process. Before you get rid of anything, pile up your no-longer-loved items and see if you can find them a

new home

. Invite your friends to bring items they're planning to get rid of, and encourage everyone to take home anything they want from the donations pile. Everyone will leave with a handpicked

party favor

, and you can donate the remaining items after the party is over.

Stock the bar:

Housewarming parties

often mean

housewarming gifts

. With this theme, you can give your guests a

gift idea

that you actually want. Ask guests to bring a bottle of their favorite alcohol. You supply the mixers, and everyone gets to enjoy their favorite tipple before the night is over.

We've planted our roots:

House plants are a classic

housewarming gift

. Riff off this theme by having a plant party. You can ask guests to bring a house plant for an easy

gift idea

, and you can use your existing collection of plants as your

housewarming party decorations

. Add some

botanical cocktails

to complete the theme.

Break in the backyard BBQ:

If your new

digs

have a backyard, congratulations! You've officially made it. Celebrate one of the most exciting features of your

new house

with a classic backyard

BBQ

.

Home brewed:

If you love craft beer, center your

house warming party

around local brews. Bring in cans or kegs from nearby breweries, have a tasting, and revel in all the delights of your new hometown.

Home sweet home:

This is a sweet theme (pun definitely intended) for

first-time

homeowners. Show everyone how sweet it is to own your own home with a dessert-themed party. Put out

platters

of cookies, brownies, cupcakes, donuts, and all things delicious and dessert-y.
4 Housewarming Party Invitations
These housewarming party invitations are the perfect way to invite guests to your new digs. Every one of these designs is a digital invitation so you can send them out as an email or text message in a matter of minutes. Then, collect RSVPs online so you don't have to track down any of your guests' replies.
1. Classic Home Invitations
Perfect for any housewarming party, this design allows you to add your own photo, showing off your favorite thing about your new home.
2. Full Bar Can't Lose Invitations
This invite lets everyone know exactly what you want for your housewarming gift. Send it out to all your favorite people, then get ready to play mixologist with all your new booze.
3. Sweet Hanging Plant Invitations
Show off all the plant babies that are soon to fill your home with this hand-illustrated housewarming invite. It's a sweet way to welcome guests to your new home and a subtle way to inspire a few gift ideas.
4. Cheeseboard Dream Invitations
Everyone will want to RSVP "Yes!" to your housewarming party when they see this cheeseboard invitation. (Who can say no to cheese?!) Add your new address and email this invite out to your guest list.
5 Housewarming Party Games and Activities
Add a little lively conversation to your housewarming party with some organized party games and activities. Here are five ideas that will feel extra homey.
Sign the guest book:

Not so much a game as it is a sweet (or silly, depending on your friends) activity. Pass around a

guest book

, and have all of the first visitors to your home sign their names and leave a message. By the end of the day, you'll have a heartwarming keepsake.

Go on a scavenger hunt:

Your

new space

has all sorts of nooks and crannies. Use them to hide items for a

scavenger

hunt, and make exploring the house one of the activities of the day. You can offer a prize to the team that finishes the hunt first, or you can turn each item on the list into a

party favor

— whoever finds it first gets to keep it.

Play eye spy:

Hand out a list of "eye spy" items for each room in your house. Then as you give a

tour of your new home

, guests can guess the answer to each clue. Whoever has the most right answers gets the glory (or the prize — whatever you're handing out that day).

Find the key:

You just got the keys to your home. Now it's time for guests to find the keys to their own kingdom — or at least their own prize box. Have one or more locked boxes with prizes inside. Lay out a pile with dozens of keys and have guests compete to test out each key and find the right one. Whoever manages to open the box gets to keep whatever is inside.

Help with home decor:

You can use this game as a conversation starter, or you can have guests break off into teams and get crafty. Ask guests how you should decorate your

living room

, or lay out some

home decor

magazines, give every team a poster board, and have them create an interior design mood board. Then, let the group vote on the most creative idea.
7 Housewarming Party Food and Drink Ideas
Coming up with a menu for your housewarming party can be the hardest part — especially for new homeowners who don't have fully stocked kitchens yet. But even if your kitchen isn't in full working order, you can use these seven ideas to feed your guests.
Favorite family recipes potluck:

A

potluck

is a

stress-free

way to cater your first

house party

. Make it more sentimental by asking guests to help warm up your new kitchen with a cherished family recipe. Then, make room in your oven for anything that needs to be warmed up. If there's anyone who can't cook, they can still help out by bringing

napkins

, paper plates, or plasticware.

Pizza party:

Pizza is a classic moving day food. If your guests helped you get settled in, reward their efforts by ordering pizza. Add wings and salad to your order, and you've got a balanced meal (sort of!).

Finger foods:

You don't have to host a full-on

dinner party

as your first

get-together

. It's much easier to organize an

appetizers

-only menu. Pick up frozen

finger foods

— like pigs in a blanket or mini quiche — from the supermarket, or put together a few

easy finger food recipes

for your guests to snack on all night.

Dessert bar:

For a sweet finish to your evening, organize a dessert bar with every kind of tasty treat. To make the party even more

stress-free

, make dessert your only offering. You can bring in items from a local bakery or whip up some of your favorite recipes. Try a sweets and champagne-themed menu for an extra celebratory evening.

Wine and cheese:

A wine and cheese party is the easiest party you'll ever throw. Ask your guests to bring a favorite bottle of wine, put out a cheese

platter

with crackers, and voilĂ ! Your party is fully catered.

Local brews:

Start supporting local businesses, beginning with the breweries. Bring in craft beer from your new neighborhood and have a beer tasting.

Batched cocktails:

If you prefer something a little harder (in terms of the alcohol content, not the prep work), make some big-batch cocktails so you don't have to do any mixing on the day of the event. A pitcher of

sangria

or

margaritas

can please any crowd.
We're Just Getting Warmed Up
At Greenvelope, we love planning parties, and we have even more housewarming party ideas for you. Plus, you can explore our online housewarming party invitations to find inspiration anytime.
We hope you found the perfect idea for your housewarming party. You can break in your space by adding to your plant collection, stocking your bar, or enjoying a classic backyard BBQ. It's your home — do it your way. This will just be the first of many happy memories you make in your new space.