March 28, 2021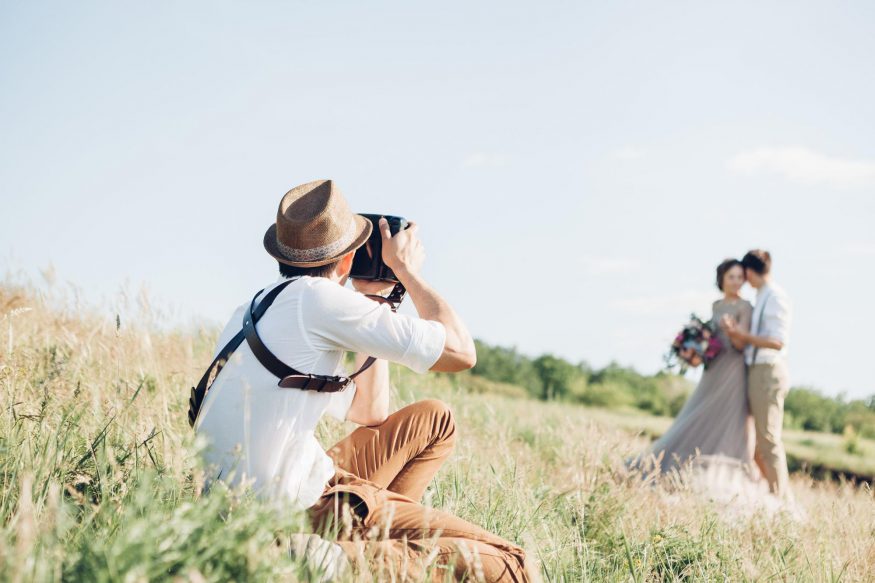 It's time to sit down and start planning out your wedding details. Booking a meeting with a wedding photographer is one of those exciting early moments that helps you bring your dream day together. 
Most couples only meet with a handful of wedding photographers before finding the perfect one. To help you navigate the process and find your own gem, here's our list of questions to ask wedding photographers. 

The Basics
It's useful to know details about photo retouching and shot lists, but before that happens, there's a couple of key things you'll want to confirm. 
Are You Available on Our Planned Wedding Date?
First of all, if you've already fallen in love with your photographer's work, you'll want to check their availability. If they're already booked on your day, it may be back to square one — or you could look at an alternative wedding date if yours isn't set.
When Do We Need to Book to Secure You for Our Big Day?
If they're popular, photographers will have a long lead time. Ask your photographer when you need to secure their services by. In some cases, it might be a year or more in advance. 
Photographer's Style and History
No two photographers are alike, and each has their own style, portfolio of work, and flair that they can bring to your celebration. Discover more about your photographer with these questions. 
What Type of Weddings Do You Photograph? 
Every photographer has their specialty, and it's a good idea to understand your photographer's preferred type of wedding. Ask whether they typically photograph traditional or modern weddings, or whether they specialize in destination weddings or elopements if that's your plan. 
What's Your Photography Style?
This is a great way to get a feel for the style of photography your chosen expert enjoys and how your wedding gallery might look. Of course, you can usually understand this by browsing their past work, but hearing it straight from the photographer is a lovely way to get to know them. 
How Long Have You Been Shooting Weddings?
Some couples are happy to take a chance with a fresh new photographer, but others will want someone with years of specific experience. Ask your photographer a little about their work history — it should help you make a decision about which direction you want to go in. 
How Do You Capture Candid Moments? 
We all love those gorgeously candid snaps of moments like a couple's first dance or the laughter between friends. Ask your photographer how they capture these memories on film, and what their approach is to snapping moments, expressions, and candid fun. 
Working Together
You're going to be working closely with your professional wedding photographer. Here's how to suss out how they work before you trust them to capture this huge life moment. 
Do You Offer Engagement Sessions? 
An engagement photoshoot is a lovely way to kick off this amazing journey together. If you're researching wedding photographers early enough, ask if you can book them for an engagement photo session too — and use the photos for your digital invitations or save the dates. 
Are You Available to Shoot Our Rehearsal Dinner?
Your rehearsal dinner is usually the evening before your wedding day when you gather your close family members together. Sometimes, it'll be the first time everyone meets — other times your guests are old friends. See if your photographer is available to capture moments from this special evening. 
Do You Have a Second Photographer? 
Shooting a wedding is a big responsibility that comes with a lot of ground to cover. For this reason, many wedding photographers work with a second photographer or associate photographer — known as a second shooter. The second shooter is usually there to snap candid moments around your wedding venue or set up alternative angles for big moments. 
Do We Need to Put Together a Shot List? 
You might have heard of a shot list when researching wedding photography. It's a list of images you'd like captured, and it acts as a sort of to-do list for your photographer. Many experienced wedding photographers don't need one, but yours may ask if there are any specific shots from your wedding day timeline you'd like — or they'll ask for a list of names to make sure they get your family group photos correct. 
Can You Recommend a Videographer?
Most wedding photographers specialize in capturing still images only. If you'd like a videographer too, ask your photographer if they can recommend someone. Often wedding vendors are a tight-knit circle, so they may be able to surprise you with someone amazing to film your day. 
Have You Previously Worked With Any of Our Wedding Vendors? 
If you're in a small town, this can be a great way to scope out whether your other vendors come highly recommended by your photographer. And if you haven't started looking for a florist, wedding planner, or caterer yet, they might be able to direct you to someone great. 
Edits and Delivery
The perfect photographs don't just roll out of the camera that way. Expert photographers spend time editing, retouching, and carefully presenting your images. These questions to ask wedding photographers will help you understand how it all works. 
Is Retouching Included or Is It an Add-On? 
Check with your photographer to find out whether they retouch all your photos, only the ones you handpick, or none at all. You can also make special requests here about edits or color grading, and ask whether these are included in your package or would require an additional fee. 
When Will We Receive Our Wedding Photos? 
We know how much you want to see your wedding photos right away, but most photographers put time and love into getting them just right for you. It's common to wait between two and six weeks for your wedding photos, but ask your photographer to confirm their process. If you don't want to wait for the full gallery, maybe they can send you a couple of sneak peeks. 
Can We View the Full Wedding Gallery Online? 
Different photographers have different ways of displaying and sharing photos with you. Some will show you a private gallery and ask you to select a few to share with others, while others may upload all the photos from your celebration for you to view online. 
Are All the Photos High Resolution? 
If your wedding photographer is a pro, all your photos should come out looking gorgeously crisp. Most wedding photo packages feature a set number of photos with others costing extra. If there's a handful more that you'd love to use for social media or your thank you notes only, you may be able to score a lower resolution file at a discount. 
Pricing and Contracts
You've fallen in love with the photographer's work, and now it's time to talk about money and contracts. Here's how to get those must-have answers. 
What's Your Pricing Model? 
Before you sign anything, you'll want to fully understand how pricing works and which packages your photographer can offer. Most wedding photographers offer packages that include on-the-day photography and a set number of professionally edited photos afterward, but some prefer to charge a day rate and a price per photo. 
Is There an Additional Travel Fee?
Many couples choose to book a wedding photographer who's based close by and who they've found through recommendations from friends or others in the business. In those cases, there's likely no travel fee or it may only be a small fee to cover gas. But if you're booking a photographer from across the country — or for a destination wedding — expect to confirm and pay a travel fee. 
What's Your Cancellation Policy?
Nobody expects to cancel their wedding, but sometimes unforeseen events happen — exhibit A: COVID-19. At times like this, it's helpful to understand what your wedding photographer's cancellation policy is or what happens if you need to change your date, wedding venue, or any other details that impact them. 
Do You Have Suitable Liability Insurance? 
You want your wedding photographer to be a real pro who has all their bases covered. Ask your photographer if they're equipped with the right kind and level of professional insurance, just in case things go wrong. It's also a good idea to ask them about what they would do if something unexpected happens to their equipment, so you know they have a backup plan that won't affect your big day. 
All the Best Questions to Ask Wedding Photographers
Head into your photography meetings knowing exactly what to ask with the help of the questions to ask wedding photographers listed above. You'll know the must-have questions and be ready to get a better understanding of your chosen photographer and how they work. With all this information, you'll be in a stronger place to make a decision about your dream wedding photographer.