June 18, 2020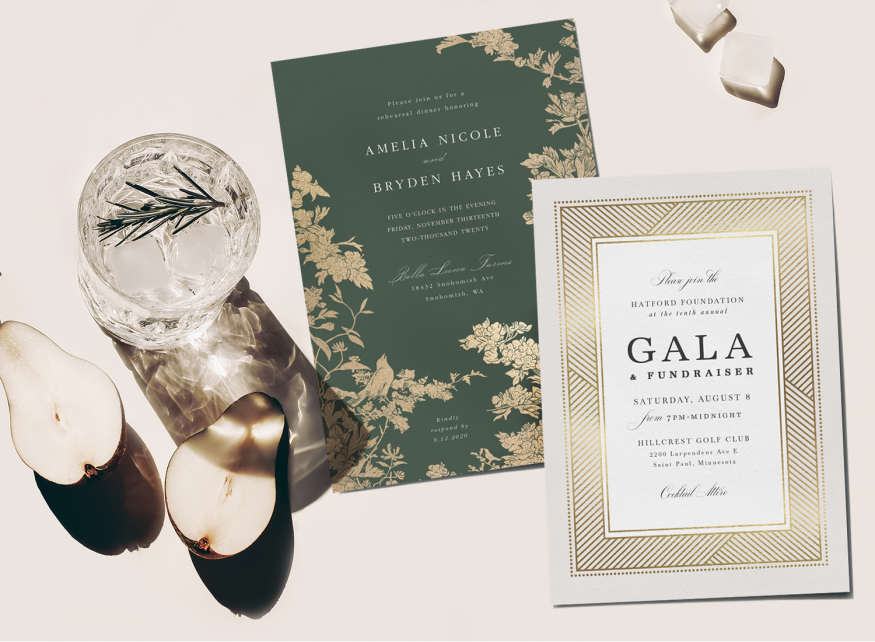 Whether you're hosting a birthday party, bridal shower, graduation party, or another celebration for a milestone, words matter. Using the right word choice in an invitation is a great way to set the tone for your event.
Formal invitations show guests what to expect at your event, but they also guide them on what to wear and who's invited to participate. Using the right words in an invitation imparts an air of elegance and sophistication while setting a high standard for the big day.
So, how do you find the right words to say? Here, we'll show you exactly how to write a formal invitation. From small details like writing out dates and using formal wording, you'll discover everything you need to know to craft a beautiful formal invitation that wows your guests.

How to Write a Formal Invitation
Writing a formal invitation is simple once you know what to include and understand a few key concepts. First and foremost, most formal invites have the information completely written out. That means, for these types of invites, you'll need to ditch the informal abbreviations. Second, formal etiquette involves using proper titles when addressing guests. If you're inviting someone who is a doctor or in the military, you'll want to use their correct titles.
Here's what to include on formal invitations.
Who's Hosting
One of the key components of a formal invite is the host details. This is particularly important if you're writing a formal wedding invitation. The host information reflects who's footing the bill — whether that's you, your parents, or another family member.
It should be immediately obvious who is hosting the event so put the host details at the top of the invitation. Include the full names of the hosts, including their middle names.
Sometimes, more than one family may be hosting the event. This is particularly common for wedding invitations and graduation parties where divorced parents host a joint celebration. In these cases, list both sets of host names. For formal wedding invites, the names of the bride's parents should be listed before the groom's.
In cases where you're hosting the event with the support of your family, you can precede the host names with the phrase "together with their families." Here's an example:
Together with their families
Peter John Smith
And
Anna Louise Thompson
Invite you to their wedding
To reflect the formality of the event, use phrases like "your presence is requested" and "we request the pleasure of your company" rather than "you're invited."
Full Guest Names
Address the invitation using the full names of all invited guests. Don't use nicknames or initials and make sure to double-check the spelling for every guest name. For example, if you're inviting a married couple with the same last name, address the invite to Mr. and Mrs. John Doe. For couples that are not married, write their names on two separate lines making sure to use their full first and last names. For couples that are married but have different last names, put their names on two separate lines using the word "and" to connect them.
If the couple you're inviting includes two professionals or service members, address them like this: Dr. Julia Smith and Colonel Peter Davis, U.S.N.R. For military members, always make sure to include the agency they work for after their name and title.
Make sure to include all the invitees on the invitation, including all children and plus ones. Formal events typically have a strict guest list so be clear about whether you're inviting the entire family or just the adults.
Date, time, and location of the event
A proper invite should include all the relevant information for the big day, including the date, time, and location. In contrast to casual invites, you would typically write out this information completely on formal invites. That means you would write the date as "Saturday, the seventeenth of August" rather than "Saturday, August 17th".
Addresses would also be written out without using abbreviations. Instead of writing 2345 Sunset Dr., you would write 2345 Sunset Drive.
The time of the event should also be spelled out. The time should be followed by phrases such as "in the morning," "in the afternoon," or "in the evening." Use the term morning for events scheduled between midnight and noon, use the term afternoon for events between noon and six p.m., and use the word evening for events between six p.m. and midnight.
Use the word "o'clock" only if the event is on the hour. When the event is scheduled sometime other than on the hour, hyphenate the time. Here are a few examples of proper wording for the time on a formal invite.
Six o'clock in the evening
Four-thirty in the afternoon
Nine forty-five in the morning
Dress code
Most formal events, including cocktail parties, business events, and weddings, are a time for everyone to get dressed to the nines. If you're hosting a formal event, you probably have a dress code — after all, you don't want people showing up in flip flops and a Hawaiian shirt.
Clearly state the desired attire on your formal invitation. State whether the event is a white tie affair — requiring a floor-length dress or full suit — or black tie where guests can wear fancy cocktail dresses or tuxedos. For formal holiday parties, you can ask guests to dress in festive colors.
RSVPs
Most formal invitations include an RSVP card so the hosts know exactly how many guests to prepare for. If you're sending invitations by mail, you'll need to include an RSVP card and a pre-addressed and pre-stamped envelope with your return address so guests can return their response card.
The beauty of online invitations is that you don't have to organize a bunch of paper cards or deal with the hassle of tracking responses. With digital invitations, you get easy online tracking for your RSVP responses and answers to questions about food choices. You don't have to worry about invitations or responses getting lost in the mail. With Greenvelope, you can see who's already opened your invitation and who's responded.
5 Fancy and Formal Invitation Suites
Now that you know the etiquette of formal invitations from wording to what to include, you're ready to pick out the perfect invite. We'll show you five stunning ways you can invite guests to your next formal event. If you'd like to see even more invite ideas, check out our full collection of invitations that offers tons of formal options to choose from.
1. Hydrangeas Invitation
This elegant invitation design features delicate hand-lettering and stunning floral blooms to announce a formal event. You can use it to invite guests to a lavish wedding or a formal garden party. The classic typography adds a touch of regal style while the five different accent colors make it easy to match the invitation to your color scheme. The entire suite features coordinating invitations, save the date cards, and thank you cards.
2. Princess Carriage Invitation
This sweet birthday party invitation is the perfect way to throw a fancy soiree for the littlest royal in your home. With whimsical elements and crisp, sophisticated text, it's a great choice for a formal birthday invitation.
3. Open Floral Wreath Invitation
This delicate invitation uses scrawling script and understated illustrations to invite guests to a formal party. The open floral wreath creates a touch of sophistication while framing the important event details. It's a great choice as a bridal shower invitation, baby shower invitation, or formal dinner party invitation.
4. Ombre Laurels Invitation
In this stunning yet simple graduation invitation, watercolor branches gracefully frame modern type to announce a student's latest accomplishment. It's a great way to announce a formal graduation party to celebrate hard work and success. Pair it with a graduation announcement to share the happy news with family near and far.
5. Clean and Elegant Invitation
This contemporary and elegant invitation features subtle gold foil accents that add an understated air of sophistication. The envelope liner features marbled veiling and the distinctive, delicate script lends to the fancy design. This wedding invitation wording is a perfect example of how to write a formal invitation.
Fashion a Formal Event with Greenvelope
Whether you're looking for party invitations for a rehearsal dinner, wedding, birthday party, or graduation, we have you covered. Our collection of event invitations makes it easy to find the perfect match for your formal affair.
From sleek graduation invitation cards and fancy dinner invitations to elegant monogram designs, Greenvelope offers a wide range of formal invitations. Choose the perfect design for your event and use the tips above to write the perfect formal invitation for any event.