January 11, 2021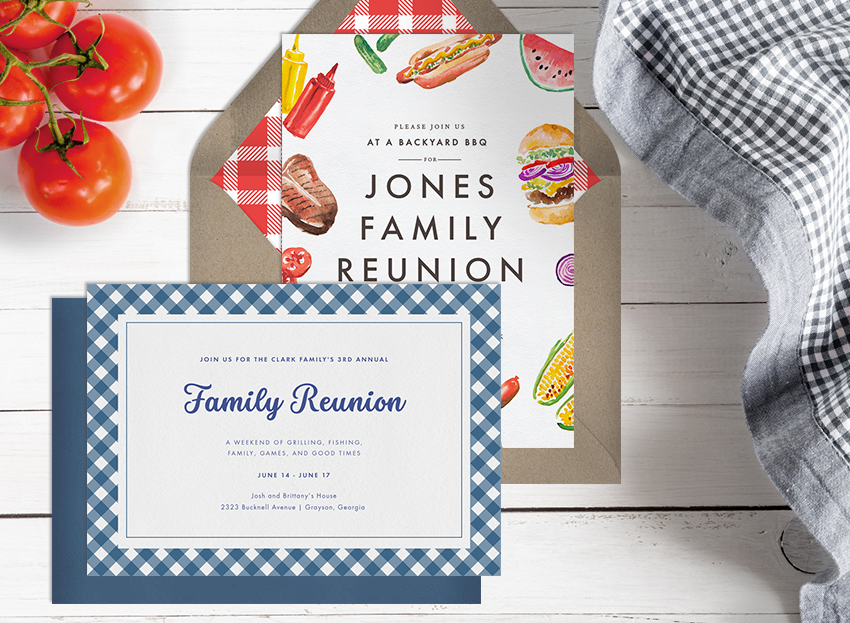 Tasked with planning a family reunion, but don't know where to start? Look no further. We're here to help you plan an incredible event with some of our best family reunion ideas. You'll find activities, planning tips, and ways to get together even throughout the pandemic. 

How To Host a Fun Family Reunion
Family reunions are so much fun, but they also take a lot of planning and attention to detail. Here's a collection of family reunion ideas so you can start planning the event. 
Plan a Date and Time
With everyone so busy, it can be tough to find a date for a family reunion that works for everyone. To make things simple, send out a quick poll to gather people's best dates and help avoid conflicts. 
To make sure the most people can attend, try to plan your reunion date far into the future. A few weeks isn't enough time for most people to make arrangements — a few months or even a year in advance is great. 
Get Others Involved
Arranging a family reunion is no small task, especially if you're a large family or located across long distances. Don't be afraid to ask others for help. Task family members with details including planning, catering, activities, invites, setup, clearing up, and recording the day. This'll also give you another fun reason to get together ahead of the big event. 
Think About Everyone's Needs and Interests
Families come in all shapes and sizes, with lots of different personalities and preferences to consider. As such, it's important to think about everyone's needs, interests, budgets, and ages so you can plan accordingly. 
Make sure you plan activities and games that are easy for the entire family to enjoy. When planning your catering, ask people for their favorite meal ideas and any dietary requirements. Don't host your family reunion in an expensive destination if your family is on a budget, and be mindful of how everyone will get there. 
Send Out Invitations
Once you have a date set and a rough idea of what you're planning to do, send out family reunion invitations. Make sure you feature all the key details like date, time, location, what's happening, dress code, and if they need to make, bring, or do anything. 
Sending digital invitations is a great way to get the message about this fun family event to everyone at once. Plus, you don't need everyone's postal address — just their email address and name. 
Stay Safe
With so many challenges due to the pandemic, you want to plan for a family reunion that keeps everyone safe. 
Stay up-to-date with the latest restrictions and guidance in your local area, consider social distancing, and be mindful about how much travelling is involved. If get-togethers aren't allowed right now, try one of our Covid-safe alternatives — there are lots of great ideas further down in this article. 
Encourage People to Document the Day
A family reunion is a special moment that doesn't typically come around every year. Create memories you can look back on forever by documenting the day and encouraging others to do the same.
Ask your family members to snap away on their phone as the day happens. Collect photos and video footage from everyone and create a highlights reel, plus a gallery where people can share their favorite photos once the event is over. 
Remember Those Who Aren't With You
Sadly, not every relative will be able to attend your family reunion. Some may no longer be with us, and others might be unable to travel the distance. Find a beautiful way to include these loved ones in your reunion in some way.
For loved ones who have passed, consider asking for everyone's favorite photos of them to create a remembrance display at your reunion. If someone can't travel or make it to the event for another reason, see if they can join you via a video call or in another way. 
12 Favorite Family Reunion Ideas
Ready to start planning your family celebration? These are some of our most-loved family reunion ideas — from movie nights and talent shows to delicious potlucks and fun photoshoots. 
1. Trivia Night
Challenge your nearest and dearest to see who knows the most about everything with a trivia night. 
Split your family into teams and battle it out through rounds of themed trivia questions. Make it all about your family history to see who knows each other the best, or stick to traditional rounds like movies, music, TV, and history. 
2. Gaming Night
Bring your family together for a fun gaming night that everyone can join. 
Round up your retro games consoles and introduce the younger members of the family to nostalgic classics from your childhood. Bring out your favorite board games too, and don't forget about fun games from current consoles. Make sure there's something for everyone to enjoy. 
3. Talent Show
Every family has a star or two, so let them shine with a family talent show. This is a fun idea if there are lots of kids (and big kids) at your gathering.
You don't have to be a flawless singer or a wonderful magician to have fun with a talent show. Task people to share a talent of theirs — however unusual — and have a laugh as you all watch together. 
4. Family Potluck
Treat your family to classic dishes and traditional recipes you all love with a family potluck dinner.
Ask everyone to cook and bring their favorite dish inspired by a family recipe, or something new they've created. Create little signs to go next to each dish along with a quote about why they're special, then tuck into a tasty buffet spread. 
5. Baby Photo Guessing Game
Smile and laugh about everyone's best (and worst) baby photos as you try to work out who each photo belongs to. Lay out photos and ask guests to pin them to a family tree.
With some striking resemblances in most families, this can be a tricky game. To make it even harder, convert all the photographs to black and white and add a grainy filter. That way, people can't easily guess based on the age of the photo. 
6. Family Photo Shoot
What better time for a family photoshoot than at your next family reunion?
Book your favorite photographer to come to the event and take some lovely casual and staged photographs of you all to treasure. Let your guests know in advance that you're hiring a photographer, so they can dress up in something they love. If you don't have the budget, consider having your family shutterbug be the "official" photographer who snaps fun candid photos of your group.
7. Outdoor Movie Night
Want a cozy way to celebrate your family gathering? Take the fun outside and host a wonderful outdoor movie night for your family. (This is also a great socially distanced activity.)
Gather under the stars with a projector screen or take the event inside to a rustic family barn. Make sure you have plenty of blankets, hot cocoa, popcorn, and candy to enjoy as you laugh or cry the night away with a classic movie. 
8. Summer BBQ
Blessed with gorgeous weather? Bring everyone together with a delicious BBQ feast in one of your backyards. 
Cook up a storm with plenty of delicious BBQ foods and sides, with a great selection of cool drinks for everyone to enjoy. Make it a pool party if you can, or put on lawn games and fun activities for the family instead to pass the time together. 
9. Family Olympics
If your family's active and up for a challenge, why not host a family Olympics?
Recreate your favorite sporting events and challenges at your family reunion for a guaranteed way to make everyone laugh. Relay races, table tennis, archery, and tug of war are all fun family reunion games inspired by the Olympics.
10. Camp Under the Stars
Go for the ultimate back-to-nature get-together and stage a camping event for your family reunion.
Ask your loved ones to bring their tent, sleeping bag, and supplies to join you for a campout under the stars. Can't get to nature? Stage an indoor version at home instead and recreate that outdoor atmosphere in your living room. 
11. Family World Map
If you have family all over the world, creating a family world map can be a fun way to bring you closer together and share stories. 
Print out or commission a large world map that you can all pinpoint your locations on. Make it a real talking point at your event and encourage people to share photos, stories, and funny moments about what life is like where they live. 
12. Weekend Getaway
If you're lucky enough to have a generous budget to plan your family reunion, taking everyone on a weekend getaway is a lovely way to celebrate.
Whether you opt for a weekend away in a cabin by the lake or a skiing trip that you've always dreamed of, heading off somewhere together is a wonderful way to create new memories that'll last forever. 
4 Covid-Safe Family Reunion Ideas We Love
The pandemic has led to us hitting pause on a lot of things — events included. The good news is that you can still celebrate with the whole family, no matter how far apart you are. Here are some of our favorite family reunion ideas that you can take online. 
1. Virtual Family Reunion
Who says you can't host a family reunion across the distance? Take some of your ideas that can easily translate to a video party and do just that. 
Stage a virtual scavenger hunt around your homes, host a trivia quiz, or play video games remotely with your loved ones. Even if you all simply drop into a video call to say hello and swap stories, it's a fun way to celebrate from wherever you are. 
2. Family Photo Show
Create lasting memories by building your own family photo book. This is easy for everyone to contribute to — all you need is a place to collect and store photos.
You can create a shared folder on Google Photos or another platform of your choice, send out the link to everyone, and have family members add their favorite photos. Once you've got them all in, you can set a date for your virtual family reunion so everyone can enjoy the photo slideshow and relive those wonderful memories.
As a bonus, you could even build a photo book using an online service and have a copy sent out to everyone.
3. Virtual Family Mealtime
Family full of foodies? Take your love of food online with a virtual family mealtime. 
Before the event, you can share recipe ideas through a group chat, email thread, or phone call to get a feel for the different dishes everyone loves. Then, you can select a dish that all participants will make.
Set a date for your virtual event, have everyone grab their ingredients ahead of time, and then get cooking with a Zoom call. You can set your laptop or tablet in the kitchen so you can interact and see each other while making dinner. It's a wonderful way to create and enjoy a special meal together even though you're apart. 
4. Movie Watchalong
If you can't get together for your planned outdoor movie night, why not take it online instead? 
Hosting a movie watchalong is a fun way to watch the latest release or rewatch a beloved classic movie. Grab your favorite snacks then set up a video call, and line up your movies so you all hit go at the same time. 
Family Reunion Ideas Your Loved Ones Will Always Remember
Family reunions are all about getting together, celebrating the good times, and creating new memories. Create the perfect backdrop for those feel-good moments with our help. From sending digital invitations to planning activities, you can create opportunities to get together (even when apart) with these heartwarming family reunion ideas.