October 24, 2019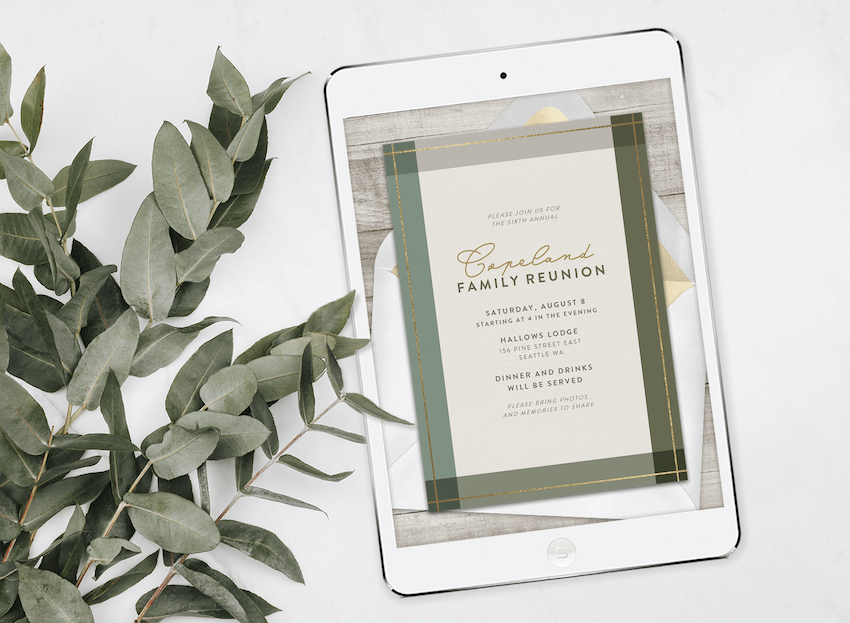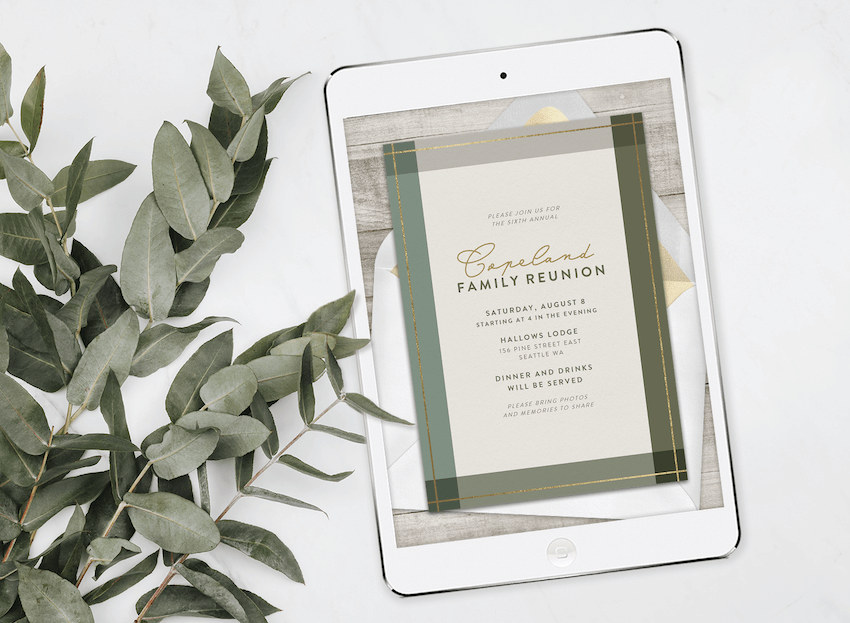 Busy schedules, life changes, and geographic challenges can make getting together with family particularly difficult. There are a few occasions that can draw everyone together in the same place: baby showers, graduation parties, bridal showers, and above all, the family reunion. Planning one can take a lot of time and logistics. Online family reunion invitations can do a lot of the heavy lifting when it comes to tracking RSVPs and coordinating follow-up questions.
Thankfully, there are a ton of adorable invitation designs for every occasion — from a casual picnic in the park to a casino game night or an out-of-town trip. Our favorite reunion invites will ensure all your family members clear their calendars for the occasion.

Food and Fun Family Reunion Invitations
Nothing brings people together quite like food. Whether you're hosting an annual tradition or starting a new one, summer is a great time for an al fresco affair. Bring the family together for a barbecue, potluck, or clam bake. If you're not a chef, cater sub sandwiches and gather your relatives for a picnic in the park. Let one of these adorable picnic and BBQ family reunion invitations inspire your celebration.
1. Nautical Clams Invitation
If you live by the shore, nothing screams summer more than a festive clambake. This nautical invitation lets you handle the clams and asks guests to bring a side dish to share. Or personalize your invitation wording with a custom request, like bring your own brews. Choose from classic black and beige, preppy navy blue, or feminine pink and burgundy.
2. Trendy Gingham Invitation
Nothing screams picnic like classic gingham. This trendy tabletop pattern frames a natural tan background for your family reunion invitation. A mix of stylized text suggests a fun but informal affair, and you can add more details like BBQ, swimming, and games. Red screams retro picnic, but the design is available in preppy navy blue or tone-on-tone white as well.
3. Mexican Blanket Invitation
You don't have to be of Latin descent to enjoy this brightly colored Mexican blanket invitation. The woven background is perfect for a Cinco de Mayo gathering or family feast of Mexican fare. Your party details pop in contemporary white fonts against the colorful backdrop. For family affairs, up the ante with kid-friendly activities like a piñata.
4. Tropical Birds Invitation
This versatile invitation design works for virtually any family gathering. Hand-painted tropical birds create a summertime aesthetic, perfect for your poolside barbecue, picnic in the park, or patio potluck. Inside the watercolor frame, basic black-on-white text holds all your party details.
5. Crawfish Boil Invitation
Wherever you live, embrace the party spirit of New Orleans with a summer crawfish boil. Roll out a makeshift brown-paper placemat and top with crawfish and all the fixings. You can practically hear the trumpets blaring in the background of this festive invitation. Bright red crawfish illustrations claw from the corner, above stylized text for your reunion details.
Let the Games Begin Family Reunion Invitations
If competitiveness is a family trait, nothing will bring the gang together like games. Host a casino game night, family baseball tournament, or lazer tag excursion. Prefer to observe the action? Have everyone over to watch the game on your flat-screen and leave the work to the professionals — you provide the beer. Whichever you choose, these game-themed invitations are ready for fun.
6. Bases Loaded Invitation
A geometric baseball diamond outline creates the design for this baseball tournament reunion invitation. Graphic crossed bats hit home the theme, and nostalgic text is colored in patriotic red, white, and blue. Add all of your invitation details, including whether there's a prize for the big winners. This can also double as a class reunion or festive 4th of July invitation.
7. Blackboard Bash Invitation
If your family isn't big on baseball, how about a bingo tournament? Competition is equally as fierce, and you don't need to get dirty. This classic chalkboard design is perfect for customizing with your every detail, including party location, date, and RSVP information.
8. Strike Invitation
Bowling is fun for the whole family. This retro invitation has all the makings of a vintage bowling alley, including classic pins and lit-up letters. The die-cut shape pairs perfectly with a striped envelope liner. Customize in your favorite old-school colorway with all of your party details.
9. Game On Invitation
Do gamers run in your family tree? This pixelated neon invitation is reminiscent of classic arcade games. It's perfect for a family laser tag tournament, arcade day, or video game competition at your place. Modern white text pops against a black background, and a custom envelope liner rounds out the theme.
10. Poker Chip Invitation
Bring the family together for a DIY casino night with this classic party invitation. An illustrated poker chip pops against a colorful background. Inside, all your party details are stylized in an array of festive fonts. It's just for fun, so be sure to let your guests know they don't need to lose their shirts.
11. Game Time Invitation
Your family reunion party doesn't need to be a summertime affair. Instead, host a bash in the fall or winter with a game day or Superbowl party. This cheeky invitation features a football illustration inside a beer cap, suggesting there will be ball and brews. There are several color options available, so pick one that coordinates with your team, or stay neutral with a black-and-gray design.
Family Vacation Reunion Invitations
If everyone lives in different areas, bring the family together on neutral ground with a fun trip. Host a family camping weekend or beachside getaway. Choose an invitation design that represents your destination. Then get packing.
12. Hip Rustic Invitation
Renting a cabin in the woods? This nature-inspired template screams outdoorsiness. The graphic black text and frame pops against classic kraft paper with a majestic pine tree emblem. Pair with a plaid envelope liner to drive home the theme.
13. Let's Go Camping Invitation
If your family loves roughing it, host a camping weekend in the woods. This dreamy invitation features hand-illustrated branches decorated with leaves and dainty acorns. Whimsical stars complete the look against a blue night sky. Rustic, hand-drawn text embraces camping days of our childhood.
14. Girls Getaway Invitation
If the ladies in your family are overdue for a girls getaway, let the dads take care of things on the homefront. This Girls' Getaway invitation features a stylish passport look with gold-foil accents. The stamp features your choice of emblem. There's a palm tree, skier, and suitcase — perfect for any destination. Custom envelope liners complete the theme.
Have a Fabulous Family Affair
Whether you're hosting a BBQ party, camping getaway, or family baseball tournament, any excuse to get the family together ensures a great time. Choose a family reunion invitation template that represents your event and family style. Casual? Pick an invitation card with rustic accents or whimsical illustrations. If you're more buttoned up, opt for a custom illustration in sophisticated hues. Whatever the occasion, be sure to get a great family photo for next year's invitation.