June 4, 2021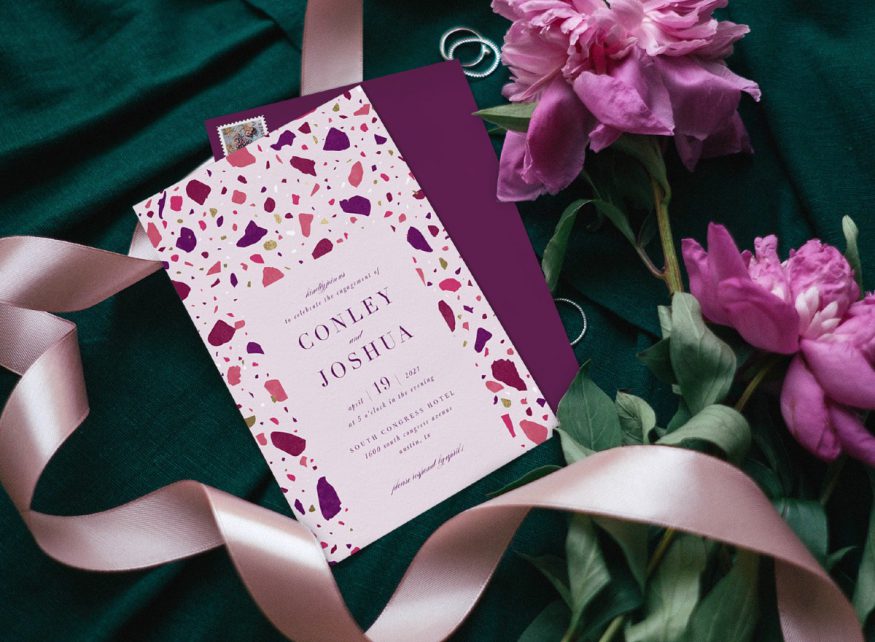 It's time to celebrate a very happy engagement! Whether you're planning your own engagement party, or hosting a splendid soirée for loved ones, it's an exciting time. 
To help you invite friends and family members in style, we've put together this guide on engagement party invitation wording. Discover what you need to include, find inspiration for your text, and see some of our favorite engagement party invitation designs. 
How to Create the Perfect Engagement Party Invitation
Sending out invitations to your engagement party can feel almost as exciting as the invites for your big day. This is the first event of your wedding season. If you're ready to create engagement party invitations for you and your partner, or you're hosting on the couple's behalf, here's our guide on what your invites need to feature. 
The Happy Couple's Names
Most of your party guests will have already heard the news, but for some, this invite serves almost as an engagement announcement too. Make sure there's absolutely no confusion by featuring the names of the happy couple front and center on the invite. 
It's up to you whether you opt for full names, just first names, or even nicknames — you know the couple and the audience best. For more formal engagement party invitation wording, full names, including middle names is a good option. If you're going casual, the names your friends call you by is perfect. 
Date and Time
It's not a party invitation if nobody knows when it's happening. Feature the date and time prominently on your engagement party invitation wording, or you could end up with an empty room. 
Keep the date and time format simple, but make sure it accurately reflects when the event happens. Use the 24-hour clock or add a.m. or p.m. to confirm whether the event takes place in the morning or evening — especially if it's not clear whether it's an early brunch or a late cocktail party. Make sure to add both the date and day of the week, too, to help avoid any confusion for people who aren't so handy with numbers. 
Party Venue
As with most invites, your engagement party invitation wording should clearly feature where the event takes place. You've put a lot of effort into finding the perfect party venue for your engagement celebration, so let people know where it is and how to find it. 
It's tempting to include just the venue's name or street here to save on space, but this can cause confusion for out-of-town guests who aren't familiar with the area. If you're short on space, let people know they can find the full address and parking details on your wedding website if you have one already — or use Greenvelope's details panel to share this useful information with your guest list. 
Dress Code
While it's not a must-have for your engagement party invitation wording, including a dress code can be helpful for your guests. Nobody wants to be the person who turns up over or underdressed for a milestone event like this. 
Sometimes your party invitation design and wording will make it clear that your guests can come dressed in their most glamorous attire or that it's beachwear casual. Other times, including the dress code gives them reassurance that they'll turn up in appropriate attire. 
Gifting
You might find people bringing along gifts to a bridal shower or wedding shower, but gifts for an engagement party are less standard. Often, people will celebrate the moment by joining you for the party — or by bringing along a bottle for a toast. 
If you're the first in your circle of friends to get engaged or your group includes a mix of people who bring gifts and don't, it can be helpful to include a line on your invite that confirms they're not expected. Something short and simple like "no gifts required" or "no gifts, please" is all you need. 
RSVP Details
Last but not least, your party guests need to know how to respond with a yes or no, and when they need to RSVP by. Not only does it encourage them to RSVP sooner, it helps you figure out your number for any reservations and save time chasing people down. 
Make this really clear by including a simple line on your invitation wording that says "please RSVP by [Date]," or whichever wording feels most natural to you. Confirm how people should RSVP — whether that's by email, phone call, with an enclosed invitation card, or through Greenvelope's online invitation digital RSVP system. 
Engagement Party Invitation Wording Inspiration
Writing out your engagement party invitations can be tough. After all, it's not something you do every day. To help you out, here are some lovely wording examples for different types of engagement parties. 
When the Engaged Couple Are Hosting
It's not unusual these days for couples to host their own engagement party. If that's you, here's some engagement party invitation wording that's perfect for your soirée. 
[Name] and [Name] would love to invite you to 
celebrate their engagement
with a big party! 
Join us for the city's best food and drinks
on [date]
at [time]
Our celebration will take place
at [venue]
[Address, including zip code]
Please RSVP by [date]
to [email address]
When Someone Else Is Hosting
Sometimes a loved one will host the engagement party for the happy couple. Whether it's one of the bride's parents, ​groom's parents, or a close friend, this wording is a sweet way to invite friends and family members. 
Mr. and Mrs. [Last Name]
would be delighted if you could attend
an engagement party in honor of
[Name] and [Name]
Please join us on
[date] at [time]
at the beautiful
[venue]
[Address, including zip code]
Please RSVP by [date]
at [wedding website link]
Dress Code: Black Tie
Casual Engagement Party Invitation Wording 
If you're throwing a super casual engagement party, like a backyard BBQ, here's how to invite friends and family along to party with you. 
Have you heard? We're tying the knot! 
Please join [name] and I
as we celebrate our soon-to-be wedding bells.
We'll dance the night away and enjoy cocktails and canapes
on [date] at [time]
at the wonderful
[venue]
[Address, including zip code]
Please RSVP by [date]
to [email address]
No gifts, please
Formal Wording Inspiration
Some engagement parties call for more formal invitations to friends and family members. If that's the case, here's a more formal engagement party invitation wording example to inspire you. 
You are invited to
an engagement party
in honor of
[Name] and [Name]
Please join us on
[date] at [time] o'clock 
for a black tie event
[Venue]
[Address, including zip code]
Please RSVP no later than [date]
to [phone number]
When It's a Surprise Engagement Party
Planning a super secret surprise engagement party for a close friend? Here's how to get people there, without letting on that something's happening. 
This is top secret! 
We're throwing a surprise engagement party
to celebrate the love between
[Name] and [Name]
Join us for an intimate gathering
at [venue]Â 
on [date] at [time]
RSVP to [email address]
by [date]
Don't spill the beans! 
Our Favorite Engagement Party Invitation Designs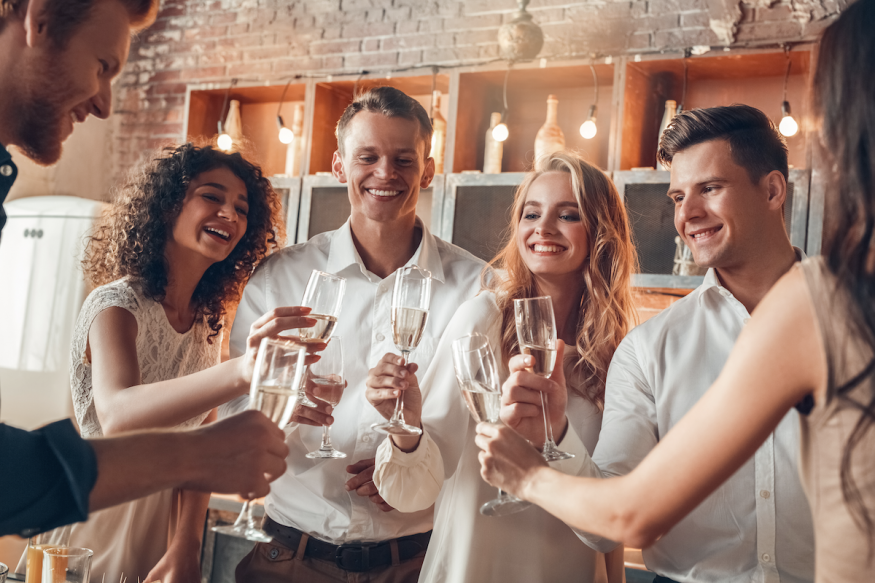 There are so many gorgeous engagement party invitations out there that it's hard to choose a favorite. To help you find the perfect one, here's a handful of our most loved designs. These can all be personalized with your own wording, color choices, and in some cases photos.
Once you've found a style you love, you can use matching designs for the rest of your wedding stationery too. That way, your wedding invitations and save the dates will all fit your theme. 
Rustic Succulents Engagement Party Invitation
We love this rustic succulents invitation for a casual, cozy backyard engagement party. It's ideal if you plan on firing up the BBQ and dancing the night away with your friends and family members. 
Shine Bright Engagement Party Invitation
If you're looking for the ideal design to showcase your beautiful engagement photos, this shine bright invitation puts you and your partner front and center. With added sparkles, it will lend some glitz and glamor to the moment. 
Eucalyptus Frame Engagement Party Invitation
This eucalyptus frame invitation is the perfect way to invite loved ones along to a sophisticated get-together. The gentle illustration and modern typeface combine to create a stunning backdrop for your engagement party invitation wording. 
All the Engagement Party Invitation Wording Ideas You Need
It's almost time for loved ones to rally around you and raise a toast as you prepare for the next stage of your journey together. All you need to do is choose a gorgeous engagement party invitation, finalize the event details, and figure out your invitation wording. Once you're done, you'll have everything you need to spread the word about your sweet celebration.