June 7, 2021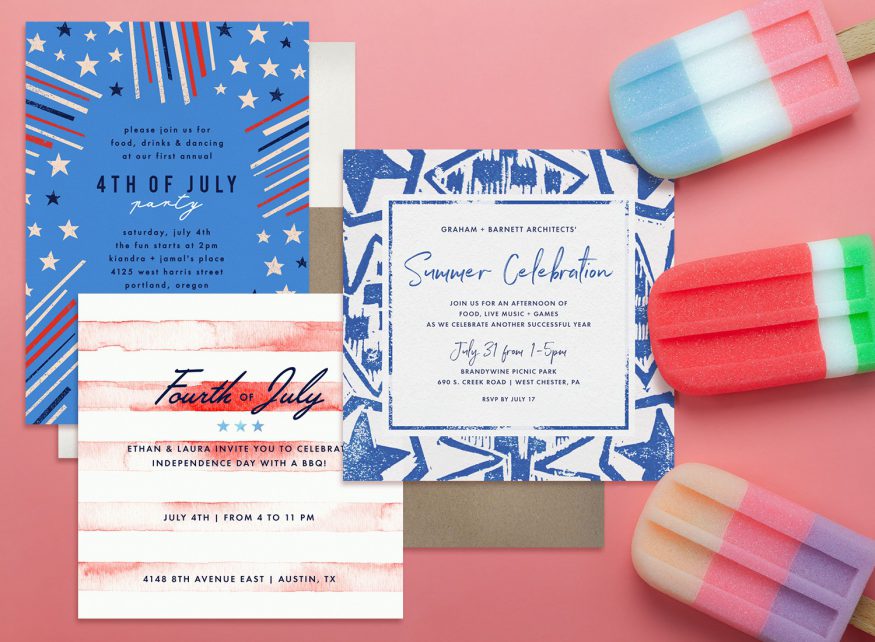 Heat up the grill, and get the sparklers ready! It's time to start thinking about hosting your epic 4th of July party. To help you throw an amazing get-together, here are some of our best 4th of July party ideas. You'll find something for everyone — from easy DIY decor to delicious nostalgic drinks. 

Our Best 4th of July Party Ideas for 2021
Here are 20 of our favorite game, food, drink, and decorating ideas for your Independence Day bash. Let's get this party started! 
1. Red, White, and Blue Bunting
Nothing says "Happy Independence Day!" like red, white, and blue bunting. Whether you DIY your own or buy some from a party supply store, it's a fun and easy way to add patriotic color to your party. For something a little different from the standard triangle burlap flags, try this DIY 4th of July bunting. 
2. Balloon Darts
For a fun and nostalgic party game, set up a station for balloon darts. Create your own game wall and fix red, white, and blue balloons on it. Challenge your guests to hit the balloons with darts to win points or prizes. This is great for both kids and adults, especially if you add in some more super fun outdoor party games. 
3. Confetti Pops
There's something magical about confetti poppers, and the 4th of July is the perfect time to bust them out. Buy some from your local store or make your own confetti pops that kids and adults can both enjoy. 
4. Lemonade Stand
Muster up that childhood spirit and set up your own lemonade stand at your 4th of July party. Squeeze your own homemade lemonade, then let your party guests make it their own with edible flower garnishes and added fruit juices. 
5. Patriotic Jello Shots
Celebrate the moment with colorful jello shots in red, white, and blue. Mix in some vodka or your favorite spirit, and you'll have a tasty, refreshing treat for a summer day. For an alcohol-free alternative, consider using non-alcoholic spirits instead. 
6. Red and Blue Tableware
Give your party tables some extra attention with patriotic tableware. Find bright red and blue plates to serve your appetizers on, and add boldly colored glasses for your cocktails and lemonade. Don't forget about your centerpieces too — a giant golden star is a simple but effective way to add interest to your main table. 
7. Watermelon Star Wands
For a super cute way to celebrate the 4th of July, we love these watermelon star wands. They're the perfect patriotic party food — ideal for friends and family members of all ages. Serve them as a sweet treat to keep your party guests cool and refreshed. 
8. Sparkly Star Garland
Sprinkle some Americana joy across your festive party with some adorable star garlands. Make these yourself using fabric or paper stars, then add biodegradable glitter in gold or rainbow colors to brighten things up. 
9. BBQ Grill
There's nothing quite like a good old-fashioned cookout for a 4th of July idea. Gather your loved ones around, and grill up a storm with burgers, hotdogs, chicken, vegetable skewers, and grilled party food aplenty. Keep it casual or switch things up and serve a sophisticated twist on old favorites with a range of gourmet burger toppings and sauces. 
10. American Flag Backdrop
It's not a 4th of July party without an American flag, and a backdrop to celebrate the USA is the perfect place for one. Not only does it help provide great decor at your party venue, it's the ideal spot for a makeshift photo booth. For a rustic twist, try this DIY American flag backdrop. 
11. Lawn Spray Paint
Ready to give your lawn a little makeover? This super easy 4th of July party idea is a simple way to add some color to your event without going overboard on the decorations. Plus, you can get the kids involved in helping you plan out your shapes and where they should go. All you need is a few cans of specialist lawn spray paint — this should be nontoxic and temporary in nature. Mark out some stars, stripes, and other shapes around your yard using templates, or go wild and freehand some fun designs that remind you of fireworks. 
12. DIY Cornhole
With your yard decorated to celebrate America's birthday, it makes a festive spot for some lawn games. One of our favorites is cornhole, and you can DIY your own cornhole board with stars and stripes to celebrate the 4th of July. 
To make your own, follow this simple DIY cornhole tutorial — it lists everything you need and says you can have it ready in less than two hours. 
13. Patriotic Cupcakes
Who doesn't love a cupcake? This is one of those 4th of July party ideas that's always a treat. Bake up your favorite recipe and top them with red, white, and blue frosting and sprinkles. It's a sweet way to celebrate the day together. If you already have lots of treats for your dessert table, send cupcakes home with guests as party favors instead. 
14. Red, White & Blue Balloon Arch
There's something really exciting about a giant balloon arch, and a patriotic one will be festive and fun. Blow up plenty of balloons in red, white, and blue, and put together your own DIY balloon arch. If that sounds like too much trouble, your local party decorations store is always on hand to bring your ideas to life. 
15. Kids' 4th of July Craft Corner
4th of July parties are always fun for adults, but we need to make sure there's something for the little ones as well. A festive craft corner can entertain kids of all ages and give them some fun souvenirs to take home with them. Set up an area with plenty of printables, markers, popsicle sticks, felt, and other materials, and let the kids get creative. This will be a draw for parents who are always looking for ways to entertain their kids, so don't forget to mention your plans on your online invitations.
16. DIY Hotdog Stall
A grill sounds perfect for a 4th of July party, but how about taking it one step further? A DIY hotdog table where guests can build their own specialty dog using a freshly grilled hotdog is a fun way to get your guests involved. Lay out all the best condiments, throw in some unusual toppings, and let your guests enjoy their hotdogs their way. You can even include vegetarian and vegan hotdogs so everyone can participate. If this is the centerpiece of your get-together, keep an eye out for a 4th of July party invitation to match. 
17. S'Mores in a Jar
We love this sweet 4th of July party idea, and think it's the perfect party favor idea for friends and family members. If it's too tricky to enjoy fresh s'mores at your event, let your guests take one home for later by layering the ingredients into a mason jar. That way, they can take home a cute keepsake from your party — and enjoy a delicious treat later on. 
18. Sparkler Send-Off
When the evening starts to wind down, it's time to bring out the sparklers. These are a fun way to brighten up the night. Make sure you follow all the safety precautions — it's easy for kids to mishandle these if they get carried away. But, in general, sparklers are safer for home use than firecrackers. If you're not planning a full firework show, to capture a little of that same magic. 
19. 4th of July Bingo
Give this classic party game a patriotic twist by swapping out the usual numbers for images you'd associate with the 4th of July and American Independence — like the flag, the Liberty Bell, and fireworks. Create your own version, or use this free printable. 
20. Ice Cream Stand
It's not a summer party without ice cream, and the best kind of ice cream is the one that you can personalize and enjoy your own way. Set up an impressive ice cream stand where your party guests can choose their flavor, toppings, sauces, and cones. Let guests relive their childhood favorites or create a weird new mix of flavors. 
Throw the Best 4th of July Party This Year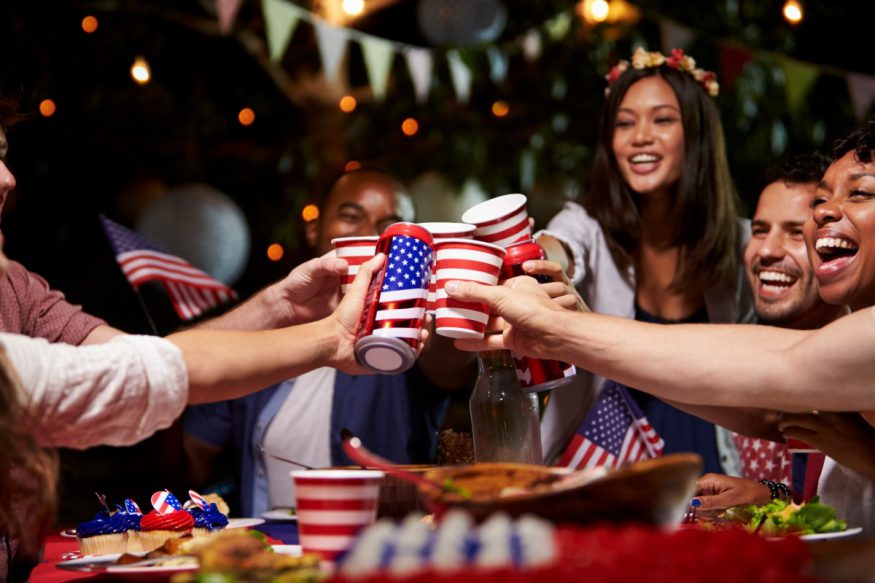 It's time to throw an unforgettable celebration with these 4th of July party ideas. Mix in your favorite food and drink ideas, choose some lawn games, and sprinkle in some fun decor ideas to create your perfect festive party.
Once you've put in all the hard work planning your epic 4th of July party, it's time to let everyone know about it. Seek out the perfect themed party invitation, customize it to your heart's content, and spread the word about your unmissable get-together. Your guests won't be able to resist hitting that RSVP button!