October 8, 2020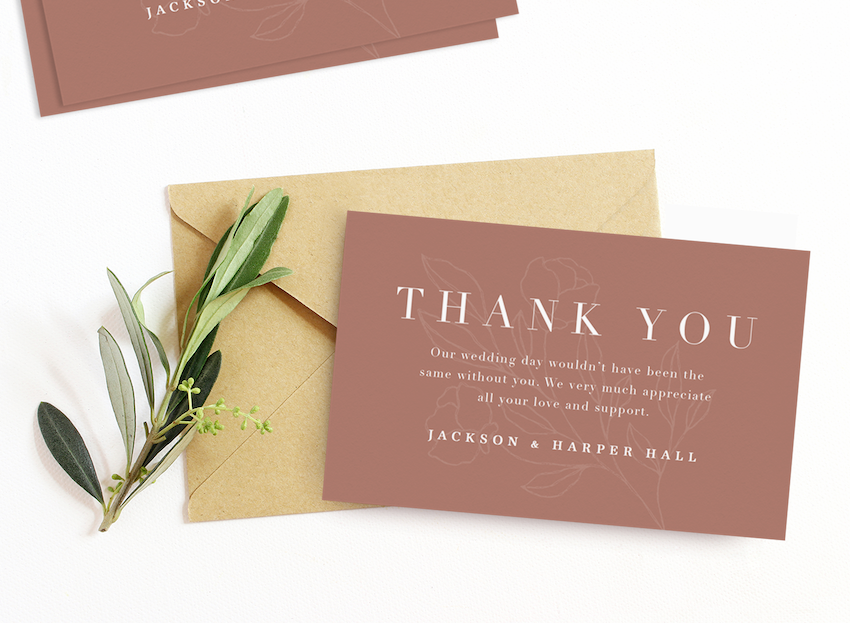 Your wedding day is filled with love, joy, and the company of your closest friends and family who help transform it into a magical day. So, it's only natural to want to send them a thank you note for everything they've done. Here's how to perfect your wedding thank you card wording for sweet, heartfelt, and personalized messages of gratitude. 

Wedding Thank You Card Tips
Before you get started on writing your wedding thank you cards, here are some top tips to keep in mind:Â 
Keep Track of Your Gift Givers
Writing your wedding thank you cards can feel like an impossible task at times. You have to remember everyone who attended, who sent you a gift, and what they gave you. Simplify the process by creating a spreadsheet or document to keep track of everything. 
Use your wedding invitations guest list to help you get started. In your spreadsheet, make space to record the gift giver's name, whether it was a physical or monetary gift, and what the gift was. If you're feeling super organized, you could even take a photo of gifts as you unwrap them and keep this alongside your notes. 
Begin As Early As Possible
Wedding thank you card etiquette suggests you should send your wedding thank you cards within three months of the big day. While this gives you plenty of time, it's a great idea to get started even sooner if possible. 
If there's time between your wedding and honeymoon, start sorting out your list. That way, when you arrive back home, you have all the information you need to begin writing your cards. 
Work Through Your List in Groups
Some weddings are large, grand affairs with hundreds of guests. When it comes to writing out thank you cards, you'll definitely have your hands full. Make this easier by batching your cards into groups and tackling a handful at a time. 
Even if you hosted a cozy and intimate wedding, it still helps to break up your thank you card writing into blocks. Write a few cards while you relax in the evening and check them off your list so you don't duplicate them.
Tackle Your Thank You Cards as a Team
Weddings are about you as a couple, so keep this in mind as you work on your thank you cards. Split the task up so you can cover more ground. Not only will you get your cards written and sent out faster, but it's a fun way to reminisce about the day together. 
Some couples like to write cards to each of their closest friends and family, then split the rest of the guests. Others simply divide the list in half and work through them. Decide what works best for you, but it's nice to share this task so you're both involved. 
Save Time and Send Them Digitally
If you're really looking to save time (and money on postage), consider sending digital thank you cards. With Greenvelope, you can send customized thank you notes to each person or the same thank you note to a larger group. It's up to you.
Choose a design and customize it until it matches your wedding theme perfectly — this is especially easy to do if you sent online invitations. Once your custom-design card is created, you can personalize the wording before you send. And unlike waiting for the mail to carry your message, the note will reach your guests' inbox within minutes.
Wedding Thank You Card Wording Examples
You invited your guests because they're close to you and a big part of your life. Echo that sentiment by personalizing your wedding thank you card wording rather than sending a generic printed thank you. If you're not sure where to start, here are some fun, heartfelt ways to express your gratitude. 
For Giving a Gift
It's customary to bring a gift to a wedding, so many of your thank you cards will likely involve mentioning a physical gift. Maybe it's something from your wedding gift registry, or a bespoke gift your guest picked especially for you. 
When writing your card, be sure to mention an aspect of the gift that you love. Not only does this help you write beautifully personalized cards, but it's a touching way to express your thanks for their thoughtfulness in choosing that gift. 
Here are two sample wedding thank you card wording ideas:
Dear Rebecca and John, 
Thank you for the gorgeous wine glasses — they're perfect! We can't wait to have you over to toast them over dinner. We're so happy that you could join us for our wedding day. We're excited to catch up with you again soon. 
All our love, 
Chris and Sara
———
Dear Isabella,
Thank you for your wonderfully thoughtful gift. We're excited to start our life together in our new home, so your city guide is just what we need to find our favorite spots. Once we're settled in, we'd love to have you over!
Best wishes,
Matt and David
For Giving a Cash Gift
These days, wedding gifts don't have to stick to the traditional format. Many guests prefer to give money or a gift card that you can use however you like. 
When writing thank you cards, some couples like to specify the amount of money given, while others don't. Whatever you decide, personalize the note with what you're thinking of spending the money on, so your guest feels a sense of joy about contributing to a special item or experience. 
Dear Simon and Hannah, 
Thanks so much for your generous gift towards our honeymoon fund. We can't wait to escape to [honeymoon location] and treat ourselves to a once-in-a-lifetime guided tour. We're so grateful that you've helped make this possible for us. 
Love always, 
Kevin and Maria
———
Dear Lucy,
Thank you so much for your thoughtful gift of $150. As you know, we're renovating our house this year, and your gift will help us make it feel like home with some gorgeous artwork. We appreciate you being part of this special moment with us, and we hope to see you again soon.
With love, 
Sophie and Clare
For Attending
Not everyone will give you a wedding gift, and that's OK. For guests who joined you for your special day but didn't leave a gift on the table, send your thanks for their warm company instead. These wedding thank you card wording ideas are a sweet way to acknowledge their presence. 
Dear Joe,
We're so glad that you could join us for our wedding day. It was a blast practicing our moves on the dance floor! Thank you for helping to make it such a magical moment. 
With lots of love,
Mark and Louisa
———
Dear Evan and Florence,
Thank you for bringing your trademark sparkle to our wedding day. We really loved having you there and especially enjoyed snapping away in the photo booth with you. Can't wait to see what the wedding photos turn out like! 
Warm wishes, 
Gina and Rachel
For Loved Ones Who Couldn't Be There on the Day
There are many reasons why loved ones can't make it to celebrate your big day. Even if they couldn't attend the celebration, let them know how much you appreciate them and their gift with a heartfelt thank you note after the wedding. 
Dear Peter,
We're so sorry that you couldn't make it to the wedding. You were definitely missed. Thank you for your thoughtful gift — we're excited for some beautiful weather to make the most of the BBQ grill set!
Best wishes,
Cara and Tom
———
Dear Mary and Eleanor,
Thank you from the bottom of our hearts for your generous gift — we can't wait to put the money to good use by splurging on home comforts for our new puppy! We're sorry that you couldn't make it to the wedding, but we're excited to catch up soon and introduce you to [Puppy's Name].
All our love,
Rob and Daniel
For Friends and Family Who Traveled Long Distance
For many, weddings are the big social highlight of the year. That means some of your guests might have traveled a long way to celebrate your special day. Add in a mention of this in your thank you card to express your gratitude for their effort. 
Dear Phoebe,
We know that [wedding location] is a long way from home, so we're thrilled that you could make the journey to celebrate with us. It wouldn't have been the same without you! Thank you for your lovely gift, too — we're excited to fill the album with exciting new memories.
Love and hugs,
Katherine and George
———
Dear Matt, 
Thank you so much for your contribution towards our honeymoon fund. We loved that you could make it to the wedding day and truly appreciate everything you've done for us. Next time we'll fly out to [location] to visit you! 
With love,
Lewis and Quinn
For Your Wedding Party
Personalizing your wedding thank you card wording is a great idea for all guests, but it's especially important for your wedding party. They've pitched in to help out before and during the big day, so make sure they know how grateful you are for their love and support. 
Dear Ben, 
Your support means the world to me and Clara, and I was thrilled to have you as my best man. Thank you for being part of our wedding, and for helping me plan that big surprise for Clara. It was perfect! Let's catch up when I'm back from the honeymoon.
With love,
Jonathan
———
Dear Tara, 
Can you believe I'm finally married?! Thank you for being the best bridesmaid ever and for helping to make my wedding day the most magical day of my life. I couldn't have done it without you and the rest of the bridal party. Your gift was so thoughtful, too — David and I are excited to take the luggage set for a spin on our next getaway!
All my love, 
Amanda
For Wedding Vendors and Suppliers
It's not just your loved ones who help make your wedding day special. Your venue, vendors, and suppliers helped you turn your ideas into reality. Express your gratitude with these wedding thank you card wording ideas. 
Dear Francisco,
Thank you so much for helping us put together our floral arrangements — they were just perfect! You really helped us create a gorgeous atmosphere for our special day, and everyone commented on how lovely the flowers looked. We're so glad we chose you! 
Best wishes,
Leon and Valerie
———
Dear Shannon and team, 
Thank you for playing such a huge role in our wedding day. We loved getting married at [venue] and everything was magical from start to finish. Many thanks for being so accommodating and offering your support on the day. Please pass on our gratitude to the rest of your team and to everyone at [venue] for helping us celebrate the start of our new life together. 
With love, 
James and Noah
Send Wedding Thank You Cards That'll Make Your Guests Smile
Your wedding guests are those who are nearest and dearest to your heart. When the thank you card lands in their inbox or on their doorstep, it's a sweet reminder of the moment they shared with you. Make that moment even better by sending a heartfelt, personalized message that shows just how much you care about their presence and gift.