April 25, 2022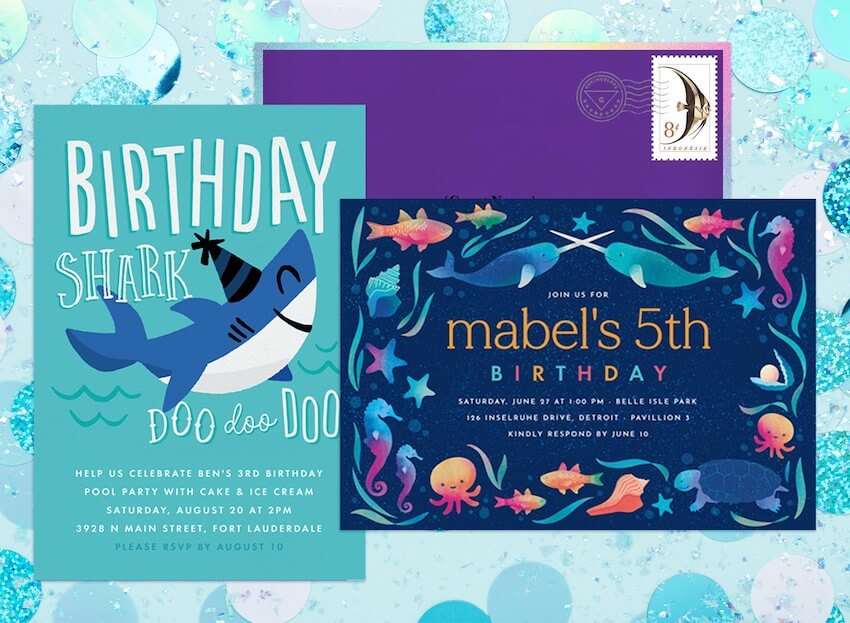 Someone special has their heart set on an under the sea birthday party, and it's time to get planning. This is such a fun theme to work with, as there are so many incredible styling, activity, food, and invite options.
Let's take a look at some of our favorite under the sea birthday party ideas ranging from decor and games to delicious snacks and fun favors. Plus, we'll share some of our most loved under the sea-themed party invites so your guests are excited to make some waves! 

Creative Under the Sea Birthday Party Decor Ideas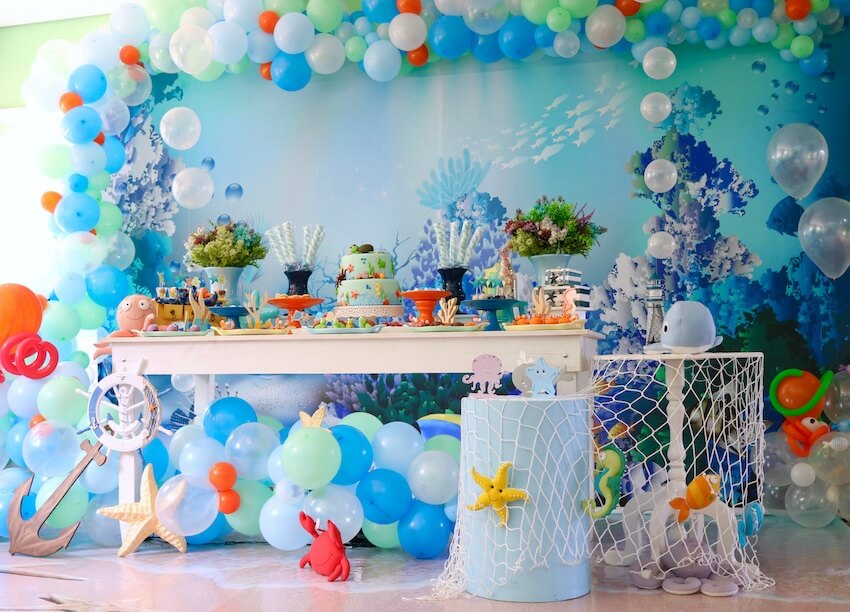 The best way to bring your theme to life is with a wonderful collection of under the sea party decorations. Here are some of our favorites, so you can have a list of ideas ready when you start shopping for party supplies.
Ocean-Themed Backdrop
Make an impact with a gorgeous ocean-themed backdrop for your under the sea birthday party. Use a foil curtain, tissue paper streamers, fishnets, rope, and even balloons to stage an underwater scene that your guests won't forget. What's great about this is you can customize it for the specific party theme — like a shark party or mermaid birthday party. Your guests will love posing for photos in front of this memorable backdrop.
Blue and Green Birthday Balloon Arch
Get a balloon pump ready, or call in the professionals to put together a stunning balloon arch for your underwater-themed party. Style your blue, teal, green, and aqua balloons into an archway to greet guests, with a birthday banner hung across the top. You can also cut the cake beneath this ocean-themed arch to make the most of your under the sea party decor.
Giant Underwater Animals
If you want your guests to feel breathless when they walk into the room, add some cute inflatable or cutout animals to your party decor. Sea creatures like sharks, whales, starfish, turtles, and more make for fun and colorful decor. Suspend wiggly jellyfish from the ceiling for an ethereal touch, or decorate the walls with brightly-colored tropical fish. You can also use toy sea animals in your tablescapes or as adorable photo props. 
Sandcastle Centerpiece
There's no better place for a sandcastle centerpiece than an under the sea birthday party. This fun DIY sandcastle centerpiece only calls for a mold, glue and paint, seashells of your choosing, and sand, of course. As simple as it is to create, this decoration is sure to impress your guests. You can even have a craft station for making these sandcastles as party favors — and you won't have to worry about them washing away! 
Games and Activities for Your Under the Sea Birthday Party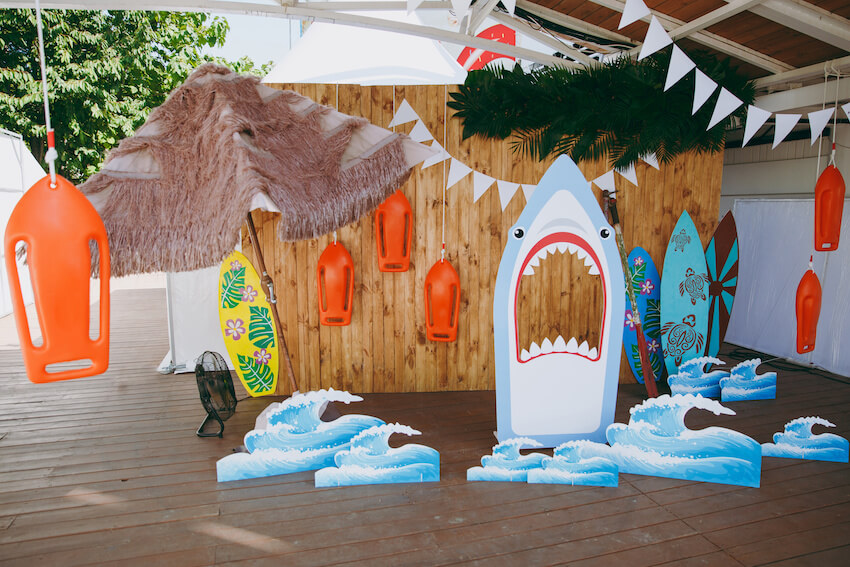 With such a playful party theme, it makes sense to host games and activities that add to the atmosphere and embrace the curious, magical nature of the sea. Here are some of our favorite games and activities for your underwater-themed party. 
Under the Sea Treasure Hunt
Treasure hunts are perfect for pirate birthday parties, but they're great for under the sea parties, too. Instead of hunting for treasure on land, send your guests on an adventure through the depths of the ocean as they look for clues that will lead them to an undersea treasure. Depending on the age group of your guests, you can include riddles, puzzles, or physical challenges in this DIY quest for treasure. Be sure to have treats, trinkets, and toys in the treasure chest, as they'll make for memorable party favors. 
Sandcastle Contest
Embrace the simple joys of a sandbox and let your party guests dig in to build their biggest and best sandcastles. This party idea is always exciting for your younger guests, but it can get a little messy. Set this up outdoors if you can, or put down mats so you can easily scoop the sand back up at the end. If you don't have the space or patience for the mess, you can use kinetic sand or even printables that can be assembled into castles.
Pond Fishing Game
Challenge your party guests to see who can bring in the biggest haul with a homemade fishing game. With some craft materials, magnets, and paperclips, it's easy to make a DIY pond stocked with fish and sea creatures — you can even get the birthday kid involved in helping you create it. Your guests can compete for the most fish caught, or you can award points based on the kind of sea life they hook and encourage them to reel in a whale!
Sand Art Station
Let your guests explore their creativity with a sand art station where they can layer colored sand to make their own unique keepsake. Make your own homemade colored sand or buy some from a craft store and pick up some jars in ocean-themed shapes for your guests to use. Along with sand, small seashells and tiny toy sea creatures can make interesting additions to these creations. Not only will they keep your guests entertained, but they make wonderful party favors for an under the sea themed party, too. 
Our Favorite Under the Sea Party Food and Drink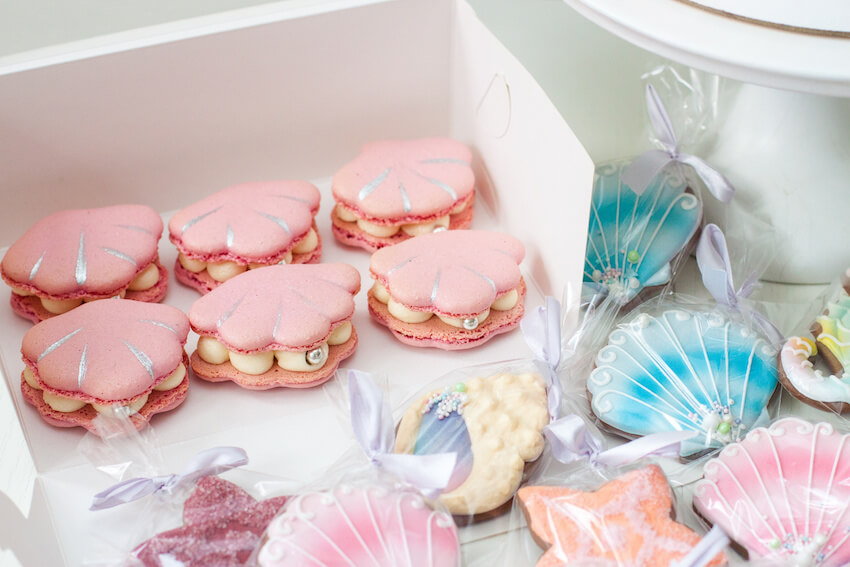 An incredible under the sea party needs a menu that's just as amazing. Take a look at these tasty treats and recipe ideas to help you put together a delicious spread for your birthday party celebration. 
Little Fishy Cupcakes
For a fun alternative to a traditional birthday cake, serve your guests these sweet little fishy cupcakes. They're a treat for the eye and the tastebuds — and a great way to make your dessert table really stand out. 
Gummy Shark Jell-O Cups
We love the idea of serving gummy shark Jell-O cups at an ocean-themed party. With their bold colors and perfectly matching candy, they're ideal for shark parties as well as your under the sea birthday party. You could also mix up the colors and candies to create Jell-O cups for other sea life, like green turtles or colorful fish gummies cut to look like mermaid tails. 
Mermaid Blondies 
The colors on these mermaid blondies are incredible. This sweet treat is perfect for any ocean-themed party, from an under the sea celebration to a mermaid party. Mix up a few batches in different pastel tones to serve or send home with your little mermaids as a tasty party favor to savor. 
Cheese and Tomato Croissant Crabs
For a savory snack, we love these cheese and tomato croissant crabs. They're so easy to make with just a handful of ingredients, but they add tons of fun and humor to your menu. You can swap the filling for other flavor combinations, too, so experiment with savory and sweet varieties to decide what version of these snappy sea creatures makes it to your table. 
Ocean Water Punch 
Nothing brings a themed birthday party together like a matching drink. At an under the sea birthday party, this ocean water punch will delight and dazzle your guests. It tastes delicious, looks gorgeous in a glass, and adds some tropical color to your tables. Serve it on a sand dollar coaster or with a decorative straw for extra pizzazz. 
Themed Party Favors for Your Under the Sea Birthday Party
When it's time to say goodbye at the end of your under the sea party, send your guests home with something they'll treasure. Here are some of the best under the sea party favors we've discovered. 
Ocean Animal Figurine
Celebrate the theme of your party by giving your guests some miniature sea life to take home with them. This is a cute and affordable gift idea, as you can often buy animal figurines in bulk or at a discount store. If your guests are younger, swap the figurine for a soft toy version instead.
Bath Toys
Sending your guests home with a bath toy is a great memento of your celebration, especially if you hosted a pool party. Instead of the standard rubber ducky, look for tropical fish, whales, starfish, or shark toys. Add a bottle of bubble bath or even a colorful bath bomb for a luxurious end to a mermaid party.
Themed Candy Jar
For an easy party favor idea, fill mason jars with ocean-themed candy. Gummy sharks, mini dolphins, and blue and green candies all work perfectly for an under the sea party treat jar. Look for transparent blue jars or use colored cellophane to make your candy sea life feel right at home.
Shell Photo Frame
If you're feeling more creative, these DIY seashell photo frames make lovely party favors. Buy your photo frames from a discount or thrift store, then use glue to attach seashells and cutouts. This might take some time, but it will be a memorable gift, especially for older kids and adults. 
Fun Under the Sea Birthday Party Invites
All these under the sea party ideas need an invite that feels just as impressive. Get your guests ready to dive in by sending them one of these under the sea theme party invitations. 
With Greenvelope, it's easy to turn any template into a gorgeous personalized birthday party invite. Start with a digital invitation design you love, choose your colors, and then customize the layout, fonts, and wording until your perfect invitation is complete. Here are a few fin-tastic under the sea themed party invitations to inspire you. 
Undersea Whimsy Invitation
This Undersea Whimsy invitation is a fun way to invite your guests to an underwater-themed celebration. The mix of a deep blue background and whimsical illustrations hints at a party filled with curiosity, excitement, and wonder. 
Birthday Shark Invitation
If your little one is a fan of a certain shark-themed musical sensation, this Birthday Shark invite is sure to bring them joy. Choose from a handful of color options or personalize it with your own for the perfect invite for any shark-themed event. 
Ocean Love Invitation
For a more relaxed under the sea birthday party invite, try this Ocean Love invitation. It's ideal for a cozy first birthday celebration or an understated sea-themed party for adults. This design has plenty of space on the reverse to share important details or a sweet poem to celebrate the guest of honor.
Throw the Ultimate Under the Sea Birthday Party this Year
Use these birthday party ideas to help you imagine, plan, and style the ultimate under the sea birthday party for someone special this year. 
Once your party plans are underway, look for an invite that fits your theme perfectly. Explore our sea creature birthday party invitations to find your ideal match and personalize it for your party. When it's ready, send it to your guests via email or SMS and watch the RSVPs roll in. With an invite process so simple, you'll be happy as a clam.