February 24, 2022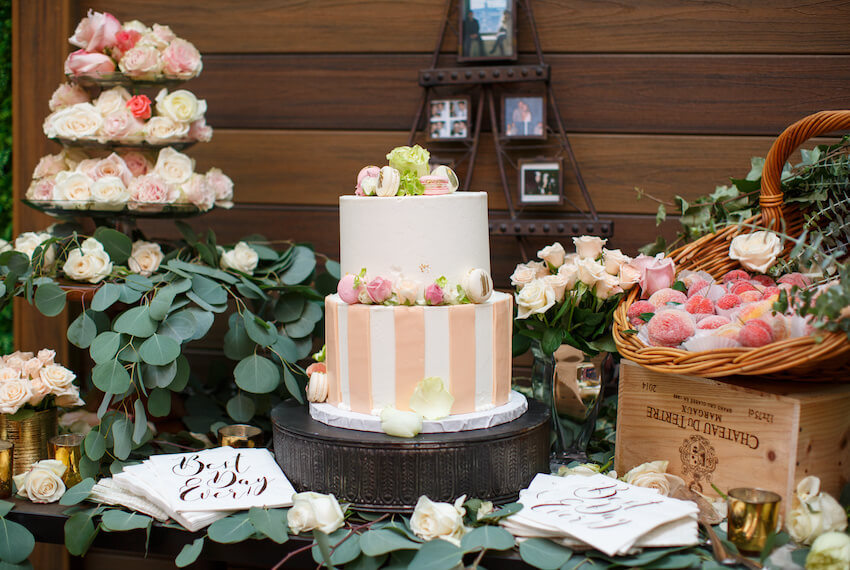 The bride is busy with wedding planning, so it's your honor to plan an incredible bridal shower to celebrate this exciting new journey. Whether you opt for a traditional bridal shower or a coed wedding shower, there are many elements to consider.
To pull off the best event possible, here's your ultimate bridal shower checklist. You'll find everything you need to know, including top party planning tips and a timeline for completing each task. 

2-3 Months Before the Bridal Shower
With a few months to go, it's time to start your bridal shower planning. Here's everything to consider when you're at the very early planning and idea stages. 
Find Out What the Bride Wants
Before you get too deep into the planning process, speak to the bride and find out what she wants. Would she prefer a bridal shower versus a bachelorette party or both?
See if the bride-to-be has any bridal shower themes or ideas she loves — for instance, maybe she's dreaming of a relaxed tea party, a sophisticated spa day, or a cozy brunch with the bridal party and close friends. Now is also a good time to consider bridal shower etiquette and whether you want to stick with something traditional or create a more contemporary celebration.
Build Your Dream Team
Planning a bridal shower solo is a tough job, so don't be afraid to call on your team to help with any pre-event preparations. Your team can include the maid of honor, bridesmaids, and the bride's family members — or some of your closest friends. 
Create a list of what needs to happen, then divide and conquer. Give people specific tasks (and timelines)— like finalizing the playlist or arranging the refreshments — so you know everything is being handled in a timely fashion. 
Determine the Ideal Venue and Find Vendors
Once you know what the bride wants, you can start looking for the best bridal shower venue to match. Tour a few places or find out what the guest of honor's favorite restaurants, cafes, or attractions are, then use this as your guide.
Think about any games, activities, decor, or catering ideas and how they'd work with your potential venue. When you find one you love, book as early as possible to secure your desired date.
Once you've found a venue, seek out any vendors and suppliers you might want to work with. This can include musicians, florists, caterers, and anyone else who's helping you create the dream bridal shower.
Finalize the Date and Time
While you want to choose a bridal shower date that suits the guest of honor, you also want to consider the availability of her guests. Traditionally, the bridal shower takes place anywhere between two weeks and two months before the big day, but it all depends on the bride's preference and timeline.
Opt for a weekend or evening for the highest attendance, or schedule the bridal shower date far in advance so people can book a vacation day. Think about the time of day too — whether you want a brunch event, evening soiree, or all-day bash. 
Create Your Final Guest List
Ask your guest of honor who they'd most love to see at their bridal shower, then use this to finalize your guest list. This will usually include close friends, family members, and the bridal party. You might extend invites to the bride's fiance and wedding party too — especially if you're hosting a contemporary wedding shower. 
1 Month Before the Bridal Shower
The bridal shower date is fast approaching, but there's still plenty of time to tackle those all-important tasks. Here's what to focus on one month out from the big day. 
Send Out Your Bridal Shower Invitations
It's time to let your guest list know all about the incredible bridal shower you're throwing for your beloved friend or family member. Do this with beautifully designed bridal shower invitations that match your event theme and the bride's tastes.
At Greenvelope, we have hundreds of digital bridal shower invitations for you to choose from. Once you find the perfect design, you can customize the colors, wording, and digital envelope to create a bespoke experience. 
Choose Some Fun Bridal Shower Games and Activities
A bridal shower is the perfect opportunity to play games and have a laugh. Whether you go for traditional bridal shower bingo or try your hand at circus skills, it's always a good idea to include some activities to your event.
For the ultimate list of ideas, see our guide on bridal shower games. It's filled with fun activities, including themed trivia, scavenger hunts, and more. 
Plan Your Bridal Shower Menu
All the best events have something in common — delicious food and drink! Spoil your guests and the bride-to-be with a tempting menu of drinks, snacks, mains, and treats.
Tailor your menu to the theme of your event and the time of day. Have mimosas and breakfast pastries at a bright and bubbly brunch, or host a swanky dinner party with caterers and impressive wine pairings.
Make a List of Things to Buy and Check In with Vendors
It's no fun rushing around at the last minute to buy supplies. A month before the event, create a list of things to buy, then go out and purchase them. 
Your list will depend on your theme, decor, and budget. Include any items you'll need for DIY decor, ingredients for menu items, and vases for centerpieces. If you're hiring vendors to handle things, you might not need to prepare as much but you'll still need to coordinate with them. Make sure they're on the same page as you, pay any final bills, and confirm delivery dates and details.
1-2 Weeks Before the Bridal Shower
There are only a couple of weeks left before the bridal shower. Make sure there's enough time in your schedule so you can focus on these last-minute must-haves and finish off your to-do list. 
Confirm Your RSVPs
With only a week or two to go, it's time to get your final bridal shower guest headcount so you can make sure your catering, activities, and party favors match up.
With Greenvelope online invitations, you can easily track RSVPs in one place. This makes it incredibly convenient to see who has or hasn't replied, so you know who to follow up with. It's also easy for guests to RSVP in just a few clicks, simplifying the process for everyone involved. 
Check Arrangements with Your Vendors
A week or two out is a great time to check in with any vendors or partners you're working with for the event. This gives you both enough time to avoid any last-minute panics and to share the latest information.
Make contact with vendors and check they're happy with how things are coming together. This includes caterers, florists, decor suppliers, food trucks, party favor suppliers, and anyone who's bringing something for the event. 
Prepare Your Party Favors
Don't leave your party favors until the night before, as you'll be busy with other details. Instead, prepare them a week or two ahead. Choose bridal shower favors that match your theme — like a mini spa set for a beauty-themed bash — or stick with something sweet and simple such as cupcakes. 
Buy a Gift for the Bride-to-Be
Your party guests won't be the only people leaving the event with a gift. Now's the perfect time to buy a bridal shower gift for the guest of honor.
Choose something thoughtful that they'll remember fondly, or a practical gift that they can use regularly. Kitchen accessories and equipment are always great, as are high-quality linens or pajamas. Jewelry, makeup, and perfume are all great ideas too if you know what the bride loves. 
The Day Before the Bridal Shower
It's almost time to celebrate your guest of honor at your beautifully prepared bridal shower. Here are the last few things to check off your bridal shower checklist the day before. 
Prepare Food and Drink
To save time on the day, prepare as much of the food and drink the day before if you're going the DIY route. This means you can spend more of that precious day-of time with your lovely guests.
Get baking, cooking, and chopping up veggies and store them away ahead of the big event. Make sure you have all the drinks supplies you'll need too — if not, there's still time to head to the store to stock up.
Decorate the Venue
For party planners with venue access, setting up the day before a big event is a must. This gives you a chance to see the space as you'd imagined it, and make any last-minute changes to the decor, layout, or styling. 
If you can't access the venue the day before, don't worry. Make a plan for what you want to achieve, then set off early on the party day so you can get the space ready. Knowing where you want to stage any backdrops and bridal shower decorations means you can get them up quickly before your guests arrive. 
Go Through Your Schedule for the Day
It's completely OK to feel worried before any event — especially one that's so special to you and the guest of honor. Settle some of those nerves by running through your schedule for the day with a loved one, so you're confident about what's going to happen.
Dream up and finalize a rough plan for the day, with milestones based on what needs to happen. Think about what time people arrive, what happens when they do, and when you'll do the main activities like any party games, toasts, and gift openings.
Host the Perfect Event with This Bridal Shower Checklist
Take inspiration from this list of bridal shower ideas to help you build your own bridal shower checklist. Give everything a specific deadline or timeframe so you know exactly where you need to be. Run through your checklist regularly to make sure you're on track, and enjoy the process of planning a beautiful bridal shower that the bride (and the guests) will always remember.