August 12, 2021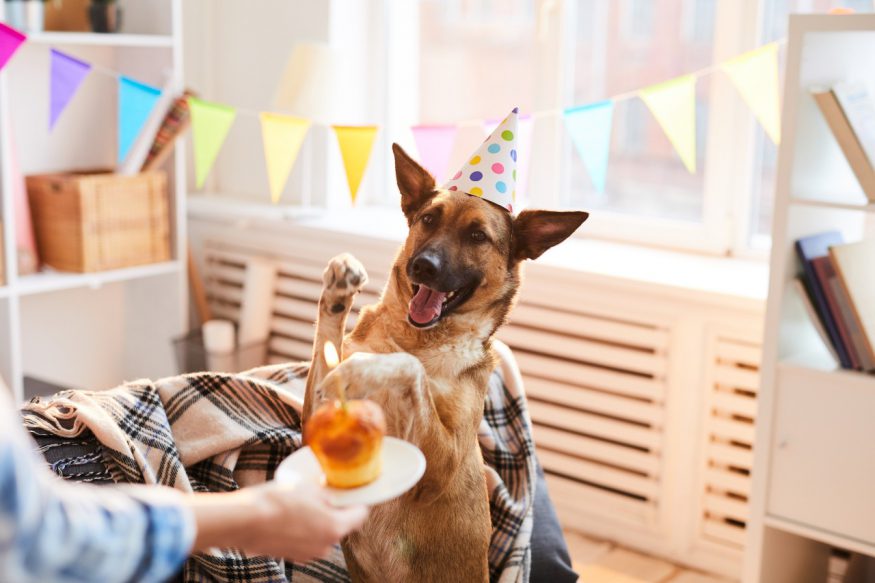 What better way to celebrate the best dog ever than with the ultimate dog birthday party? Whether your beloved puppers is turning one or 10, we'll take you through all the necessary steps for hosting a paw-some celebration, plus we'll share some super cute invitations that are sure to bark up some fun.

6 Party Planning Steps for Your Dog Birthday Party
It's hard not to have a smile on your face when planning a dog birthday party for your precious pet and their puppy pals. Still, you might be wondering where to begin. Here's how to take your idea from start to finish, with a guide to everything you'll need to say "happy birthday" to your pooch. 
Choose the Date and Time
Before you can jump into the party planning fun, you'll need to set a date for your dog's birthday party. If you're not sure about the exact date of your pet's birth, it doesn't matter — you can throw a party on the anniversary date of when they joined your family instead. If that day doesn't work for you, move it to the next weekend or any date that works for you and your party guests — just like you would with anyone else's celebration. 
Find a Fitting Venue
There aren't as many venues that'll let you host a dog birthday party as there are for us humans, but you still have plenty of great places to consider. 
One of the best venues for dog birthday parties is your own backyard. It's easy to get everything set up just the way you want it, with no restrictions on how many people you can have around or damage deposits to worry about. (Hint: Check out our guide on hosting a great backyard party.) 
Another great venue is your local dog park — especially if you're fine with any passing dog owners and their pets joining in on the fun. You could also check with your local doggy daycare to see if parties are an option.
Choose a Dog Birthday Party Theme
As with any celebration, a lot of the fun comes from the theme you choose. With something as exciting as a dog birthday party, you can really go wild, quirky, or colorful with your theme and the birthday party supplies you choose. 
Some of our favorite dog birthday party themes include rainbow fun, doggy decorations, or adorable dog characters from your favorite movies. You could even take inspiration from your pet's interests and throw them a celebration around their favorite TV show, treat, or toy.
For your dog's first birthday, you could even style the celebration just like you would for a baby's big moment — with a chalkboard sign, personalized outfit, and cake smash. 
Plan Some Fun Activities and Party Games
Every birthday bash needs a bit of entertainment, whether it's in the form of games or activities. For your pooch's party, consider having a basket full of tennis balls or frisbees to play fetch, a doggy obstacle course, a kiddie pool where they can splash, or other fun dog toys. 
With so much fun happening among your furry friends, don't forget to include some activities for the adults and kids too. Set out some outdoor party games like limbo, ring toss, and cornhole — just remember they're likely to get interrupted by some very excited pups. (But that's part of the fun!)
Serve Up Tasty Treats
There's nothing dogs love more than food (except you, of course), and a dog birthday party is the perfect excuse to let them indulge in delicious treats. Serve up a selection of treats and snacks for your doggy pals as well as some yummy food for your human guests. 
Specially prepared dog treats are great, but if you're planning to serve any homemade treats, always double-check first that the ingredients are safe for dogs to eat. If you can, keep all food items dog-friendly — including the human food. After all, if it smells tasty, there's a good chance those clever pooches will find a way to get to it. 
Invite Their Doggy Pals
Once you've got the basics figured out and have some ideas in mind for your furry friend's celebration, you can start building your guest list and sending invites out to all the lovely pet parents you know. 
You can't go wrong with Greenvelope's selection of dog birthday party invites. They're the perfect way to invite pals to a puppy birthday party. Plus, your invitees can easily RSVP — saving you the hassle of calling and texting everyone to confirm. 
Fun Dog Birthday Party Ideas
We love the idea of throwing a dog party to celebrate the four-legged birthday boy or girl! You can have so much fun with this sweet event. Here are some of our favorite dog birthday party ideas to inspire your own bash. 
Serve Pupcakes
Every birthday party needs one thing — cake! While you need to make sure you use a dog-friendly cake mix or recipe, there's no reason why your special pup can't join in with this delicious tradition. 
To make your own cake at home, all you'll need is a tasty dog birthday cake recipe that uses safe ingredients like peanut butter. If you don't fancy baking, take a stroll to your local dog bakery to see what they have available. Make sure there's an equally sweet treat for your human guests too — dog-themed cupcakes are an adorable way to match the occasion. 
Dress Up Your Dog in Something Cute
What better excuse to dress up your doggy than their special day? If your beloved pet will tolerate an outfit — even if it's just to snap a few cute photos — get one ready for a super sweet birthday moment. 
Go wild and have fun with an adorable suit and bowtie, or a rainbow party hat for the birthday pup. You could keep it old-school with a bright, patterned bandana around the neck or an adorable flower crown. If you really want to go all out, order a costume and get them all dressed up as if it were Halloween. Again, only do this if your four-legged companion is OK with donning clothes and accessories. You want your puppers to be happy and comfy!
Stage a Photoshoot
Even if your dog isn't all dressed up, staging a photoshoot is a lovely way to capture the moment. Not only is it fun for you and others to get involved, but you'll end up with some fabulous snaps to look back on.
Set up a DIY photo booth as you would for any other event, with a colorful sheet of fabric, shiny backdrop, or vibrant wall decked out with party decorations. Then, gather some cute props for you and your furry friends — think bright hats, bowties, treats, dog toys, and tennis balls. Snap away as your beloved pet and their pals sit still (or don't) for their photoshoot. 
Create Doggy Goody Bags for the Guests
It's tradition to send your guests home with a little memento from the party, and you can do the same for your furry friends. Create fun doggy bags filled with treats, toys, and goodies for your four-legged pals to enjoy. 
While you're making up goody bags for your dog's pals, don't forget about their owners too. Create an adorable puppy party bag filled with party favors — perhaps a themed cupcake, stationery, or pin to remember your time together. 
Dog Birthday Party Invitations You'll Love
When looking for the perfect dog birthday party invites, we've got you covered. Here are some of our most adorable digital invitation designs for dog lovers and pet owners. 
Doggone Birthday Invitation
How sweet is the doggy on this doggone birthday invitation? While this invite has been styled as a child's birthday party invite, all you need to do is personalize it with your pet's name and details. It's the perfect way to celebrate your special pooch. 
Party Puppy Invitation
Throwing a puppy party in honor of your little friend? This party puppy invitation is the way to go — especially if your bundle of joy looks like the adorable pooch on the invite. We love the rainbow balloons on this design — it's perfect for a brightly colored get-together. 
Let's Pawty Invitation
Who doesn't love a sausage dog? This let's pawty invitation is ideal if you have a dachshund in the family, or just if you think this one's super cute. Customize the design with your favorite colors and details, and you're all set. 
Throw the Best Dog Birthday Party Ever
Your four-legged friend is a big part of your family, so it only feels right to throw them a birthday bash just like you would for any other loved one. Choose a fun theme, find a suitable venue, plan your games, decor, and food, and you're all ready to go. Finish the look with an adorable invitation and you'll have your dog's human pals ready to hit RSVP the second it lands in their inbox. For more ideas on how to plan the perfect party that you can easily customize for your pet, don't miss our guide on creative birthday party ideas.