March 2, 2023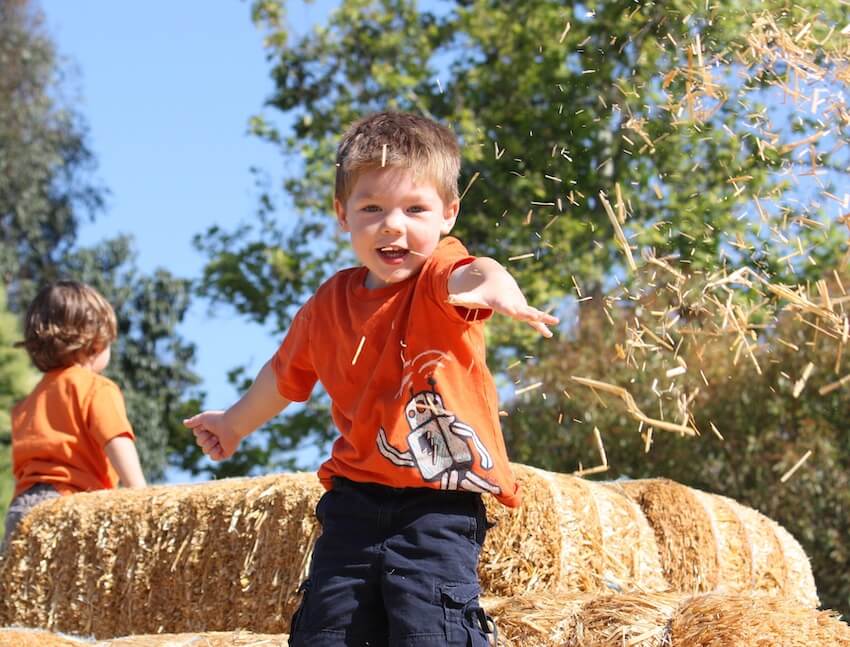 Whether you have a child who's all about tractors and farm animals or an adult who loves the architecture and rustic aesthetic of barns, a farm-themed birthday party is a great way to celebrate. Here, we've put together 17 festive ideas to help you create a fantastic farm party. Plus, you'll find farm-themed birthday party invitations to match — from boho chic designs to vibrant, kid-friendly options.

Farm-Themed Birthday Party Ideas from Decor to Games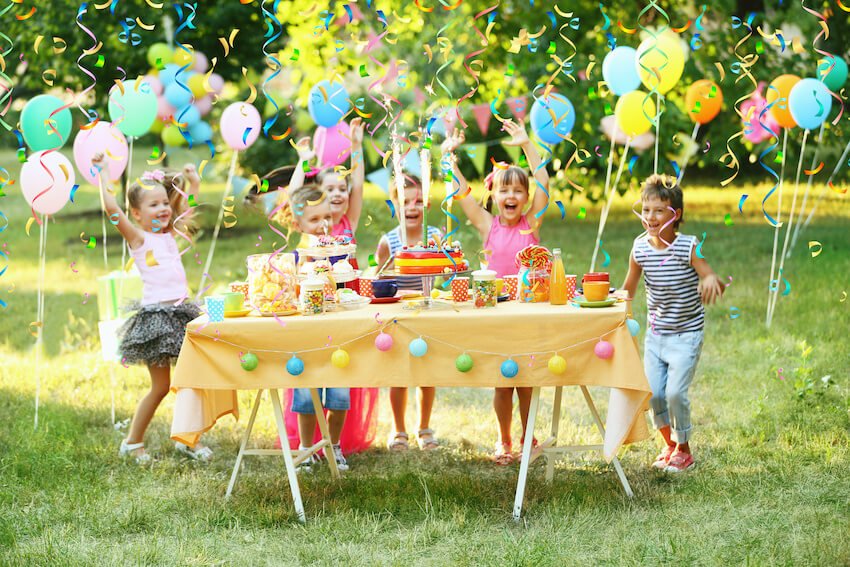 A party can't get much cuter than one with tiny farmers and cuddly barnyard animals! With these 17 farm-themed birthday party ideas, you're sure to have a sweet and fun time celebrating that latest trip around the sun. From party decorations to food and party games, here are some of our favorite farm-themed birthday party ideas.
1. Inflate Farm Animal Balloons
Every birthday party needs balloons. For a farm-themed birthday party, choose balloons featuring animals like cows, sheep, and pigs or animal print balloons. For a boho chic look, add in pastel green, gold, and taupe balloons. For a vibrant vibe, choose bright red and yellow balloons. You can incorporate the animal print theme into other party decorations, including streamers and confetti.
2. Set Up a Grazing Table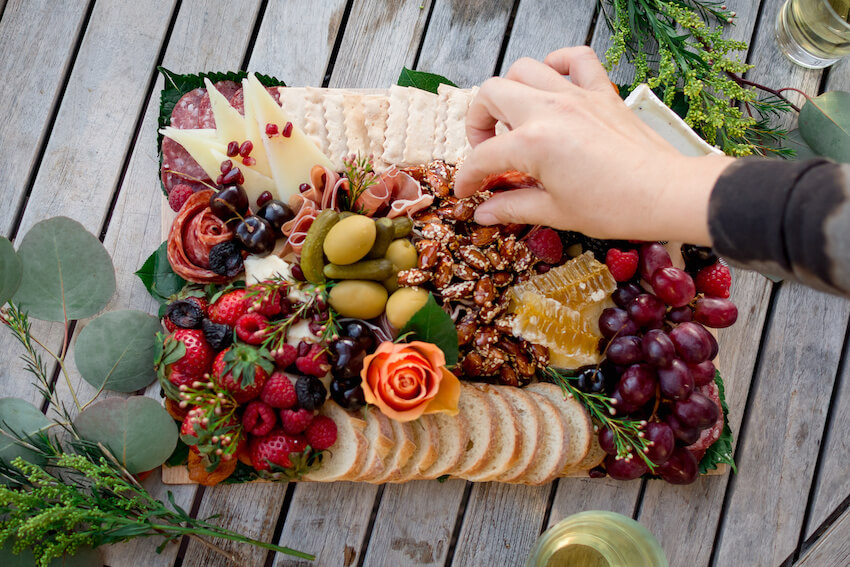 Feed guests in style with a farm-themed grazing table. For a kids' party, you can use paper bags or cups filled with Chex Mix that you can label as chicken feed to go with the farm theme. Surround the table using popsicle sticks to make a picket fence or borrow fencing from your child's farm toy set.
You can go more upscale for an adult celebration with a charcuterie-inspired spread. Arrange cheeses, meats, crackers, crudités, and fruits along a wooden table or series of cutting boards for a stylish serve-yourself station.
3. Warm Up with Cowhide-Print Blankets
Add a glamorous touch and cozy vibes to your farm-themed birthday party with cowhide throws or cowhide-print blankets. You can place them on chairs as seat covers or hand them out to guests to stay warm if the temperatures are cool.
4. Create Hay Bale Seating
Get into the farm spirit with hay bale seating. Set up hay bales around a table, or if you have some acreage, toss some in the back of a pickup truck and give hay rides on your property. If you want to leave the hard work to the professionals, take the party to a local farm that offers hayrides or a ranch venue that can set up hay bale seating for you.
5. Use a Gingham Tablecloth
For a farm-themed picnic celebration, cover your food tables with red-and-white gingham tablecloths. You can also use the pattern for other birthday decorations, including napkins, paper plates, and other tableware.
6. Serve Hatched Deviled Eggs
Turn traditional deviled eggs into a farm favorite by making them look like hatching chicks. They're sure to draw clucks of admiration, and they're as tasty as they are cute.
7. Hang a Birthday Banner
Honor the birthday guest of honor with a giant banner that fits the barnyard farm theme. You can choose a large cow print design or opt for a simple background featuring dozens of farm animals, including chickens, goats, and horses. Be sure to include the words "Happy Birthday" and the honoree's name.
8. Make a Barn Door Backdrop
No list of farm party ideas is complete without barn door decor ideas — they're trendy, eye-catching, and key to a farm aesthetic. Use the barn doors at a local farm venue as a photo booth backdrop or DIY barn doors in your own home by using butcher paper or peel-and-stick wall decals.
9. Create a Dress-Up Station
For a kids' party, entertain the little tots by setting up a dress-up station. You can grab a coat rack and hang wicker farm hats and printed bandanas from the pegs. Add funky glasses and overalls if you want the kids to really get into the theme.
10. Whip Up Barnyard Animal Cupcakes or Birthday Cake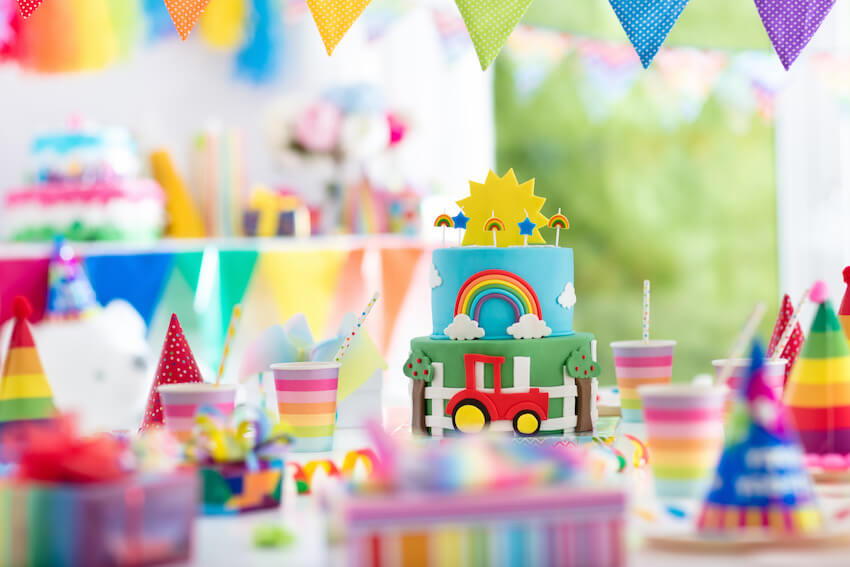 Blow out the candles in style with a farm-themed birthday cake or cupcakes. You can use a tutorial to bake a barn cake with farm animal cupcakes or opt for easy farm animal cake pops. If you're in a hurry and don't have time to bake, grab some simple cupcakes and cake toppers like popsicle sticks featuring printable farm animal cutouts.
11. Craft Farm-Themed Centerpieces
Decorate your tables with centerpieces that are sure to have guests saying moo and ahh! Tractors and farm equipment figurines make fun statement pieces for a child's birthday party. For an older teen or adult celebration, cow print vases filled with sunflowers are an ideal choice. Mason jars, burlap, and rope are excellent accents for a boho adult barnyard birthday party.
12. Up the Cute Factor with a Petting Zoo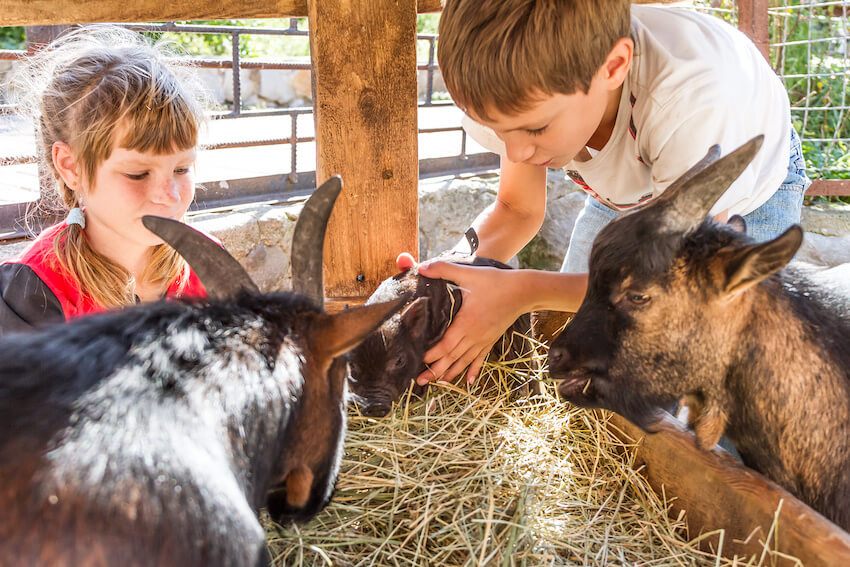 Make your bash memorable by bringing in a petting zoo with sheep, goats, ponies, and more for the guests to interact with. You can work with a local farm to host the event and use their animals for the petting zoo. Alternatively, there are companies that rent out livestock for putting zoo events at your own home.  
13. Make Popcorn Sheep
You can DIY these mini popcorn sheep ahead of time as party food or make them a craft project to keep the kids entertained during the celebration. They fit right in with your farm-themed birthday party supplies, and they make great on-the-go snacks for kids who are busy exploring and playing.
14. Create Popcorn-on-the-Cob
Keep incorporating the farm theme into your snack foods with fun popcorn-on-the-cob snacks. Fill bags with popcorn and use brown paper sacks or green bags to create the leaves so they look like real ears of fresh corn.
15. Host Burlap Sack Races
For an older kids' party, get their energy out by hosting burlap sack races. You can buy these bags at a local farm supply store or online from sites like Amazon and Etsy. Set up a start and finish line and reward the fastest participant with a special bag of goodies.
16. Have Fun with an Egg Hunt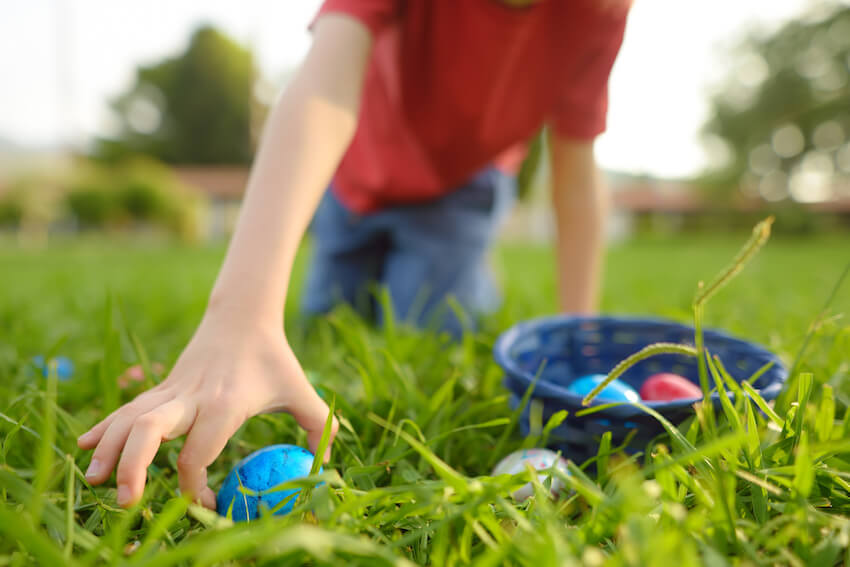 Egg hunts aren't just for Easter celebrations. Hide colorful eggs throughout the venue and have the kids help a local hen by tracking them all down. If you use plastic eggs, you can stick small barn animals and other rewards inside. For hard-boiled eggs, you can reward the searchers with small gifts when they finish the hunt.
17. Say Thanks with Birthday Party Favors
Whether you're throwing a first birthday party or a farm-themed adult celebration, show your guests you're thankful for their presence by sending them home with little gift bags. For kids, you can fill bags with party hats, stickers, and animal figurines. For an adult-approved party favor, order personalized mason jars, cow print straws, and a small bottle of alcohol or a tasty treat, like Rice Krispie haystacks dressed up in gingham wrappers or napkins.
Fantastic Farm-Themed Birthday Invitations
Now that you have some farm-themed birthday party ideas up your sleeve, it's a good time to start thinking about your invitations. At Greenvelope, you'll find a large selection of digital invitations, including farm and barnyard designs. Here are some of our favorite farm-themed birthday invitations.
1. Barnyard Birthday Invitation
This colorful invitation is perfect for celebrating a toddler birthday party or a baby shower. It features adorable farm animals and bright hues for a cheerful vibe.
2. Howdy Partner Invitation
Greet guests with a friendly "howdy" and get them ready to celebrate a special farm birthday with this Western-themed invite. Featuring horseshoes and a rustic font, it's ideal for adult and kid birthday parties.
3. Barnyard Party Invitation
This photo invite is perfect for farm-inspired birthday themes. It features a large slot for your favorite photo of the birthday honoree surrounded by farm imagery with a truck, barn, and hay bale.
4. Better in Boots Invitation
For an adult farm-themed birthday, this country invite sets the tone for a fun Western-inspired evening. It's also ideal for bridal showers and comes in several colorways that are easy to match to any color scheme.
5. Kindred Invitation
Inspired by Anne of Green Gables, this farm invite features a sweet and boho vibe. Delicate daisies adorn the frame, along with the rich green background and fern decorations that signify a nature-lover's event. 
Create Stunning Invites and Discover New Ways to Celebrate
With these farm-themed birthday party ideas and rustic invites from Greenvelope, you'll find the perfect way to celebrate a new chapter. Whether you're planning a party for a small child or a fancier affair for an adult who loves farmhouses, there's something for every style. Each invite is customizable, so you can make it vibrant and colorful or muted and sophisticated. Plus, you can upload your own designs to create an invite that's sure to be in a league of its own. 
For more party ideas, check out our Stationer's blog. You'll find tips on planning birthdays, advice for celebrating milestone birthdays, and more unforgettable birthday party themes. From rustic themes to outdoor celebrations, you'll discover the perfect way to celebrate life's best moments.