October 24, 2022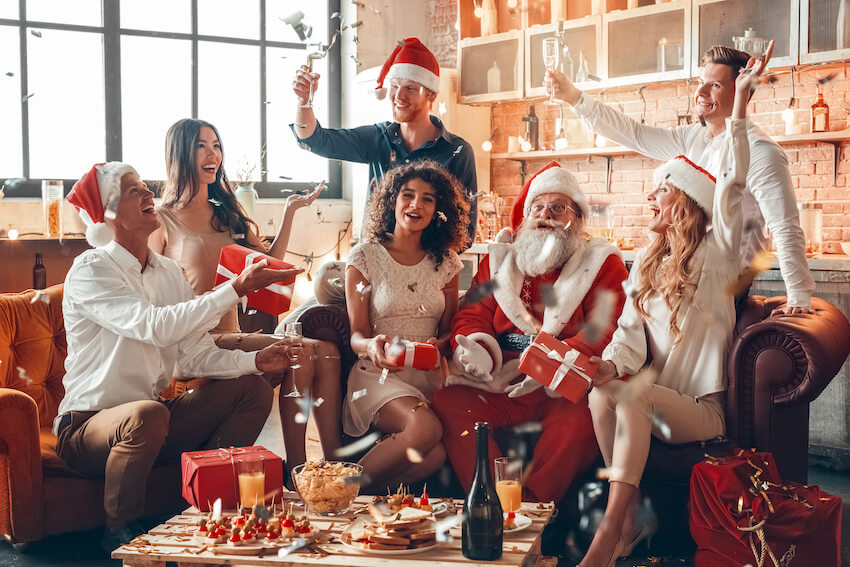 The holiday season is just around the corner and there are more ways to celebrate than you can imagine. From classic ugly sweater parties and cookie decorating competitions to unique celebrations like fondue dinners and reindeer games, there's a fun way to get festive during the most wonderful time of the year. This collection of Christmas theme ideas is sure to get you in the mood to party and be merry.

30 Festive and Fun Christmas Theme Ideas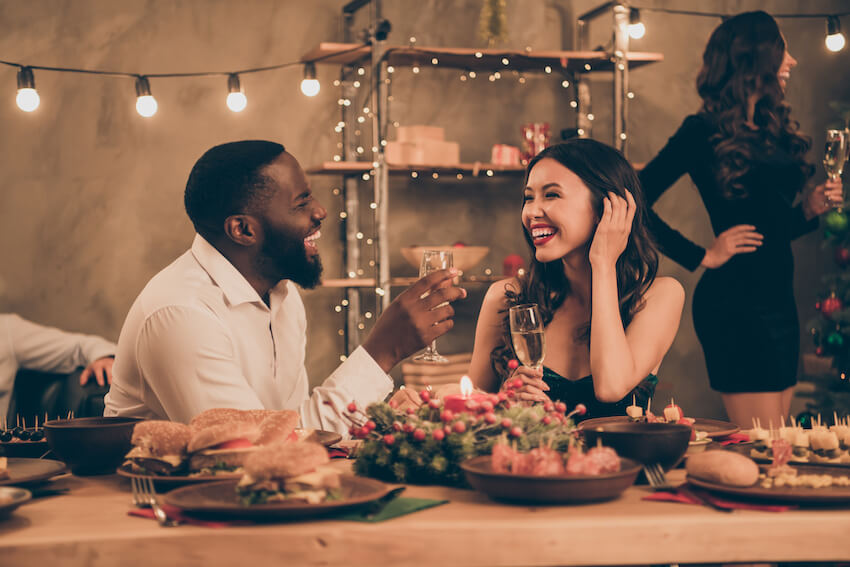 The holidays are a time to enjoy friends and family and indulge in good food and drinks. From mellow movie nights to over-the-top sparkling galas, there's no shortage of Christmas celebrations. With so many Christmas party theme ideas, there's an event that's sure to please everyone — even the grinches in the group. 
Here are some of our favorite holiday party ideas for a merry, bright, and memorable holiday season. Each one is paired with a customizable Christmas party invitation from Greenvelope so you can easily invite your guests to an unforgettable event. 
1. Grinchmas
Invitation Inspiration: Festive Santa Hat Invitation
Invite the grinches in your gang to celebrate a Merry Grinch-mas. Pair your grumpy attitudes with Grinch costumes and watch the original movie (and the remakes). Serve green eggs and ham if you're hosting the party at brunch time or opt for roast beast and greens for dinner time.
2. Gingerbread House Competition
Invitation Inspiration: Gingerbread City Card
Host a gingerbread house decorating contest this holiday season. Bake your own gingerbread or buy pre-made kits at the grocery store for easy building. Stock up on candies and frosting so everyone can decorate their hearts out.
3. Holiday Luau
Invitation Inspiration: Modern Graphic Tropics Invitation
This is one of those Christmas theme ideas that goes against convention. Ditch the cold weather and host a tropical-themed luau for your holiday party this year! You could do a full-on pig roast or simply grill some pork in the oven. You could also opt for a vegan-friendly alternative with grilled veggies and pineapple, roasted tofu, and fried rice. 
4. Santa Crawl
Invitation Inspiration: Jolly Santa Invitation
Big cities across the country host an event known as a Santa Crawl. Everyone dresses up like Santa Claus and goes bar hopping. It's a fun way for adults to get out, let loose, and celebrate in holiday style. If you can, check out the Reno Santa Crawl in Nevada — it's one of the largest events of its kind and has been held every year since 2001.
5. Christmas Carol-oke
Invitation Inspiration: Snowy Fa La La Invitation
Invite your friends and family for a fun evening of Christmas carol karaoke. Sing your favorite Christmas songs and host a competition for the best rendition. The winner can take home a special Christmas gift basket or other prize.
6. Hot Cocoa Party
Invitation Inspiration: Vintage Mug Invitation
Nothing gets people feeling cozier than a hot cup of cocoa. Set up a hot cocoa bar and invite guests to make their own special creations. Add ingredients like peppermint sticks, marshmallows, spices, and even "spiked" options for unique hot chocolate blends. 
7. Holiday Movie Marathon
Invitation Inspiration: Ya Filthy Animal Card
Invite your loved ones over for a Christmas movie night. Play your favorite Christmas movies or classics like "A Christmas Story," "The Polar Express," "National Lampoon's Christmas Vacation," "Rudolph," or "Home Alone" to match the hilarious line in the invitation. 
8. Ugly Christmas Sweater Party
Invitation Inspiration: Let's Get Ugly Invitation
No holiday season is complete without an ugly sweater party. Grab your ugliest holiday attire and enjoy the company of friends as you indulge in Christmas cocktails and delicious holiday food. Bonus points if you DIY your own holiday sweater — Good Housekeeping has some great ugly sweater ideas if you're feeling crafty.
9. Christmas Tree Decorating
Invitation Inspiration: Triangle Tree Forest Invitation
Host a Christmas tree decorating party with the ones you love. You can opt for mini trees or shrubs that each guest can decorate and take home or have them help you decorate your large living room tree.
10. White Elephant Gift Exchange
Invitation Inspiration: White Elephant Gift Invitation
Vie for the best gift with a good-spirited White Elephant party. Each guest brings a Christmas gift and adds it to a pile. Everyone draws a number to take a turn. Each person can choose a new gift from the pile or steal one someone has already opened.
11. Winter Wonderland Party
Invitation Inspiration: Tree Trio Invitation
A winter wonderland party is a wonderful way to celebrate this frosty and festive time of year. Decorate your space with snowflakes and glittering holiday decor to set the scene. Stick to white and silver color schemes and ask guests to attend in cocktail or formal attire.
12. Holiday Potluck
Invitation Inspiration: Christmas Buffet Invitation
Hosting a potluck is one of those Christmas theme ideas that makes holiday party planning more affordable and fun. For a fabulous feast among friends and family, have each guest fill out a sign-up sheet to bring a unique dish. Pro tip: You can send updates and keep track of RSVPs when you use digital invitations from Greenvelope!
13. Candy Cane Christmas Party
Invitation Inspiration: Classic Candy Cane Stripes Invitation
Candy canes make the holidays better. Host a party centered around these sweet and stripey treats. Ask guests to dress up like candy canes and bring their favorite candy cane dishes. You can also use the treats to decorate the space to set the mood.
14. Christmas Cookie Exchange Event
Invitation Inspiration: Classic Christmas Cookies Invitation
Host a cookie swap or cookie decorating party this holiday season. Line a table with a plastic tablecloth and set our decorating items like sprinkles, icing, and piping tools. Decorate your cookies and swap them with friends or enter them into your own cookie competition for the best design.
15. Winter White Christmas Soiree
Invitation Inspiration: Draped Poinsettias Invitation
Celebrate the beauty of the season with an all-white Christmas party. Ask guests to attend in white attire and decorate the space using only white hues. For added glamor, use white florals like roses and white poinsettias to set the scene.
16. Merry Brunch-mas
Invitation Inspiration: Champagne Tower Tree Invitation
Invite your friends and family for a Christmas day brunch. Serve "Merry Brunch-mas" fare like champagne, candy cane hot chocolate, pancakes, and casseroles. Decorate the tables with white Christmas lights for added sparkle.
17. Christmas Wreath-Making
Invitation Inspiration: Gold Confetti Wreath Invitation
Feel like getting crafty? You can't go wrong with a wreath-making party. Head to your local crafts supply store to stock up on wreath frames and decorative elements like pinecones, ornaments, and berries. Then, set up a table (or tables) where guests can be merry with some DIY wreath-making alongside tasty snacks and sips.
18. Holiday Trivia Get-Together
Invitation Inspiration: Rock the Night Away Invitation
Show off your smarts with a holiday-inspired trivia night. Ask questions about the most popular Christmas songs, movies, and holiday traditions. You can find plenty of holiday trivia online to print off for the day of your festivities. 
19. Frosty the Snowman Gala
Invitation Inspiration: Prismatic Snowflake Invitation
Host a fancy gala with a frosty theme. Deck out the space in glittering snowflakes and metallic party decorations. Raise money for a local charity with an auction or sell tickets to the event.
20. Peppermint Party
Invitation Inspiration: Candy Cane Stripes Invitation
Gather together for a peppermint party. Decorate the space in green, red, and white stripes to match the theme. Serve peppermint candies, peppermint hot cocoa, and other peppermint treats. For an even more refreshing twist on the theme, consider adding mint-inspired mini spa treatments to your party. You could offer cooling sheet masks for hands or take-home minty lip scrubs and foot balms.
21. A Nutcracker Christmas
Invitation Inspiration: Let's Get Crackin' Invitation
Get the party cracking with a trip to the local ballet. Invite your loved ones to join an evening of watching the Nutcracker performance. Head out for a cocktail or dinner afterward.
22. Christmas Game Night
Invitation Inspiration: Fun & Games Card
Belly laugh like Santa Claus all night long with a raucous adult game night. Pull out classic party games like Pictionary or trendy drawing games like Exploding Kittens for an evening filled with merry (and hilarious) moments.
23. Christmas Ornament-Making Party
Invitation Inspiration: Nostalgic Ornaments Invitation
Another fun Christmas theme idea for those who love getting crafty is a DIY ornament-making party. You can get all the materials beforehand or ask guests to bring something (like hooks, glitter, glue, or stickers) for an ornament potluck party of sorts! You can decorate plain ornament bulbs or offer a selection of ornament shapes in soft materials. 
24. Wine Tasting Soiree
Invitation Inspiration: Sleigh Some Cabernet Invitation
Ready to sleigh some Cabernet … and Pinot and Cab and Chardonnay? Toast the season with a tasting of delicious wines with all your favorite people. You can throw in Christmas theme ideas with your wines by serving them with holiday-inspired appetizers. 
25. Sledding the Slopes
Invitation Inspiration: Dashing Through the Snow invitation
If dashing through the snow sounds like your idea of a good time, invite your friends to hit the slopes with you on sleds! Grab the saucers, tubes, and toboggans for a fun and fast-paced celebration.
26. Reindeer Games Bash
Invitation Inspiration: Oh, Deer! Invitation
Invite friends to partake in a little friendly holiday-themed competition of reindeer games. See who's the fastest backyard dasher, the fanciest dancer, or the prettiest prancer with relay games and obstacle races.
27. Crafty Christmas Party
Invitation Inspiration: Merry-Making Invitation
It's clear that getting crafty is one of our favorite Chistmas theme ideas. For a merry-making celebration, invite loved ones to make DIY holiday coasters, advent calendars, or Christmas cards. The great thing about crafts is that you can adapt them to suit all ages.
28. Charcuterie Party
Invitation Inspiration: Wine Pairing Invitation
For a simple yet chic affair, why not host a charcuterie party? You can decorate your space and serve up charcuterie boards beautifully adorned with a variety of salami, cheeses, jams, crackers, and fruit. You can also create boards to accommodate different dietary restrictions. Of course, don't forget the wine (perhaps a winter sangria).
29. Fireside Hangout
Invitation Inspiration: Festive Fireplace Invitation
This themed Christmas idea gets guests to cozy up and celebrate the most wonderful time of the year. Invite guests to join you inside by the fire or outdoors around a firepit. Serve s'mores, hot cocoa, and roasted chestnuts.
30. Holiday Pet Pageant
Invitation Inspiration: Howlidays Card
Ready to pawty? Spread holiday cheer with a fun and festive pet pageant. Invite guests with furry friends and have each don their best holiday attire. Set up a photo booth to snap memories and let the pets and humans walk the runway. Vote on the best pageant outfit and celebrate the winner with a bone or toy crown.
Enjoy the Most Magical Holiday Season
With these holiday theme ideas, you're sure to have the most wonderful time this year. From Christmas theme ideas like cookie decorating contests to reindeer races and galas, there's a celebration for everyone. Whether you want to celebrate Christmas every day of December or keep it simple with one event, you'll find what you're looking for on this list of Christmas theme ideas. Looking for other ways to celebrate? Don't miss these Christmas party ideas and advice on what to write in holiday cards. Here's to making your season merry and bright!