March 14, 2022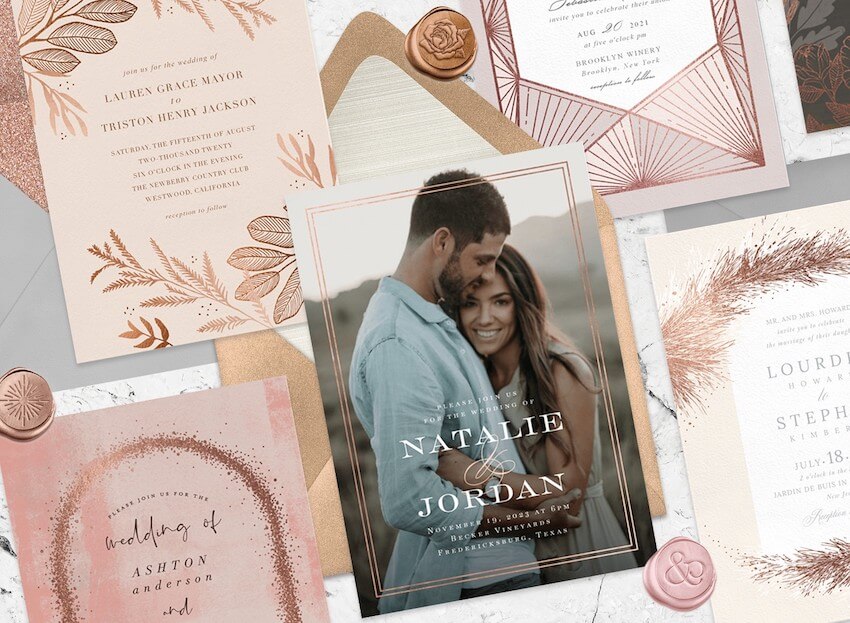 Designing your wedding invitations is an exciting process that allows you to put your love story front and center. Whether you want to choose from a professionally-made invite or upload your own design, the options are truly endless. For those who love feeling pretty in pink, rose gold wedding invitations are a great way to incorporate magic and glamour into your nuptials.
Here, you'll find some of our favorite rose gold wedding invitations. From greenery and woodsy-inspired designs to elegant and regal styles, you're sure to discover one you'll fall in love with. Plus, you'll find tips on what to include in the invite and how to incorporate the color theme into your invitation wording.

Fall in Love with These Rose Gold Wedding Invitations
Sending wedding invitations is one of the most exciting parts of planning a wedding. It's a moment that makes the event feel real, and for your guests, it starts the countdown to the big day. It's also a great way to build the theme of your wedding and add your own special touch to the event. By customizing your wedding invitations, you can make your love story stand out. 
From elegant wedding invitations to rustic takes, here are some of our favorite rose gold wedding invitation designs you're sure to fall head over heels for.
1. Shimmering Confetti Invitation
This rose gold wedding invitation card features a whimsical and magical air. The rose gold foil corners frame the wedding details and add a touch of shimmer. It's elegant and understated, making it perfect for formal and more casual affairs.
2. Enthralled Invitation
This hand-painted invite features an alcohol ink background that lends a moody note to the card. Rose gold accents add a glimmering touch, crafting a glamorous feel that is ideal for regal weddings.
3. Lasting Love Invitation
This rose gold glitter wedding invitation is pretty in pink. The simple and elegant background is adorned with interlocking wedding bands for a romantic touch. There's plenty of room for event details and the matching envelope completes the pink theme.
4. Foiled Branches Invitation
Pine branches and snow adorn the edges of this stunning rose gold wedding invitation. The greenery frames the scrawling text and wedding day details while the gold foil accents make the stationery feel glamorous. Use it for a winter wedding or an autumn affair.
5. Rare Love Invitation
This geometric wedding invite mimics the look of a laser-cut wedding invitation. It's superb for art deco-themed weddings and Great Gatsby ceremonies. It blends classic typography and a modern design to celebrate your nuptials.
6. Flourish Frame Invitation
Hosting a formal and fancy wedding? This romantic invitation is a fitting choice. It features elegant typography and whimsical details. Customize this rose gold foil wedding invitation template by changing the typography or adding a wax seal or monogram for a touch of glam.
7. Mt. Rainer Invitation
Getting married in a national park or an enchanted forest? This woodsy-inspired invite is a natural choice. It features rose gold accents overlaid on a forested background. It's a delightful mix of rugged nature and whimsy.
8. Shimmering Boughs Invitation
Say "I do" to this stunning rose gold invitation. Shimmering boughs add an elegant feel while modern text makes it clear where and when guests should attend. 
9. Scripted Ampersand Invitation
This photo invitation features foil stamping and centers the focus on the happy couple. It's ideal for formal weddings as well as casual boho-chic style events. Upload your favorite photo and customize the invite by adjusting the typography and envelope details.
10. Ethereal Watercolor Invitation
This watercolor invitation features a hand-painted background with subtle rose gold accents. It comes with matching save the date and thank you cards and you can add a wax seal for even more glamor.
11. Classic Maple Leaf Invitation
This leafy rose gold wedding invitation gives the look of a letterpress invite. It features a maple leaf on the invitation as well as on the inside of the envelope. It's captivating for weddings at farmhouses, vineyards, and woodsy locales.
12. Foil Stamped Sunflower Invitation
Another nature-inspired invite, this rose gold design features a cheery sunflower. The floral wedding invitation suite includes a shimmering envelope liner and complimentary stationery for place cards as well as RSVP cards.
13. Contemporary Duo Invitation
This contemporary invite features rich hues contrasted by a shimmering gold foil accent. The modern and color-block look is a nice match for couples that love art and contemporary vibes.
14. Stippled Band Invitation
This simple yet stunning invite features a band of gold foil splatter. Inspired by the look of a shooting star, it's as magical as your love story.
15. Foil Brush Strokes Invitation
This blush wedding invitation is artsy and classic at the same time. The foil brush strokes add a touch of elegance paired with simple typography that keeps the focus on your wedding day details.
Wording Ideas for Your Rose Gold Wedding Invites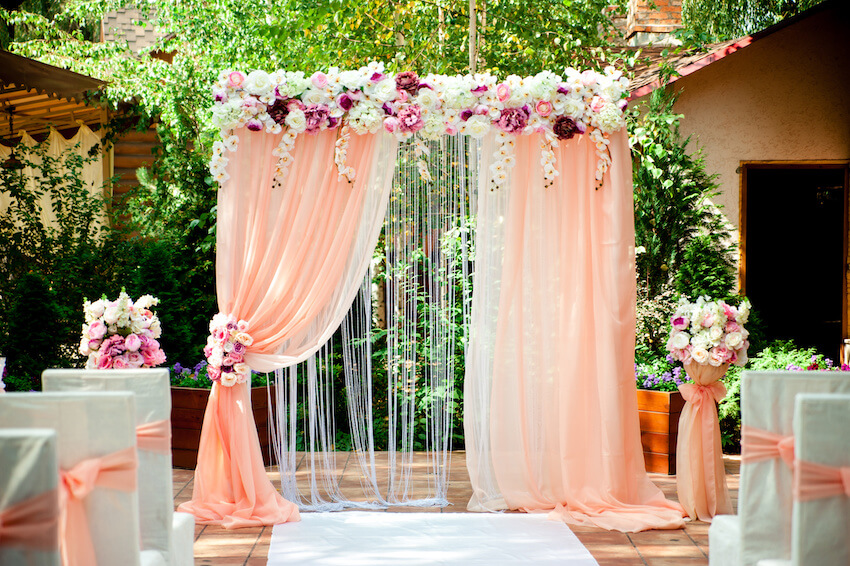 When writing your invitation, what you say is just as important as the design you choose. Wedding invitations should always include some basic information about the event, including the time, location, and date as well as the dress code. An RSVP card is essential for wedding planning so you know who's coming and how many guests will be attending. 
Consult our guide on wedding invitation etiquette to get tips on wording and how to avoid any phrasing faux pas. As a rule of thumb, write out full names and titles for a formal wedding. For a more casual affair or a minimony, you can use first names or nicknames if preferred. 
Your wording can also be designed to match the theme of the wedding. If your color scheme is rose gold, there are several ways to incorporate that theme in the wording of your invitation. 
Here are some fun and formal ideas to use in your rose gold wedding invitations:
Join us as we celebrate the union of Mr. John Thompson and Miss Eliza Ivanov. Please come in your prettiest pink attire.

We're tickled pink to invite you to join us in celebrating our marriage with a small reception on Saturday, June 27th.

Their love glitters like rose gold. Join the parents of Brent Cullen and Selina Cicowicz in celebrating their marriage at Chateau Lacanaud at sixteen o'clock on Saturday, August nineteenth, two thousand twenty-three.
Shimmer in Rose Gold With Greenvelope Stationery
At Greenvelope, you'll find all types of wedding stationery — from rose gold wedding invitations and save the date cards to thank you cards, engagement invitations, and bridal shower invites. Whether you want a modern wedding invitation or something with a classic or rustic style, you're sure to find the perfect invite that you can start customizing now for your wedding mood.
Want more wedding inspiration? Continue browsing our Stationer's blog for wedding themes, decor ideas, and etiquette tips so you can pull off your dream day. You'll also find ideas for life's other special moments including birthday parties, baby showers, and religious events.