March 6, 2022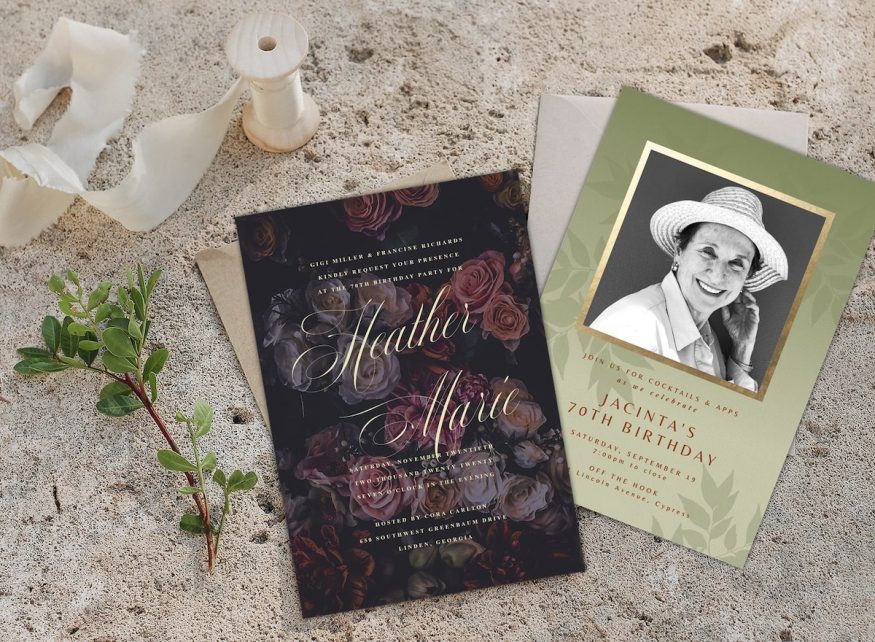 Seventy years around the sun is a true accomplishment — and it's a great reason to celebrate. Maybe you want to throw a sentimental birthday party celebration for your favorite grandma. Perhaps you're planning a surprise party for a colleague or mentor at work. Or maybe you want to poke fun at your own 70 years of adventure on the planet. However you want to honor 70 years, there's a party for you.
Looking for 70th birthday invitations to get guests excited about celebrating this milestone birthday? You're in the right spot. Read on to discover our favorite 70th birthday invitations and ways you can use them to celebrate. You'll find everything from sweet and sophisticated designs to playful and silly ideas to set the tone for your 70th birthday party event.

70th Birthday Invitations: Ideas for Inspiration
Who says getting old has to be boring? With 70 years of experience under your belt, you know how to have a good time. If you're planning a 70th birthday party for yourself or a loved one, the first thing you need to do is send out invitations. 
At Greenvelope, you'll find dozens of designs and customizable adult birthday invitations. You can play with the color schemes, fonts, and even upload your own design. With professionally curated options, you're sure to find an invite that suits your 70th birthday party theme and mood. Here are some of our favorite 70th birthday invitations. These invites will get guests excited about the event — whether you're hosting a formal luncheon honoring a church friend or a boisterous evening celebrating grandpa. 
1. 21 Forever Invitation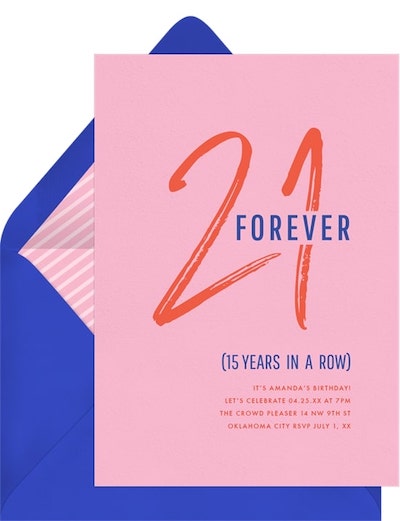 Know a septuagenarian that acts like they're still 21? This 21 forever invitation is perfect for celebrating their birthday party. It's fun and festive, just like the birthday girl or boy who refuses to get old. Customize this 70th birthday invitation template by adjusting the number of years in a row and playing with the color and font.
2. Barrel Aged Invitation
This 70th birthday party invitation is perfect for individuals that get better with age and those who like a good beer. The invite features a barley wreath and beer barrel highlighting the birthday party information. It's rustic and western, making it ideal for grandpa or a mentor at work.
3. Forever Young Invitation
This gold 70th birthday party invite adds a touch of glamour and romance to the milestone. It features gold glitter and gold foil accents along with an elegant scrawling script. Choose from various background colors and typography hues including black gold and rose gold to match the personality of the honoree.
4. You're Vintage Card
This retro birthday card brings back memories of all the fun you've had over the years. It's ideal for wishing someone a happy 70th birthday and can be personalized as an invite to a party. It features fun accents including a lava lamp, record player, and roller blades — basically, everything you need for a roaring good time.
5. Spliced Frame Invitation
This simple invite features a wrapped text frame centering attention on a photo of the birthday honoree. It's modern and simple, making it fitting for other events as well, including as a wedding invitation or greeting card.
6. Exclamation Invitation
This exclamation invitation is fun and straightforward. It features a gold foil exclamation point and the words "oh my." It's ideal as a surprise party invitation for a seventieth birthday as well as for celebrating other milestones.
7. Stopped Counting Invitation
Stopped counting, but know you should be celebrating something? This silly invite pokes fun at getting older. It's ideal for 50, 60, and 70-something individuals who want to have a lively celebration with a light-hearted atmosphere.
8. Hashtag Old Invitation
Get guests laughing with this jovial and playful invite. It's customizable for a senior that loves to laugh and just have a good time — no matter their age.
9. Party Hat Invitation
This fun and festive invite features polka dot confetti and a vibrant party hat. It's a colorful way to get guests excited about an upcoming celebration for your favorite 70-year old.
10. Watercolor Brunch and Bubbly Invitation
This watercolor invitation card is elegant and sophisticated. It has two glasses of champagne on a soft-colored background. It's ideal for hosting a brunch for a friend that's turning 70. You can also use this card to celebrate a baby shower, bridal shower, and other milestones. 
11. Luau Flowers Invitation
This floral birthday invitation is perfect whether you're turning 2 or 72. It features bright flowers in various shades and plenty of room to include all the event's details. Use it as a surprise birthday invitation or for guests to RSVP to other events like a backyard luau or summer BBQ.
What to Say in a 70th Birthday Invitation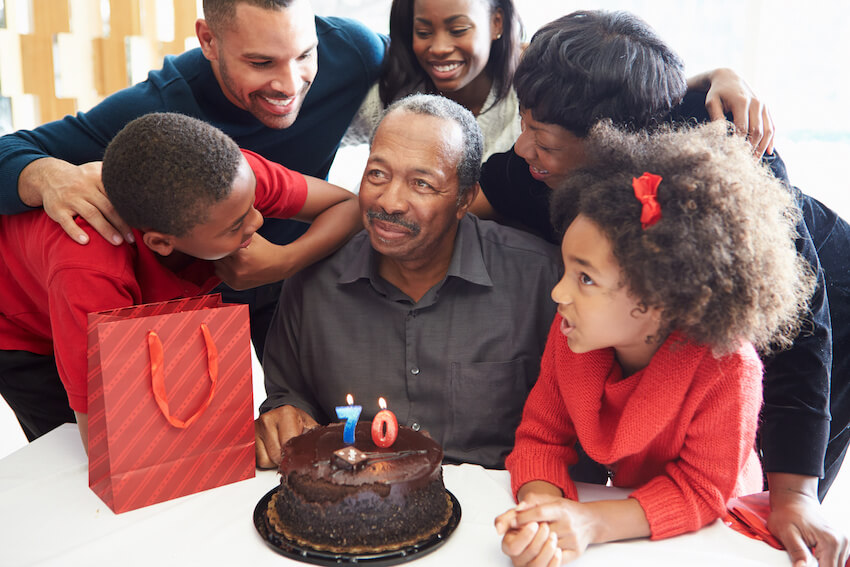 You've picked out the perfect card and now you need to figure out what to say in it. Fortunately, writing a 70th birthday invitation doesn't have to be hard.
Start by deciding what the mood of the event is. If you're having a party for someone who loves acting like they're a young lass or lad, you can choose to be funny and playful in the invite. If the event is for a mentor or acquaintance, you can choose to be more formal in your wording. You may also want to focus on the person's triumphs and accomplishments.
Here are some wording ideas for both fun and formal 70th birthday invitations:
Let's party like we're young — because we are! 70 is the new 30.

I get better with age. Come enjoy some fine wine and good company as we celebrate my 70th year on the planet.

I'm officially a golden oldie so let's celebrate with a luncheon dripped in glitter and gold this Saturday.

70 is 21 in Celsius. Come celebrate my second 21st birthday with a BBQ in the park.

Come celebrate seven decades of success as we honor company Vice President, Mr. West, on his birthday.
When writing an invite, the wording isn't the only consideration. You also want to make sure you include the relevant information for guests. When inviting guests to a 70th birthday party, include the date, time, and location of the event. Indicate if guests should bring a present, and include a spot for them to RSVP. Also, make sure to include if there's a party theme and any dress code requirements you may have. 
Host a Memorable Milestone Event
At Greenvelope, we think all of life's precious moments are worth celebrating. Whether you're looking to celebrate a milestone birthday or another event like a bridal shower or graduation, we have stationery for all of life's celebrations. From birthday milestones like 30th birthday, 50th birthday, and 60th birthday invitations to baby shower invitations and Valentine's Day cards, you'll find what you need. Start customizing your 70th birthday invitations now. 
Keep browsing our Stationer's blog for more tips on how to host the perfect event. You'll find everything from invitation wording ideas to tips on DIY party supplies and party decorations. Plus, you'll find birthday party themes and vintage birthday party ideas that are perfect for honoring a septuagenarian.