July 12, 2017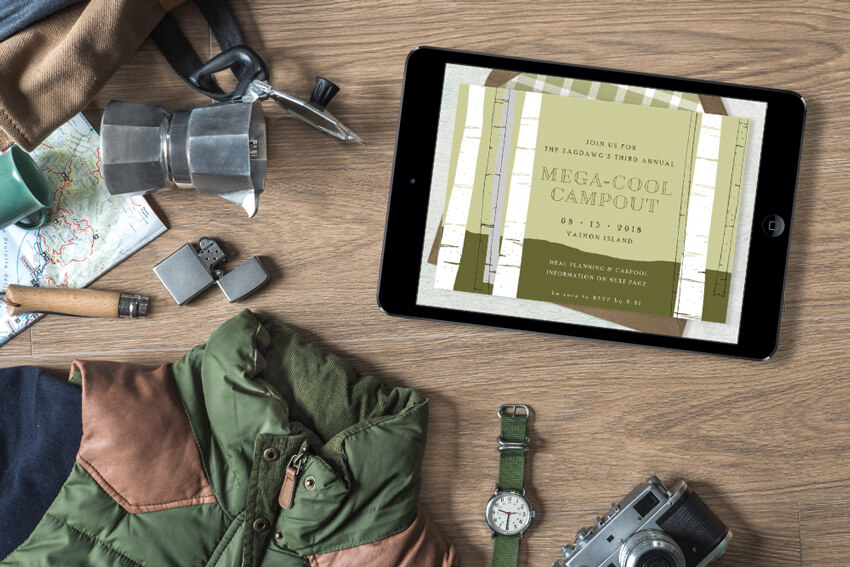 It's that time of year when winter passes and the summer months bring a familiar, welcomed warmth. And what better way is there to celebrate than a weekend of sitting around the campfire, laughing, and roasting marshmallows? Complete with favorable weather, a night of exchanging stories under the stars with a group of your closest friends and family is pretty hard to beat. The only catch? Someone needs to plan the trip (and this could easily be you!) Organizing a great camping trip doesn't have to be complicated. That's why we've put together some simple tips to help make your planning process run smooth.
Activities
In its purest form, camping is simple. You can easily fill your days with beautiful hikes, endless exploration, or a refreshing swim or float. In addition, having some fun, outdoor games is never a bad idea. Here are some of our favorite camping games to add to your packing list!
Cornhole

– This bean-bag toss game is a fun and easy option for your whole group. It's also totally possible to play this game effectively while holding a cold beverage. For that reason, it's at the top of our list.

Ladder Ball

– This game is also known as Bola Ball, Ladder Golf, or Ladder Toss. Regardless, it's just challenging enough to liven up any campground gathering.

Cards – A classic for a reason, card games are great for games at the picnic table before dinner, sitting next to the lake, or hanging out next to the fire. Depending on the age of participants and group size, UNO, Crazy 8s, and BS are a few of our favorites.

Catch Phrase

– The handheld electronic version of Catch Phrase is perfect for camping. Easily transportable and even easier to learn, you can play this anywhere with any group size.
Menu
Classic s'mores and hot dogs are a given at most campgrounds, but if you're wanting to go outside the ordinary, here are some recipes worth considering.
Camp Pizza with Caramelized Onions, Sausage, and Fontina

– This recipe was featured on

Sunset

and is an "ingenious way to make pizza in a frying pan." For efficiency, they recommend bringing the ingredients in "sealed containers, grouped by use."

Campfire Nachos

– Featured on

Fresh off the Grid

, there is a lot to love about this recipe. "There are very very few ways this can get screwed up. You're essentially just melting cheese, so the barrier to entry for this meal is pretty low, even for camp cooking novices."

Mason Jar Parfait

– Included in

Beyond the Tent's

25 Make Ahead Camping Meals, is this simple recipe. Simply "mix all of the ingredients together and separate evenly into 4 pint sized mason jars. Keep refrigerated or in your cooler overnight to allow the oats to soften."
Beverages
Your beverage checklist can be pretty simple and straightforward. Pack a sizeable cooler with essentials like water, lemonade, LaCroix, and beer (mostly beer). We also love this simple sangria recipe that you can prep ahead of time!
Planning Tips and Supplies
One of the most helpful pieces of advice we can give when planning a group camping trip is to create a shared document that outlines travel logistics, food, and shared supplies. This ensures that there is minimal waste, nothing is forgotten, and the burden of all the preparation doesn't just fall on one person. Menu planning ahead of time in a shared doc is also super helpful. This minimizes the cooking prep work at the campsite and maximizes the amount of time you get to really enjoy the outdoors!
Tents, sleeping bags, and pillows are a given. But here are some essentials that are easy to overlook when creating your packing list:
Campfire chairs

Bottle opener and corkscrew

Garbage bags

Air pump

Aluminum foil

Towels

Dish soap

Containers for food storage

Folding table
For an extensive checklist, REI has got you covered.
Invitations
Select a digital design that sets the tone for the theme of your weekend—in this case, anything with outdoorsy inspiration and maybe a touch of rustic charm. Keep in mind that managing your event will be dramatically easier by going digital, especially when it comes to tracking RSVPs. The sooner you know how many people can attend, the easier it will be to plan other details like the amount of food to bring. For a camping trip, we recommend sending your invites out around 2-3 weeks beforehand. You can browse our full collection of outdoor-inspired designs here!