May 13, 2021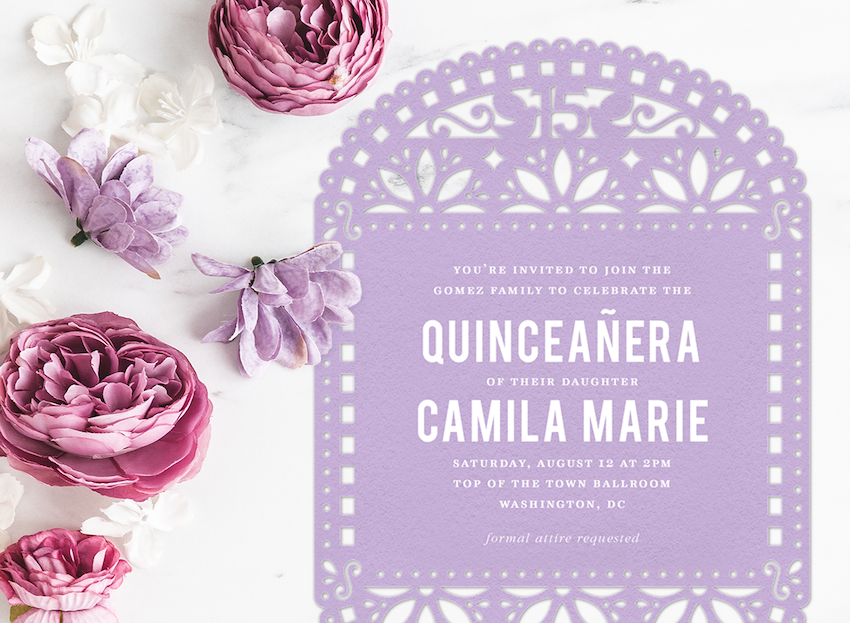 Celebrating a quinceañera is a joyful moment — one that deserves an audience filled with those who are special to the birthday girl. But before you can spread the word about the big day, you'll need to figure out your quince invitations wording. 
Discover the perfect way to invite friends and family members to celebrate your guest of honor with this guide to preparing quinceañera invitations. We'll take you through the basic structure, share some phrasing ideas, and highlight a few of our favorite quince invitation designs. 

How to Structure Your Quince Invitations
A quinceañera is a once-in-a-lifetime celebration that involves many different elements. As such, quinceañera invitations can be a bit tricky when trying to figure out how to format them, what to include, and what goes where. Use the following categories to help organize your invites.
Host Line
As with wedding invitations, quince invitations wording traditionally starts with a host line. This is where you write out the names of the people hosting the party — it's usually the quince's parents, but it could be her godparents (padrinos). 
In more formal quince invitations, you can format this line as follows:
Mr. and Mrs. [Parents' Names] have the honor of inviting you to …
This also works great for more casual invites, or you could keep it simple with something like:
We warmly invite you to join us to celebrate the 15th birthday of …
The Quinceañera
Next up, you'll feature the star of the show herself — your quinceañera. (Fun fact: While the term quinceañera refers to the party, it's also literally translated in Spanish as "the girl who is 15.") 
On this line, you'll write out the young woman's name. Keep this on a separate line in your quince invitations wording, and consider highlighting it in bold or a more decorative font so it really stands out. 
It's common to feature the birthday girl's full name here, including any middle names. If you're keeping the ceremony small or you want a more casual approach, you could opt for just the guest of honor's first name instead. 
Mass Details
With the holy mass taking place before the reception, it makes sense to keep things in order. In this section, you'll want to feature all the information about the mass. 
Add the date, time, and location of the church so people can easily find it. There won't be space on your main invite to share driving instructions or directions, but you could include a separate note card — or use the details panel on your digital invitations to share the extra information.
Quince Reception Details
After the mass has taken place, it's time to move everybody on to the big party. Make sure you include all the relevant details about the reception including the venue name, address, and arrival time.
How to RSVP
Like all birthday party invitations, your quinceañera guests will need to know how they can RSVP. If you're sending physical invites, be sure to enclose an RSVP card and pre-stamped envelope that people can fill in and send back to you. If you're using online invitations, your guests can simply click to let you know whether they can make it. 
Dress Code
Most quinceañeras are grand events with guests wearing formal attire. That's not always the case though, and you might opt for a more casual affair even if the birthday girl is donned in a tulle quinceañera dress and tiara. 
Let your guests know what to expect and help them plan the perfect outfit by setting a quinceañera dress code. Keep this simple with familiar dress code terms such as formal, black tie, or cocktail attire. 
Optional Extras
With all the main details featured, your quinceañera invitations are complete. However, there are a few optional bits of information you may want to include in your quince invitations wording.
Gift Registry
If you're creating a gift registry, include the names of the stores where the birthday girl is registered — or offer a link to your online gift registry instead.
The Quince Court
It's lovely to give a little extra appreciation to the quinceañera's court. If there's space, you could list out the damas and chambelanes as a way to thank them for their participation.
Thanks to the Godparents
As with the quince's court, you could use some of the space on your invite to share a thank you to the guest of honor's padrinos. This would be especially welcome if they're helping with hosting or contributing funds towards the celebration. 
Quince Invitations Wording Ideas to Inspire You
Now that you know how to structure your quinceañera party invitations, it's time to finalize the invitation wording. Here are some sweet examples of quinceañera invitation messages that you can use to make your own. 
Formal Quince Verses
Want to keep things traditional? Take inspiration from these more formal quince invitations wording ideas. 
Mr. and Mrs. [Parents' Names]
request the honor of your presence at
the fifteenth birthday of
[Quince's Name]
The Holy Mass takes place
on [Date] at [Time]
[Address]
[City, State]
followed by a reception at
[Address]
[City, State]
~
Mr. and Mrs. [Parents' Names]
cordially invite you to
the celebration of the
fifteenth birthday of
[Quince's Name]
The Quince Años ceremony will take place 
on [Date] at [Time]
[Address]
[City, State]
Reception to immediately follow at [Venue]
~
God has blessed us with our wonderful daughter
[Quince's Name]
Join with us as we celebrate 
her fifteenth birthday
on [Date] at [Time]
[Address]
[City, State]
Casual Quince Verses
If you're going for a more casual feel to celebrate this big birthday, here are some lovely quince invitations wording ideas to help you find the right words. 
Join us as we host a wonderful
quinceañera party in honor of
[Quince's Name]
The celebration takes place 
on [Date] at [Time]
[Address]
[City, State]
~Â 
We're honored to invite you to
share the big day with us
as we celebrate
[Quince's Name]
on her 15th birthday
Join us at
[Address]
[City, State]
Gift registry
at
[Registry Link(s)]
~
[Quince's Name]
is turning fifteen
We'd love you to join us
on this special occasion
The Holy Mass takes place
on [Date] at [Time]
at [Address]
[City, State]
Reception immediately follows at [Venue]
Quinceañera Invitation Designs
Now comes the fun part — selecting your invitation design. Here are just a few of our favorite high-quality templates that you can personalize however you like. You can also find dozens of other selections with our collection of quinceañera invitations.
Llama Love Quinceañera Invitation
We love the festive feel of this lively llama love quinceañera invitation. This lovely design mixes modern touches with a nod to Peruvian customs. It's ideal if you're going big, bold, and bright with your fiesta theme and styling. 
Rosey Frame Quinceañera Invitation 
This rosey frame quinceañera invitation blends soft florals with a hint of rose gold for a gorgeously feminine way to celebrate the guest of honor. This works well for both classically formal quinces and more contemporary takes. 
Classic Papel Picado Quinceañera Invitation
You can't go wrong with this beautiful classic papel picado quinceañera invitation. Inspired by the traditional Mexican art of papel picado ("perforated paper"), you can customize this birthday invitation in both pastel shades and bold colors to match your theme. 
Master Your Quince Invitations Wording
Getting your quinceanera invitation wording right is all about setting the structure so you can express your joy and excitement about this momentous occasion. Once you understand the format and follow the categories outlined in this guide, it'll be easier to find the right words and choose a gorgeous quinceañera invitation to match.