May 23, 2018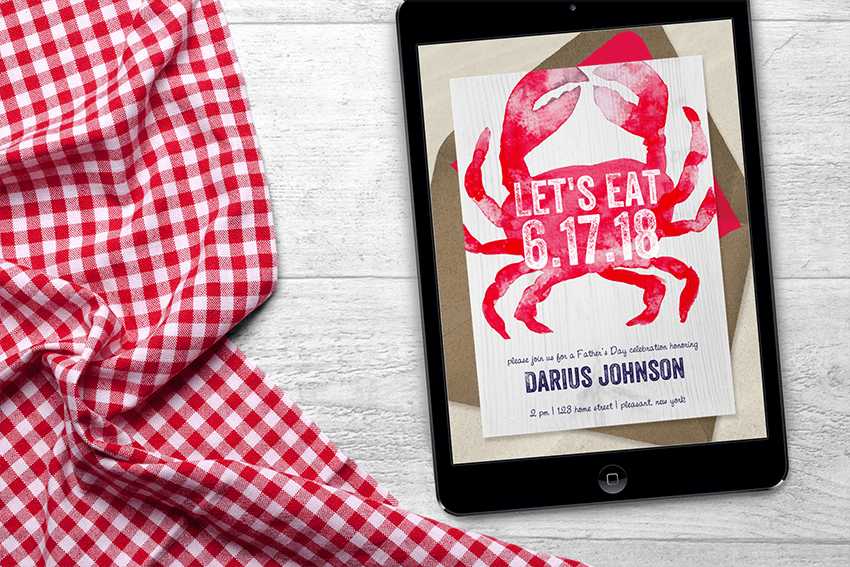 Is it just us, or is finding a worthwhile Father's Day gift pretty rough? Your dad can only wear so many ties, right? And maybe he doesn't require quite as many power tools as those Father's Day advertisements want you to think. We can do better. This year, celebrate your dad in a special way with the ultimate gift: a gathering of his closest friends and family. We can help! Keep scrolling for tips on how to pull off the perfect Father's Day party.
Decide on a Location
Nothing says Father's Day like a backyard barbecue. And it just so happens that this special day falls on June 17, a prime time for summer grilling. Complete with friends, family, and an active grill, your dad is sure to have a wonderful time. But maybe your backyard isn't quite big enough (or maybe you don't have one!) If that's the case, spend some time scoping out the community parks in your area and see if you can find a location with picnic tables and charcoal grills (bonus points if you find a spot by a river or lake!)
Create a Guest List
You can make your party as large or intimate as you wish, but if you ask us, the more, the merrier! If you're worried about holiday attendance, don't feel like you have to celebrate exactly on June 17. Plan your party for the Friday or Saturday before Father's Day to ensure a solid headcount.
Send Invitations
Send out invites 2–3 weeks before your event date. Keep in mind, your invitation is the first communication that your guests will receive about your party. The design you select will set the tone for what is to come, so make sure your overall theme and color palette reflects your theme. In this case, consider a design that depicts outdoor, summer fun. Greenvelope has a full collection of options here!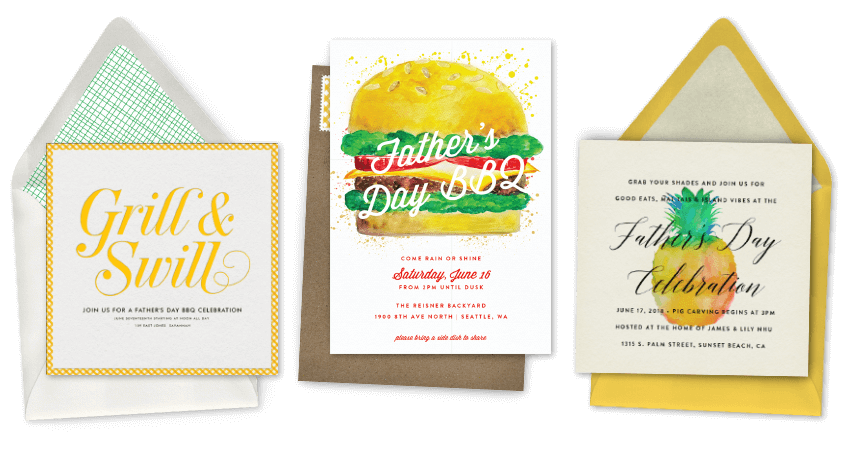 Plan the Menu
Only the best potato salads, grilled oysters, and burgers belong at your Father's Day barbecue. Fortunately, there is a wealth of online recipes that are both filling and easy to pull off. From grilled corn and chili dip to salmon kebabs and barbecued chicken, Bon Appétit has rounded up 80 of their very best grilling recipes. There's something for everyone. Just be sure to not overlook dessert—it's a celebration, after all!
Depending on the size of your party, you might want to recruit helpers to assist with cooking preparations. Or, if you'd rather spend more time socializing with your guests, consider hosting a catered barbecue.
Create a Playlist
Music is everything at a party. Whether you have portable speakers, an outdoor sound system, or a '90s boombox, be sure to create a playlist with your dad's favorite summer jams. Keep in mind, Spotify has a bunch of party playlists inspired by backyard barbecues and throwback favorites. Find them here!
Plan Games and Activities
Games are the perfect way to help break the ice and bring your dad's friends and family together. Life-size games make great activities for outdoor parties. You can't go wrong with Giant Jenga, ladder golf, and corn hole.
The best part about throwing a Father's Day party? It's a gift that your dad will be sure to cherish. Plus, he'll be thrilled to not open another tie—again.