March 22, 2022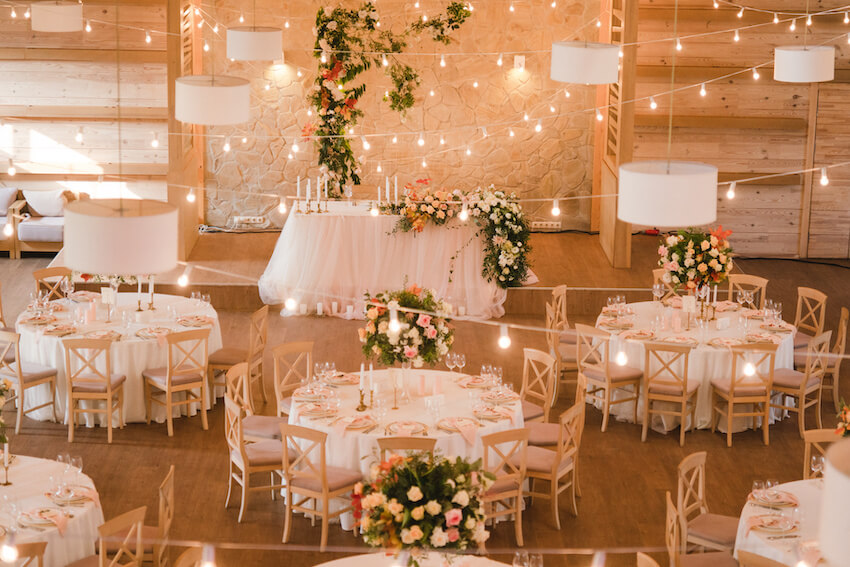 For couples who love contemporary style, celebrating the big day with modern wedding decor is a natural choice. While a traditional wedding aesthetic is tried and true, you're probably looking for something fresh and a bit more fashion-forward. Fortunately, this curated list of ideas will help you craft the modern wedding of your dreams. You'll learn about color palettes, find tips for designing different aspects of your wedding day, and discover fun options to suit your wedding theme.

8 Romantic and Modern Wedding Decor Ideas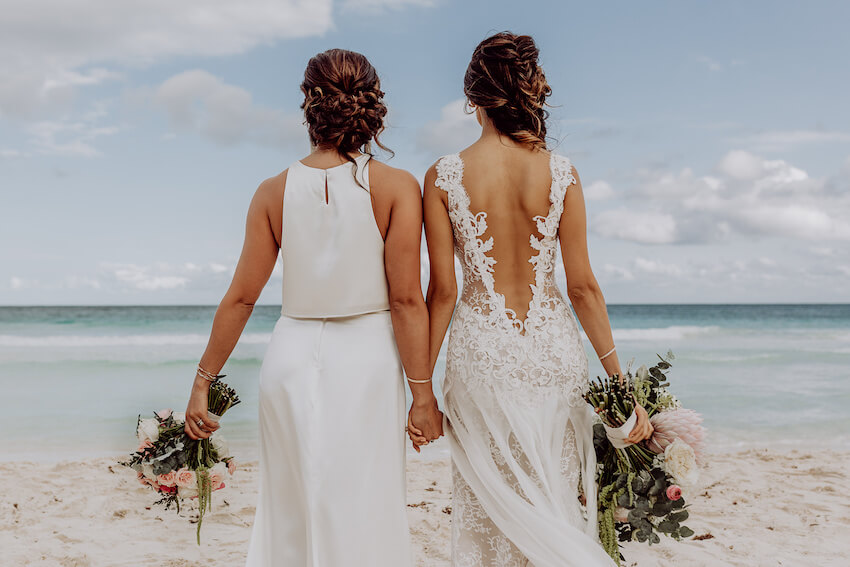 While some might think that modern design means stark and sparse, that's not necessarily the case. You can still include plenty of romantic and whimsical wedding elements in your decor. Here are some of our favorite modern wedding decor ideas — from monochromatic color schemes and elegant floral displays to edgy cutlery and craft cocktails.
1. Simplify the Color Palette
In general, modern weddings tend to stick to a neutral color palette. Think grays, whites, and blacks. You can choose several neutral shades of the same color — like beige, cream, and pure white — or mix and match different neutral shades. To glam things up a bit, you can add in metallics such as gold, rose gold, and silver. 
Just because most modern weddings feature neutral hues doesn't mean you can't incorporate bolder hues. Add a splash of emerald or ruby for a fall wedding or choose a soft pastel for a springtime affair. As a rule of thumb, choose just one or two colors from the same color family for modern wedding decor. You can mix in the brighter shades as accent pieces with a neutral background to preserve the modern aesthetic.
2. Wear a Minimalist Wedding Dress
If you love modern wedding decor, you'll adore the idea of wearing a minimalist wedding dress. Look for chic styles that feature clean lines and angular silhouettes. A minimalist wedding gown can keep the focus on you and your spouse-to-be, making it a great choice for brides who want to be the center of attention. 
To ramp up this effect, have bridesmaids or bridal party dress in different colors or patterns. If you're having an all-white wedding, have the bridal party dress in varying tones of beige and cream. Alternatively, you can have the bridal party wear one color — such as turquoise or tangerine — if you've chosen to pair your white, modern wedding decor with a statement hue.
3. Modernize Your Greeting Area
The greeting area is the first space guests see when they arrive, so it's important to set the tone for your event design here. Incorporate your color palette in decorative elements such as signage and seating charts in the reception space. Don't forget to include your color scheme and theme in the lounge area where guests can enjoy a cocktail before the wedding ceremony starts.
For signage, you can use geometric shapes and boards with crisp lines and contours — hallmarks of modern architecture. Minimalism is popular in modern decor so think about editing your decor pieces. Choose only one or two statement pieces and leave out other decor items that may make the space feel cluttered.
4. Choose Simple Yet Gorgeous Floral Arrangements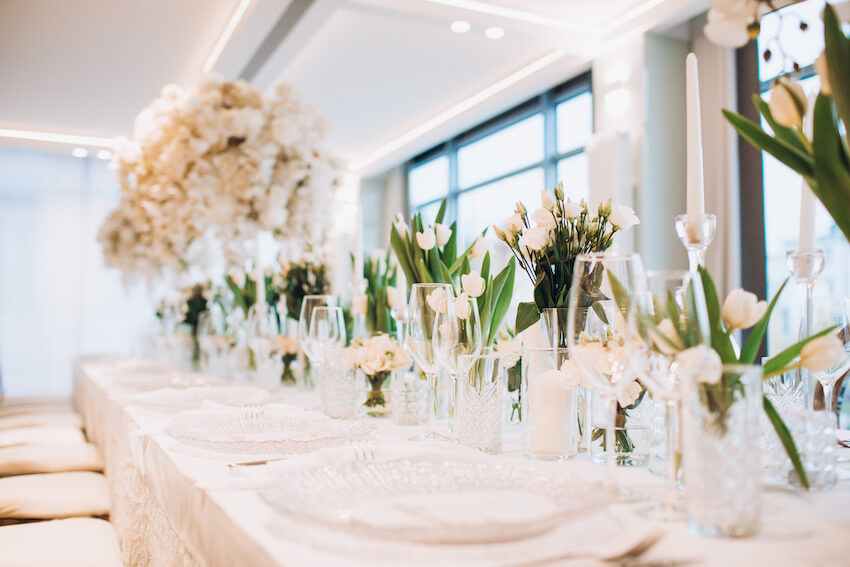 When it comes to contemporary design, flowers are key. You can work with a florist or wedding planner to curate a modern wedding bouquet and incorporate your color palette into the arrangements or DIY your floral arrangements. 
One way to create a chic look is to use only white flowers. You can choose from popular options like white roses, orchids, tulips, and hydrangeas. Another option is to use only greenery. Elements like moss, vines, and leafy plants make an elegant statement when paired with neutral wedding-style elements.
5. Find a Modern Venue
When dreaming up your modern elegant wedding, the wedding venue can set the scene for a contemporary evening. Look for wedding venues that have high ceilings and a refined look. A modern art gallery or a contemporary ballroom are great choices.
For an outdoor wedding, think about where you'll set up the wedding arch. For modern weddings, it's a good idea to stick to a simple ceremony backdrop. This can include a stunning view over a canyon in a national park or a majestic oak tree. 
6. Use Contemporary Lighting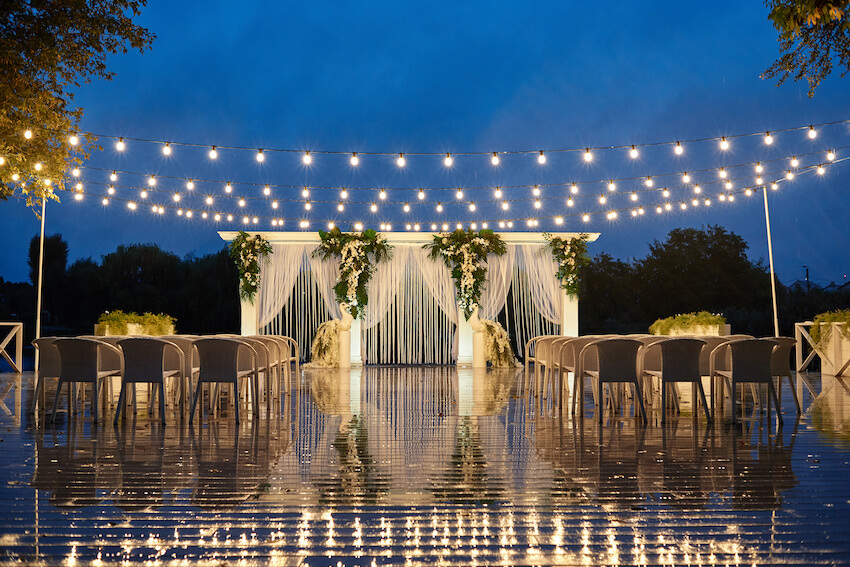 Modern home decor leans heavily on lighting, and modern wedding decor is no different. A stunning chandelier can serve as the focal point of your wedding reception and it's one of the easiest ways to incorporate modern elements into your decor. 
Look for wedding venues with modern lighting such as crystal chandeliers or unique fixtures that feature clean lines or interesting angles. For an outdoor wedding, stringed Edison bulbs can create a romantic space while adding an eye-catching minimalist look.
7. Create a Chic Tablescape
Your tablescape is one area where you can make your modern wedding decor stand out. Chic wedding centerpieces featuring lush greenery pair well with bright white linens for a modern feel. Instead of using wooden chairs, opt for ghost chairs — clear, acrylic chairs made famous by designer Philippe Starck. These chairs feature elegant lines and a decidedly modern air. Their see-through effect also adds a touch of whimsy to weddings and keeps the focus on the happy couple.
For a modern tablescape, don't use traditional flatware. Instead, opt for black, gold, or copper flatware. Stemless glasses add a contemporary feel and vellum place cards, escort cards, and place settings lean into the modern aesthetic.
8. Opt for On-Trend Cake and Cocktails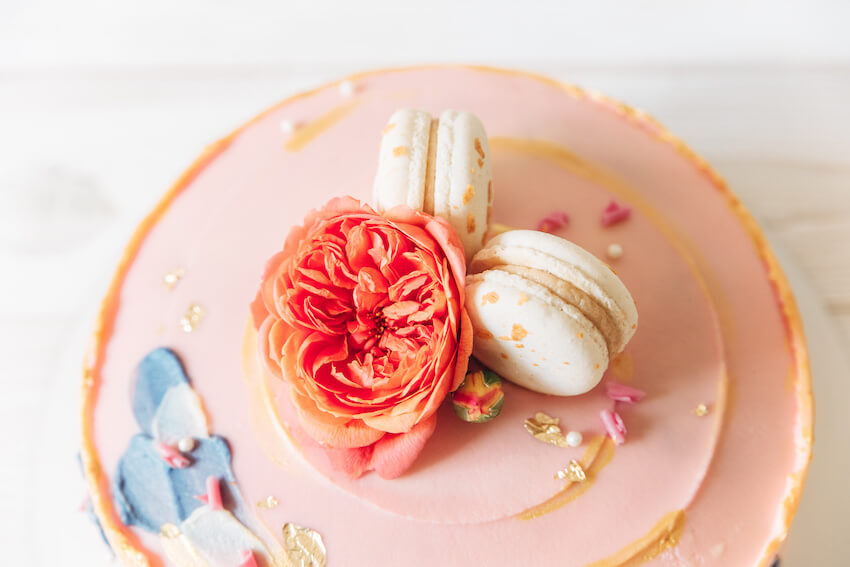 Pair your modern wedding decor with an of-the-moment wedding cake and cocktails. A modern wedding cake may feature brushstrokes in a vibrant hue, geometric detailing, or architectural elements like waves and sharp angles. It might also have unexpected decorative elements, such as macarons or floral buds.
For cocktails, you can serve up trendy treats crafted by a mixologist. These can feature unique ingredients or flavor combinations for a modern vibe. You can also have fun with glassware and serve beverages in unconventional vessels for a contemporary experience.
Modern Wedding Invitation Ideas
At Greenvelope, you'll find wedding invitations for every wedding theme. Whether you want to host a rustic wedding or opt for something more contemporary, there's a design you're sure to love. Plus, the invites are designed as part of larger invitation suites that include matching save the dates, engagement party invites, and thank you cards. That makes it easy to incorporate your wedding theme in all of your stationery.
To complement modern wedding decor, look for invites and stationery that matches your theme. Some elements that are perfect for modern weddings are monochromatic color schemes, calligraphy, and bold text. Invites with crisp lines and minimal details are perfect for modern affairs. Here are some of our favorite modern wedding invitation ideas to inspire you.
1. Modern Brushstrokes Invitation
This contemporary wedding design features bold brushstrokes and a simple color palette that's perfect for modern wedding decor. The bold text and gold foil accents add a touch of glamor.
2. Modern Trend Invitation
Nothing says modern quite like a big, bold statement. This square invitation is in a league of its own. The scrawling script adds a hint of elegance and the monochromatic color scheme makes it decidedly contemporary.
3. Modern Art Deco Invitation
Suited for a variety of events, this Art Deco invitation features crisp lines and gold foil accents for a chic look. Use it for your modern, art-inspired wedding or Roaring 20s-inspired celebration.
4. Modern Gemstone Invitation
This contemporary invitation features a modern font and a pop of color. The unexpected angles make it ideal for any fashion-forward wedding and it comes in your choice of gemstone hues. 
5. Modern Slanted Script Invitation
This elegant and modern invite features a foil-pressed script and scrawling text for a whimsical feel. Customize the invite by changing up the color palette to suit your modern wedding decor.
Have a Modern, Magical Wedding
From minimalist gowns and stunning greenery to on-trend lighting elements, planning a modern wedding can be fun and easy. Plus, with matching modern wedding invitations, it's easy to excite guests about your upcoming nuptials.
Looking for more wedding ideas and wedding inspiration? Continue browsing our Stationer's blog for wedding themes, decor ideas, and practical advice when it comes to etiquette and pulling off the day of your dreams.