December 1, 2020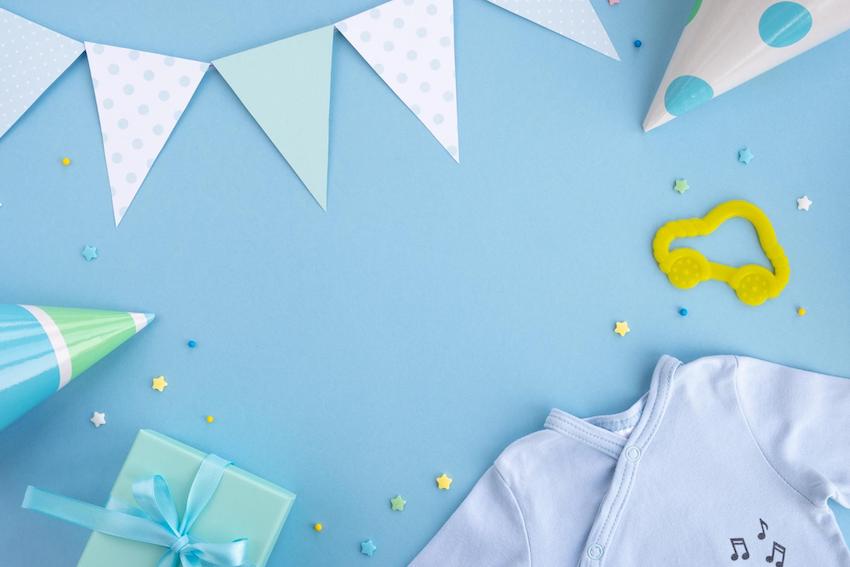 Baby showers are such a dream to plan. There are so many wonderful themes, decor ideas, food options, games, and stationery to choose from. To help you get started, we've curated a collection of our most-loved baby shower ideas for boys to help you create the perfect celebration. 

Baby Shower Themes
You can have a lot of creative freedom when it comes to boy baby showers. They're perfect for themed bashes, as you can go whimsical, playful, and a little over the top with your styling choices. 
Not sure what theme to choose? Below are some delightful party ideas and themes. While these are perfect for baby boys, they're also great for a gender-neutral shower.
Star Baby Shower
Transport yourself and your guests to outer space with a fun, space and stars themed baby shower. It'll coincide perfectly with feeling over the moon about the new arrival. 
Fill your space with planets, stars, spaceships, and other must-have decor. Add in themed props for a DIY photo booth and galaxy cupcakes for the dessert bar and you have everything you need for a superstar bash. 
Safari Baby Shower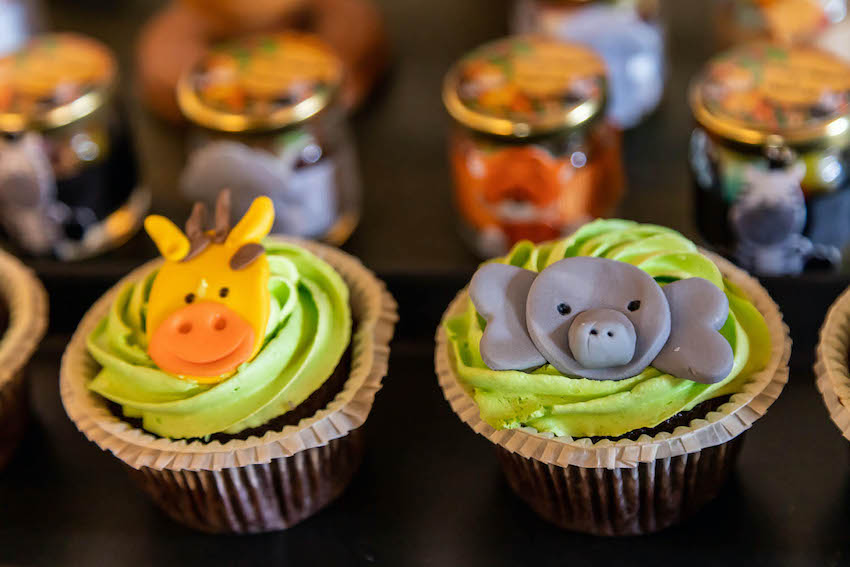 Take a walk on the wild side with a safari themed baby shower. This is one of our favorite baby shower ideas for boys and girls. 
Decorate with lots of animal print and textures that remind you of a safari adventure. Bring in a few oversized elephants and giraffes to bring the theme to life. Don't forget some safari-style cupcakes and party games like pin the tail on the elephant! 
Rainbow Baby Shower
Brighten up everyone's day with a rainbow-themed baby shower. There's plenty of fun to be had with this adorable baby shower theme, as you can opt for bright hues or a more modern, pastel color scheme. 
Build a gorgeous rainbow balloon arch, hang rainbow bunting, sprinkle colorful confetti, and commission a rainbow cake as a delicious centerpiece. When it's time to head home, send your guests on their way with a rainbow-themed party favor box filled with a mini cupcake, themed keyring, and other tiny treasures. 
Ice Cream Baby Shower
Swap those rainbow brights for a sweet color palette with an ice cream themed shower. This is one of the cutest baby shower ideas for boys (and girls) because the theme is as adorable as your little one will be. 
Deck out your place with pastel themed goodies and giant ice cream cones. Use scented candles to make your venue smell like a candy shop. Go all-in with themed donuts, sugar cookies, and cake pops, with delicious flavored mocktails and your very own ice cream bar. 
Blue Baby Shower
Go traditional for your little one's baby shower with an all-blue theme. Stick to pastels or bold blues, or mix it up so you have a dreamy backdrop for your baby shower. 
Create the perfect space to relax in with soft blue fabrics, bunting, and tableware. Add in a few details that'll stand out — like a golden teddy bear topper on a cake, or gold balloons spelling out your little one's name. You could even mention a dress code on your digital invitations and ask your guests to come dressed in blue or bring a color-themed baby shower gift. 
Nautical Baby Shower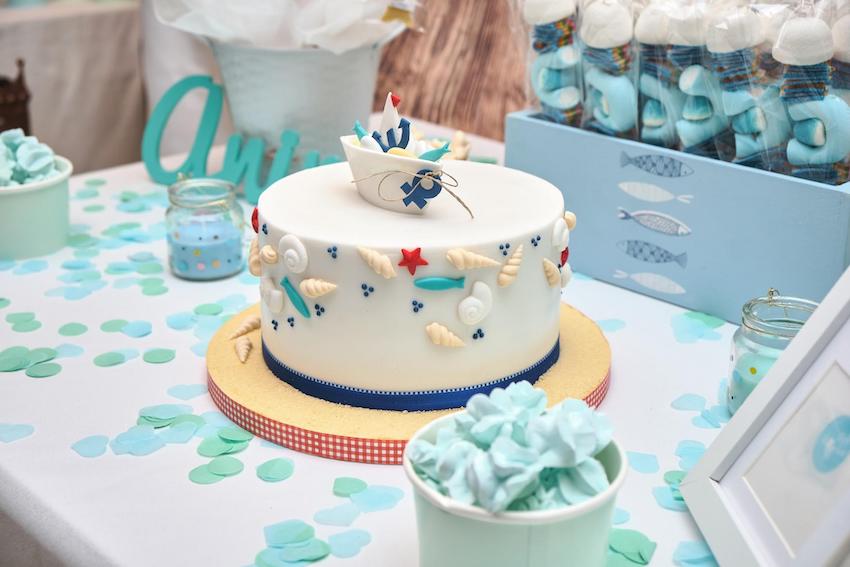 Ahoy there! Start your journey into parenthood with a nautical adventure from the comfort of home. Opt for a traditional nautical look with aged anchors and rustic rope as part of your decor. Or switch it up and go for a more whimsical, animation-focused style with giant cutouts of cute ocean animals and boats. 
Order a fondant cake with seashells and other nautical motifs, and serve up a buffet of your favorite seafood mixed with party classics. You could even have juices and mocktails named after captains, ships, and other seafaring classics.
Rubber Duck Baby Shower
What's more adorable than a rubber duckie? A rubber duck themed baby shower! This is one of the cutest baby shower ideas for boys — it's hard not to love the simplicity and charm of it. 
Style out your space so that it looks and feels like a relaxing bathtub scene. Mix soft whites with baby blues, and, of course, plenty of rubber ducks to decorate. Feature them within centerpieces, on bunting and balloons, and even bring in a larger-than-life inflatable to make your guests smile. 
Woodland Baby Shower
Lead your guests on a whimsical adventure between the trees with a magical woodland themed baby shower. There's a lot of fun you can have with this, whether you're working with a small indoor space or your baby shower is taking place in someone's backyard. 
Get out those warm, twinkling fairy lights to create a magical atmosphere. Add in rustic decor for your tableware, centerpieces, and signage. Decorate with miniature versions of woodland creatures with an adorable deer cake topper to match. 
Adorable Baby Shower Decor Ideas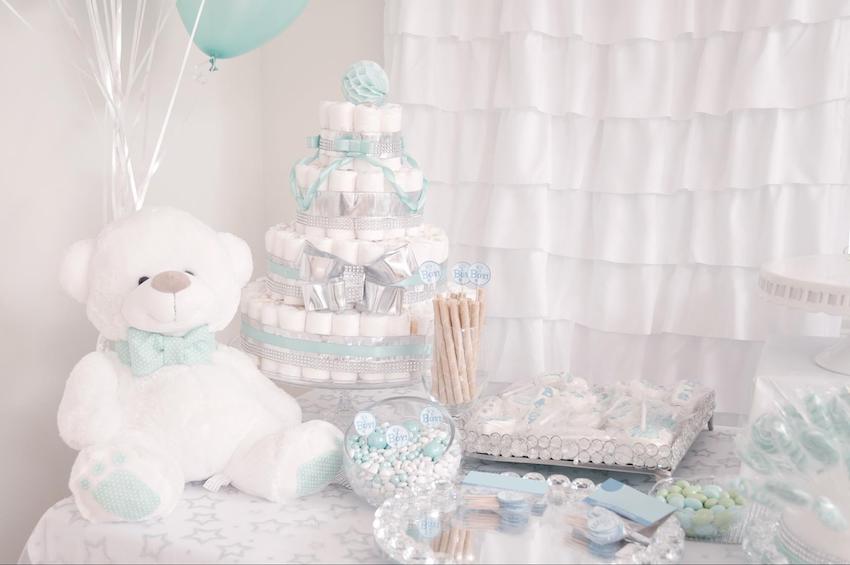 With a party theme in mind, you can start thinking about things like decor, food, and party games. As you start to plan your celebration, here are some cute baby shower decoration ideas to add to your collection.
Floral Backdrop 
We love floral backdrops for most events, but they're especially lovely at a baby shower. Whether the guest of honor is expecting a boy or girl (or both!), they're a beautiful way to bring nature indoors — even if they're not real flowers. 
Work with a local event supplies company to create a dreamy floral backdrop, or work your magic for a DIY creation. Feature the mom-to-be's favorite blooms in colors that match the look and theme you're going for. Place it where it can act as a photo backdrop, or go all out and cover as much of your wall space as possible with gorgeous (real or faux) blooms. 
Balloons Galore
What's more fun than balloons? Whether you go for bright rainbow colors, sweet pastels, or rich gemstone hues, balloons set a festive tone for your event.
Create an impressive balloon garland or archway for your guests to walk under as they enter the party venue. Mix in inflatables that match your theme, along with some balloon words to welcome them to the celebration. 
Gold balloon letters are also a big hit at baby showers — they're a lovely way to add phrases like "Little man," "It's a boy," "Little one," and other words you might associate with a baby shower or baby sprinkle. They also make fantastic backdrops for your photos. 
Diaper Cake
If there's one thing that new parents need a lot of, it's diapers! Diaper cakes can make a fun, playful centerpiece for your tables or your dessert table if you're having a more casual event. 
To create your own, bundle together layers of disposable or reusable diapers. Add ribbon to make it look like a cake, then top with some adorable extras like mini soft animals. Have fun with your guests and get your celebration cake themed to look like a diaper cake too. 
Fun Baby Shower Games and Activities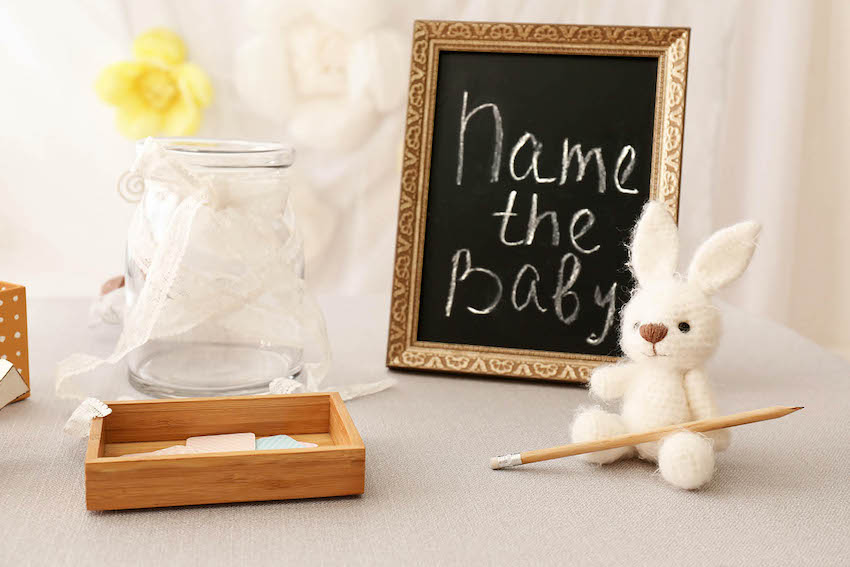 Baby shower parties are all about showering the guest of honor with love and good wishes. That doesn't mean the party guests can't have plenty of fun too. Here are some playful baby shower activities and games to try. 
Parent-to-Be Trivia
Everyone loves a trivia game. Switch it up a little for a baby shower and center the game around the parents to be. Challenge your guests to find out who knows the most about the guests of honor. 
Throw in questions about how the couple met, how they like to spend their time, and their thoughts on parenting and family life. Mix in a few general parenting trivia questions for the fun of it. 
Baby Predictions
There are a few details that always get shared when a little one joins the family. You'll hear about their sex, birth weight, length, and often their name (unless you want to keep it a surprise). Get your guests in the guessing spirit by challenging them to a game of baby predictions. 
Ask your guests to guess what the baby's name will be along with his weight, date of birth, time of birth, and features like eye and hair color. Create your own or download a free printable to hand out to your guests at the party. 
Diaper Relay Race
Challenge your guests to get active with a few fast-paced games of diaper relay race. Split them into teams and watch as they try to be the first team across the finish line.
Keep things simple and ask your relay racers to pass a baby diaper from one person to the next. To make things more entertaining, have each person put a diaper on a toy baby doll and pass it to the next before they can continue. 
Baby Shower Invitations
To host the best baby shower ever, take a look at some of our favorite baby shower invitations for boys and girls. Pick your favorite online invitation and follow our guide on baby shower invitation wording to create the perfect welcome.
Stacked Elephants Invitation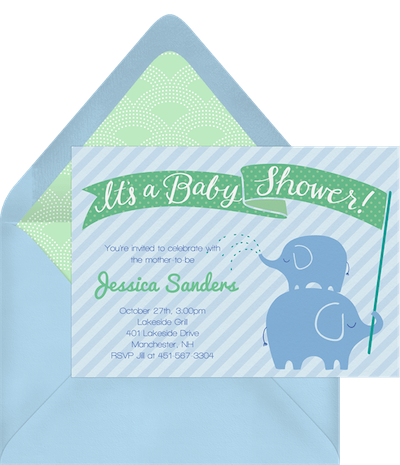 How gorgeous is this stacked elephants invitation? You can't miss with the soft, sweet color combinations and adorable illustration to match.
Baby Rainbow Invitation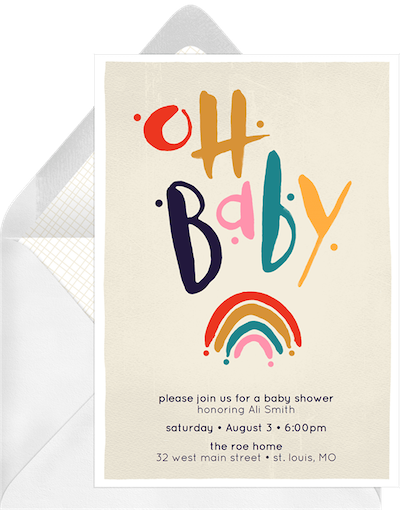 For the perfect invite to match your rainbow themed baby shower, look no further than this darling rainbow design. It mixes a contemporary color palette with modern typography for a winning combination. 
Woodland Charm Invitation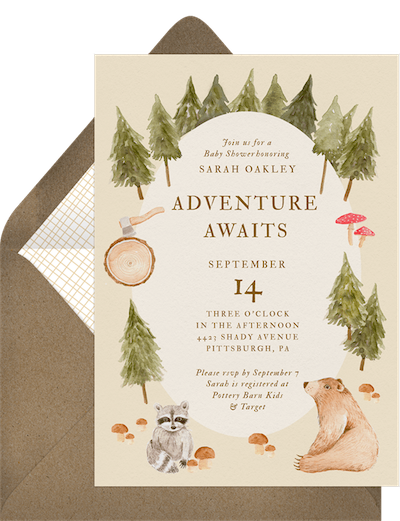 Looking for something that sets the scene for your magical woodland themed shower? This woodland charm baby shower invitation has everything you need to let your guests know they're in for a whimsical time. 
Little Lumberjack Invitation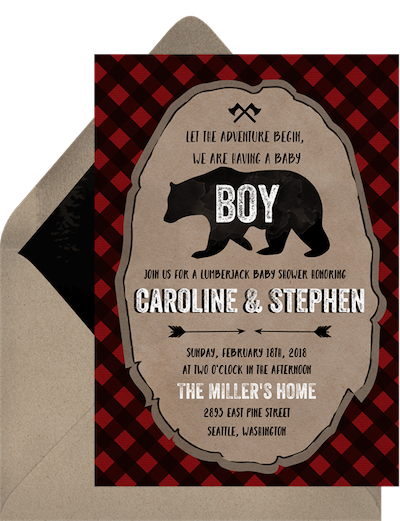 Celebrate the upcoming arrival of a baby boy to your family with this little lumberjack design. We love the buffalo plaid and rustic details that really help this invitation stand out from the crowd. 
Nursery Rhyme Invitation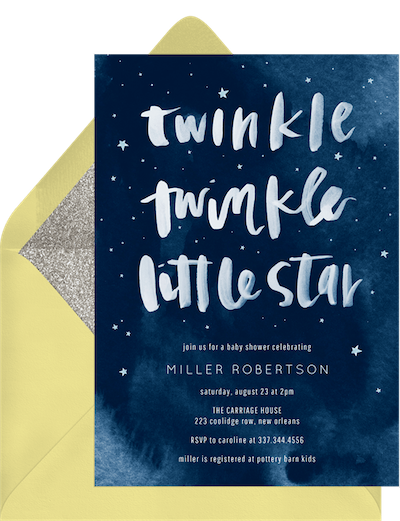 There's so much to celebrate about a little boy on the way. This nursery rhyme invitation is ideal for space-themed baby showers, but this "twinkle twinkle little star" inspired design is adorable for any celebration. 
Create a Special Celebration With These Baby Shower Ideas for Boys
A gorgeous new baby boy will be joining your circle soon, and that's the most amazing thing to celebrate. Combine these baby shower ideas with your love and joy for the guest of honor, and you'll have an incredible party that everyone will always remember.