November 16, 2021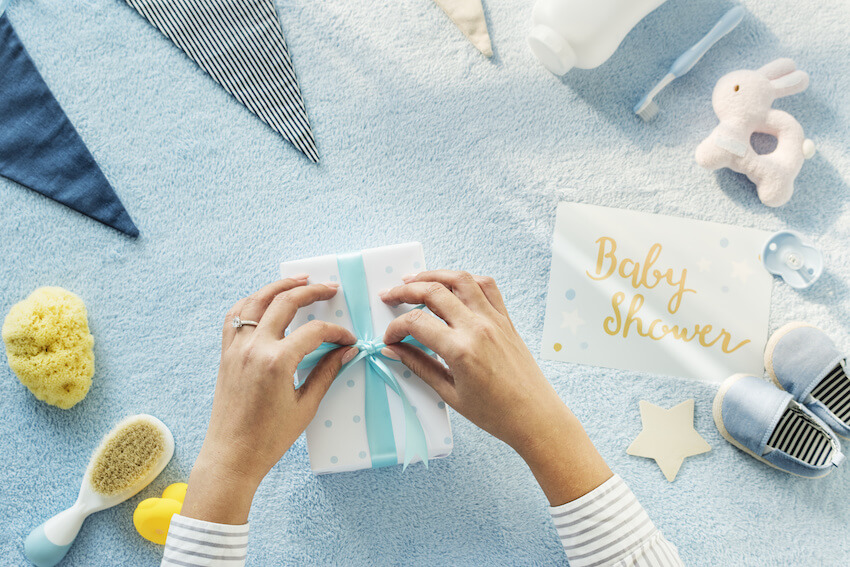 When it comes to planning a celebration event, you can't go wrong with a baby shower ducky theme party. These sweet little pals often keep new babies company for their very first baths, so it's only fitting to make them part of your baby shower event too. 
To help you put together an unforgettable celebration in honor of a new arrival, here are some of our favorite rubber ducky baby shower ideas. You'll find inspiration for decor, activities, food, favors, and more. 

Sweet Baby Shower Ducky Theme Ideas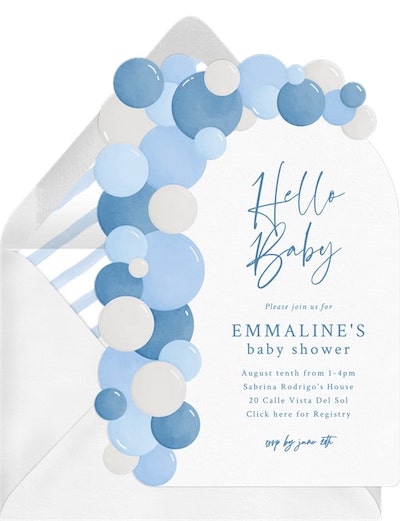 You can have so much fun with your baby shower decorations for a duck-themed shower — it's one of the most versatile gender-neutral baby shower ideas. Here's how to bring it to life with party decor.
Use White Balloons to Create Bubbles
It's easy to create a fun atmosphere at a baby shower ducky theme party with white balloons. This is a simple and affordable way to create the feeling that you're in a bubbly bathtub. Just add giant inflatable rubber duckies and you have one splashy scene! 
Rent a Bubble Machine
To take your theme a step further, head to a party supplies store to rent a bubble machine. This is a wonderful idea if you're hosting your baby shower outdoors. It also works if you're having a dance party and want to add some extra fun, or if you want bubbles gently blowing around in the background as you play party games, craft, or relax. 
Set Up a Baby Shower Ducky Theme Photo Booth
To make memories you can see for years to come, set up a DIY photo booth area with a backdrop and party decorations, plus cute props and rubber ducks for your guests to use. Encourage your guests to share the photos to a private online gallery, so you can create a photo album keepsake afterward. 
Create a Rubber Ducky Fishbowl Centerpiece
When it comes to decorating your table for a sit-down meal, there's one must-have — a beautiful centerpiece. Go all-out with your baby shower centerpiece and use a fishbowl or punch bowl, colored stones or beads, and plenty of rubber ducks to make your very own show-stopping fishbowl centerpiece. 
Share the Joy With a Ducky Theme Baby Shower Invitation
With such an adorable baby shower theme, you need an invitation design that's just as charming. Take a look through these duck-themed baby shower invites to find a design you love, then personalize it with your own wording and colors to create something totally bespoke. 
Our Favorite Ducky Theme Baby Shower Games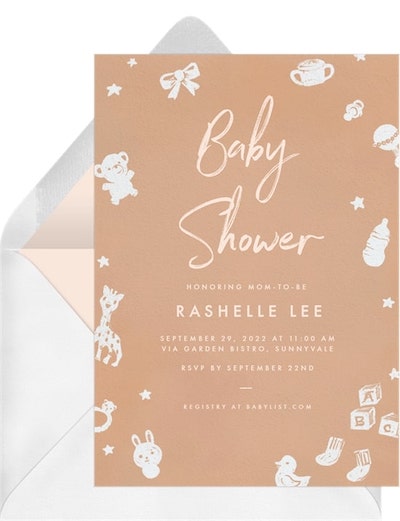 While you're all gathered together to celebrate the upcoming arrival of a very special little ducky, it makes sense to enjoy some games and activities with your guests. Here are some of our favorite duck baby shower games that keep the theme going. 
Pick a Duck Game
Inspired by the classic carnival game, set up a pick-a-duck game for your guests to enjoy. Use a large container and fill it with water, then add in rubber ducks with a number or symbol on the bottom that guests can match to tiers of prizes. 
If your party is outdoors, you can fill up a kiddy pool with bath-size rubber duckies. (Just make sure any children are supervised at all times.) This is the perfect game for a rubber duck baby shower and it's so easy to set up. 
Guess the Number of Ducks
Give the traditional baby shower guessing game a themed twist with a game of guessing the number of ducks. Fill a large jar or container with lots of tiny rubber ducks and toys and ask your guests to make their guess. The closest guess wins the jar to take home, or a lovely ducky-themed prize instead. 
Ducky Scavenger Hunt
Take your party guests on an adventure around your baby shower ducky theme party with a scavenger hunt game. Personalize a collection of rubber ducks with different patterns and colors and hide them throughout the space. Challenge your guests to go on a hunt to find them, and award a prize to the winning person or team. 
Duck in a Bathtub Race
If it's warm enough to head outside, this is a crowd-pleasing baby shower idea. Hand your guests a bucket filled with water and a rubber duck on top and have them race to the finish line — the winner is the person who finishes first without spilling too much water or losing their ducky. Split your party guests into teams for relay races or make it a solo effort depending on your number of guests. 
Fun Tip: Warn your guests that your party will literally be a splashy event by mentioning this game on your online invitations!
Tasty Ducky Theme Treats
When it comes to food and drink, a duck theme celebration is your chance to get creative. Take a look at some of these fun food ideas to inspire your baby shower meal. 
Ducky Baby Shower Cake
If you're going all-out with the decorations and games, it makes sense to indulge in a special cake to match your baby shower theme. Personalize a cake with light blue icing and a rubber duck cake topper, or have someone bake something extraordinary in the shape of a duck itself. 
Bathtime Jell-O Cups
Jell-O might sound like a kids' birthday party treat, but it works just as well for a baby shower in honor of someone special. Mix up some blue Jell-O and divide it into small cups, then top with a spot of whipped cream and a mini edible (or toy) duck.
Duck-Shaped Cookies
More is better when it comes to sweet treats at a baby shower, so you can never go wrong with cookies. Bake your own duck-shaped cookies or ask a local baker to prepare them for you. Serve them up already decorated, or get your guests involved in the fun by asking them to sit down with you to personalize their own. 
Quackers and Cheese
For something a little more savory, we love the idea of serving up a platter filled with crackers (or quackers!) and cheese. It's a great snack that people can enjoy between games and activities, and you can even make it more adorable by cutting duckling-shaped cheese pieces. 
Adorable Baby Shower Ducky Theme Favors
It's only natural to want to thank your party guests for showing up for a loved one's baby shower. Take inspiration from these baby shower favors to put together a party favor bag, box, or gift that matches your event theme. 
Quirky Rubber Ducks
If you're looking for a sweet token gift, a quirky rubber duck is a lovely baby shower gift idea. Step away from the traditional yellow duck and look for a cute rubber duck in bright colors, seasonal attire, or with bold patterns. Your recipient can then either use the duck as decor, a memento or pass it to a younger family member to use. 
Jar of Candy
Sometimes all your guests need is a sweet thank you card and a hug. But if you want to share a small gift, a jar of candy always works well. Put together a selection of the guest of honor's favorite candy, or theme it around blue and yellow candy. Create a personalized thank you sticker or label and add it to the jar, along with some pretty ribbon. 
Baby Shower Ducky Theme Cupcake
Even if your guests enjoy a slice of baby shower cake, sending them home with a cupcake is a lovely idea. It's a classic baby shower party favor that never goes out of style. Bake your own or customize store-bought cupcakes with a mini duck topper for an extra sweet effect. 
Box of Bath Time Treats
For a practical and thoughtful ducky baby shower favor, create a mini bath time basket for your beloved guests to enjoy. You can find small crates, boxes, or bags at your local dollar or crafts store and fill them with treats such as bubble bath, body wash, a loofah, and (of course!) a rubber ducky.
Bring Your Ducky Theme Baby Shower to Life with These Ideas
Ducky-themed baby showers are some of the cutest out there — with their oversized inflatable ducks, white balloons masquerading as bubbles, and plenty of party games to play together. Use the ideas on this list to plan a truly ducky get-together, then let your guests know all about it with a duck-themed baby shower invitation. It's time to get quacking!