July 17, 2019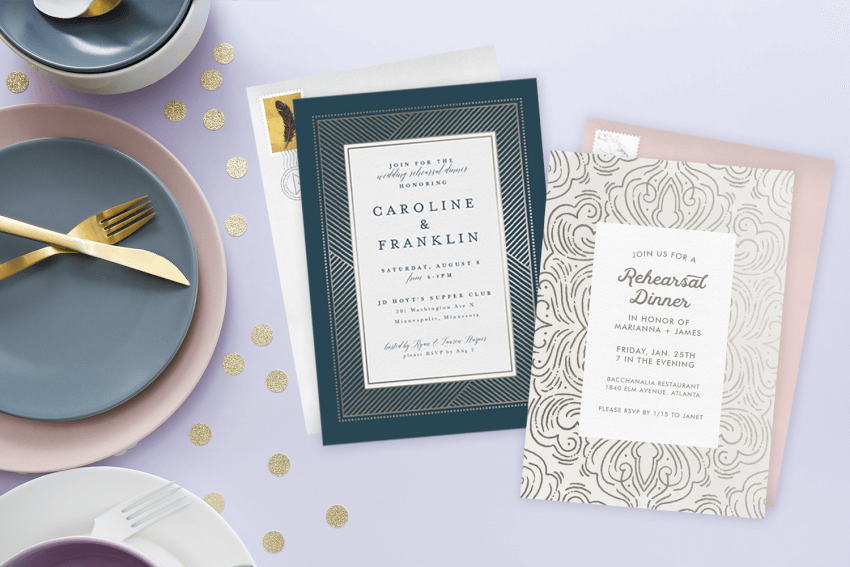 From engagement parties to bridal showers, there's a lot going on before you even get to the big day. The rehearsal dinner doesn't always get the same level of attention as some of the other wedding events, but it's actually a great opportunity for the bride and groom to show off their unique style and get a little creative.
The rehearsal dinner or party is also a good way for family and close friends to get to know each other in a more intimate and relaxed setting before the craziness of the main event. Even if you're having a more traditional wedding, the rehearsal dinner is your chance to explore more casual party themes — with fun and unique rehearsal dinner invites to match.
From outdoor picnics to formal dinners, we have all the rehearsal dinner invitations you need to throw the best pre-wedding party. And with convenient RSVP tracking and a feature-rich details page that includes information like Google Map locations, calendar links, and dress codes, you can send beautiful wedding rehearsal dinner invitations without any hassle.
Formal Rehearsal Dinner Invitations
The formal dinner is a tried and tested method, and there's no reason to stray from that if you don't want to. But formal doesn't have to mean stuffy or old-fashioned, and you can still incorporate some modern touches and a little bit of fun into a formal rehearsal dinner invitation. The key is to mix upscale with rustic and traditional with contemporary so the overall vibe is elegant but updated for the modern couple.
Black Ink
Monochromatic, abstract, and a little mysterious, this black and white watercolor rehearsal dinner invite is ideal for the minimalist bride and groom. It's visually interesting but timeless enough to work for all your wedding stationery, from the wedding invitations to the thank you cards. If black and white isn't your thing, but you still love the look of this invite, reach out to one of our designers to get help customizing this rehearsal dinner invite with the colors that work for you.
Painted Gold
This invite has all the elements of a classic, formal wedding rehearsal dinner invitation: gold foil, elegant calligraphy, and jewel tones. But the paint splatter effect and the mixture of brush strokes and printed lettering make this invite both trendy and traditional. Take the paint splatter theme to the inside of the envelope as well for a fun surprise when your guests virtually 'open' their invitation.
Garden Party Invitations
From Alice in Wonderland to the Royals, there's no shortage of inspiration for a garden- or tea-party-themed rehearsal event. Whether you choose to go the whimsical route or for a more posh, classy affair, florals are a go-to for this kind of event. Bring out the DIY chalkboard menus, stock up on vintage tea sets, and use this as an excuse to go nuts with all things flowery and feminine.
Perfect Floral Border
This Indian-inspired rehearsal dinner invitation is a unique twist on classic florals and can be customized to incorporate any color to match your wedding invitation color scheme. It's simple yet eye-catching, and has elegant high-tea vibes without being too quaint or run-of-the-mill.
Moody Florals
Floral designs don't always have to be sunshine and butterflies, as proven by this dark and moody floral invite. By combining Victorian elements and elaborate typography, this party invitation is ideally suited for an elegant event.
The dusky florals and shadows may initially lean towards an evening event, but don't be afraid to switch things up and use dark color schemes for a daytime gathering. The sense of drama sets the tone and signals to your guests that this won't be your average garden party. Add a wax seal to the envelope for an invitation even the Queen would approve of.
Summer Picnic Invitations
If you're having a summer wedding, what better way for everyone to get to know each other than in a casual picnic setting? You can BBQ, have a crawfish boil, or even go the French countryside route with cheese and charcuterie boards. No matter what you choose, you want an invite that reflects the casual and fun nature of this party.
Rehearsal Place Setting
A rustic rehearsal party invitation is perfect for a low-key BBQ or picnic. The clean and simple Kraft paper is off-set with stylized typography and a table setting illustration for a slightly more formal feel. Bonus points for using Kraft paper table settings at the BBQ too.
Colossal Crab
A seafood boil is a unique way to make your rehearsal dinner one that your guests will never forget. A nautical theme and a hand-drawn crab make it clear that this is a casual setting for everyone to get a little messy and have a good time.
Boozy Brunch Invitations
Brunch has basically become a way of life, so why not turn everyone's favorite meal into a part of the wedding celebrations. Plus, a morning event gives your VIP guests a chance to rest the night before the big day. From a mimosa and Bloody Mary bar to made-to-order omelets and mini pancakes, there are so many directions you can go with brunch. And who doesn't love breakfast food?
Delicate Geometric Frame
Indoor plants are hugely popular right now, and this terrarium-esque geometric frame with hand-painted foliage is right on-trend. Speckled confetti adds a dash of sparkle and romance to your brunch party invitation, and the overall design is elegant yet contemporary. You can even customize the stamp on the envelope to match the flora and fauna theme.
Toast
Sometimes, all you need is a simple, classy announcement with no bells and whistles. The purpose of the event is front and center and gets the point across quickly. Choose your favorite metallic hue to customize the gold foil lettering and let your guests know that this event is all about celebrating.
Under the Stars Invitations
Outdoor dinners work best when the weather is on your side, but aside from that, the options are endless. No matter what theme you go with, a dinner under the stars will be one for the books. Choose invites that focus on twinkling lights and starry nights to set the tone for the party.
Lights and Lanterns
What's an outdoor dinner without some string lights and lanterns? This party invitation practically radiates summer warmth and is perfect for a cozy, intimate backyard dinner shared with all your loved ones. With fully customizable invitation wording, envelope, and background, you can truly personalize this invite and make it your own.
Shimmery Bokeh
Bokeh is the effect produced by an out-of-focus lens on lights, and we love how this imagery mimics shimmering city lights. Choose from a gold, copper, or metallic blue color scheme to impress your guests and immediately transport them to a rooftop or balcony.
Rock Your Rehearsal Dinner Invitations
We like to think of the rehearsal dinner as the younger, hipper sister of the actual wedding, which means this is your chance to embrace your quirky personalities and choose a theme to match. Looking for inspiration? Check out our full selection of wedding invitations for everything from bachelorette parties and bridal showers to anniversary soirees and marriage announcements.