December 11, 2019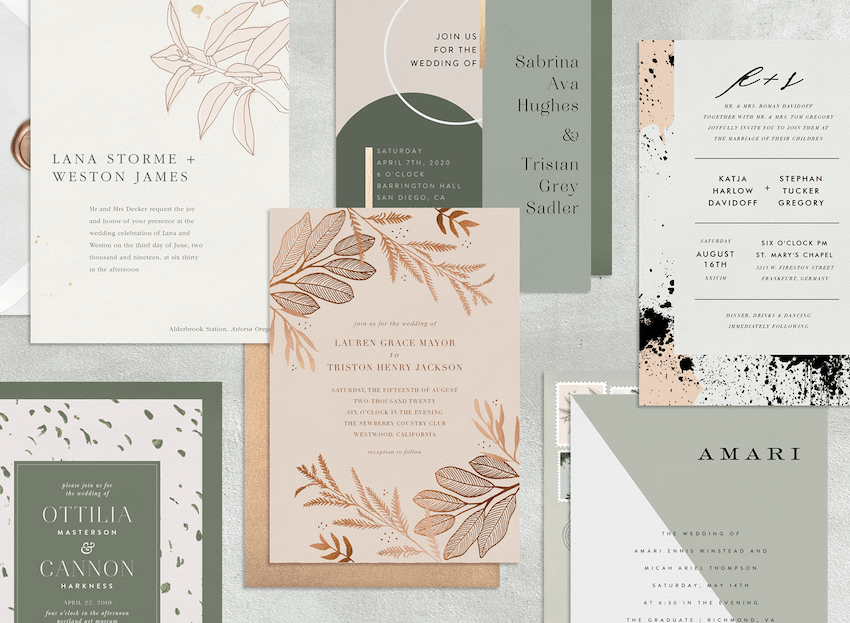 Your wedding invitations are your guests' first glimpse into your wedding style. Before they see you walk down the aisle, before they read your wedding program, and before they admire your center pieces at the reception, they'll see your invitation. So we've collected 14 gorgeous, modern wedding invitations to fit your contemporary style.
If your Pinterest boards are overflowing with minimalist wedding ideas, these designs are both simple and sleek. Plus, they're modern in their delivery as well as their aesthetic. By sending your wedding invitations through Greenvelope, you'll skip the old snail-mail route and land your invitations directly in guests' inboxes. You'll not only spare the environment, but your own time and energy.

14 Modern Wedding Invitations for a Contemporary Ceremony
If you're in the midst of wedding planning and have your heart set on a modern event, you may be dreaming up one of these minimalist designs. With thin lines, geometric shapes, and current fonts, they're ideal for a contemporary service.
1. Delicate Border Invitation
Anyone looking for a minimalist, modern aesthetic will enjoy this wedding invitation. With a gold-foiled border, crisp lines, and typography in all-caps, this design has a prominent feel. While a few chosen words are written in cursive to bring in a subtle nod to a classic look, the thin lines and balance of white space keep things modern.
2. Estella Invitation
What's more modern than an all white color palette? This modern wedding invitation features an all-white background and coordinating white envelope. The happy couples' names are written in all-caps serif fonts, while the nuptial details are in slight italics.
3. Simple Foliage Invitation
While this floral wedding invitation features a completely white backdrop, the imprinted foliage and greenery add a bit more detail. The information on your wedding date are written in small, black cursive font in the center of the invite with the couples' first names printed on top. The all-white, textured theme carries through the matching save the date and thank you note with pale green envelopes to add a bit of color.
4. Bauhaus Monogram Invitation
This modern wedding invite is bright and colorful, featuring a retro palette. The top of the design displays a monogram of the happy couple's initials, while the background features a pattern of geometric shapes. The combination of sans serif fonts and thin lines add to the modern design, which is carried through the save the date and thank you note.
5. Modern Color Blocking Invitation
In this wedding invitation¬†design, classic meets modern with a split geometric shape dividing the front of the invitation 'ÄĒ¬†and the couple's names 'ÄĒ right in two. The wedding details are written in thin, sans serif typography, while the names are written in bold, block lettering. The diagonal shape is carried through the save the date¬†and thank you note, which can be personalized in a variety of pale, neutral colors.
6. All the Photos Invitation
This contemporary photo invitation features four placeholders for you to add your engagement photos. Even with your pictures, there is plenty of neutral space in the background, making this invite look clean and minimal.
Thin typography adds to the modern feel, while the dark navy blue envelope liner adds a bit of elegance to the design. If you can't narrow down your photo choice, choose a different selection for your save the date and thank you note, which all feature distinct collage designs.
7. Sophisticated Monogram Invitation
Invite all of your friends, family, and loved ones to your wedding with this lovely monogrammed wedding invitation. An all black background is offset with a shimmer gold border and and geometric design with the couples' initials. Gold, block lettering is used to print the headline, while white, sans serif lettering includes the wedding details.
8. Embossed Border Invitation
If you have your heart set on a minimalist wedding but your soon-to-be life partner is looking for something more classic, look to this modern invitation for the ideal compromise. While your names are written in elegant calligraphy, the all white background and light gray border lend a more modern feel. The wedding invitation wording is kept to an absolute minimum, written right in the center of the design.
9. Contemporary Duo Invitation
Looking for a contemporary wedding stationery suite that makes a statement? This geometric invitation features three large, overlayed blocks. A central, white block features the wedding day details, while two blocks of bold color and shimmering gold foil surround it. The designer offers several color palettes to choose from, each ideal for the modern couple.
10. Simply Luxe Invitation
This simple wedding invitation suite is an excellent prelude to any modern wedding ceremony. The couples' names are written in dramatically contrasting fonts, one in block lettering and the other in elegant cursive. The off-white invitation is offset by the all-black envelope, which adds a touch of class.
11. Color Slice Invitation
This wedding suite is bold in the most classy way possible. If you selected contemporary, bold wedding colors, you might find that one of the three color suites that this invitation comes in suits your theme quite nicely. The print listing the nuptial details uses sans serif, thin lettering, while a monogram of the couples' initials adds a subtle design to the invitation.
12. Typography Love Invitation
This wedding invitation is incredibly romantic, yet fits nicely within a modern wedding ceremony. The letters spelling out L-O-V-E cover the entirety of the invitation background, with a gold foiled rectangle overlapping the letters. Rather than spelling out the date or couples' names, abbreviations are used, which adds another modern touch.
13. Marble Edge Invitation
What's more modern than a touch of marble? In this elegant wedding invitation, a diagonal, rose gold border separates a neutral background with marble. The marble is carried through to the envelope liner, which is also set in rose gold. A matching save the date and thank you note carry the same modern theme, completing your wedding ensemble.
14. Dip Dyed Invitation
This watercolor wedding invitation is incredibly romantic and fit for the modern couple. The bottom of the wedding card contains a pale pink brushstroke to give it an art deco look, paired with thin gold lines. You could easily carry the color palette through the reception place cards, wedding programs, and other stationery, completing your wedding theme.
The Easiest Way to Send Modern Wedding Invitations
With Greenvelope, sending out your modern wedding invitations goes off without a hitch (before you get hitched, that is).
Here, we believe in modernizing the wedding planning¬†process 'ÄĒ not just the aesthetics. With Greenvelope, you can customize an entire invitation suite¬†in a matter of minutes, then send it out to all of your friends, family, and loved ones.
We handle all RSVP tracking, allowing guests to RSVP, select their meal preferences, and respond to other questions. Plus, you can easily respond to guests' questions, provide text updates, and stay on top of your wedding planning, all in one place.
From all of us at Greenvelope, have a wonderful wedding. We hope your contemporary wedding plans come to life in the most flawless 'ÄĒ and easiest 'ÄĒ way possible.