February 11, 2020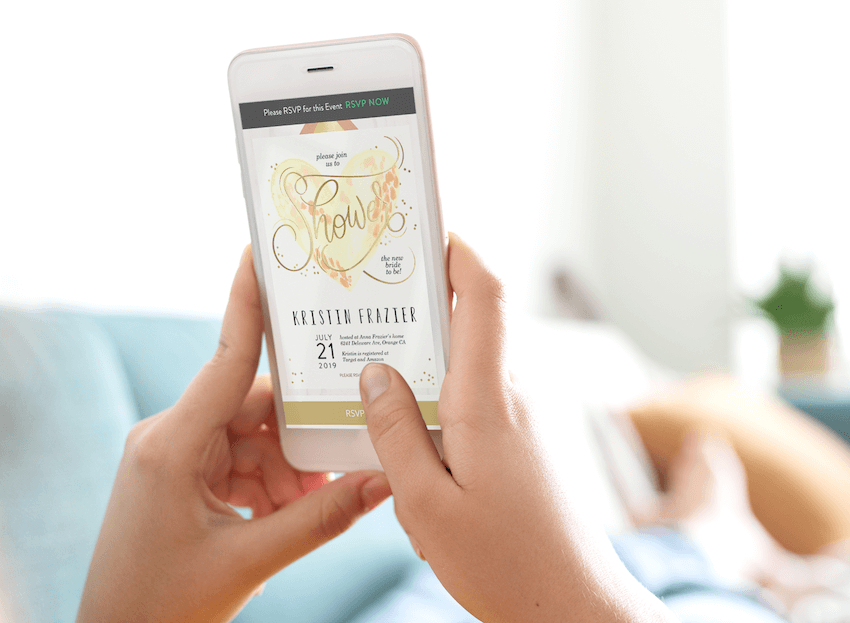 Hosting a bridal shower or couple's shower for the happy couple is exciting and rewarding. You get to play a fun role in the lead up to their wedding. While the event may be a few months away, it doesn't hurt to start planning your invitations now.
For both first-time hosts and seasoned party planners, it's easy to feel stuck when deciding what to write on your invitations. Whether you're the host or you're helping them to get organized, here's everything you need to know before writing your bridal shower invitation wording.

Who Should Be Invited to the Bridal Shower?
Before we jump into how to word your bridal shower invitations, let's take a look at who will be receiving them. This can influence both the design of your invitations and the wording, as you'll want them to reflect the taste of your guests of honor and their loved ones.
The bridal shower is a fun opportunity for friends and family of the bride-to-be to get together ahead of the wedding. It's an event that's all about celebrating your guest (or guests) of honor, so you'll want to build your guest list around this.
Although traditionally a female-only affair, bridal showers are no longer reserved just for the women in the family. In fact, couple's showers are an increasingly popular way to celebrate together ahead of the big day.
To help you figure out who to send your bridal shower invitations to, here's a list of people commonly invited to bridal or couple's showers:
Close family from both sides, including parents, grandparents, and anyone your guest is closest to
The bridal party, including the maid of honor and bridesmaids, and could extend to the wedding party if you're hosting a couple's shower
Best friends and the people your guest of honor enjoys spending time with, including work colleagues, neighbors, and so on
You know your guest(s) of honor best, so use this list as a guide and adapt it to suit their circle of friends and family.
What to Include in Your Bridal Shower Invitation
With your list of guests in mind, you can tailor your bridal shower invitation wording to match their needs. Think about whether guests are coming from out of town and might need directions, or whether they need clarification about the dress code.
To help you get started on wording your bridal shower invitations, here's our list of must-have information, along with our tips for each.
Date
One of the most important details to include is the date of the event. You'll want people to keep this date free so they can join you to celebrate, so make sure you give people enough notice (around 4-6 weeks) for them to plan ahead. Make the date really clear on your invitation and include the day of the week, so people can see at a glance whether they can make it based on their schedule.
Time
Alongside the date, the next important detail is the time of the bridal shower. Having this suit your guest of honor is most important, but also consider the schedules of their closest friends and family. If it's a weekday, an evening gathering may be best, while the weekends allow you to be more flexible with the time of day. Whatever time you choose, leave no room for ambiguity on the invitation — "8-10" could easily be a breakfast event or an evening party without the "a.m." or "p.m."
Location
It can be tempting to send out invitations with a rough location on them, but firming up the party venue beforehand can really help your guests. Make sure you include the full address of the location where your bridal shower or couple's shower is taking place.
If it's difficult to find, consider including some basic directions. While some guests may know where your home or the guest of honor's favorite restaurant is, others will be less familiar when it comes to navigating the neighborhood.
The Guest (or Guests) of Honor
With couple's showers being so popular, you'll want to make it clear on the invitation who the shower is in honor of. Feature the guest (or guests) of honor's name in your invitation so there's no confusion. You don't have to stick to formality here, so if your guest is known by a nickname, feel free to use it.
The Host
As the host or a helping hand of the host, you're busy planning the perfect bridal shower, but some guests might not be familiar with you. Put your guests at ease and confirm the name of the host on the invitation, along with how you know the guest of honor if you like.
How to RSVP
With such busy lives, it's easy to misplace an invitation or forget to RSVP on time. Help your guests as much as possible by making it clear how they can RSVP and including a deadline. Usually RSVPs will go to the host, and it's up to you whether you'd like people to confirm by email, post, phone, or text. Some online invitations have a built-in RSVP function that means guests can confirm their acceptance with a click, which is even easier.
Optional Extras
As long as you've got the basics covered, your guest will know when, where, and why to join you. There's less detail to cover than with a wedding invitation. Still, there may be other details that are worth including in your bridal shower invitation wording. Some examples include:
Dress code:Â Specify whether it's formal or casual, along with any restrictions or suggestions.
Bridal shower theme:Â For themed bridal showers, let your guests know early, so they can plan the perfect outfit or gift.
Gift registry information:Â Include a mention of or link to your guest of honor's registry.
Special requests:Â Use this as an opportunity to ask guests to bring food, bridal shower games, or their favorite memory of your guest of honor.
It's up to you how much or how little detail you want to cover in your bridal shower invites. If there's a lot you'd like to cover, consider whether some of this detail could find a home on the happy couple's wedding website, or if choosing online invitations, utilize the additional details panel.
Bridal Shower Invitation Wording Examples
When it's time to decide on a design and wording for your invitations, be inspired by what your guest of honor would love. Create an invitation that'd make them smile or laugh.
Whether you're looking for something sweet or delightfully playful, here are a few designs to give you inspiration for your bridal shower wording.
A Play on Words
This sweet wordplay on our Raining Hearts wedding shower invitation lets your guests know they're in for a fun event from the start.
Playful and Themed
Invite your guests to "pop the champagne as she's changing her name" with this playful bridal shower invitation design. It's perfect for laid-back brunches or evening get-togethers.
Ideal for Afternoon Tea
Hosting an afternoon tea party or bridal brunch with bubbly for your guest of honor? Take inspiration from our Dainty Doily invitation template and include some fun, themed sayings within your invitation.
Spell It Out
The bridal shower invitation wording on this vibrant design makes the guests of honor, dress code, and requests nice and clear — without taking up too much space.
Honoring Your Hosts
This beautifully ornate bridal shower invitation does an excellent job of mentioning the hosts and setting the scene for the event. If you'd like to lead with your hosts, this wording is a great way to do so.
Impress Your Guests With a Heartfelt Invitation
The best bridal shower invitations are those that come from the heart. No matter what style of wording you go for, your guests will feel welcomed and ready to celebrate your guest (or guests) of honor with you. Whether you opt for something charming and full of humor or stick to the basics, it's bringing everyone together to celebrate that counts.