January 24, 2022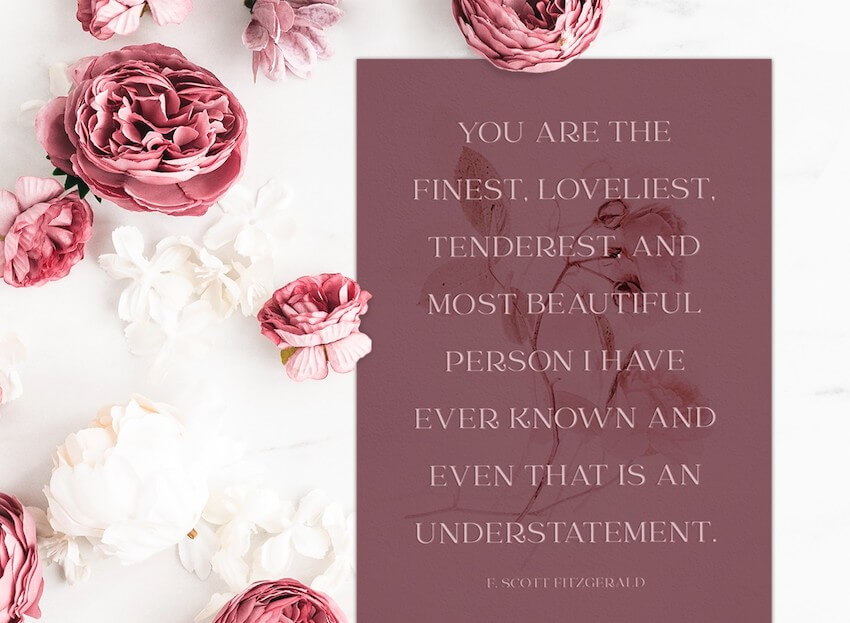 When the season of love is upon us, it's time to start thinking about how to tell your girlfriend you think she's the best person in the whole world. You might think she's amazing all year round, but February 14th is the perfect moment to get into the spirit of things. 
One of the sweetest ways to share the love is with a heartfelt valentine message for your girlfriend. From short and sweet greetings for your BFF to romantic notes for your true love, we've got you covered with this guide to Valentine messages for girlfriends. 

Valentine's Day Messages for Girlfriends
Whether you're a hopeless romantic or you treat Valentine's Day as an excuse to crack a few jokes, there's a Valentine message out there for everyone. Here's a collection of some of our most loved Valentine messages for girlfriends and loved ones to share this special day. 
Short Yet Charming Valentine's Day Greetings
Don't put yourself under too much pressure to craft the ideal Valentine's Day message. Go with your heart and keep things simple with these short yet thoughtful greetings. They're ideal for text messages and digital cards alike. 
Happy Valentine's Day

, darling! 

Happy Love Day to my

best friend

ever.

You're one in

a million

, girl!

Happy Valentine's Day

to the best girlfriend ever!

I love you, you're my

soulmate

.

Happy Valentine's Day,

my love.

Love you forever. And then some.

You're the

best Valentine

anyone could wish for.

Let's make this day a

special one

!

You're the most

special Valentine

.

Love and kisses to my Mrs.

You're the

only person

for me. I love you! 
Heartfelt Valentine Messages for Girlfriends
If you're a romantic soul, a brief message might not be enough for you. Here are some great examples of romantic, heartfelt Valentine's Day wishes to send to your girlfriend this year. 
To my

sweet Valentine

'ÄĒ I'Äôm so grateful for you and all that you are!¬†

[Name], you're the most

beautiful woman

I've ever known.

Happy Valentine's Day

.

There's not a

single day

that goes by where I don't wonder what I did to deserve you.

When I met you it was the start of my

true love

story. I love you! 

Valentine's Day always reminds me of how rich my life is

because I love you

and we have each other.

[Name], you're the

love of my life

. Today and always.

I love you every

day of my life

, but today's all about celebrating it in style.

Happy Valentine's Day

!

[Name], you're the best

part of my life

. I'm so grateful for the moment we met.

Thank you for making every

single day special

. I love having you in my life.

I can't wait to spend the

rest of my life

with you. 

You may be my girlfriend today, but I'Äôm excited for the day where I get to call you 'Äúwife.'ÄĚ
Funny Valentine's Day Greetings for Your Girlfriend
Valentine's Day doesn't have to be serious. If you're more into giving the best laughs than a bouquet of roses, here are a few funny Valentine's Day messages you might want to borrow. 
Thanks for always putting up with my lackluster efforts for Valentine's Day.

Are we still doing this?

Happy Valentine's Day

! 

I'm a keeper. You're welcome. 

HVD, BFF! You're one in a million!

Sure, I could've bought you

candies

or flowers, but who needs that when you've got me?! 

I'm glad we still like each other after all these years.

Happy Commercial Love Day. Let's have a drink.

I forgot your present, but this card's pretty impressive, right? 

I love you today, but not necessarily tomorrow. 

Happy Valentine's Day

from the

best gift

in the world 'ÄĒ me!

You'Äôre my Galentine 'Äėtil the end of time.
Romantic Quotes About Love
Sometimes the best words feel like they've already been written. For a shortcut to a wise and wonderful Valentine's Day quote, try one of these love quotes penned by famous names. 
'ÄúI love that you are the last person I want to talk to before I go to sleep at night'ÄĚ 'ÄĒ Nora Ephron¬†

'ÄúLove is the greatest refreshment in life'ÄĚ 'ÄĒ Pablo Picasso

'ÄúEverything is clearer when you're in love'ÄĚ 'ÄĒ John Lennon

'ÄúIf you live to be a hundred, I want to live to be a hundred minus one day, so I never have to live without you'ÄĚ 'ÄĒ Winnie the Pooh

'ÄúTake my hand, take my whole life too, but I can't help falling in love with you'ÄĚ 'ÄĒ Elvis Presley

'ÄúWe loved with a love that was more than love'ÄĚ 'ÄĒ Edgar Allen Poe

'ÄúLove is composed of a single soul inhabiting two bodies'ÄĚ 'ÄĒ Aristotle
Where to Share Your Valentine Messages for Girlfriends
There are so many awesome ways to express your love for someone with valentine messages for girlfriends. Here's a quick hit list of how to share your love messages on this special day of the year. 
Valentine's Day Card
Let'Äôs start with the most obvious 'ÄĒ the Valentine'Äôs Day card message. A handpicked card is a must-have for most people who celebrate this love-fueled holiday. Whether you opt for a printed or online card, there'Äôs a Valentine'Äôs Day card out there for everyone.¬†
Look for the perfect Valentine'Äôs Day card for your girlfriend and get to work crafting a message that says 'ÄúI love you.'ÄĚ What'Äôs great about a Valentine'Äôs Day card is that you'Äôre free to keep it casual or go ultra-personal and create a fun keepsake to look back on.¬†
Handwritten Letter
If you're all about romance and want to sweep your girlfriend off her feet, a handwritten letter or note might be the way to go. Sure, it's traditional, but sometimes that's the perfect thing in such a modern world. 
Break out the fancy stationary or find a cute postcard that you can write on. Craft a loving, romantic, heartfelt letter that tells her just how much she means to you. Send it to her home address or present it as a gift when you meet up to celebrate Valentine's Day together. 
Gift Tag or Note
Valentine messages for girlfriends don't have to be wordy to be meaningful. One of the sweetest ways you can share your love is to add a few words to a gift tag or note alongside a Valentine's Day gift. 
The small space of a gift tag forces you to get creative with what you want to say. There'Äôs no writing an essay or love poem here 'ÄĒ it'Äôs straight to the point, and straight from the heart. The same goes for a small note that you might hand over while exchanging gifts 'ÄĒ you only need a few words to communicate just how much she means to you.
Social Media Post
Don't think you have to go old-school for your love messages to count for something. These days, a heartfelt comment on a social media post or a gushing video posted to your TikTok can be just as romantic as anything else for the right couple. 
If you love public displays and know that your sweetheart does too, you could create a viral-inspired video about how much you love her. Take your time planning, directing, starring in, and filming your very own declaration of love to share on social media. You could also do the same thing for your BFF to express why she's your best friend for life.
Text Message
Some people love a romantic poem or a heartfelt letter while others prefer to treat Valentine's Day much more casually. If you're in that second boat, you can't go wrong with an SMS text message. It's one of the simplest ways to express love and gratitude for someone without getting too cliché.
Send your girlfriend a quick 'ÄúI love you'ÄĚ or 'ÄúHappy Valentine'Äôs Day!'ÄĚ in the morning before you surprise them with an epic dinner or fun celebration later on. If you want your text to really stand out, select a digital Valentine'Äôs Day card and send it as an SMS instead of an email. It'Äôs an easy yet thoughtful way to make her smile.¬†
Express Your Love with These Valentine Messages for Girlfriends
Whether you go all out for Valentine'Äôs Day or consider it a bit clich√©, there'Äôs a style that suits you. Write your long-term girlfriend a love letter alongside a handpicked gift, or send your bestie a funny Valentine'Äôs Day card that you know will make her laugh. That'Äôs the beauty of this holiday 'ÄĒ it'Äôs all about celebrating love in a way that makes sense for you and your gal.
If you'Äôre thinking of sending a Valentine'Äôs Day card this year, try Greenvelope. Our designs are easy to customize, so you can change the colors and add your own flair with an original Valentine'Äôs Day message. Choose something hilarious, quirky, retro, traditional, or cute 'ÄĒ there'Äôs plenty of choice no matter how you want to celebrate.¬†