November 9, 2020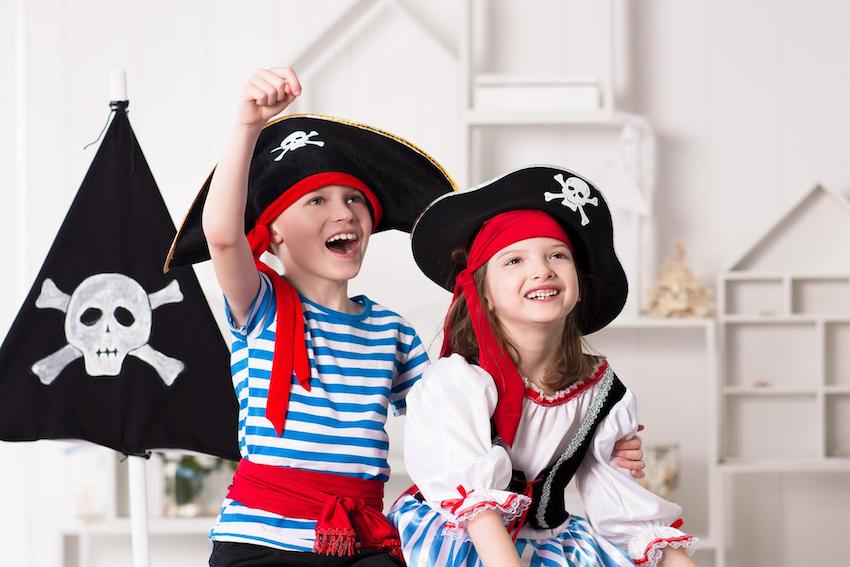 Ahoy, matey! It's time to start planning that thrilling pirate theme party your guest of honor has been asking for. Whether you're celebrating a birthday or throwing a themed Halloween party, we have all the details you need to plan a most memorable pirate theme party. Get ready for a swashbuckling good time with these ideas for decorations, games, food, party favors, and invitations.

Fun Pirate Party Decorations
You can really go wild with pirate decorations and tailor them to your specific event. Whether you're going for a movie-inspired masterpiece or a subtle nod to a more vintage pirate theme, deck out your decor with these pirate party supplies.
Pirate Flag Bunting
Bunting and pennants are a great way to enhance your party atmosphere. You can print out DIY pirate flag bunting and pennants or buy them at your local party store. When hanging them in your party space, swap out the string for nautical rope. You can also opt for a more rugged look using natural fabric and fishing nets. 
Skeletons Ahoy!
They're not always the liveliest of characters, but skeletons are a classic motif for any pirate theme party. After all, there's bound to be one or two souls who didn't make it all the way to the buried treasure! 
From spooky to comical, you can find skeletons to match every theme. Look online or at your local party or craft store. For eye-catching, spine-chilling fun, add some life-size versions (perhaps at the entrance), with smaller skeletons dotted around your party tables. 
Captain's Wheel
What's a pirate party without a nod to the captain himself? We love the idea of using the captain's wheel as a centerpiece for your party tables — especially if it's placed in front of your guest of honor. If you have the space (and time), you could even recreate a smaller version of a whole ship like the Jolly Roger. It's a fun way for young guests to imagine setting sail across the high seas.
Barrels of Plenty
Pirate ships were often loaded with barrels of food, water, and other treats. Decorate your party space with barrels in various sizes. You can rent larger versions from a local prop shop and use them as tables where guests can eat, drink, and mingle. You can also use food-safe containers decorated as barrels to store food and sweet treats, or include them in a blindfolded party game where guests have to guess what's inside. 
Treasure Chests
It wouldn't be a pirate party without a treasure chest or two. Load up on mini treasure chest party favors and stuff them with chocolate gold coins or use them as table centerpieces. You could also include them as part of a scavenger hunt. Another idea: make a spectacle by buying (or renting) a large treasure chest filled with party favor bags and other pirate's booty!
Treasure Maps
Let your party guests go on the hunt for lost treasure by adding plenty of treasure maps to your party decor. We love the idea of covering your walls in treasure maps to really give the illusion that you're on a pirate ship or in the captain's den. You could also find or create a treasure map table cover and decorate it with gold-colored serving ware and pirate-themed accents. Of course, you'll need a map or two for a fun-filled game of treasure hunt. 
Pirate Themed Signage
Put a smile on your guests' faces as soon as they arrive with fun pirate party-themed signage. DIY your own skull and crossbones, and grab a chalkboard to write a welcome (or warning!) to all who dare to enter. Continue the signage around your party venue with messages directing guests towards the bathrooms, activities, and games. 
Pirate Party Games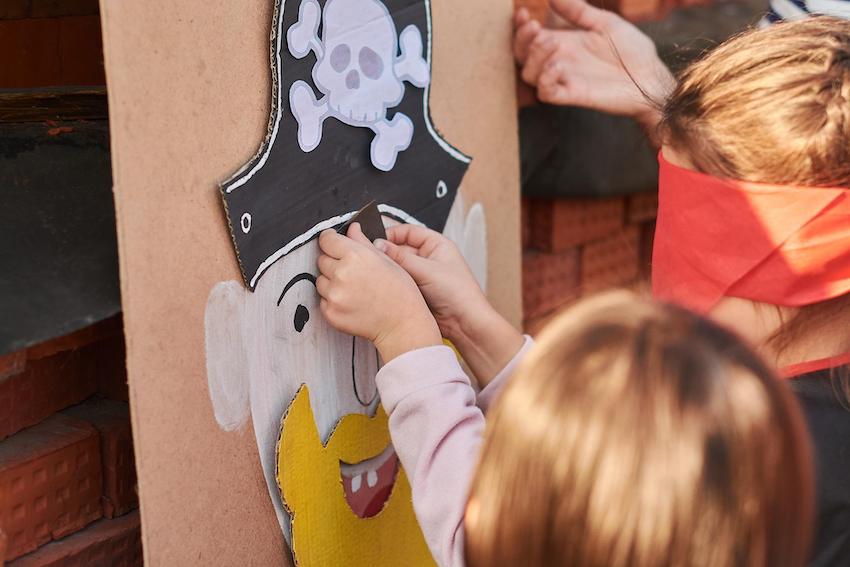 Mischievous party games are perfect for a pirate-themed celebration. Give your guests plenty to enjoy by putting on a handful of these party games and activities for kids. They're even more fun when you're dressed up, so ask your guests to arrive in their best pirate costumes!
Treasure Hunt
This pirate theme party classic is an excellent way to engage your party guests in a fully immersive experience. Create your own clues, hand out maps, and watch as they hunt for pirate treasure. To add to the excitement, create a truly buried treasure experience with a sandpit and mini shovels. You could even send out the first clue along with your digital invitations. 
Pin the Eyepatch on the Pirate
Arrrrgh! Revamp this party classic by swapping a donkey for a pirate's face and a tail for an eye patch. Line your party guests up and ask them to pin the eye patch on while blindfolded. The closest match wins a prize! 
Walk the Plank
Ready to walk the plank? Don't panic — nobody's in danger! For this DIY party game, take a solid plank of wood and raise it off the ground slightly by a few inches. Challenge your party guests to make their way across the plank to the other side. Make the experience feel more authentic by laying it over a blue fabric that represents the sea, complete with toy sharks. Match the difficulty to your party guests' ages and make it harder by introducing a blindfold or choosing a narrower plank. 
Captain's Relay Race
Ask everyone to put on their pirate hats and eye patches for a fast-paced pirate relay race. Split your guests into teams and set up a simple route at your party venue or in the yard. Give the starting runner a pirate's cutlass and ask them to pass it onto the next runner in their team. The first team across the finish line collects a handful of chocolate coins as a prize. 
Pirate Party Photo Booth
Give your guests a fun way to collect memories from your party with a themed photo booth. Stage an area with a desert island or pirate ship backdrop, and add in a pirate cutout or two for extra effect. Offer plenty of pirate-themed props and costume accessories, and snap away as your guests pose for some epic party pics.
Make Believe Corner
If you have younger guests joining your pirate theme party, chances are they'll need somewhere to relax between games. Create a make-believe corner where your little pirates can role-play with toy boats, pirate figures, skeletons, and treasure chests. To get started, here are some fun ideas on creating a pirate small world play area. 
Delicious Pirate Party Food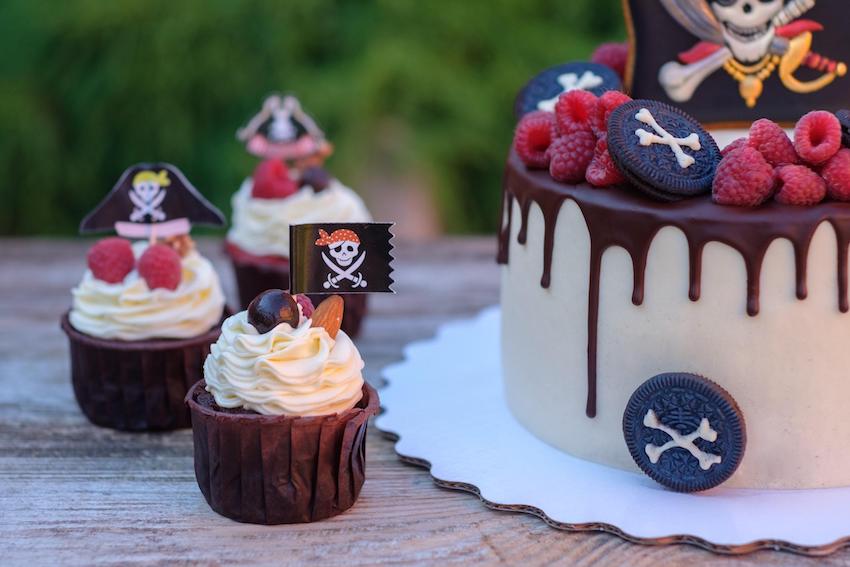 All that treasure hunting works up an appetite. Reward your pirate guests with a delicious feast fit for any captain. Lay out a buffet of your party food favorites, then add in a handful of these themed food ideas to make it really special. 
Walk the Plank Sandwiches
Switch up your traditional sandwich platter for an on-theme version with walk the plank sandwiches. Make sandwiches with your favorite fillings, then cut them into narrow slices. Arrange them on a platter alongside mini skeletons and pirate flags for a fun way to serve up a party classic.
Cannonball Meatballs
Add some fanfare to a party favorite with cannonball meatballs. Simply cook mini meatballs, then stack them up alongside a toy cannonball. If you're serving a sit-down meal, serve these atop a sea of spaghetti as a simple main course for kids. 
Pirate Cupcakes
You can't go wrong with cupcakes at a party — especially for hungry pirates! Add some color to your cupcakes with bright reds and blacks, pirate-themed cupcake toppers, and mini pirate flags. For a different twist, transform your cake mix into pirate cake pops instead. 
Platters of Meat, Fruit, and Cheese
While it might sound a little grown-up for a kid's birthday party, this can be a great way to reinforce your pirate theme. Sit your guests down at a long table and serve up platters heaped with meat, fruit, cheese, and bite-size snacks. Encourage sharing, conversation, and a lively mealtime with these pirate favorites. 
The Best Pirate Party Favors
By the end of your pirate birthday party, your guests won't want to leave. Send them home with a treasure-worthy collection of party favors. Load up your loot bags with a mini cupcake, alongside one or more of these pirate-themed accessories: 
Gold coins (plastic or chocolate!)

Eye patch

Pirate party hat

Bandana

Pirate sword

Pirate hooks

Themed mini coloring set

Temporary pirate tattoos 

Pirate themed playset or figurines

Themed stickers 
Pirate Party Invitations We Love
Excited about planning the perfect pirate themed party? Once you're set on the date and location, you can invite your guests with these fantastic pirate party invitations. 
Sailing Pirate Ship Invitation
Ask your party guests to join you on the seven seas with this playful pirate-themed birthday party invitation. We love the modern illustration paired with a script font. You can easily swap out the colors to match your party theme.
Octopus Pirate Invitation
How adorable is this octopus pirate party invitation? This sweet design is perfect for preschoolers and little pirates. The soft colors and contemporary design make it an ideal match for young adventurers.
Pirate Party Invitation
Looking for something bold yet minimal? This contemporary pirate party invitation is just the thing. It's perfect for older kids or for a pirate-themed charity event. Like all Greenvelope designs, it's highly customizable, so you can swap out that red for your birthday guest's favorite color. 
Ahoy Matey Invitation
This wonderfully modern pirate party invitation will get your guests excited as soon as they open the card. What's great about this design is the versatility — it works just as well for a kids birthday party as it does for a pirate-themed Halloween bash. 
Pirate Ship Invitation
We love the gorgeous illustration on this pirate ship invitation. This design would work perfectly for an immersive themed party for pirates of all ages. Choose from three color palettes, including a sepia-toned version that's ideal for a vintage-style pirate bash. 
Create a Pirate Theme Party Your Guests Will Treasure
We love pirate theme parties — they're so much fun! With these pirate party ideas for decor, food, games, and party favors, you're sure to have the perfect celebration even if you never set sail on a ship. Start your party planning and get ready to transport your guests to an immersive wonderland, filled with hidden treats and buried treasure to explore and enjoy.