April 25, 2022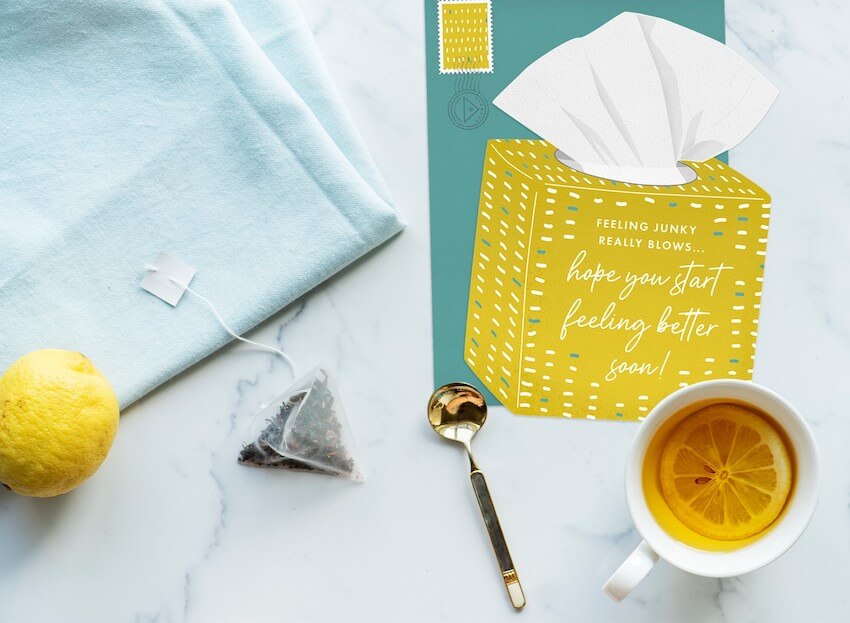 Getting sick, having surgery, or suffering from an illness is never fun. But receiving sweet messages from colleagues and loved ones can lift someone's spirits during a difficult time. If you know someone who's having a rough go, sending speedy recovery wishes in a card can make a world of difference. These cards can give them something to look forward to and put a smile on their face, even when times are tough.
Not sure what to say in your get well card? Here, you'll find advice and wording ideas for your speedy recovery wishes. Plus, you'll find greeting cards whether you're sending a formal get well soon card to a coworker or a funny card to your best friend after a silly accident.

Speedy Recovery Wishes: What to Say in a Card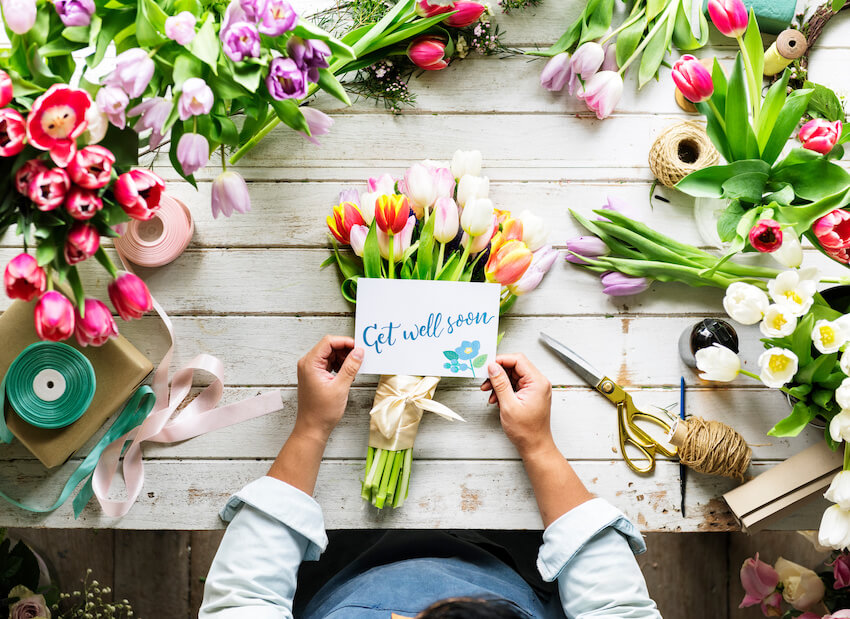 When sending someone speedy recovery wishes, consider the situation and the person so you choose the right words. If the person you're sending the card to has a great sense of humor, sending a funny message can lift their spirits. (After all, sometimes laughter is the best medicine.) Just remember that humor has its place. In cases of a serious accident, grave illness, or precarious recovery, it's best to keep your message reverential and respectful.
If your card recipient is religious or spiritually inclined, you may want to include references to God or their faith in your get-well wishes. If they're not religious or you're not sure of their affiliation, it's best to avoid any religious wording in your get well soon messages.
You'll also want to consider your relationship with the person. If it's a close family member like your brother or mom, a more informal tone for your get well soon card is perfect. If it's a coworker, you'll want the wording to be professional yet sincere. In general, you want your message to include positive thoughts.
Here are a few ideas of what you can say in a get well card including religious references, funny messages, and speedy recovery wishes:
Get well soon. Sending happy thoughts from the whole team

We hope you get better soon after your recent surgery

Thinking of you and sending best wishes for a quick recovery

Sending you warmest wishes for a speedy recovery during this tough time

The whole Smith family is sending you warm thoughts during your time of illness

Sending you caring thoughts and healing vibes for a new day without pain

Darn, we heard about your accident and are sending healthy vibes for a quick return to your amazing self!

We're sending warm wishes and lots of love for a speedy recovery

So sorry you're using sick days because you're actually sick and not just having fun like Ferris Bueller!

We know this virus will get sick of you just like the rest of us. Can't wait to hear your chuckle and have you back in the office!

I told you not to take that dare, but here you are. Get well soon so we can get into more shenanigans!

Sending you lots of healing energy and holding space for your quick recovery.

The universe is on your side, and so are we. Sending lots of love and healing vibes your way!

Dear friend, may God help you find strength and watch over you on your journey to good health

God bless you during your hospital stay and for every step of the recovery process. We are praying for you, sending good wishes for a fast recovery, and are here in your time of need
With these speedy recovery wishes, you'll be able to send warm thoughts to anyone in your life — whether it's an acquaintance, coworker, or someone very close to you.
Get Well Soon Cards for Speedy Recovery Wishes
When it comes to sharing your message of warmth, digital cards are a convenient and incredibly thoughtful way to go. Online cards make it easy to send last-minute wishes to someone before a big surgery (or after one). You don't have to worry about standing in line at the post office, paying postage, or wasting paper. Just pick a design, customize it, and send it their way — all with just a few clicks. Here are some of our favorite digital get well soon cards that you can use to send speedy recovery wishes. 
1. Feel Better Card
This speedy recovery message is perfect for someone who has a mild issue or illness. Use this greeting card to wish someone a full recovery and let them know how excited you are to have them back to their normal self soon.
2. Get Well Flowers Card
This get well soon card features simple lettering and floral elements for a cheery look. It comes in several color palettes so you can choose a vibrant and colorful card or something more elegant and subdued. Either way, your recipient is sure to appreciate the gesture.
3. Floral Sentiments Card
This sentimental card is sure to make anyone feel better fast. It features a beautiful bouquet of illustrated flowers and a small note card that can be customized. The back also features plenty of room to send a personal get well message.
4. Better Luck Next Year Card
Let's be real, some years just are no fun. If you have a close friend who had a sucky year, send them well wishes with this humorous get better soon card. The oversized text sets the tone immediately and you can include your own fun message on the back. It's ideal for coworkers and close friends, but skip this card if the person has a serious illness as that's nothing to laugh about.
5. Better Together Save the Date
While this card was originally designed as a save the date, it can be customized as a get well soon card for someone you're very close to. If an illness or surgery has kept you apart, lift your loved one's spirit with this "better together" card. You can choose a favorite snapshot of you two in happier times or upload a photo of their favorite place. Customize the card by changing the typography and color scheme to suit the mood of your well wishes.
6. Get It, Girl Invitation
Have a gal pal who needs some extra support fighting a tough battle? Send her this motivating get well card. You can also use the card to celebrate someone's recent achievement — like beating cancer or recovering from surgery.
Send Good Wishes With Greenvelope
Getting hurt or having a serious procedure can be frightening. Sending someone speedy recovery wishes and kind words can help them work through this difficult time. Whether you're trying to make your best friend laugh after they hurt themselves doing something ridiculous or sending formal wishes for a more serious event, we hope these ideas help.
When you need a greeting card or invitation for all of life's events, Greenvelope has what you're looking for. You'll find an incredible selection of digital invitations and designs for everything from get well cards to religious milestones and birthdays. With online invitations, it's easy to let someone know you care.