October 3, 2019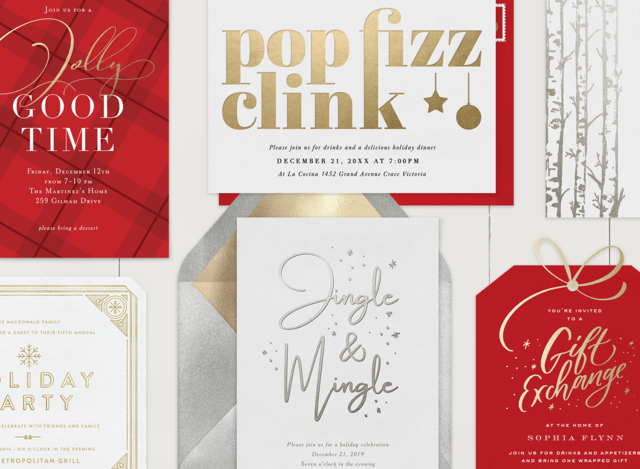 We've stuffed our bellies with enough Thanksgiving turkey to feed a small city, so that can only mean one thing: The holidays are here. Enter the season for spreading cheer, sending holiday cards, gathering with loved ones, baking sugary treats, and of course, parties. If you're the one hosting, browse festive holiday party invitations for every imaginable theme.
Haven't settled on a theme for your seasonal soiree just yet? Put the reindeer before the sleigh and let these clever party invites inspire you. We've rounded up designs for our absolute favorite party themes, so get ready to jingle and mingle.

Holiday Party Invitations for a Boozy Bash
Host a spirited celebration with a theme that encourages imbibing. Thankfully, there are a lot of festive drinks to choose from that don't involve raw eggs and nutmeg (unless that's your thing, of course). Ask guests to bring their favorite varietal, and you've turned your celebration into a cheery tasting. Let one of these toasty invites lead the way — just don't let anyone get too red-nosed. Bottom's up!
Beer and Cheer Invitation
Deck the halls with boughs of barley with this beer tasting party invitation. Ask friends to bring a craft brew to share, and everyone is sure to discover an ale they've never tried before. This design features a hand-drawn illustration to wish guests a Merry Christmas and a Hoppy New Year.
Cozy Winter Garb Invitation
This whimsical illustrated invite encourages guests to get tipsy and toasty. Cozy winter accessories are hand-painted in warm watercolors. At the event, serve up spiked hot cocoa and cider by the roaring fire. No fireplace? Just crank up the thermostat.
Sleigh Some Cabernet Invitation
Nothing gets us in the holiday spirit like a good pun, so it's safe to say this invitation sleighs. Cut in the shape of a custom sleigh, this creative party greeting asks guests to attend with a bottle of vino in hand. Set up a banquet table with each varietal so guests can taste a sip (or more) of each.
Wine & Wrap Invitation
This party is BYOB: Bring Your Own Bow. Host a wine and wrap party to turn a Christmas chore into an excuse to celebrate. This lighthearted invite features colorful gifts and wine glasses to invite friends to get their wrapping done together with wine, bites, and conversation.
Sophisticated Dinner Party Invitations
If you're hosting a specific holiday, invite family and close friends with a festive invitation. Sending a well thought out invite makes an intimate dinner or small cocktail party that much more special. It can also be an easy way to let guests know when to arrive, what to wear, and whether they should bring anything.
Traditional Gingham Invitation
Hosting Christmas Eve dinner at your house? Let guests know with this sweet dinner invitation. Classic gingham plaid never goes out of style — like your favorite holiday tablecloth. A festive pine emblem and beautifully designed text completes the timeless aesthetic.
Gilded Hanukkah Invitation
Hanukkah hosts and hostesses can welcome guests to gather around the Menorah with this elegant invitation. A gold foil geometric overlay complements golf script over a misty watercolor background. Deep, wintery tones create an intriguing aesthetic that embraces the season.
Champagne Coupe Invitation
Invite your closest pals to celebrate New Year's Eve together with this retro invitation. A sophisticated palette of muted hues suggests a classy affair. Festive text complements a watercolor coup champagne glass for a nostalgic effect. All that's left to do is cue the confetti.
Kitschy Party Theme Invitations
Pull out all the stops with a wonderfully over-the-top affair. Kitschy Christmas party invitations embrace the season's tackiest qualities. Think brightly colored bulbs on the Christmas tree, sequin sweaters, elf ears, and eggnog out of reindeer glasses á la Christmas Vacation. Play your favorite Christmas cartoon in the background or put "Grandma Got Run Over by a Reindeer" on repeat.
Merry Kitchmas Invitation
This campy invitation embraces the kitsch. The hand-knit style is perfect for an ugly sweater party, holiday pajama bash, or white elephant gift exchange. Of course, an over-the-top affair encourages a more-is-more mindset, so you can host a combination of all three.
Holiday Humor Invitation
If you own more than a few pairs of tacky holiday leggings, this fun invitation is for you. Welcome guests to eat, drink, and wear stretchy pants. Encourage festive patterned leggings or host a holiday pajama party that offers more room for seconds.
Christmas on Crack Invitation
Party like you're Clark Griswold with this hilarious Christmas invitation. To live up to the Christmas on Crack mindset, be sure to go all-out with your theme. Customize the back of the invitation with your party details. Think ugly sweaters, secret santa, mistletoe, candy canes, matching pajamas, reindeer antlers, Toys for Tots, and more.
Fashionable Festivity Invitations
Stylish elves know there's nothing better than holiday fashion. Host a glam soiree that encourages guests to wear their Sunday best. After all, when else can you wear a sparkly velvet party dress? Make sure your phone is charged up and you've staged the perfect location for Instagram shots.
Party Dress Invitation
A painfully chic watercolor drawing takes this glamorous invitation design to the next level. Encourage guests to wear their favorite holiday party dress for an elegant soiree. Sleek script and gold glitter accents complete the elegant aesthetic.
Glitz and Glam Invitation
This high-fashion invitation looks like it's ripped out of a glossy magazine. A hot pink watercolor kiss is perfect for a posh cocktail party or a girls-only bash. You can also host a pregame party to get ready for a big holiday event. Stock your place with mirrors, and encourage guests to bring extra styling tools and makeup to share. Just don't forget the bubbly.
Chic Couture Invitation
This Chic Couture Invitation stands up to its name. Gold "red haute" text overlays a sophisticated watercolor invitation. The gorgeous gown is perfect for a classy cocktail party or black-tie affair. Or invite friends to pretend you're on the red carpet for a Golden Globes or Oscars viewing party.
Winter Wonderland Invitations
The Winter Solstice always hits in mid-December in the height of the holiday season. A winter-themed party is the perfect way to gather friends of all faiths for a non-religious celebration. You can also host a winter soiree in January of February to extend the fun past Valentine's Day. Create frosty decor with plenty of snowflakes, cozy furs, and of course, cold beverages.
Wintery Boughs Invitation
This snowy holiday invitation features pine branches dotted with delicate snowflakes. A frosty oval frame and subtle watercolor texture create a beautiful winter scene for your winter wonderland event.
Festive Foiled Wreath Invitation
A hand-drawn gold foil wreath frame gives this winter soiree invitation a sophisticated aesthetic. A dark navy, black, or burgundy background is perfect for an evening affair.
Snow Globe Invitation
This sweet snow globe features an appropriate "snow party" pun for lighthearted hosts. A silver foil frame adds a classy winter touch for your cold-weather gathering.
Jingle & Mingle With a Festive Holiday Party
Between sending Christmas cards, buying gifts, and planning family gatherings, the holidays are always busy. Take a break from all the hustle and bustle to spread cheer with a festive soiree. Thankfully, there is an invitation for every affair — from a kitschy ugly sweater party to an intimate holiday dinner. Either way, sweet treats, spirited cocktails, and the special people in your life make the celebration one to remember.