September 8, 2020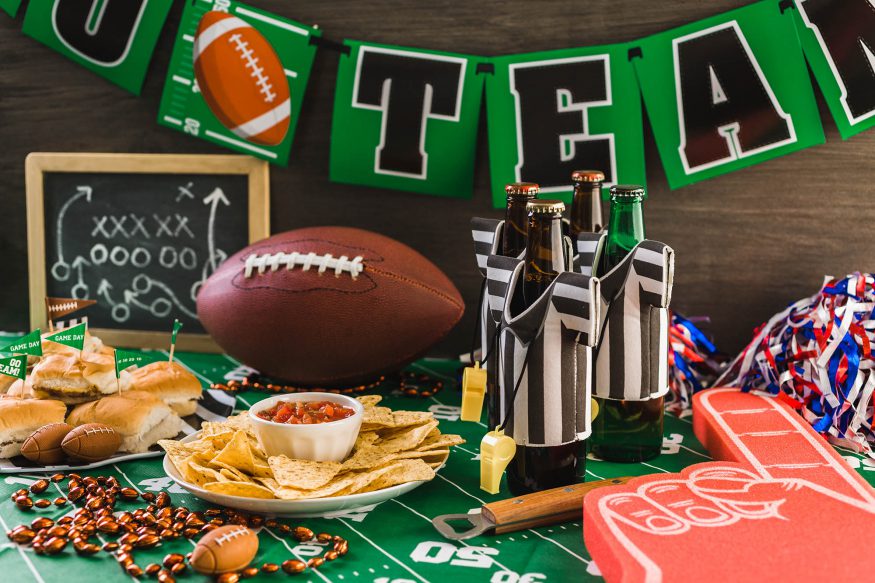 Are you ready to start planning your Super Bowl party? Watching the Big Game (and halftime show) is the highlight of the celebration. But the food, drinks, company, and party activities make it an event not to miss. To help you plan an amazing football party this year, here are 10 Super Bowl party games — some are perfect for before the Big Game starts, while others are ideal to play during or after the action on the field.
1. Bean Bag Football Toss
Take the old-school game of bean bag toss or cornhole and give it a new Super Bowl Sunday experience. Split your group into two teams and give each a set of three bean bags. Teams take turns to throw their bean bags through the hole on the angled board. The team that makes the most bean bags through the hole wins.
Use bean bags in your favorite team's colors. You could create your own football field scene on the cornhole board, or decorate it with your favorite mascots, teams, or players. This is usually an outdoor game, but you can bring it indoors — just make sure you have enough space.
2. Super Bowl Commercial Bingo
You don't have to be a football fan to enjoy a Super Bowl party. Half the fun is watching the commercials, which seem to get more entertaining and bizarre every year.
Take a moment to think about which brands you think will advertise during this year's event — it's often mainstream brands selling snacks, cars, fast food, soda, and alcohol. Add those brand names to a series of Super Bowl Bingo cards for your guests to use. Alternatively, you can find plenty of free printables online. Just download, print, and you're ready to play.
3. Super Bowl Trivia Game
There's always one person in the group who thinks they know the most about the NFL and the Super Bowl. Test their knowledge and see if it's true with a few friendly rounds of Super Bowl trivia.
This is a great game to play with a group of different ages, as you can include both easy and challenging questions. Feature questions about recent Super Bowls, as well as trivia around the history of the event. Add up the scores each round and award a prize, with a special grand prize for the person crowned Super Bowl Trivia King or Queen.
4. Football Ring Toss
Ring toss is a classic outdoor game idea that never goes out of style. Bring some football flair to the game with a Super Bowl-themed version.
To make this fun game at home, follow this DIY tutorial using copper piping. (You could also use plastic pipe for an easier version.) Place your homemade field goal post on a base of fake grass, complete with pitch markings, for an impressive DIY ring toss game you can keep and reuse.
5. Themed Word Scramble
For a more relaxing football party game, why not make some themed word scrambles? These word games are a fun way to celebrate the event, especially for younger guests.
Make a list of all the Super Bowl or football-themed words and phrases you can think of. Then, use a free word scramble maker to create your party game in minutes. Create an activity corner at your Super Bowl party, complete with word searches, puzzles, and coloring pages for the little ones.
6. Flag Football
Relive your days on the school ground with a few games of flag football. This is a fun way to kick off the party, but it also works great as a way to end the evening. Because you're simply capturing flags instead of tackling players to the ground, it makes for a family-friendly party game.
Don't have any flags handy? Try touch football instead, where instead of flags you simply tap another player to take control of the ball. You could also liven up this sporty activity by adding a few fun Super Bowl props, such as creating your own mascots or using face paint to add your team's logo or colors on your cheek.
7. Super Bowl Baking Competition
Any superstar bakers in your friend group? If so, this is one of those Super Bowl party games they'll love. Take the traditional bakeoff format and add a rule that the cakes and bakes must represent or be inspired by the Super Bowl in some way.
Ask your guests to let their imagination run wild and bring their best-baked goods to your party. Cut the cakes, enjoy some delicious samples, and get your friends and family to vote for their favorite. If you're planning a fun event like this, be sure to mention it on your digital invitations so people have enough notice to get baking!
8. Rate the Commercials
Love them or hate them, commercials are a huge part of the Super Bowl experience. Add some extra fun to watching the ads by rating the commercials.
Gather your party guests around the big screen and make sure there's plenty of drinks and appetizers to go around. Hand out scorecards for people to rate their favorites, or keep it simple with a thumbs up and thumbs down. There's no winner here as it's all for fun, but it'll certainly prompt some lively discussions about which commercials make your guests cheer — and sneer.
9. Super Bowl Charades
Break out a party classic and make sure there's plenty of space in your living room for a few rounds of Super Bowl charades. This is a great game for a family-friendly Super Bowl party, as you can play it as a team game and keep it simple for younger guests.
Before the party starts, pull together a list of famous Super Bowl moments, commercials, or phrases — or find a list of Super Bowl charades ideas online. Write them down on note cards and ask players to pick one from a hat to act out. Keep scores and hand over a prize for the winning team or individual.
10. Super Bowl Predictions
If your guests love to guess things correctly, this lighthearted take on predictions could be a winner at your next Super Bowl party. While you're not playing for money, it's still fun to see your predictions come true on the screen in front of you.
Think of fun Super Bowl moments that you could ask guests to predict. Perhaps it's who'll be crowned MVP, when the first touchdown will be, or which team will win. If you're short on ideas, there are fantastic printable Super Bowl score prediction cards online. All you need to do is print out enough for all your guests and make sure you have some pens handy so your guests can make their predictions before the game starts.
Host a Winning Event With These Super Bowl Party Games
You can't control whether your team wins or loses, but you can throw a sensational bash that keeps everyone in a great mood. Complement your stellar hosting skills with delicious food, plenty of drinks, and the best Super Bowl party games. Whether you're hosting family and friends for a close-knit get-together or inviting the neighborhood over to watch, you're sure to throw a winning celebration.