January 30, 2020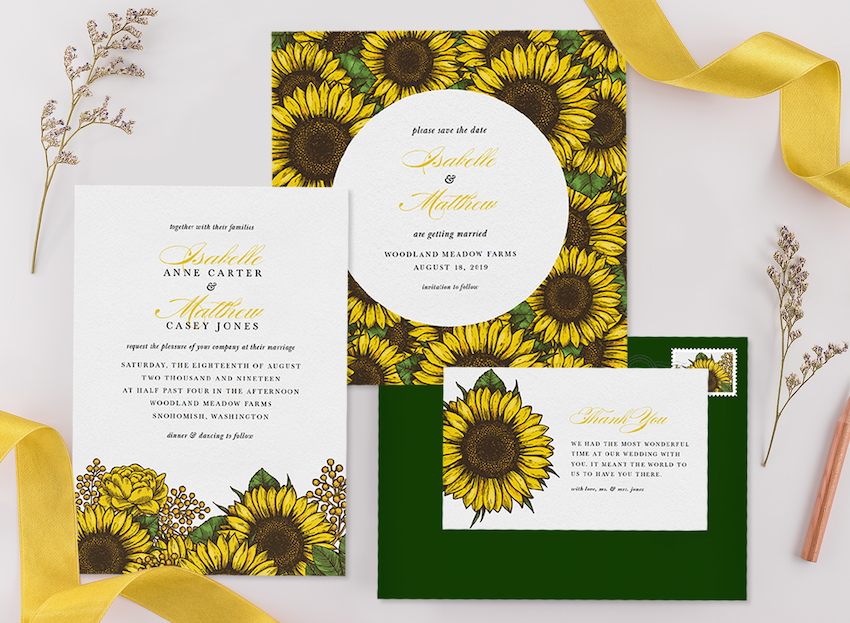 Some couples dream of show-stopping wedding receptions, ballgown wedding dresses, and glam decor, but not you. From the moment you discovered Pinterest, you pictured your dream rustic wedding — complete with woodgrain touches, a garden backdrop, and lively sunflower wedding invitations to send to each of your guests.
On any given day, you'll take burlap over sparkles, flower petals over jewels, and lace over satin. You always wanted an outdoor, countryside wedding, and with a ring securely positioned on your left finger you're deep into the wedding planning process.
And you're on the hunt for a gorgeous rustic wedding invitation to carry out your vision.
Below, we're sharing 10 of our favorite sunflower wedding invitations to carry out your country wedding theme. With a wonderful balance between rustic and chic, you'll certainly fall in love with one of these designs.

10 Sunflower Wedding Invitations for Your Rustic Chic Wedding
With bright colors and lavish flowers, these 10 invitations are a beautiful complement to any outdoor wedding. Some are more rustic while others veer to a more formal feel, allowing you to find your dream sunflower invitation to complete your vision.
1. Quintessential Sunflower Invitation
Featuring a gold and bronze glow, this unique sunflower wedding invitation features hand-drawn illustrations, gold foil accents, and a mix of typography. A single flower is sketched to the left of the invitation, while the wedding details are laid out to the right of the card. The happy couple's first names are written in a bronze, all-caps font, while a mix of yellow and gold plays throughout the remaining text. Ideal for a summer or fall wedding, you'll find it strikes a welcoming balance between playful and elegant.
2. Elegant Sunflowers Invitation
If your wedding vision includes a rustic, countryside vibe, you may want to pause and take a peek at this wedding invite. This floral invitation includes simple, sans serif fonts and a gray background framed in white. Two large and beautifully vibrant sunflowers sit in the top and bottom corners, lightly framing the wedding details. You'll find the coordinating save the date and thank you note feature similar designs, with each of the three components enclosed in a gold foil envelope.
3. Radiant Sunflowers Invitation
Can you feel the sunshine? This rustic sunflower wedding invitation is incredibly playful and cheery, just like your wedding ceremony. Ideal for an outdoor summer wedding or spring garden ceremony, this elegant design comes alive with illustrated florals and greenery. Featuring a lovely color palette of greens, yellows, and neutrals, this design will create a sense of sunshine for all your wedding guests. Enclosed in a stark green envelope, you'll have everyone counting down to your big day.
4. Foil Stamped Sunflower Invitation 
With gold foil sketches and a deep, burgundy background, the detailing in this wedding stationery makes it intrinsically elegant. The large sunflower illustration almost looks like a gold leaf mandala, making this a wonderful fit for an Indian wedding. The ornate detailing carries over to the save the date and thank you note, with each component enclosed in a gold-lined envelope. The save the date card features an engagement photo of the happy couple, helping to garner excitement for the celebration.
5. Playful Florals Invitation
Rinse out every mason jar, save every scrap of burlap, and start amassing Pinterest boards, because your rustic country wedding is about to come to life. This simple sunflower wedding invite carries out your wedding plans wonderfully, and comes with a coordinating save the date and thank you note. Featuring a gorgeous and vibrant bouquet at the helm, clean, white envelopes, and simple sans serif typography, it's a lovely match to your rustic chic wedding theme.
6. Vibrant Blooms Invitation
You and your soon-to-be life partner always march to the beat of your own tune, and you can't wait to dance the night away at your wedding. To match your bold, fun-loving personalities, consider this vibrant watercolor invitation for your big day. With a daring color palette of bright yellow, deep royal blue, and eye-catching orange, this design is as unexpected as each of your wedding details. Fit for a spring, summer, or fall ceremony, this invitation is as beautiful as your wedding day (well … almost).
7. Floral Ampersand Invitation
For months, you and soon-to-be life partner (lovingly) argued over your wedding theme. You dreamt of a rustic barn wedding with countryside details, while your better half voted for a more traditional ceremony and reception. This vintage sunflower wedding invitation might strike the balance you two have tirelessly searched for. The elegant calligraphy, thin lines, and gold-lined envelope speak to a formal wedding ceremony, while the bright color palette and floral details represent a country sunflower themed wedding. Consider this design the first compromise you two will make in a lifetime's worth of choices.
8. Pretty Florals Invitation
With a hand-drawn botanical border, luxurious letterpress fonts, and a gray and yellow color palette, this rustic wedding invitation is the quintessential design for a rustic wedding. A weathered brown envelope speaks to the rustic burlap decor you chose for the reception, while the sketched flowers match your beautiful bridal bouquets. Whether you made the executive decision to hold the ceremony outdoors or inside, your guests will certainly feel the sunshine after receiving this bright and cheery invitation.
9. Autumn Dahlias Invitation
From the time you made your first Pinterest board to the moment the love of your life dropped to one knee, you knew what kind of wedding you wanted. You dreamt of rustic wood elements, candles in mason jars, chalkboard signs, and a countryside backdrop. This fall wedding invitation checks the box next to all of your wedding decor must-haves, including an autumn color palette, bright florals, rustic paper type, and country chic vibe. From the save the date to the thank you note, the entire invitation suite is warm and welcoming, just as you intend your ceremony to be.
10. Ivy Wreath Invitation
Never has a wedding invitation been so incredibly simple, yet so intricately designed. This romantic floral design features just two colors — white and deep yellow — which you'll see throughout the entire wedding suite. And yet, the hand-drawn illustrations have a spectacular amount of detail, giving it a more formal feel. If you and your partner are on the hunt for a design that's both elegant and rustic, this may be the happy compromise you wished for.
Greenvelope Makes It Easy to Send out Wedding Invitations
With Greenvelope, sending wedding invitations has never been easier. Unlike printable invitations, with Greenvelope you don't have to track down physical addresses, sign and seal envelopes, or buy a book of stamps. Instead, you'll simply upload an Excel file of your guests' email addresses, customize your chosen invitation, and send off your invites in just a few clicks.
Plus, if you love the outdoors as your chosen wedding theme alludes to, Greenvelope comes with an added benefit. Sending online invitations, like those created by Greenvelope, helps protect the environment. In fact, our team has planted 135 trees, and saved 990,000 pounds of paper, to date.
From all of us at Greenvelope, we hope you have a beautiful outdoor wedding. The countdown to your big day is officially on!