January 3, 2020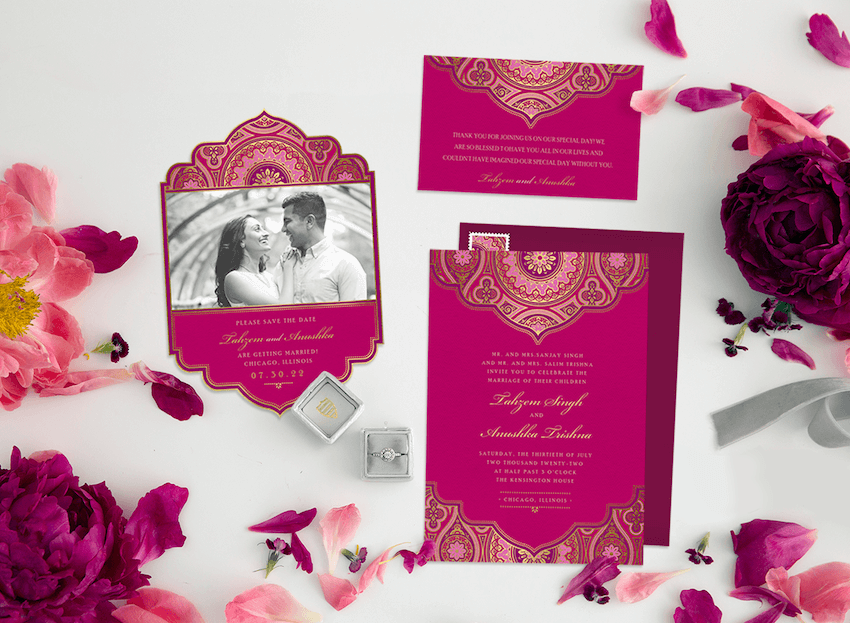 In Indian culture, a wedding isn't just a special day — it's a special series of events. A three-day affair sometimes including elephants or horses, bright colors and intricate details, and elaborate saris, it's no wonder so much thought and planning is needed. Part of that planning is finding the perfect Indian wedding invitation to offer a glimpse into your dream ceremony.
Because that's what a wedding invitation is — a peek into an upcoming weekend of parties, celebration, and rituals. It should speak to the vibe you want your guests to feel throughout your wedding weekend. Below, you'll find 10 beautiful Indian wedding invitations with a variety of color palettes, florals, traditions, and designs.

10 Indian Wedding Invitations to Pull off Your Dream Wedding
Filled with traditional symbolism and intricate designs, these beautiful Indian wedding invitations will preview a beautiful ceremony. Choose from modern, designer wedding cards or more traditional designs, and customize the wording, font, and color palette to match your wedding details.
1. Kolam Invitation
At Indian weddings, bold colors are usually best. In this Indian wedding invitation, you'll see a series of kolam — a drawing made using rice flour, chalk powder, or rock powder. In Sri Lanka and parts of South India, this is a type of rangoli art made on the floor using dried flower petals, colored sand, or rice flour.
This invitation is beautiful in its mix of modern design with artistic traditions, bridging the gap between old and new.
2. Nakshatra Invitation
This mystical wedding card is fit for your special day. With an all-black backdrop, it features the cosmos in splashes of purple, yellow, aqua, and green. This beautiful invite is meant to represent the nakshatra, the term for lunar mansions (significant star groupings) in Hindu astrology. Decorated with stars and heavenly bodies, this invitation is perfect for a romance written in the stars.
3. Gilded Paisley Invitation
This gorgeous Indian wedding card features an elegant color palette of blush, gold, and cream. The border has intricate details and an Indian-inspired paisley mandala. In Hindu and Buddhist symbolism, the mandala represents the universe. Fit for an Indian wedding ceremony, this lovely wedding stationery is sure to carry out your dream vision.
4. Gold Elephant Invitation
The elephant is an important symbol in India, giving this wedding invitation card significant meaning. Elephants are sacred in India and symbolize loyalty, wisdom, and good luck — all fine qualities to begin a lasting marriage. It is not uncommon at Hindu weddings to see the groom ride in on a horse or elephant as he makes his entrance. With such strong symbolism weaved into this invitation, it's an ideal fit for your special union.
5. Saat Phera Invitation
This modern Indian wedding invitation is perfect for the no-fuss, no-frills couple. Rather than delicate borders and intricate laser-cut designs, this invite has a simple, orange background with white and gold accents.
Sealed in a metallic envelope, it is subtle compared to other complex designs. The single illustration represents the saat phere, an important tradition within Hindu weddings in which the bride and groom circle a sacred fire seven times, reciting vows after each lap.
6. Metallic Mandala Invitation
If you can't resist the beauty of an intricate mandala, this may be your dream wedding invitation design. A simple, cream-colored backdrop serves as the bulk of the invitation while the lower half is filled with a gold and silver leaf mandala. This ornate, hand-drawn design's elegance is elevated even further by bold serif fonts. You can choose for the script to appear in gold or copper.
7. Marvelous Mehndi Invitation
Usually, Indian weddings are filled with bold, bright colors — often deferring to the saying "Bolder is better." But we have a feeling you're going to fall in love with this black and white design (not as much as you love each other, but you get the drift). The shimmering gold foil envelope adds a pop of color to an otherwise neutral palette while a prominent henna design adds elegant detail. With modern text, italics for accent, and a creative inner-envelope design, this unique wedding invitation bridges fun and tradition.
8. Edge Frill Invitation
This gorgeous and intricate wedding card design will send you over the edge. Inspired by traditional henna patterns, this design gives a nod to the mendhi ceremony, a bridal tradition held the night before the big day.
Organized by the bride's family, a mehndi ceremony wishes her good luck in marriage and relieve stress before the ceremony. Henna is applied to hands and feet at the party to encourage a happy marriage. With such a wonderful tradition weaved into such a lovely design, who could resist such an invitation?
9. Intricate Temple Invitations
This Hindu wedding invitation is filled with vibrant hues and a delicate gold foil border, giving it a sophisticated tone. The matching thank-you note continues in this Indian style, offering a henna border on the top and bottom and elegant cursive script at the center. The save-the-date note is more personal with a full-bleed photo of the bride and groom. With such a beautiful design, these invitations are sure to garner excitement for your big day.
10. Magnificent Medallion Invitation
This breathtaking Indian wedding invitation card is made by embossing violet and purple mandalas in the top and bottom corners. On the side of the card, a thin, gold line adds a modern touch to this otherwise traditional invite.
In this center, the happy couple's names are written in large, italic font offset by the sans serif text describing the wedding day details. With both traditional and non-traditional color palettes to choose from, you can customize this wedding invite to fit your dream ceremony.
Find Your Perfect Indian Wedding Invitations
Your wedding weekend is one your family, friends, and other loved ones will talk about for years to come. From the groom's Baraat procession, the mehndi ceremony with the women in the family, and the wonderful reception we're sure you'll throw after the ceremony, we're sure it will be a lovely (and jam-packed) weekend.
With so many small details to consider at an Indian wedding, we hope this takes some stress off your plate. At Greenvelope, we make sending save-the-dates and wedding invitations incredibly easy. There's no need to track down hundreds of addresses — simply upload an Excel file of your guests' email addresses and we'll send your chosen invite to their inboxes within minutes.
With our advanced guest tracking system, there's no need to worry if your invitation got lost in the (snail) mail. You'll know which guests open your invite (and when) and who RSVP'd yes or no. If you have additional questions for your guests, you can ask using a survey question with your invitation or simply use our messaging tool.
We know planning such a large event is never easy, but hopefully, we can reduce your stress so you can enjoy the wonderful weekend ahead.