February 4, 2020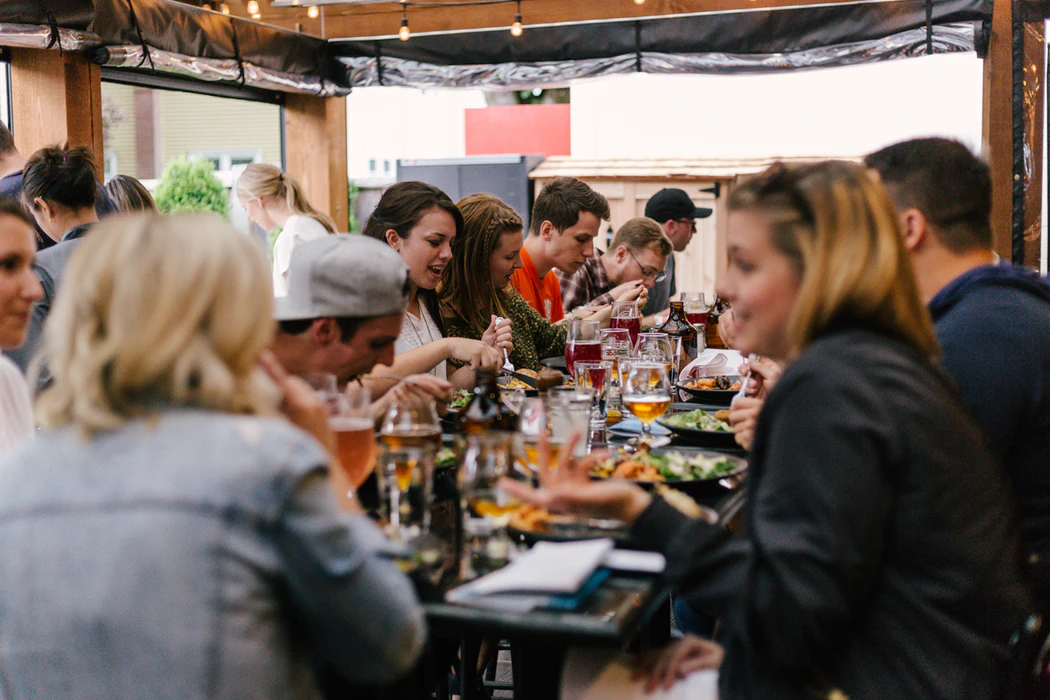 Team and client events are one of the highlights of the year for many businesses. It's an opportunity to get together and celebrate success, raise funds for a good cause, or show thanks to the great people who support you. And the right event invitation can set the right tone.
If you're planning a business event or gala, you might be looking for a creative and interesting way to send out event emails and corporate invitations. Look no further, as here we share our most-loved event invitations for business events.

Our 19 Favorite Business Event Invitations
With so many business events taking place throughout the year, your invitation could be fighting for attention with others. Make your would-be guest's decision easy with an attractive, user-friendly invitation that lands right in their inbox.
Along with sending out party invitations, gathering RSVPs for business events can be time consuming. With these digital invitations this whole process is made easy. You can quickly get invitations out to the right people and manage RSVPs in a simple way. These designs are easy to customize too, so you can change the wording and even add a company logo so it perfectly reflects your business.
There's an invitation template here for every type of event here — from golf days to charity auctions and more. These are our favorite event invitation email designs for business get-togethers of all kinds.
1. Retro Placesetting
Impress your guests with this stunning event invitation that's perfect for a business gala, team dinner, or awards ceremony. This hand-illustrated design blends simple with rustic thanks to a soft texture that adds depth.
2. Gilded Edge
Let people know they're welcome to join you for a special event with these elegant gilded edge invitations. The golden border, softly textured background, and modern typography pair perfectly for a classic, sophisticated invitation. With both pale and dark background options, you can find a look that closely matches your event.
3. Bottoms Up
This fun, contemporary event invitation is an ideal way to invite people to drinks after work or to a launch party. The bold yet simple pattern and modern color palette are complemented by clear typography for a playful design. Simply customize the text and color scheme to create an invitation that matches your event theme in no time.
4. Gilded Geo
Set the tone for your event with this elegant, modern event invitation template. The design features an eye-catching border of geometric shapes in a mix of gorgeous colors, made all the more striking thanks to the gold accents. This business invitation is perfect for corporate parties and galas for both staff and clients.
5. Confetti Burst
Ramp up the fun factor with this confetti burst invitation that gets people in the mood to celebrate. The example here is an invitation for a much-loved colleague's retirement, but it works equally well to celebrate a team member's new arrival or simply for a party to celebrate a successful year.
6. All Teed Up
Looking for the ideal invitation for your company's upcoming charity golf day? This golf event invitation is perfect, with a hand-illustrated design that sets the stage for a day on the green. There's plenty of space to customize your invite, so you can add details about lunch, the charity you're fundraising for, or sharing on social media.
7. Preppy Par-Tee
Maybe you're looking for something a little simpler. This Preppy Par-Tee design is lots of fun, making it ideal for those not-so-serious golf days with your team or with a handful of your favorite clients. Choose from three playful color palettes or create something custom with our design service.
8. Grand Gold
Invite your most important guests to celebrate the grand opening of a new store or office with this sophisticated design. The Grand Gold corporate event invitation features a stunning gold foil effect that helps it stand out in your guests' inboxes — with plenty of space for all the important details about your grand opening.
9. Nautical Clams
Hosting a special tasting event or seafood dinner party for your team? This Nautical Clams event invitation is just what you need, with a beautiful, hand-illustrated design and a nautical color palette. You could also make this design work for other coastal events, like a company beach cleanup or a team and family gathering by the sea.
10. Goodbye to the Tie
There's no mistake about the type of party you're hosting with this fun retirement celebration invitation. Ask guests to join you with this playful design, complete with bold fonts and colors for a colleague who's really made an impression.
11. Modern House
The Modern House design is ideal for inviting your most important clients to join you at your newest office. Modern colors and clean lines keep this invitation design on trend, while the gold accents add a touch of sparkle to the proceedings.
12. Triangle Confetti
Encourage your guests to get into the spirit of things with this business event invitation. Whether you're looking for a way to invite people to a charity gala or a themed evening out, this design has you covered. There's a mix of modern geometric shapes and sophisticated gold leaf, which creates an end result that encourages people to RSVP.
13. Feeling Lucky?
Planning a themed casino night for your team? Hosting a game-night fundraiser? This playful, card-inspired design is ideal for these kinds of events. The fun, illustrated front will make your guests curious to flip it over, revealing your event details on the other side.
14. Acrylic Swash
These gorgeous business event invitations are inspired by a floral arrangement by Manu Torres, brought to life through the striking color palettes. Invite your guests to an art auction fundraiser or a sophisticated business dinner with this modern, artsy design.
15. Simple Meeting
Looking for an understated way to invite your team or clients to an important meeting? This Simple Meeting invitation design is perfect for when you want the focus to be on your meeting or when you want something a little more corporate. Choose from five color options or add your own brand colors by personalizing the card with our design service.
16. Painted Gold
Ask your colleagues or clients to join you for a sophisticated business event with our Painted Gold invitations. The mix of moody, intense watercolor backgrounds and striking gold foil make it perfect for an elegant evening with great company.
17. Pastel Strokes
Wow your guests with this fun, bold design. When the Pastel Strokes invitation lands in their inbox they'll want to know more. This beautiful, painterly design is perfect for art auctions or gallery openings. With a removable ribbon icon, you can make this suit your event whether it's for charity or not.
18. Hypnotic Lines
Create an invitation that makes an impact with these bold geometric lines that really catch your eye. Choose from a striking dark color combination or a more subtle pastel. Alternatively, make this interesting event invitation your own with your favorite colors. A texture effect background and modern typography combine to make this a design that feels on trend.
19. Classic Cookout
Hosting a company cookout? The Classic Cookout invitation design is perfect for those big gatherings with your team and their families. All those barbecue must-haves and bold colors will get people excited for the event.
Event Invitations Made Easy
We hope this has helped you find the perfect design for your business event invitations. The right design can make everything feel easier, especially when it's combined with a better way to send out invites and manage RSVPs.
When you've found the ideal design, customize it to your heart's content and get ready for a growing list of attendees for your next event.