June 24, 2021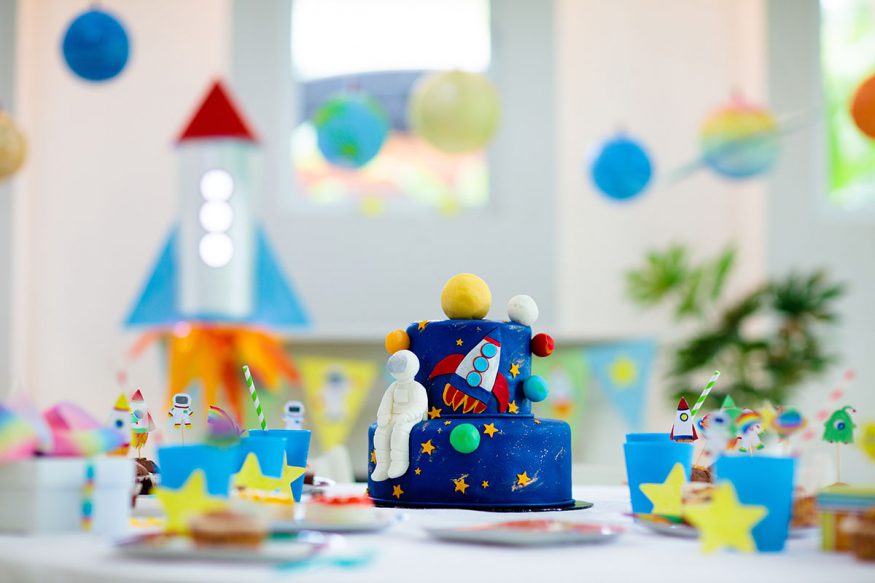 Looking for an out-of-this-world way to mark a special occasion? You can't go wrong with a space-themed party. Whether you're throwing a kids' birthday party or high school graduation party, a sci-fi themed baby shower or engagement celebration, a spacey soiree is always a fun idea. To help you plan a spectacular space party, here are some of our favorite ideas. You'll find inspiration for themes, decor, activities, and stellar food ideas. 

Blast Off With These Party Planning Ideas
Ready to start planning the ultimate space-themed party? Here are our top tips on how to take your party from idea to reality. 
Choose Your Venue
Your space-theme party deserves the perfect venue. Luckily, it doesn't take much to transform just about any area into an amazing space base, outer space, or an astronaut training center. All you need is some imagination and space party supplies. 
Think about how many people you want to invite, what the guest of honor prefers, and what kind of activities you'd like to host. If you want to arrange lawn games and treasure hunts, a party venue with lots of outdoor space would be ideal. If you want to create an immersive space experience, try transforming one room with blackout blinds, glow-in-the-dark decorations, and oversized space-themed props — or book a venue for more space and create an entire mini universe or space station. 
Narrow Down Your Theme
There's so much you can do with an outer space theme. It's a super fun theme that spurs creativity. You can go adorable and silly for a 1st birthday party or opt for spooky sci-fi motifs for teens and adults.
Transform your party venue into an exciting NASA training center for a cute astronaut party for kids. You could also throw an alien-themed or Halloween party for grown-ups with decor featuring wacky outer space creatures. For kids and adults who love sci-fi and space movies, a Star Wars theme is also a great option. 
Invite Your Friends and Family
With a party venue all set and a theme chosen, you can start getting your space-themed party invites ready. Whether you're sending a birthday invitation or an invite to an engagement party or baby shower, this is another area where you can have fun with the theme. 
Look for an online invitation that matches your party theme, style, and occasion. From cartoon-inspired designs to those that turn the guest of honor into a mini astronaut, there's something to suit everyone. Plus, these designs are easy to customize and you don't have to hassle with postage since everything is handled right from your computer. 
Amazing Outer Space Party Decorations
Every space-themed party needs decorations to match. Go all out and have some wild fun with astronauts, planets, spaceships, aliens, and more cosmic designs across your party decor. Here are some ideas to get you started. 
Solar System on the Ceiling
We love the idea of creating or buying a mini version of our solar system and suspending it from the ceiling. It's also a fun way to bring some learning to your space-themed party. Want to feature your planets elsewhere? They also work great as centerpieces. 
Space-Themed Party Lights
Along with planets, why not decorate your space-themed party with some lights featuring spaceships, UFOs, or aliens? It's a great way to brighten up your space and also provides a fantastic backdrop for a DIY photo booth. 
Alien Balloons
We love the idea of using balloons as party decor, and alien balloons are an excellent way to incorporate the theme. Go for giant, oversized alien latex balloon figures or characters from your favorite space movies for a kooky touch. You could also give away a balloon to your party guests as an easy birthday party favor. 
Glow-in-the-Dark Star Stickers
There's something cool about settling down under a starry sky for a slumber party. Recreate that with a space theme by adding glow-in-the-dark star stickers to your ceiling. That way, when the lights go down, your guests can pretend they're exploring the universe together on a big adventure. 
Cardboard Rocket Ships
Ready to blast off to the moon? Your guests will be when they can have fun with cardboard space shuttles. You could make DIY rocket ships using cardboard boxes as an activity, or buy them ready-made from a party supply store. For a fun touch, let your guests decorate the ships with marker pens and stickers. 
Space-Themed Party Games and Activities
Want some galactically-good party games and activities to match your space theme? Try these ideas for games and activities whether you're hosting mini astronauts or grown-up space explorers. 
Astronaut Obstacle Course
There's something exciting about tackling an astronaut obstacle course — whether it's a DIY effort from couch cushions or an inflatable course out in the yard. This is an amazing idea both for little kids and the young at heart — you just need to scale the difficulty based on who's coming to your party. Don't forget to mention that it's an active event on your party invitation, so the guests know to come dressed appropriately. 
Planet Ring Toss
Who doesn't love a game of good old-fashioned ring toss? Give this outdoor party game classic an upgrade for your themed get-together by using planets instead of poles, and trying to toss the rings around the planets. The winner could win a themed prize too — like a mini solar system craft kit or a book about planets. 
Space-Themed Crafts
Sometimes you just want something a little more chill to do — especially if there are really young kids at the party. A space-themed craft area is perfect for entertaining busy hands, while offering a more relaxed space for kids (and adults) who need it. Take a look at these space-themed craft ideas, download some printable coloring pages, and set up an area where guests can go wild with pens, paint, felt, and other crafty bits. 
Intergalactic Scavenger Hunt
Take your space-adventuring party guests on a journey by hosting a totally out-of-this-world scavenger hunt. Lead them on an adventure across your party venue to uncover objects you've hidden around — like space rocks, mini aliens, rocket ships, astronaut gear, and more. This works just as well for tiny astronauts as it does for older kids, especially if you throw in some great treats or prizes. 
Far-Out Party Food and Drink Ideas
There's nothing better than delicious sweet and savory treats at a party. We love these space-themed food and drink ideas — we're sure one or two will make the shortlist for your outer space bash. 
Space-Themed Birthday Cake
If you're throwing a space-themed birthday party, bake your own cake or ask your favorite local baker to come up with something truly meteoric. Keep it cute by featuring your child's favorite alien cartoon characters, or opt for a galaxy-themed space cake. Cake toppers are an excellent way to recreate this on a budget, or you could swap the big cake for colorful galaxy cupcakes instead.
Alien Pizzas
Pizza is the perfect menu item for any party — especially if there are kids involved. It's the kind of food that most people love, and there's lots of room to customize toppings and cater to different dietary needs. We love the idea of recreating these super cute alien pizzas inspired by Disney's Toy Story. 
Color-Changing Galaxy Lemonade 
It's not a party without drinks, and this is an area where you can really have fun — and all you need is a handful of ingredients. Surprise your party guests with color-changing galaxy lemonade and watch as the drink changes before their eyes. This is perfect for a galaxy party, or any space-themed get-together. Finish the look with some edible confetti in star shapes, sprinkled in the drink and around the table. 
Real Astronaut Ice Cream
For the perfect way to round off your space-themed party, treat your guests to some authentic astronaut ice cream. This tasty snack was originally developed for NASA in the 1960s, and is a fun and engaging way to bring some real-world science and amazement to your outer space extravaganza. 
Throw an Unbelievable Space-Themed Party
Get ready to transport your party guests to another world with some of these fun space-themed party ideas. Whether you fill your home with cardboard rocket ships or treat your guests to some alien pizzas, there's something here for everyone to enjoy. Pair your party decor, food, and game ideas with the perfect space-themed party invitation, and your guests will be excited from the moment they hear about the celebration.