August 20, 2020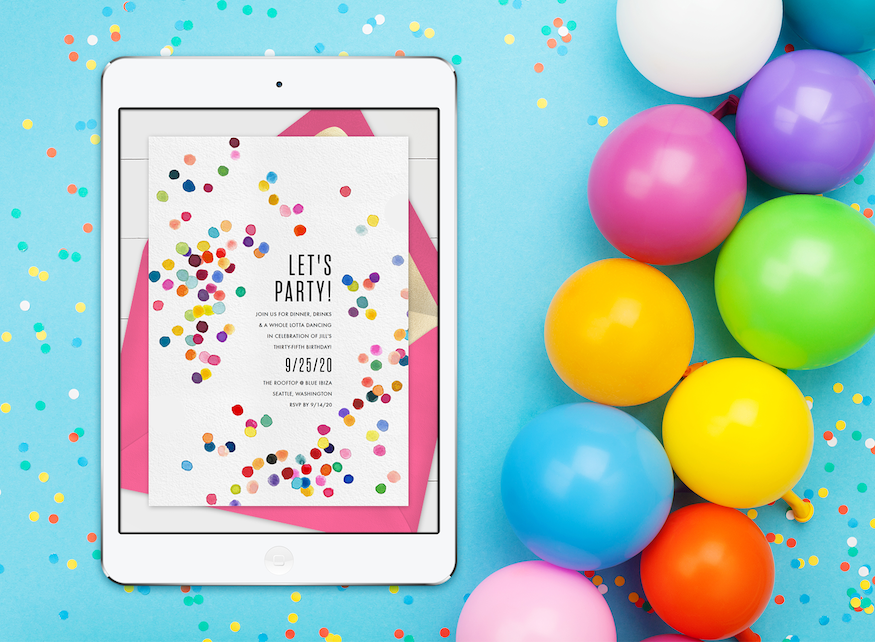 It wasn't so long ago that you'd have to buy or commission paper invitations for milestone events like birthdays, weddings, and anniversaries. Now there's a new option on the block — online invitations.
An online invitation can be a really effective way to let people know about your event and encourage them to RSVP. They're often beautifully designed, with plenty of practical benefits, and they're eco-friendly too.
Here's our simple guide to online invitations, why they're great, and how to find the perfect design for your event.

Practical Benefits of Online Invitations 
There are so many great reasons to choose online invitations over their more traditional paper counterparts. Here are some of the practical benefits of choosing digital designs — from saving you time to saving the environment.
Create and Send from Your Home
Forget the days where you'd wander stores looking for the perfect card or invitation set, only to return a few days later to mail them. With online invitations you can find, design, personalize, and send them from home. This'll save you a few trips to the mailbox or the store, and allow you to spend as long as you like looking for the perfect invite for your summer BBQ, bachelor party, or cocktail party from the comfort of your home.
Manage Your Guest List Easily
One of the hardest things about party planning is trying to keep track of all your RSVPs. You need to keep a list of who has replied and who hasn't, and give them a call or text message to see if they're coming. With an online invitation, you can manage all that from one digital dashboard.
At Greenvelope, our guest list management system means you can send invites, track RSVPs, collect details with surveys, and stay in touch with messaging options. This means you can collect menu options for your brunch or dinner party, or ask friends what games they want to play at your next game night.
This all-in-one approach is perfect for professional events like grand openings and galas. With everything in one place, it's much easier to stay on top of your guest list and put your energy into the fun side of event planning.
Care for the Environment
Digital invitations aren't just easier for senders and guests to manage, they're a positive step for the environment too. Going paperless is a great way to make your event more environmentally friendly. If you think about how many events our families host each year, sending out multiple invites for each celebration can add up to a lot of paper.
Sending email invitations is a simple, accessible way to make a positive impact on the environment around us. Greenvelope users have saved the equivalent of 990K pounds of paper.
Save Valuable Time
Whether you're planning a big celebration for a special occasion or a more relaxed get-together, time is often your most valuable asset. Cut down on time spent on a whole host of invitation-related problems by sending evites instead.
Think about all the steps involved with physical invitations. First, you need to find and buy or order them, then you need to handwrite all your details, and then take them to a mailbox or the post office to send them on their way.
Then, there's the admin side of keeping track of RSVP cards, menu options, and other tiny details. Take back some of that time and simplify the process with digital invitations that you can quickly and easily personalize, send, and track.
Share the Details that Matter
While some events only need a date, time, and location, others come with a little more detail required. For events like these, you can skip sending a long email to guests — or including an extra note with your invite — with an online invitation.
Share details about your gift registry, information on how to find the party location, or where guests can stay nearby using our optional extra details panel. You can also provide hashtags and prompts for guests to share their experience on social media. This way your guests have everything they need in one place, so they can RSVP, find hotels, and find the perfect gift all at once.
Design Benefits of Using Online Invitations
Online invitations have come a long way from where they started. There's now a whole world of choice out there, and attractive design options for every taste. Here are some of our favorite design benefits that come with using online invitations instead of their paper counterparts.
Plenty of Choice
If it's a milestone or event that you'd love to celebrate, chances are we have an invite design that'll work perfectly. There's a whole collection of invitation designs for social distancing parties to pet parties, along with plenty of designs for the usual events like bridal showers, baby showers, and engagement parties.
Within each of our invitation categories, you'll find a real range of invitation templates with everything from bright and modern to classic and timeless styles. Online invitations give you the flexibility and freedom to find a design that works for you, without visiting multiple stationery stores or putting in a custom order for handmade artwork.
Easy to Personalize
One of the biggest benefits of online invitations is that they're so easy to customize. You can transform it into your own design instantly by changing the color scheme and text, or adding your own photos inside the invitation maker.
While you can personalize printed invitations, this either comes with a big time cost or a financial one. With an online invitation, you can skip handwriting invites or paying for custom designs. Instead, personalize a design you love in moments.
Surprise and Delight
There's something lovely about opening an invitation that you're excited to receive. That's why at Greenvelope we've recreated some of that magic using animation. Your guests can choose to open their card, and it'll slide out of its digital envelope and pop open in front of them. Not only is this a fun way to surprise and delight your guests, but it also gives extra screen time to the design you've taken so much care in choosing.
Send Coordinated Thank You Notes
Matching invitation suites is one of the attractive things about getting your own custom-designed stationery. This is especially true for weddings where couples often like to match their save the dates, wedding invitations, and thank you cards.
With digital invites, you don't need to hire a custom designer to get this coordinated look, as many of our collections feature matching thank you notes. This means you can find a theme you love and use it across all of your event stationery for a premium experience at a much more affordable price.
How to Find the Perfect Online Invitation
With so many options out there, you might be wondering how you'll ever find the perfect online invitation. If you're not sure where to start, here's our quick guide on how to navigate our collections to find your ideal party invite.
Browse and Filter Designs
Starting with a category search can help you visualize how a design might work for your event or celebration type. For example, you might find it easier to imagine how your graduation party invites will look if the design gallery features photos of happy grads.
Browsing by category also makes sense if you need to find that perfect design quickly. If you're looking for inspiration for your Christmas party invitations, browsing our festive design gallery will provide you with plenty of holiday party inspiration within moments.
Once you've selected a category, use the filters to narrow down your results to match your party theme. You can filter by a whole range of options, including colors, styles, photos, shape, features, and designer. In categories where there are hundreds of designs — like birthday party invites — this can help get you to your ideal design quicker.
Use the Search Function
If you have a specific party theme or look in mind, the search function can be a great way to find lots of design options that match. There's something for every kind of party and personality — from birthday invitations for donut lovers to beach-themed party invites.
It's easy to customize the text on all of our designs, so feel free to get creative. It doesn't matter if that adorable dog-themed design was originally for a birthday party — you can easily make it work for a pet charity fundraiser by simply changing the text. Run a few searches for words or themes you love and see what pops up!
Get Inspiration from Our Blog
Sometimes you might not quite know what you're looking for. You know you're planning an anniversary party, but maybe you don't have your party theme sorted yet or you're open to exploring new ideas. When you're after a dose of inspiration, our blog is the perfect destination.
On our blog you'll find our guides dedicated to helping you plan and enjoy events and celebrations throughout the year. There are lots of useful lists that feature designs by party type, like these Thanksgiving invitation ideas or this handpicked collection of "just because" cards. Have a read through and see whether any of the featured designs stand out to you.
Find and Send the Perfect Online Invitation
There are a lot of great reasons to choose online invitations for your next party or celebration. Maybe you're inviting guests from all over the world, or you want to make a more environmentally-friendly choice. Whatever the reason, digital invitations give you a whole range of options, themes, and time-saving perks.
With Greenvelope you can find your perfect design from our extensive designer collections, and customize it to your heart's content. From there, you can send invites to your guests, track their RSVPs, and easily collect details like menu options or plus ones. It's everything you need to invite and manage your guest list in one place so you can spend more time creating a memorable event.