May 19, 2020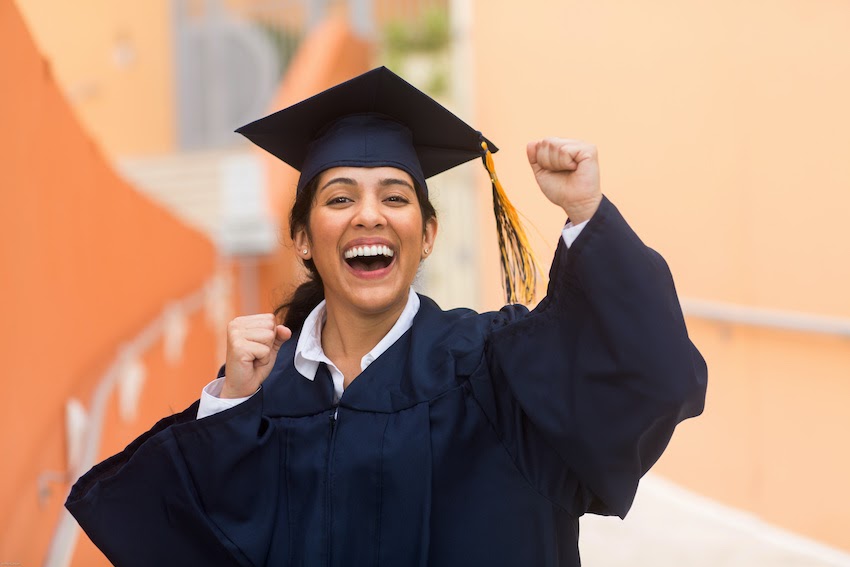 Congrats, grad! It's a sentiment you've been waiting to share for a very long time, and now the moment has finally arrived. Whether you're organizing a high school or college graduation party, it's an achievement worth celebrating. Once you've sent out the high school graduation announcements or college graduation announcements, the clock will be ticking to get the graduation party plans in motion.
To help you out, we're sharing some fantastic online graduation invitations that will mark this special occasion in the exceptional style your graduate deserves. But first, let's review why getting your graduation invitations online is a much smarter option than going the paper invite route.

Why Choosing Graduation Invitations Online Is a Good Idea
Cardstock, postage, and penmanship, oh my! These are simply a few of the factors to consider when dealing with mailed invitations. Sidestep the stress and check out these top reasons for choosing paperless invites.
Convenience: Save yourself the time and headache of sifting through invitations at the store and find the perfect invite anytime, anywhere.
Selection: All it takes is one Google search to realize just how many invitation options you have at your fingertips. Plus, many digital invitations let you create your own design or personalize different graduation invitation templates.
Price: While there are affordable printed invitations, don't forget to factor in postage. You might also have to pay extra postage, depending on the invitation's size and weight.
Eco-Friendly: Paper production is hard on the environment. Going paper-free is good for the planet and sends a positive message that you care about reducing your impact.
12 Online Graduation Party Invitations You Can Customize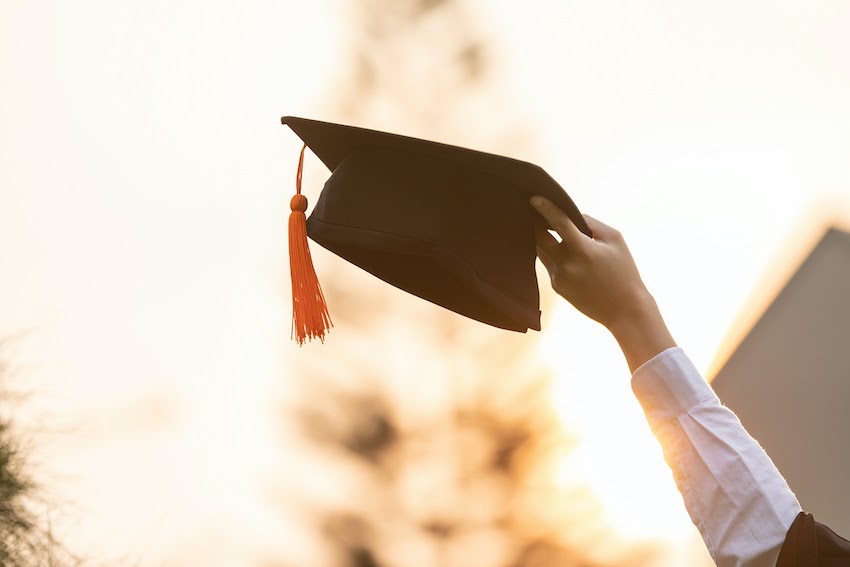 For all the hard work, untold hours of cramming (er, studying), and perseverance, your grad deserves a celebration to remember. Whether you're planning a small, casual get-together, a grandiose affair, or even a virtual party, these online graduation invitations will fit the bill.
Don't forget you can personalize these invites with your own graduation wording, background and envelope color, and other features to complement the graduate's personal style. Plus, you'll get RSVP tracking so you can easily manage the guest list and send out thank-you cards once the party's over.
1. Class Of Invitations
Nothing says it's time to party like big gold balloons. This fun and whimsical Class Of invitation design sets the celebratory mood with fun balloons and confetti, plus it lets you put the grad front and center by adding a personal photo.
2. Varsity Year Invitations
With its simple yet bold design that you can customize with your own photo, the Varsity Year invitation is a true classic. (And perfect for the high school or college athlete.) Use it to invite friends and family to a graduation celebration of any size or style.
3. Virtual Grad Party Invitations
Celebrate with friends near and far by sending out this Virtual Grad Party card design. Whether you're social distancing or simply live miles apart, there's no reason you can't show the grad how much everyone cares with a fun online bash.
4. Confetti Graduate Invitations
Break out the confetti and streamers because your grad did it! This Confetti Graduate card features beautiful gold brush lettering that jumps off the page. If your grad prefers a more traditional look, opt for a posed portrait or an official cap-and-gown photo. For a less conventional approach, consider a candid shot or silly selfie.
5. Celebrating the Grad Invitations
With a classic graduation cap¬†design, this Celebrating the Grad¬†invitation (and the matching thank-you notes) is perfect for any graduation party, be it a fancy night on the town or a casual afternoon barbecue. Remember 'ÄĒ as with all the invitations on this list, you can customize it with whatever colors you like.
6. Medical Diploma Invitations
Is there a doctor in the house? With its official-looking, sophisticated design (gotta love that gold medical symbol encircled by laurels), this Medical Diploma graduation invitation acknowledges the achievement in apropos style. Way to go, doc!
7. Festive Frame Invitations
For a fresh and festive vibe, you can't go wrong with this Festive Frame graduation invite. The handwritten lettering is easygoing and fun while the gold glitter frame adds an incredibly realistic texture. (Except that with this email invitation, you don't have to worry about any of that glitter getting on your hands, face, or clothes!)
8. Golden Grad Invitations
Real gold-leaf invitations would cost a pretty penny, but you can get the same elegant effect with this Golden Grad graduation party invitation. The chic gold accents set a dramatic tone against a solid-color backdrop to announce your graduate's achievement in style. Bonus: You can also order matching thank-you notes.
9. Stamp of Approval Invitations
Your grad worked hard to turn the tassel, so pay homage to the tradition with this fun Stamp of Approval design. Choose from pretty watercolor pastels or pick your own color scheme to match your grad's school colors.
10. Hooray From Far Away Invitations
Can't get together in person? No problem. This timely Hooray From Far Away online graduation invitation is perfect for family and friends who want to acknowledge the grad and celebrate from afar. You can also take your cues from this sample and let guests know that you're planning an in-person party at a later date.
11. Spring Stripes Invitations
Spring is in the air with this crisp and simple Spring Stripes invitation that perfectly sets the mood for an easygoing graduation party. Available in teal, tangerine, peach, or your own custom hue, this invite is ideal for a bash at the beach, your backyard, or an airy indoor space.
12. Editorial Collage Invitations
Why choose one photo when you can share three? This simple yet eye-catching Editorial Collage graduation party invitation lets your grad take center stage. Simply pick the photos that you love most and you're guaranteed to have an invite that pops with personality.
Pick Online Graduation Invitations That Make the Grade
Whether someone's graduating from high school, college, graduate school, law school, vocational school, or some other academy, this accomplishment calls for recognition and celebration.
While there's nothing wrong with sending invitations the old-school way (hello, post office), today's online invitations offer plenty of fantastic options that you can conveniently customize and send from the comfort of your computer. Even better, these paperless invites are generally more affordable than their paper counterparts.
So, now that the big day is at hand and you're prepping to get through the graduation ceremony¬†'ÄĒ without using too many tissues to wipe away your tears of pride and joy 'ÄĒ let the fun begin. It's time to let your loved one know that¬†in your book, they're an A all the way.