December 18, 2019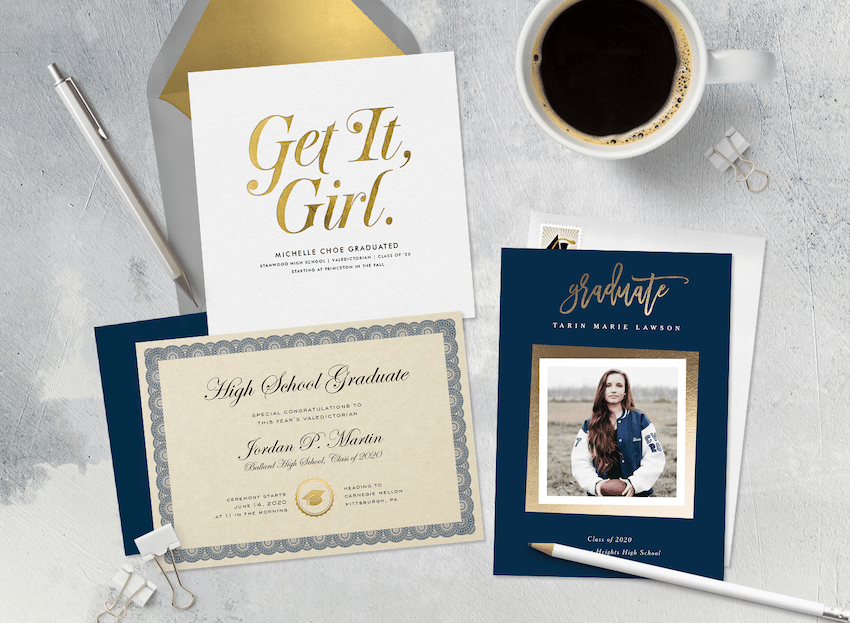 How did you get here? One second, you're dragging a very timid six year-old to their first little league practice, and the next, you can barely get them to commit to curfew after Friday night games. You've watched them grow physically, mentally, and emotionally, applying for colleges and taking the SATs. And now, here you are — picking out their high school graduation announcements.
Announcing a high school graduation can be a bittersweet affair. For one, you're so proud of your graduate and all they accomplished over the past four years (or eighteen, for that matter). But on the other hand, you know they'll soon be moving out, tackling higher ed or their first job.
And while no one's promising you won't shed a tear or two at the commencement speech, for now, you're promising to keep things together. You have announcements to send and perhaps a party throw, so you're keeping it happy-thoughts only.

10 High School Graduation Announcements to Celebrate the Next Stage
A high school graduation ceremony is one of the highlights of any young person's life. No matter where they go next or what they accomplish, receiving their diploma will be one of the first major milestones in their life — and these announcements are sure to commemorate it in the best way possible.
1. Hanging Tassel Announcements
This announcement features a senior portrait to the right with the commencement details on the left. If you're throwing a party after the senior class throws their caps in the air, you can easily customize this announcement with the invitation details. Invite friends and family to your house for a backyard gathering after the ceremony, as soon as your graduate moves that tassel from one side of their cap to the other.
2. The Classic Announcement
Ever since they received that "big envelope" in the mail, your high school graduate has been counting down the days till they can set foot on their college campus. They've already bought their college gear — university sweatshirts, sweatpants, and a drawer's worth of t-shirts.
To celebrate your graduate completing high school and getting into their dream school, send out this classic graduation invitation. Customize it with their future school colors, and write where they're headed come fall semester.
3. Grad Overlay Announcement
You practically had to force her to write her college essays and visit potential schools, but when it came to scheduling senior portraits, she was the one pushing the agenda.
For your soon-to-be-graduated high school fashionista, send out this high school graduation announcement, complete with a full-bleed photo. The word "grad" is written in cursive font, with the details of the commencement ceremony in the bottom right hand corner of the photo card.
4. Upper Classman Announcement
Your graduate absolutely loved being an upperclassman. They loved leading the chants at homecoming, mentoring the freshmen, and walking high school hallways as if they were their own personal playground.
While you know they may be in for quite the awakening come fall semester when they're a freshman once again, you're ready to let them live their best life one more time. Customize this photo graduation announcement with their high school colors and a senior portrait capturing their personality.
5. Bold Beginning Announcement
For the past month, every time the subject of graduation has come up, you've been listening to the endless teenager pleads of, "Pleaseeee don't make a big deal about this." And while you bit your tongue 95% of the time, you just can't help yourself.
You really want to throw a graduation party for your young (gulp) adult, but in the name of compromise, you're keeping it small. This simple graduation party invitation is perfect for backyard BBQs, family dinners, and other casual gatherings.
6. Dazzling Grad Announcement
Does your soon-to-be grad absolutely love the spotlight? Do you fully expect her to toss her hair while she tosses her graduation cap during the commencement address? Then she may fall in love with this high-quality grad announcement, sprinkled with confetti and a jeweled background. Choose from silver or gold foil, and customize it with the details of her graduation ceremony.
7. Mod Overlay Announcement
This minimalist graduation card is simple and clean, ideal for any modern grad. Choose from a number of metallic color palettes, then personalize it with a full-bleed photo of your graduate.
The word "grad" is written in box lettering in the top right corner of the card, while the graduate's name and details of the ceremony are listed in the bottom right corner. If you're throwing a party before or after the ceremony, feel free to add the details.
8. Stamp of Approval Invitation
This simple graduation announcement card certainly earns our stamp of approval, with your grad's high school graduation year logo featured in the top right corner.
Send out this simple invitation to all your friends and loved ones, inviting them to your home, backyard, or community hangout for food and drinks after the commencement ceremony. You can add a DIY-touch by personalizing it with your grad's high school colors, or choose from a pre-designed color palette.
9. Modern Brush Script Announcement
This simple photo announcement card can easily be personalized for any graduation ceremony. It features a contemporary, watercolor background with the word "graduate" written in cursive lettering across the top.
Select one of your grad's favorite senior portraits on the front, add their name or monogram it with their initials, and list the details of their graduation ceremony toward the bottom of the card.
10. Onward Announcement
After much deliberation, your high school graduate knows where they're off to in the fall. This one-of-a-kind card can easily be customized by adding their university of choice.
Add the details of their graduation ceremony at the bottom of the card, or take things one step further and write the year they're expected to earn their undergraduate degree. After all, you'll be sending out college graduation announcements before you can say, "B.A."
High School Graduation Is the First of Many Milestones
To a high school graduate, receiving their diploma may be the biggest moment of their lives — at this point. But as you know all too well, they have so many wonderful, exciting milestones up ahead.
Before you (or they) know it, they'll be receiving their undergraduate degree, and may go on to earn their M.B.A. Perhaps they'll enter the job market and proudly phone home when they receive their very first business card. And soon, they'll start families of their own, sending out wedding invitations, family holiday cards, and birth announcements (sorry, we should have told you to sit down for that one).
And it all started with you setting them up for success — so they can proudly walk across that stage and receive their diploma. From our Greenvelope family to yours, congratulations to the graduate!