May 14, 2020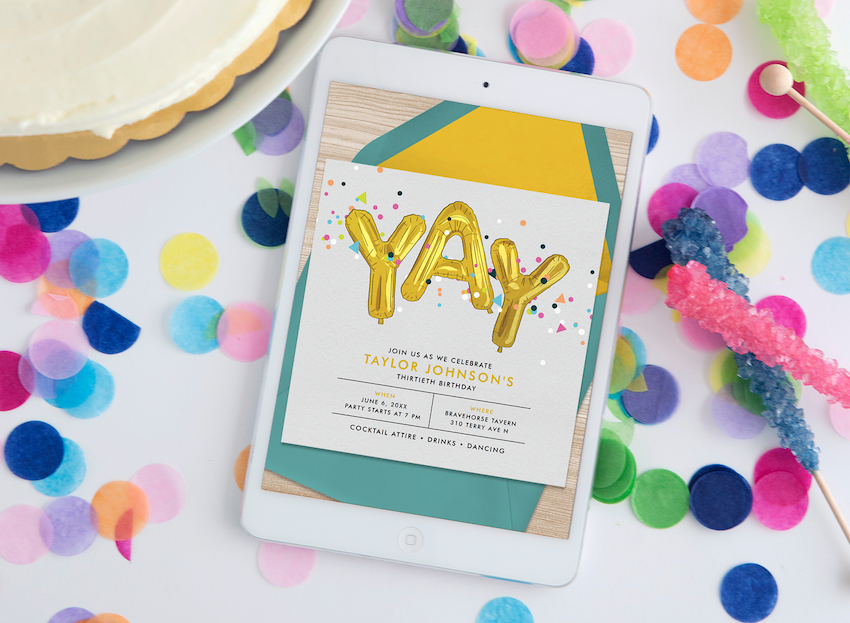 Birthdays are one of life's greatest gifts. They're a reminder that the day you were born is worthy of celebration, and they're the perfect reason to bring together family and friends.
Whether your own birthday is coming up or a friend or family member has a special day on the horizon, you're likely on the hunt for some fun ideas to get your party planning in motion.
To help you out, we're sharing some of our favorite online birthday invitations, along with pro tips to inspire your shindig. But first, let's talk about why getting your birthday invitations online is a much better option than traditional paper party invites.

What's the Advantage of Doing Birthday Invitations Online?
While you can certainly go the old-school route of physical invitations, we'd like to let you in on a little not-so-secret secret: There's no reason to do it. Here are just a few reasons to go paperless.
Variety: With so many designs available and the ability to customize digital invitations, the possibilities are practically endless.
Convenience:¬†You can create exactly what you want when you want it. No need to run errands or worry about store hours 'ÄĒ it's all at your fingertips 24/7.
Better for Your Budget: Basic printed invitations may seem affordable enough, but that's before you factor in postage. Greenvelope pricing starts at just $19 to email invitations to up to 20 people. No postage required.
Less Time Consuming: No extra trips to the stationery shop or party supply store to pore through stacks of invites. You can create your own birthday invitations online within minutes.
Good for the Environment: No paper means no trees were harmed in the making of your invitations.
10 Adult Birthday Party Invitation Ideas You Can Customize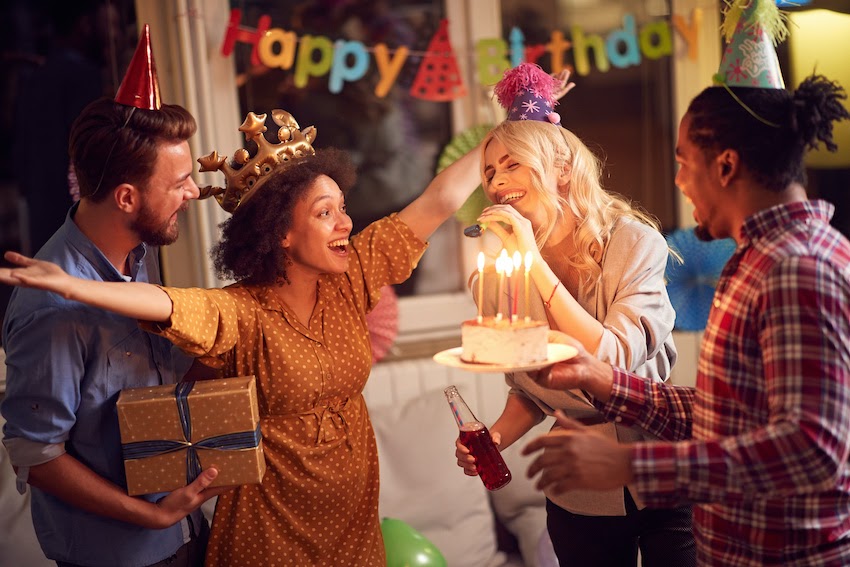 Now that you've pondered the perks of paper-free invites, it's time to get started. Here are some fun online birthday invitations that can spark your imagination and inspire your own party themes.
Remember, you can easily personalize these invitations to change the wording, color scheme, text style, and more. See the full selection of adult birthday party invitations and then start creating and emailing them with RSVP tracking, thank you notes, and more.
1. Aloha Beaches
Whether you're planning a weekend poolside getaway, a tropical-themed party, or a backyard luau, this Aloha Beaches invitation¬†will surely get everyone in the mood to party. It's the perfect precursor to a celebration where sipping pi√Īa coladas, singing tunes (Jimmy Buffet, anyone?), and wearing palm prints is de rigueur. Don't forget you can customize this invite by changing the headline or whatever you'd like to make it your own.
Pro tip: Set up a DIY lei-making station where guests can get crafty either with real or faux florals. You could also serve rum punch in hollowed-out pineapples.
2. Confetti Shimmer
Just because you can't be together in person doesn't mean you can't get together. This fabulous Confetti Shimmer online invitation is modern, chic, and streaming with excitement. (Because streamers, get it?) This versatile invite is also an excellent option to customize for anniversary celebrations, shower invitations, happy hours, and more.
Pro tip: If you're planning a celebration for a loved one in the midst of social distancing, order a bottle of Champagne (or their favorite drink) and have it delivered to them before the party begins.
3. Abstract Rainbow
Cake and booze? Yes, please! This eye-catching Abstract Rainbow birthday invitation has all the colors and all the fun. Available in four different color combinations, this bold invitation design lets invitees know that wallflowers need not apply. If you want to change up the phrasing, no problem. Wine and cheese? Tea and crumpets? It's up to you! There's also a fun virtual party version of this invite.
Pro tip: Keep the rainbow theme alive by hiring a face painter or having a painting party theme so guests can get in touch with their inner van Gogh.
4. Pancake Breakfast
Good morning, sunshine! Breakfast is the most important meal of the day, and your birthday is the most important day of the year. So why not put these two together? This tantalizing Pancake Breakfast invite is the perfect starting point for a pre-noon celebration with your nearest and dearest.
Pro tip: Whether you're setting up a breakfast station at home or hosting brunch at your favorite restaurant, you can't go wrong with stacks and stacks of pancakes, maple syrup, and plenty of butter.
5. Trendy Terrazzo
Like the luxe material that inspired its name, this Trendy Terrazzo invitation is a handsome piece of work that comes alive with vibrant colors and patterns. Available in a variety of color palettes, this versatile design would also work for wedding invitations, engagement party invites, or even a bridal shower invitation.
Pro tip: Take inspiration from this popular motif and have a retro-style party with classic cocktails, vintage tunes, and guests wearing their favorite Mad Men-era ensembles.
6. Spa Day
Most birthday celebrations involve lively interactions and plenty of "outdoor voice" conversation. But if you're ready to keep it low-pro and indulge in some R&R, this Spa Day invitation will set the tone from the get-go. By the way, wouldn't this also be a fun pre-baby shower idea for a mom-to-be? Yeah, we thought so too.
Pro tip: Check with the spa ahead of time to confirm whether they'll let you bring in cupcakes and Champagne for a pre- or post-massage toast to the birthday girl or birthday boy.
7. Brew Bash
Gather your friends for this Brew Bash party invitation that promises a fun time for all. With its clean, simple design and striking illustration, your guests will be counting the days till they can raise a glass.
Pro tip:¬†Depending on where you're hosting the party, consider hiring a cicerone¬†(aka a beer sommelier) to walk you and your crew through some of the crafty sips. You could even create a beer flight based on the guest of honor'Äôs preferences.
8. Magical Unicorn
Whether the birthday girl¬†or boy is turning five or 25, this Magical Unicorn¬†birthday invitation¬†is perfect for anyone who's young at heart. The lovely watercolor¬†design and whimsical unicorn¬†illustration would be the ideal complement to an enchanted forest or 'ÄĒ dare we say 'ÄĒ disco unicorn-inspired soiree.
Pro tip: For a fun party idea, order a handmade unicorn¬†pi√Īata. The only problem will be that it's so cute you won't want to break it. (You could always use it as a centerpiece and keep it as a fun memento from the day's fiesta.)
9. Finally Forty
When your friend has made it to the big 4-0, it's time to go big or go home. And this classic Finally Forty birthday invitation is just the ticket. While we love the bold yellow hue, you can customize it to virtually any color, text, background, and envelope.
Pro tip: To mark a milestone birthday, create a special hashtag that guests can share on social media. Then, once the festivities are over, everyone can look back on the previous night's shenanigans.
10. Backyard BBQ Grill
This delightful Backyard BBQ Grill invitation conjures up warm summer days and delicious food off the grill. While this design is perfect for a birthday party, you can easily customize it for the Fourth of July, Labor Day, or whenever you feel like gathering friends for a backyard cookout.
Pro tip:¬†If some of your guests have dietary restrictions 'ÄĒ hello, vegans and vegetarians 'ÄĒ then be sure to have some meatless burgers and hot dogs on hand.
Make Your Birthday Invitations Online and Get Ready to Celebrate
Birthdays are a gift in themselves, and it's always nice to share good times with friends and family. We hope these invitations inspire some ideas of your own as you begin birthday party planning.
Be sure to check out Greenvelope's full selection of custom birthday invitations to find the ideal invite for your event. And if you want a little help picking the perfect words, don't miss our guide featuring 40+ ideas on birthday invitation wording.