April 26, 2021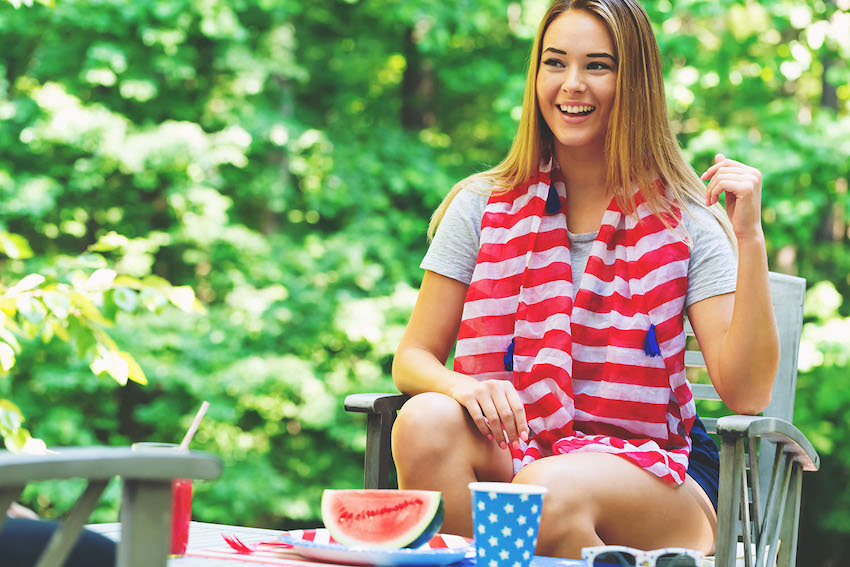 Memorial Day is observed the last Monday in May, offering remembrance to soldiers who lost their lives defending our freedom. First celebrated in 1868, the holiday has spent the last 150+ years evolving as the ultimate celebration of American pride. Now, Memorial Day weekend is accompanied by fireworks displays, star-spangled parades, BBQs, patriotic-themed decorations, and pool parties to mark the unofficial start of summer.
In this guide, we're sharing plenty of ideas to throw an epic party, including red, white, and blue Memorial Day decorations, family activities, fun food options, and how to ensure you're surrounded by loved ones.

Memorial Day Decorations: 8 Ways to Decorate for This Patriotic Holiday
Ready to throw an Americana-themed Memorial Day party? You'll want to deck out your front porch (or backyard) in decorations to get your guests in the patriotic spirit. 
To ensure folks are seeing stars and stripes, try the following DIY ideas. Remember, you can always reuse these decorations for your 4th of July picnic or Veteran's Day parties. After all, we love just about anything that reduces waste.
Go red-white-and-blue on your centerpieces:

OK, we admit it — blue flowers are just a tad difficult to find. However, you can incorporate all three shades in the American color palette by purchasing white and red flowers (think white daisies and red roses), then placing them in dark blue vases.

Welcome guests with a festive wreath:

Yes, wreaths are perfectly acceptable to hang outside the winter months.

Hang a patriotic wreath

wrapped in a red bow and blue stars to welcome guests to your party.

Paint scrap wood into festive signs:

Check out your local hardware store and ask if they have any scrap wood laying around from previous projects. Then,

spray paint different pieces

red, white

, and blue to place in your backyard. (If you're incredibly talented, try to paint some stars while you're at it.)Â 

Give your Mason jars a facelift:

Do you have extra

Mason jars

laying around from mayo,

BBQ

sauce, or other condiments? Wash them out, then paint the

American flag

on each jar. You can use them as flower vases, or you place a small candle inside each jar for a little evening ambiance.

Make your furry friends party of the party:

Will your fur babies be in attendance at your gathering? (Why did we even ask? Of course they will!) Dress them up in patriotic decor,

giving them an American bandana

to (safely) tie around their collar.

Hang streamers from your fence:

A white picket fence (or wraparound porch) offers a beautiful, blank canvas to incorporate red and blue decorations. Wrap

streamers

around the poles of your porch (like a candy cane) or loosely drape patriotic

tablecloths

between fence posts for a fun backdrop.

Don't skimp on the burlap: Burlap

is incredibly affordable, going for roughly $4 a yard. With burlap, you can create

DIY decorations

for any outdoor event, creating a table runner, easy placemats, or adding a flair to

Mason jars

.

Get creative with your table settings:

You don't need to purchase brand-new dishes to bring a little

red, white

, and blue to your table. Stack colorful dishes on top of each other, or (if you only own white plates), separate each dish with a colored napkin, alternating between red and blue. If you're still at a loss, simply tie your utensils in a red ribbon, and place on a blue napkin.
Memorial Day Party Menu Ideas: 7 Dishes for Your Backyard Cookout
Let's face facts: No matter what holiday you're celebrating, one of the best aspects will always be the food. While hot dogs, potato salad, and corn on the cob get all the attention, choose a few dishes to amplify your party decorations.
As you plan your backyard potluck, here are a few delicious menu options that double as patriotic decorations:Â 
Red velvet cupcakes:

Excuse us, but any opportunity to indulge in

red velvet cupcakes

sounds like a winner. To get all three colors incorporated, top each

cupcake

with white cream cheese frosting and fresh blueberries (or blue

confetti candy

).

Stars and stripes fruit dish:

If you're opting for a refreshing dish (that you don't have to cook), make a

fruit plate in the shape of the American flag

. Use blueberries for the stars, and white and red raspberries for the stripes for this quick

appetizer

.

Fireworks kabobs:

While more traditional kabobs may be roasting on the grill, you can serve

fruit kabobs that double as Memorial Day decor

. Side bonus: Skewering these

watermelon

kabobs can be a fun kid-friendly activity.

Red, white, and blue sangria:

Your

patriotic party

is not complete without

Memorial-Day

-themed booze.

This sangria

is incredibly simple to make, and combines berries, apples, and sparkling white wine for a refreshing beverage.

Festive salads:

Even on a day filled with red, white, and blue, you should probably consume a few greens.

This festive salad

would work well for Independence Day or

Memorial Day

, and is incredibly easy to make.

Patriotic pretzels:

Even if you're a non-baker, you can easily whip together this

sweet treat

. Simply dip

pretzel sticks in melted white chocolate

, then decorate in red and blue sprinkles.

DIY sundaes:

Create a patriotic

ice cream

sundae by combining strawberry and vanilla scoops. You can top with fudge, sprinkles, blueberries, or strawberries.
Memorial Day Activities: 5 Ways to Celebrate the Holiday
Your Memorial Day bash comes with a long weekend, giving you plenty of opportunities to celebrate. To kick-off the holiday and enjoy time with your loved ones, try these all-ages activities. 
Rent a photo booth:

The best part of getting together with family and friends is creating memories. Rent a photo booth or follow a

DIY tutorial

to capture the weekend.

Cookie decorating:

Aren't the best activities those where eating is involved? Bake (or buy) sugar cookies, then decorate in red, white, and blue frosting. 

Lay flowers and flags:

Don't forget the purpose of

Memorial Day

is remembrance. Take a trip to the cemetery, and lay flowers or the

USA

flag on the tombstone of a fallen soldier. You could also

write a Memorial Day message

to someone who has served or is on active duty.

Spend time outdoors:

A three-day weekend offers a wonderful opportunity to go on a hike, pitch a tent, lay by the pool, or play catch outside. Try to get some vitamin D while enjoying the short, summer months before

Labor Day

.

Grilling and marshmallow roasting:

Toss some

veggies

and

hot dogs

on the grill, keeping a close eye on any open flames. For dessert, roast marshmallows while swapping stories and giving thanks to honor our heroes.
Use These Memorial Day Party Ideas to Kick Off the Weekend 
Oh wait, we almost forgot. The best part of any holiday isn't the decor, activities, or even the food — it's the people. So how do you ensure you're surrounded by loved ones this Memorial Day? Send them an invitation, of course. 
With Greenvelope, you can choose from a variety of Memorial Day invitations and start customizing them to easily invite guests without any trips to the post office. Plus, Greenvelope's survey questions make it easy to plan any party. Ask your loved ones how many will attend from their household, which potluck dish they'll bring, or whether they have leftover Fourth of July decorations they can contribute. However you want to arrange your celebration, you're sure to have a patriotic party everyone will love.