September 26, 2019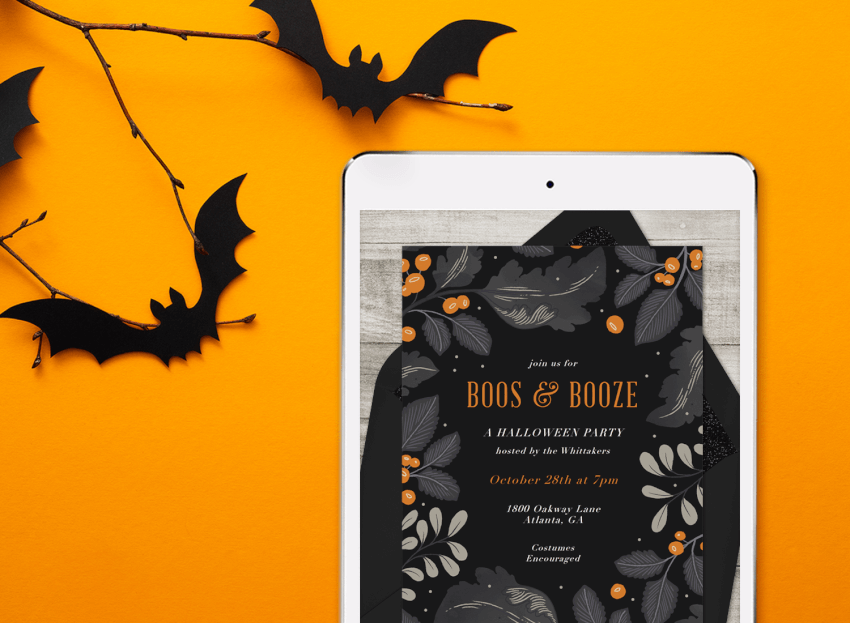 The best thing about Halloween is that it's a completely obligation-free holiday. There's no traveling to visit family, gift-giving, or extensive meal preparation. All Hallows Eve is pure fun. Whatever your age, all you have to do is throw on a costume — if you're into that sort of thing — and pig out on candy. (Or if you're over 21, perhaps you'll knock back a few Bloody Marys.)
If you're throwing a Halloween bash, chances are you share our love for the holiday. Whether you're hosting a trick or treat kids' meetup or a classy adults-only affair, there's a Halloween invitation to match. Browse our favorite Halloween party invitations, and get ready for a scary good time.

Sophisticated Halloween Invitations
If you thought sophisticated Halloween party was an oxymoron, think again. You don't need cartoonish jack-o-lanterns to join in on the fun. Picture elegant decorations, spiked punch, and classy cauldrons. Set the tone for your adults-only bash with an equally chic invitation. These classy party invites scream "spooky," but make it fashionable.
Spooky Stripes Invitation
Gold foil pinstripes take this black and white invitation from Beetlejuice to bespoke. A classic scroll holds the text in the center, but it isn't all serious. Antique-style type reads, "We're dying for you to join us," and "We would be frightfully delighted." At the top, a skeleton hand holds a gold-foil martini glass for artsy irony.
Boos & Booze Invitation
This Boos and Booze invitation is perfect for a Halloween cocktail party. A nighttime backdrop features a frame of hand-illustrated autumnal botanicals, leaves, berries, and foliage. We love the seasonal black and orange, or you can go the subtle route and opt for mustard yellow berries instead. The invitation suite features matching thank you notes so you can follow up after the affair.
Flickering Flame Invitation
Melting wax candles set a spooky tone on this festive invitation, but the gold foil script is all class for your Halloween soirée. A pinstripe frame offers the feel of antique toleware, and text for your party details reads in a timeless block font.
Come Shake Your Bones Invitation
This gold foil invitation looks like a scientific note, complete with an intricate skull illustration. A rugged frame and antique lettering complete the vintage aesthetic. The result is elegant but thoroughly creepy for grown-up ghouls.
Super Scary Halloween Party Invitations
If you're hosting a haunted house, prepare your guests to be scared. Pick an invitation that plays on things that go bump in the night with blood and bone motifs. When guests arrive, be sure to live up to the party with spooky decorations and haunting music.
Crime Scene Invitation
Creepy text meets blood spatter on this scary invitation. Black and red coloring sets a dark tone, perfect for your horror-themed bash or dinner party. Simple gray text is styled throughout, as well, so there is plenty of room for your event details. We love the design paired with a silver envelope and red liner, but you can personalize this part as well.
Copious Bones Invitation
Antique bone drawings create a hauntingly elegant pattern on this vintage Halloween invitation. Textured cardstock adds to the old-timey feel along with beautiful typography. It's the perfect invitation for a haunted house or murder-mystery party.
Scared to Death Invitation
Who done it? This blood-chilling invitation is designed to look like a morgue toe tag. The die-cut tag features blood spatter and textured paper. Your party details go under the cheeky "Coroner's Notes" column.
Fright Night Invitation
This coffin is hauntingly fun with a die-cut design and spooky watercolor texture. Fright Night text feels right out of a Tim Burton movie, so guests will be ready for some scares. Simple white type displays the rest of your party details, so you can note just how horrifying the affair will be.
Kids' Party Invitations
Nobody loves Halloween like children. If you're hosting a kid-friendly affair, set the tone with a cute invitation that's more treat than trick. These fun Halloween cards are great as birthday party invitations or for group trick-or-treating.
Cute Monster Party Invitation
This adorable monster invitation is perfect for an October birthday or children's trick-or-treating party. It's a monster mash of sweet witches, ghouls, goblins, and zombies. Customize this kids' Halloween invite with a green, navy, maroon, or plum background.
Trick or Treat! Invitation
If you're hosting a block party, group trick-or-treat, or trunk-or-treat affair, you can't go wrong with this festive Halloween party invite. Cartoonish text features a cut-out effect for a handmade look. Festive orange and green is kid-friendly, and candy illustration suggests there will be plenty of sweets.
Spooktacular Bat Invitation
A cute photo card is perfect for a Halloween birthday invitation. Display the guest of honor wearing his or her costume to inspire guests of all ages to join the fun. Textured paper creates a classic frame while a colorful bat overlay adds festivity.
Pumpkin Patch Invitation
This die-cut invitation is great for pumpkin carving parties or days at the farm. Playful script and whimsical lettering suggest a family-friendly event. Textural paper and a custom envelope liner complete the package.
Halloween Costume Party Invitations
Encourage guests to dress up with a costume party invitation. Sweeten the deal by offering a prize for the best Halloween costume. No one wants to be the only one who shows up in character, so choose an invitation that focuses on costumes for added reassurance.
Costumes & Cosmos Card
This is the perfect Halloween party invitation for an adults-only boozy costume bash. Playful illustrations show capes, vampire teeth, masks, hats, and capes so guests will know to dress up. And stylish text creates a retro-party aesthetic that fits all of your information.
Sugar Skull Invitation
This Day of the Dead themed invite might just inspire guests to come with their faces painted. A Dia de los Muertos skull is illustrated on a dark background for a colorful take on typical Halloween party invitations. We love how this sample stipulates, "no entry without costume," at the bottom.
Black Ink Invitation
This black watercolor invitation reads, "Halloween Costume Party" in large text to communicate the theme. The geometric design suggests other-worldly intervention, and punny text confirms, "Summon the spirits ᐧ Or just drink spirits." Use this clever wording as is or customize with your own details.
Have a Scary Good Time
Whatever your party theme, there's a Halloween invite to match. Let guests know the tone of your affair with a carefully chosen invitation. For kids' celebrations, opt for friendly goblins or a picture of your adorable little monster. Adults-only affairs should choose a more sophisticated design with accents like gold foil and antique script.
If you're having a costume party, put that front of mind in your design and invitation wording. This will give party-goers confidence to show up in full character. And if your haunted house will spook the faint-hearted, an equally scary invite will give them time to prepare. Your invitation will serve as your guests' first impression of your party — make that impression frightfully good.