October 11, 2021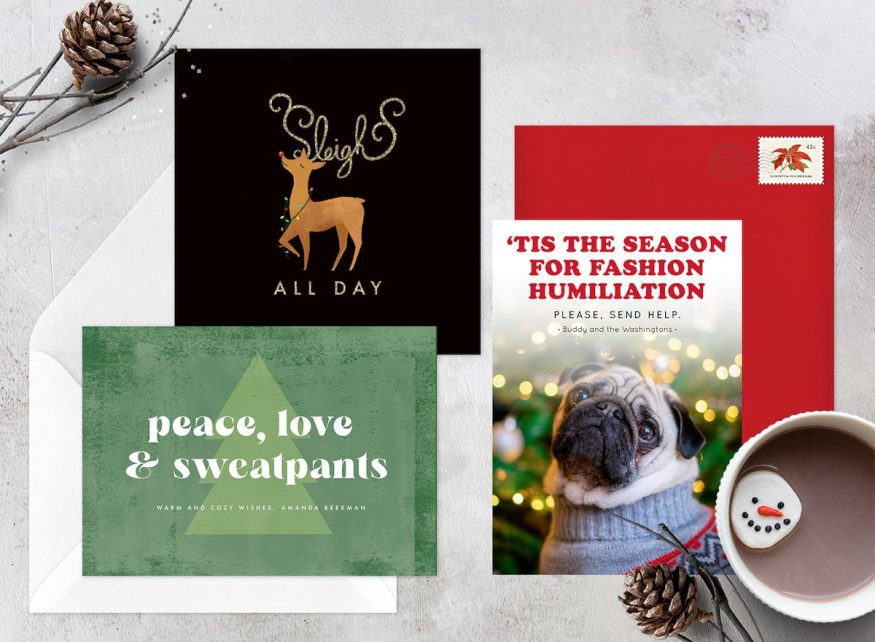 Sending a seasonal greeting card is a great way to spread warm wishes and cheer. But holiday cards don't have to be stuffy and sentimental — they can be silly and gut-busting. So why not send funny holiday cards to make your loved ones laugh? 
We've gathered some of our favorite LOL-worthy note cards that'll have friends and family laughing like old dear Santa. From wishing your cat-loving best friend a "Meowy Christmas" to celebrating the joy of Hanukkah, Chrismukkah, Kwanzaa, and other celebrations, you'll find plenty of ideas to put a smile on someone's face.

15 Funny Holiday Cards for a Joyful Greeting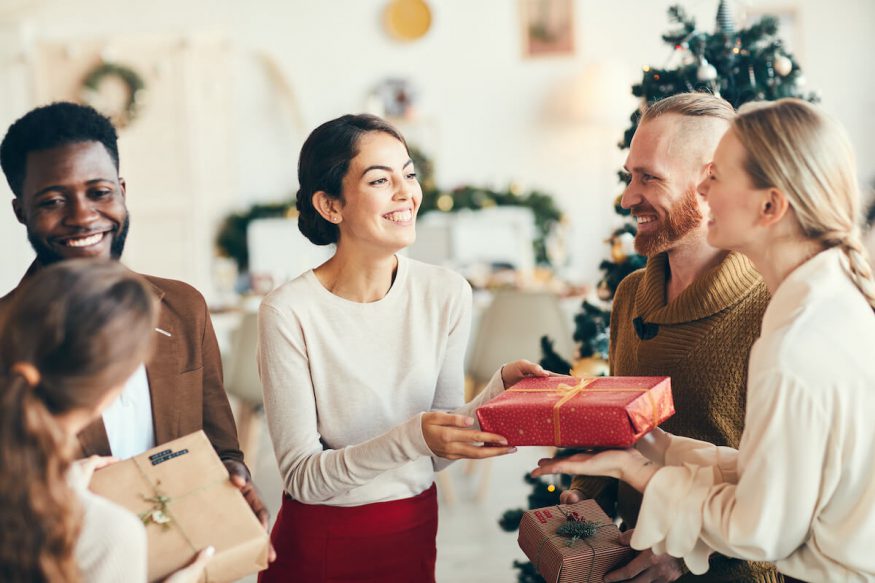 Whether your friends and family celebrate the same holiday or different ones, it's easier than ever to send funny holiday cards. At Greenvelope, you can choose from a selection of online holiday cards featuring everything from silly Christmas wishes to hilarious Hanukkah greetings. Every design is customizable and you can even upload your own design for a truly unique card. Consider one (or a few!) of these funny holiday cards for a merry and bright season.
1. Gnome Sayin' Card
This gnome-inspired invite takes a fun spin on the phrase "know what I'm saying." It's perfect if you're ready to send off this past year and can't wait for a new year of cheer. Customize the card's color palette and take delight in adapting it for Christmas, Hanukkah, Kwanzaa, Festivus, or another seasonal holiday.
2. Meowy Christmas Card
Wish a feline-loving friend a "Meowy Christmas" with this festive Christmas card. This Christmas cat card features several furry friends in stockings, draped in lights, and playing in the presents. It's ideal for friends with a sense of humor and those who love animals. 
3. Latkes, Lights, and Dreidels Invitation
This Hanukkah card is perfect for sending light-hearted greetings to friends and family members. It features a bold dreidel and holiday colors. It also doubles as an invitation if you're hosting an event and you can easily adjust the message. 
4. Merry Kissmas Card
This humorous Christmas card features a hand delicately dangling a sprig of mistletoe. The design features various hand colors, making it an inclusive card that's easy to send to all your loved ones. Switch up the typography and color scheme to DIY the perfect holiday card.
5. Fun & Games Card
Think your friends are on the naughty list? Send them this funny holiday greeting card. The plaid background adds a cozy, cabin feel to the season's greetings and you can remind loved ones that Santa Claus is always watching.
6. Beary Merry Holiday Card
Say happy holidays with this beary merry greeting card featuring an illustration of a cheerful polar bear. It's perfect for all holidays this time of year, whether your crew celebrates Christmas, Hanukkah, or another special moment.
7. Letterpress Rejoice Card
On the surface, this Christmas holiday card looks like a normal sentimental card. However, you can make it humorous by adding "this year is almost over" for a few laughs. It's great for religious relatives and coworkers alike.
8. Painterly Wreath Card
Who wouldn't smile at the sight of this card? This funny dog Merry Christmas card allows you to put your prized pooch — or pooches — front and center. Upload your favorite photo of your dog being silly and wish everyone a "Merry Woofmas" this year.
9. Up To Snow Good Card
This photo card lets you feature your family photos or anyone who's up to "snow good." Choose a holiday photo of the gang playing in the snow or being silly at home. It's a great way to get recipients to laugh and they'll love seeing your family full of joy. Best of all, this holiday greeting card can be customized to celebrate your desired holiday — whether you want a green background for a funny Christmas card or blue for Hanukkah.
10. Bake It Up a Notch Card
Whisk up holiday cheer with this Merry Christmas card. It's perfect for sending the grandparents a photo of the little ones baking — or sending your besties a pic of yourself in a messy kitchen trying to bake holiday cookies!
11. Minty Fresh Card
The holiday season is the mintiest — and funniest — time of the year. Celebrate laughter and joy with this adorably silly card. The squirrel snacking on candy canes is perfect for spreading holiday cheer.
12. Twelve Drinks of Christmas Card
Get into the holiday "spirits" with this fun and festive holiday card. It's perfect for the cocktail connoisseurs in your life as well as coworkers who like to have a drink with you to unwind.
13. Oh Snap! Card
This funny holiday card features a classic Christmas gingerbread cookie with a playful message that works for friends, family, and coworkers. You can personalize this design with a brief note such as "Wishing you a sweet season" for an extra dose of fun.
14. Jingle Bell Card
Wish your loved ones a happy holiday with this jingle-inspired Xmas card. It features vibrant sleigh bells and snowflakes and comes in a variety of background colors. Customize the card by uploading a silly photo of the family or your favorite furry friend.
15. Gnome Home Card
This magical holiday card brings a sense of vibrancy with Christmas trees, Christmas ornaments, and presents. The joyful gnome adds a hint of humor thanks to the "gnome for the holidays" play on words.
Get Into the Holiday Spirit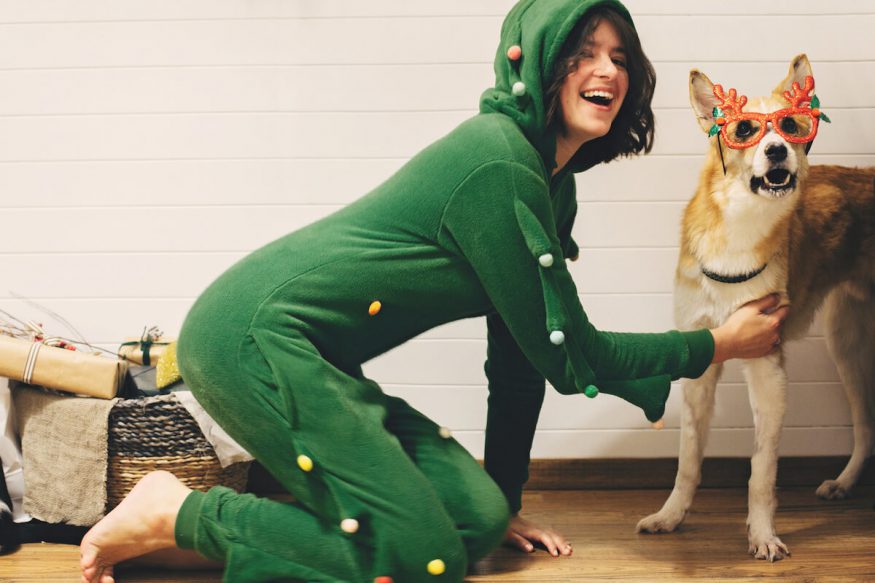 The holidays are the most wonderful time of the year. It's when we get together with loved ones to celebrate the joys of the past year. Plus, it's a time to reconnect with loved ones who may live farther away. One of the best ways to stay connected is to send a holiday card. For the jokers of the bunch, a funny holiday card is a perfect choice.
Gone are the days of picking up a box of paper cards and dealing with hassles at the post office. Greenvelope's easy and affordable selection of digital holiday cards means you can send a funny, unique card to each person in your life. Keep track of the cards you've sent using your dashboard and you can even see when a recipient has opened the card.
Browse our holiday card designs to find the perfect season greeting for your needs. For more ways to share laughs and love, be sure to check out our guides on Christmas card ideas and tips on what to write in your holiday card.