October 6, 2021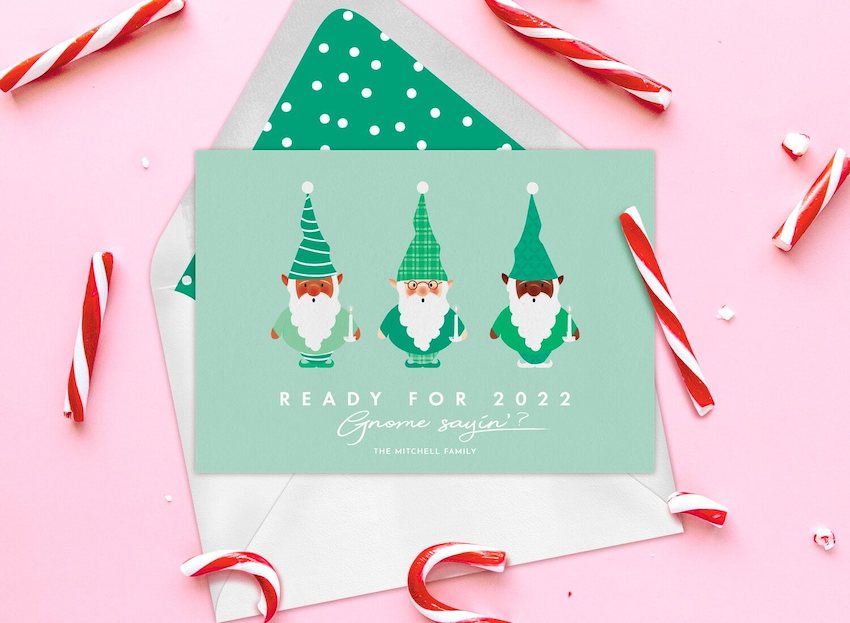 The holiday season is marked by cheerful snowmen, dazzling light displays, and delicious aromas wafting from the kitchen. But it's also the season of holiday cards. While you may pick up a pack of generic greeting cards to send to acquaintances, it's fun to select custom Christmas cards for those you hold dearest. 
For Grandma, that means picking out a sentimental and sweet Christmas card, but you may also want to incorporate some punny entertainment for the jokers among your family and friends. For a silly way to wish someone a Merry Christmas, check out this list of funny Christmas cards.

10 Funny Christmas Cards to Spread Holiday Cheer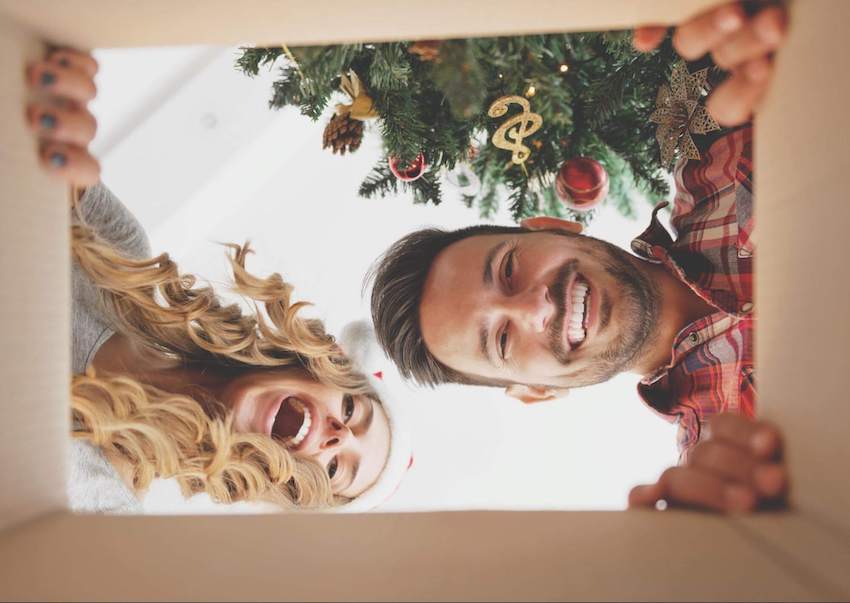 Each holiday season kicks off with sending Christmas cards — although some of us choose to wait until the last minute to actually get them in the mail. With the large selection of online Christmas cards at Greenvelope, it's easier than ever to find a humorous greeting card and send it off in seconds. 
All of our cards are digital, so no need to run to the post office or dig through that drawer for stamps. Just choose a funny card, enter the recipient's email address, and hit send. Then you can get back to sipping eggnog out of your favorite moose mug. 
You can upload your own funny Christmas photo or select one of our designs with a humorous holiday air. Not sure where to start? Here are some of our favorite funny Christmas cards.
1. Deck and Wreck Card
This silly Christmas cat card is perfect for cat lovers. It features a crafty kitty lunging for the tree topper and a fun phrase that's sure to make your recipients laugh. 
2. Move On Card
Some years, it's more fun to look forward to the new year instead of celebrating the one that's about to end. This photo holiday card encapsulates those feelings with a humorous edge. Upload your favorite silly family photo and customize the colors to suit your mood.
3. Too Lit To Quit Card
Send season's greetings to your best friend with this trendy Xmas card. It features a brilliant Christmas bulb with gold foil accents, making it perfect for loved ones who shine brightly in your life all year long.
4. Howlidays Card
What's cuter than a puppy? One surrounded by Christmas decor! This humorous Christmas card lets you spread holiday cheer to friends and family. Upload your favorite silly pet photo and wish everyone a happy holiday season from the whole pack.
5. Sleigh All Day Card
This sassy and glamorous card is a great way to wish happy holidays to coworkers, friends, and family who are always at the top of their game. The delicately scrolled word "sleigh" acts as antlers while the card comes in several color schemes including maroon and black.
6. Oh Snap! Card
This playful holiday greeting card features a tasty gingerbread cookie and a surprising "snappy" pun. It's perfect for encapsulating how quickly the year has passed and adds a touch of joy to the holiday season.
7. Ya Filthy Animal Card
This funny holiday card is inspired by the famous line (and scene) in the movie "Home Alone." With four color options, it's sure to make the "filthy animals" in your life giggle when they receive it.
8. Santa On Skis Card
"Send it" with this ski-inspired Merry Christmas card featuring Santa Claus enjoying the great outdoors. It's great for family members who enjoy a cheerful laugh and love chilly weather. 
9. Happy Holla Days Card
Holla at ya friends with this funny Christmas greeting card. The bold typography is loud and eye-catching while the festive mistletoe background adds seasonal cheer. This card is also great for coworkers.
10. Go Nuts Card
This cheerful family Christmas card is perfect for wishing friends, loved ones, and coworkers a nutty holiday. It has plenty of room on the back to include well wishes or quotes from classic movies like "A Christmas Story" or "The Grinch." 
What to Include in a Funny Christmas Card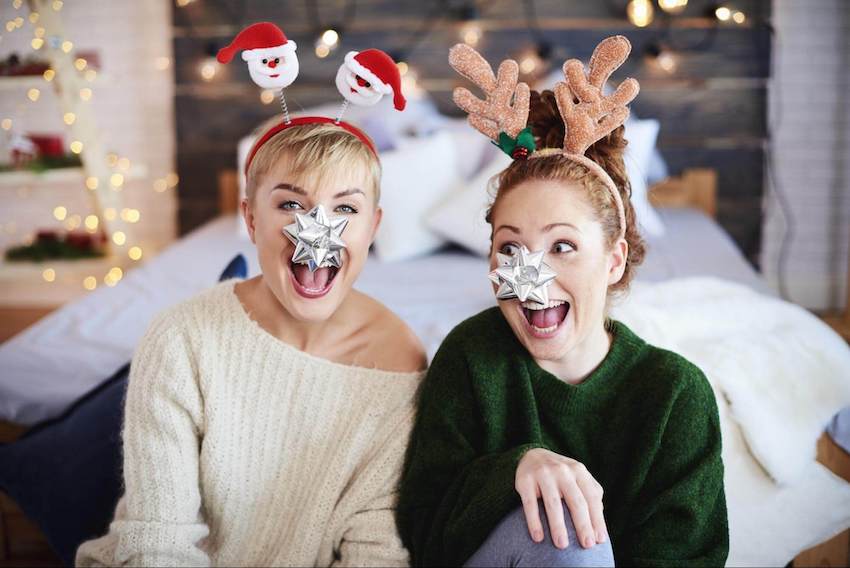 Picking out a Christmas card design is only one part of the equation. You also have to figure out whether you want to include sentimental wishes or keep things humorous with funny sayings and quotes from classic holiday movies. 
Many people choose to include brief updates on the biggest events over the past year. That might mean including a mention of a son or daughter's wedding or welcoming a new baby — or furry friend! — to the family. For others, it may mean mentioning a big job promotion or a particular trip that was entertaining or memorable. Others choose to keep things light and simple by including a brief holiday phrase or seasonal wishes.
Not sure what to say in your funny Christmas card? Check out our list of Christmas card wording ideas for some festive inspiration that covers everything from etiquette considerations to fun, on-trend ideas. 
Here are more of our favorite holiday-inspired phrases that will give your loved ones a chuckle:
Wishing you a ho ho ho-larious holiday season!

It's a Christmas miracle — we got the whole gang together for a photo this year!

This holiday season I chose to be a Griswold not a Grinch. Wishing you a season full of joy — and 25,000 lights!

I put the cookies down and turned off the Hallmark holiday movies just to send you this card. Hope your days are full of magic, Christmas treats, and a hefty dose of holiday spirit.

This year stink, stank, stunk. Hoping the holiday season and next year bring more cheer.

I started my Dear Santa list by reminding him the naughty list is all about perspective. Hope you were better behaved and get more holiday goodies this year!

Dreaming of a wine Christmas? Lucky for you, there's something under the tree that'll get you into the Christmas spirit. 

It's that time of year again — time to get elfed up. Happy holidays and head over to our place on Saturday for an ugly sweater party!

All tangled up in the tinsel? So are we. Hope your holiday season is less hectic and more merry.
Get Festive This Holiday Season
With these Christmas card ideas, you're sure to give recipients a good belly laugh this season. Looking for other Christmas card designs? We offer a large selection of holiday cards in addition to funny Christmas greeting cards. From classic and elegant styles to religious and nature themes, you'll find the perfect Christmas card for everyone on your list. 
We also offer a large selection of digital cards and invites for every occasion — from Valentine's Day and Father's Day to anniversary cards and Hanukkah cards. For more holiday fun, don't miss our tips on what to write in a Christmas card so you can speak from the heart during this magical time of year.