October 9, 2019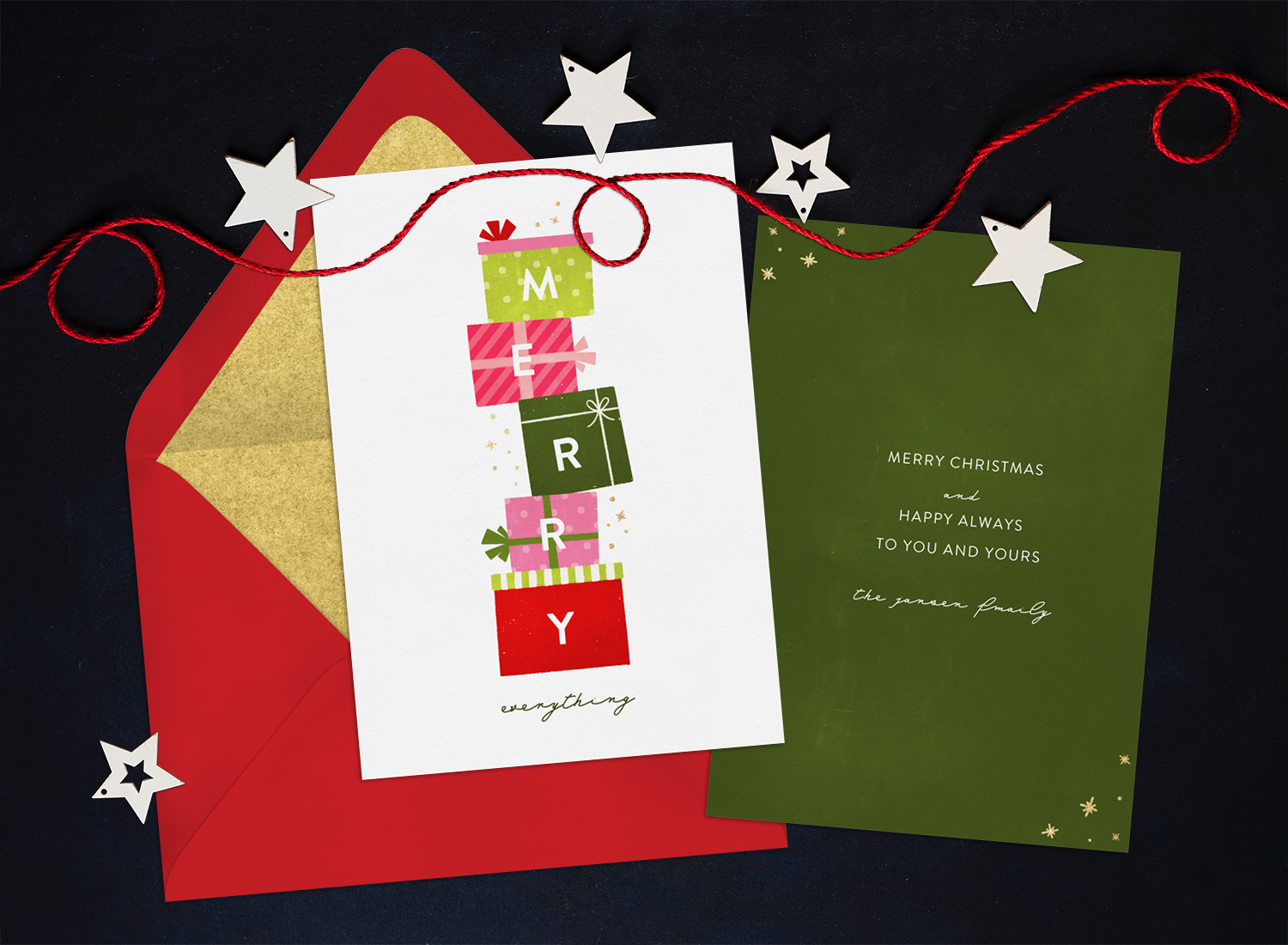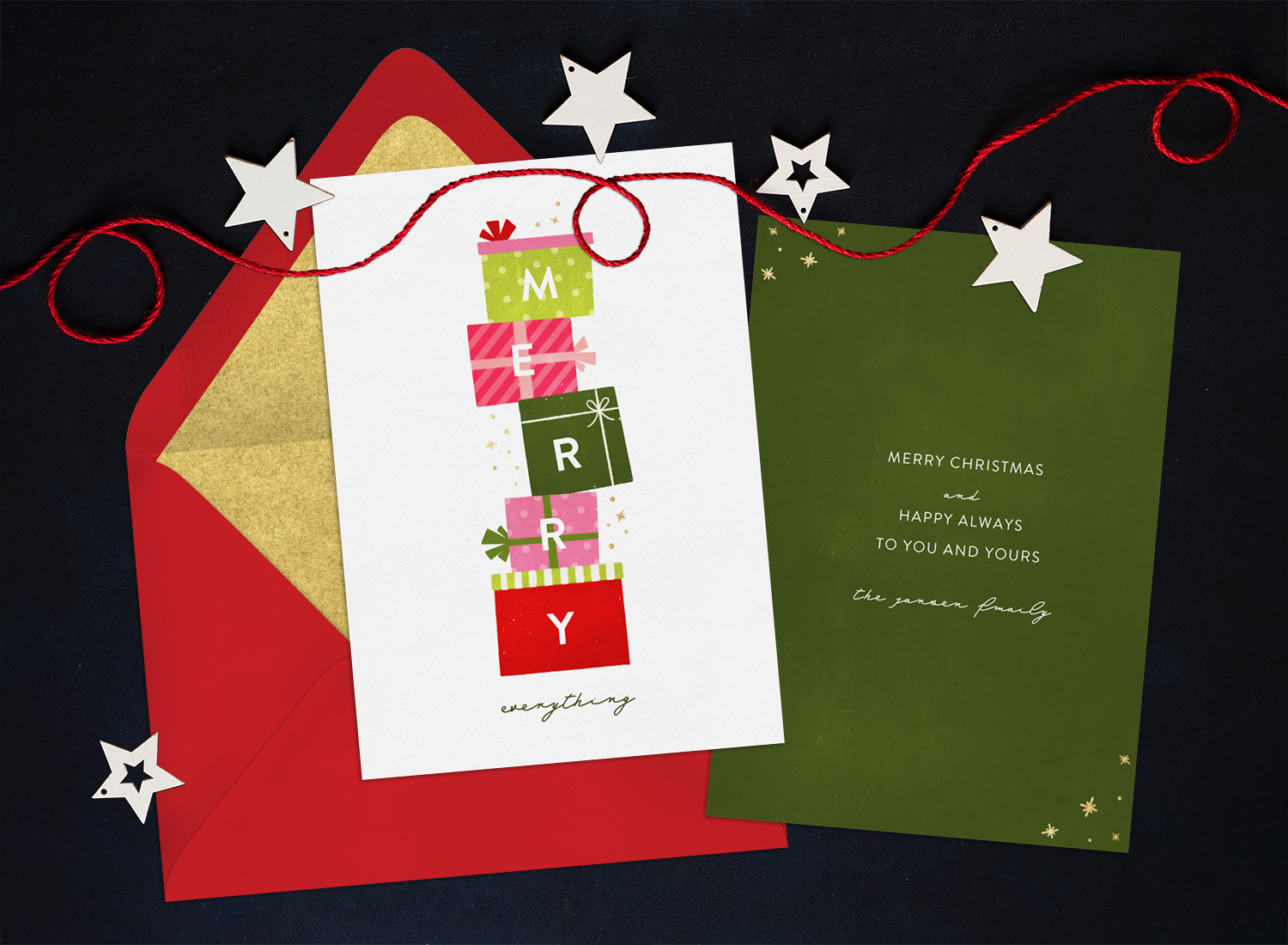 The Christmas tree is up, the gifts are wrapped, everything looks ready for Santa, but — oh no! You forgot to send out the annual holiday card. Don't stress, because we have a dozen Christmas card ideas to get your greetings out in time for the season.
We're out to prove you can send out a totally personalized Christmas card without the cardstock or fancy washi tape. And yet, we still got glitter, sparkles, family photos, and all the other ingredients for a festively nostalgic, customized-at-home Christmas card.
Below, you'll find 12 DIY Christmas Card ideas to spread a little joy this season. And, unlike most cards that require a craft station, these cards come together in under an hour.

12 Christmas Card Ideas to Light up Your Holiday
Christmas time is officially here, and there's no time to waste. You needed to get those Christmas cards out yesterday, and you're looking for an idea with a homemade touch. Not to worry—these festive, DIY card ideas should do the trick:
1. Express a Little Gratitude: Joy Grid Card
All of us can use a little gratitude in our lives, particularly around the holidays. What five things are you most thankful for this Christmas season? Share photos of the top five things that bring you joy with this Joy Grid card, perfect for sharing snapshots of your family, friends, and life partners.
2. Share in Your Success: Metallic Snowflakes Card
Looking for the perfect business Christmas card? This Metallic Snowflakes card is as sharp as your favorite pant suit, ideal for business partners and clients. Express your thanks for their partnership and your well wishes for another successful year.
3. Capture Those You Love Most: Faith Love Hope Card
The countdown to Christmas has officially begun. If you were to express the past year in three photos, which would you choose? Show your friends and family a representation of the three things you loved most about this year with this holiday card. To finish off your photo card, write three holiday wishes for your family and friends inside.
4. Show Your Wonderful Life: This Merry Life Card
It certainly is a wonderful life, isn't? Who is the person (or people) that make your heart sing? Share a photo of the person — or group of people — you love most in this world. It could be a group shot from your birthday, an engagement photo, or even a selfie taken with your little brother. No matter who makes your life merry, share a photo of them with this Christmas card.
5. Build the Holiday Excitement: Christmas Countdown Cards
How many of you grew up with an Advent calendar? There is something so nostalgic about seeing a Christmas countdown, placing an X through each day of December, or uncovering a special surprise beneath each day. Build the excitement for the holiday season with this nostalgic card, and give your friends and family 24 activities to do as part of their online "countdown."
6. Relive Your Favorite Snow Day: Snow Day Classics Card
What was your favorite cold weather activity while growing up? Did you love flying on a sled down the hillside? Did you pick up a pair of ice skates or skis? Or did you love building a snowman in your front yard? Whatever it was, reminisce over these snowy activities with this Christmas card, and write your three favorite snow day memories on the backside.
7. Share an Online Scrapbook: Merry Montage Card
Were you constantly piecing together scrapbooks as a kid? Well, you don't need scissors, glue, or pipe cleaners to have a crafty morning with this card. Simply sort through your iPhone, Instagram, and Facebook photos, and select five of your favorite photos. Play with the fonts and color palette, or go with a pre-chosen selection, making a virtual montage so fun and cheerful it feels like a handmade Christmas card.
8. Create a Family Ornament: Oh Holy Night Card
We know, we know — you long for the good old days when your kids created homemade ornaments in class. Your tree was filled with cut-out snowflakes with school photos glued on, pine cones painted with thumbprints and sprinkled with glitter, and popcorn string art no store-bought ornament could ever replace.
Now that your kids are grown, try this (slightly more sophisticated) holiday craft: Send an ecard with a complete family photo like this one, then print it on cardstock. Each year, you'll have a new, printable Christmas ornament added to the tree — even when your kids graduate college and have families of their own.
9. Share a Sweet Recipe: Happy Holiyays Card
Are you baking up a storm this Christmas? Is there more white flour and sugar dusting your countertops than there is snow dusting your doorstep? For a unique Christmas card idea, share your favorite holiday treat recipe (you know, the ones your friends always ask for anyway). Wish your loved ones a very Merry Christmas on the outside of this card, then give them a sweet surprise on the back.
10. Record the Year That Was: Merry Dots Card
It's true what they say: The days are long, but the years are short. And somehow, here we are with another year past, and yet we can only remember snippets of it. Have the whole family participate in this one little project, and "connect the dots" of your past year. Write down major events for each of the 12 months, then share your family timeline with this holiday card.
11. Connect with Those Back Home: City Greetings Card
Are you away from family this holiday season? Did you leave life back at home for life in the big city? Here's a fun holiday craft idea for the urbanite that you are: Write down a "Top 10 Must-See" list for attractions in the city you now call home, then send it out in this cityscape greeting card. Tell your loved ones your holiday wish is for them to visit you next year, and cross things off your sightseeing bucket list for your city.
12. Send a Last-Minute Merry Christmas: Painted Year Card
Did the holidays completely fly by this year? Are you really wishing your family and friends a "happy New Year" because you're sending this out on the 26th of December? No worries! It's the thought that counts, and this seemingly handmade card is perfect. Made with a brush painted design with the number of the coming year, it's the perfect, last-minute way to wish your friends a happy holiday.
Have a Very Merry Christmas from All of Us at Greenvelope
There's something so wonderful about the holiday season — it reminds us to count our blessings, remember our wins and success, and tell our family and friends how much we care about them. Sending a Christmas card made with a personal touch is a sentimental, personal way to wish those you love a Merry Christmas.
Hopefully, these dozen Christmas card ideas give you a few, fun and festive ways to send your season's greetings. And, from all of us at Greenvelope, have a Merry Christmas and Happy New Year.