November 2, 2021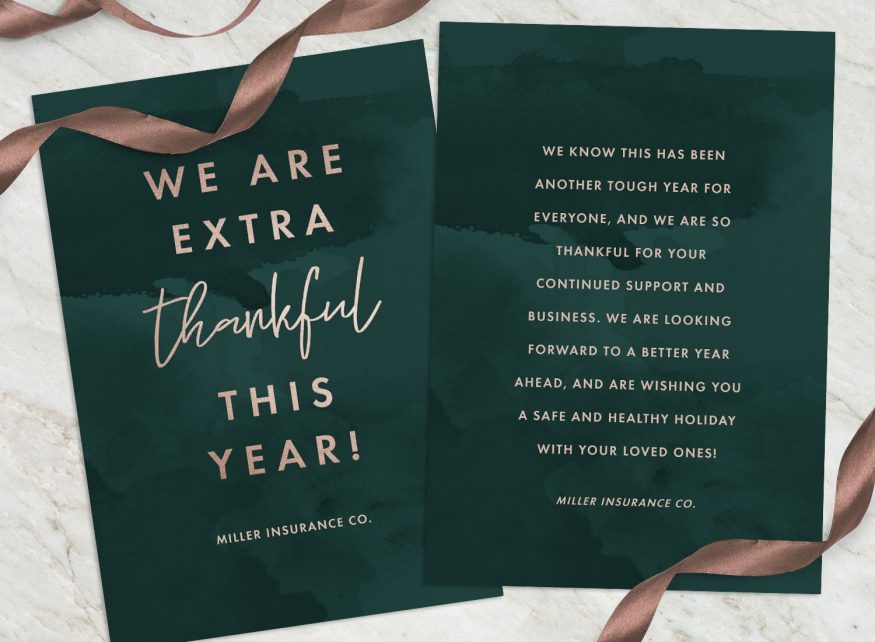 Your clients might not be the reason for the season, but they are the reason for your success. The holidays are the perfect time to acknowledge that with a thoughtful holiday message to clients. You can use your message to share your gratitude, celebrate a big win, or simply wish your loyal customers a happy holiday. 
The ideal holiday message should reflect your company culture and your relationship with clients. Here are some easy-to-follow tips that will help you craft a holiday message to clients. Plus, you'll discover funny and sincere messages to add to your holiday cards, and a few ideas that are a match for different business sectors. Feel free to use these messages as they are or add your own personal touch. 

What to Include in a Holiday Message to Clients 
Your holiday message to clients should reflect two things: your company's values and your clients' values. Not to be too mercenary during the holiday season, but a holiday greeting card will act as a form of marketing 'ÄĒ whether you intend it that way or not. Simply add your company name and logo (it's easy to do if you opt for digital holiday cards), and if you have a marketing department at your company, get their help crafting your holiday messaging.
If not, you can still make the right impression by personalizing your message. Even if you don't have time to write a unique message to every client, your holiday wishes will feel more personal if they reflect your business's personality. So, if your team loves a good Dad joke, add one to your greeting cards. If you're hyper-focused on client success, make that the (hyper) focus of your messaging. 
Sign your greeting cards with the names of the team members who your client works most closely with. A message that comes from the client's account manager will feel more meaningful than a message that comes from a CEO or business partner that the client has never met. 
Also, keep religious affiliation in mind. If you're a family-owned small business that celebrates Christmas, then feel free to send a Christmas card complete with a Christmas message 'ÄĒ but keep in mind that some of your clients may not celebrate the holiday. The same applies if you celebrate Hanukkah. Feel free to send a Hanukkah card, but add messaging that's inclusive of clients with different beliefs.¬†
For larger companies with team members and clients from diverse backgrounds, it's safer to stick to non-denominational messaging. Swap out "Merry Christmas" for "Season's Greetings," or opt for an inclusive Christmas greeting like "Peace on Earth, Goodwill Toward Men."
You can avoid the question of religion altogether by sending out Happy New Year cards instead of holiday cards. A New Year's card provides an opportunity to look forward to another prosperous year with your most valued customers. 
Now that you have an idea of what your holiday greetings should do, it's time to find the right words for your business holiday card message. We've included options for a variety of brand voices and business models.
12 Funny Holiday Messages to Send to Clients 
If your company has a light-hearted culture and a laid-back relationship with clients, try these humorous greetings on for size. We hope they fit as well as your favorite ugly Christmas sweater.
Wishing you a season full of

good cheer

and a break room full of cold beer.

Happy holidays

! 

This

past year

, we really sleighed! Looking forward to more projects with you in

the New Year

. 

Working on your account is lit like my menorah!

Happy holidays

! 

Working on your account is lit like my

Christmas

tree!

Happy holidays

! 

Thanks for never being frosty 'ÄĒ we love clients like you!

It's the most

wonderful time of the year

to celebrate our favorite client! (Shhhh … don't tell the others.)

Another year working with you is something to celebrate!

Cheers to the New Year

! 

Working on your project has been magical 'ÄĒ we hope your holiday is too!

'Tis the season to celebrate our successes! Here's to everything we accomplished in the

past year

! 

 As far as clients go, you're definitely on the Nice List! Looking forward to working with you more in

the New Year

.

 We hope this winter season is as cool as you! Thanks for being an awesome client. 

 Like Santa and Rudolph, this partnership has been a runaway success. We look forward to working with you more in

the New Year

! 
8 Sincere Holiday Messages to Send to Clients 
For companies that want to share their gratitude or reflect on a year of hard work, these holiday messages to clients are direct and sincere.
Wishing you a

happy holiday season

with your

loved ones

. 

Having you for a client has been a gift. We look forward to working with you more in the

coming year

. 

We've seen how hard you work, so we hope this

holiday season

finds you away from the office, celebrating with the ones you love. We'll see you again in

the New Year

! 

Warmest wishes

for a holiday full of peace, joy, and love. 

We hope this

holiday season

you have time to reflect on all the

hard work

of the

past year

and look forward to all the opportunities of the

coming year

. We're excited to support your continued success! 

May your holiday be as bright as your company's future. We look forward to our continued partnership! 

We hope your holiday is full of blessings inside and outside the office.

During this important time of year, we like to take a moment to share our gratitude. We are so grateful to have you as a client and look forward to working with you more in

the New Year

. 
19 Holiday Messages Based on Your Business Offering 
Whether you run a marketing firm, law firm, real estate agency, or another B2B company, we've got a holiday message to match your product offering. Find your business model below to see messages made just for you. 
Marketing
If you've been too busy marketing your clients' businesses to think about your own messaging, let us do it for you. Here are a few greetings made for marketing agencies. 
We've come up with the perfect holiday slogan:

Happy holidays

! (We think it's gonna catch on.) 

You've really mastered the spirit of giving. You've been giving your audience great content all year long, and we're proud to be part of that.

Happy holidays

! 

We hope you get to be social this

holiday season

. And for once, we're not talking about your Instagram strategy. 

We do branding. So, this year, we've decided to wish you

happy holidays

in every brand voice.




Formal: Have a

joyous holiday season

.




Playful: Happy ho-ho-holidays!




Sassy: How to get happy for the holidays: Eggnog




Sentimental: We wish you a beautiful holiday with your

loved ones

.




Direct:

Happy holidays

!
Financial Services
If your clients come to you for accounting and financial services, then these holiday messages will fit the bill.
After all that holiday shopping, we'll be here to help you reconcile your budget. Enjoy the season! 

Here's to a

prosperous New Year

!

Best wishes

from the people who balance your books

It's the most

wonderful time of the year

! It definitely beats tax season.

Happy holidays

! 

We checked the numbers, and it looks like it's going to be a

happy New Year

! 
SaaS or IT 
You've got the technical know-how 'ÄĒ these messages will let your clients know it.¬†
We hope [

Company Name

] has made your office more efficient than Santa's workshop.

Happy holidays

! 

Here to solve your IT issues faster than Rudolph can run.

Happy holidays

! 

Think of us as your software solution tied up with a bow! We're looking forward to serving you more in the

upcoming year

. 
HR and Recruiting 
You're all about people, and these holiday messages will put a smile on people's faces. 
When Santa needs more helpers, he calls us. I guess you and the big man have that in common.

Happy holidays

! 

Good wishes

, good people, and

good cheer

! We look forward to helping you meet your HR needs in the

coming year

. 

People are what the holidays are all about. We hope you enjoy the season with your favorite humans. 
Real Estate 
Whether you found your clients a new home or a new office, you're part of the reason they have a door to hang their wreath on. Help them celebrate the season with these holiday messages. 
There's no place like home for the holidays! We hope you're enjoying your new home at this special time of year. 

The best thing about having an office? Office parties. We hope you enjoy celebrating the season in your new space! 

Warm wishes

for a wonderful holiday in your new place. 
Law 
Whether you want to poke a little fun at your profession by adding a quid pro quo to your holiday greeting cards, or you need something brief to send out between briefs, these messages are above board. 
Have a

wonderful holiday season

!*




*This message is not a guarantee and in no way entitles you to have a

wonderful holiday season

, nor are you under any obligation to do so. (But we certainly hope you do!) 

We'll skip the legalese and just say this: We hope you have a

happy holiday

and a

wonderful New Year

.
Make Your Clients Merry 
The right holiday message to clients can reinforce your relationships and spread cheer at the end of the year. Take a moment to recognize your loyal customers by sending a holiday greeting card. With digital cards, it genuinely only takes a moment to do so. 
Choose from over 400 designs, personalize your message, upload your client's email addresses, and send your holiday wishes on their way. If you choose a photo card, you can even upload a picture of your team or add your logo at the center of the design. In just a few clicks, you'll be able to create an original greeting card that reflects your brand and celebrates your clients 'ÄĒ then you can get back to the festivities. Happy holidays!