July 25, 2022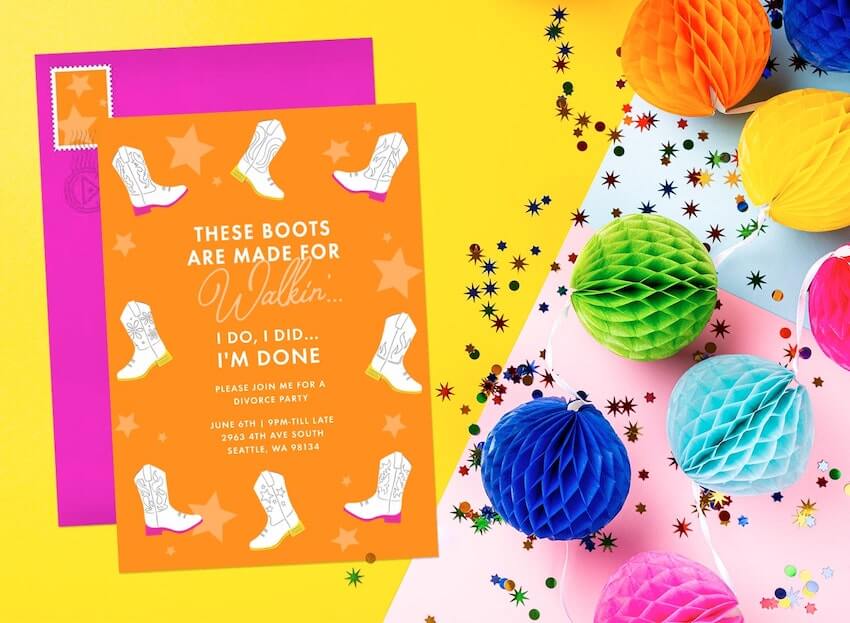 The divorce papers are finalized and you're ready to embrace this new chapter in your life. While this can feel like a sad experience at times, it's also an opportunity to celebrate a fresh start. And what better way to do that than with a divorce party?
In this guide, we'll explore how to throw an unforgettable celebration in honor of your new journey, plus some of our favorite themes and activity ideas. Here's to the next chapter! 

How to Throw the Ultimate Divorce Party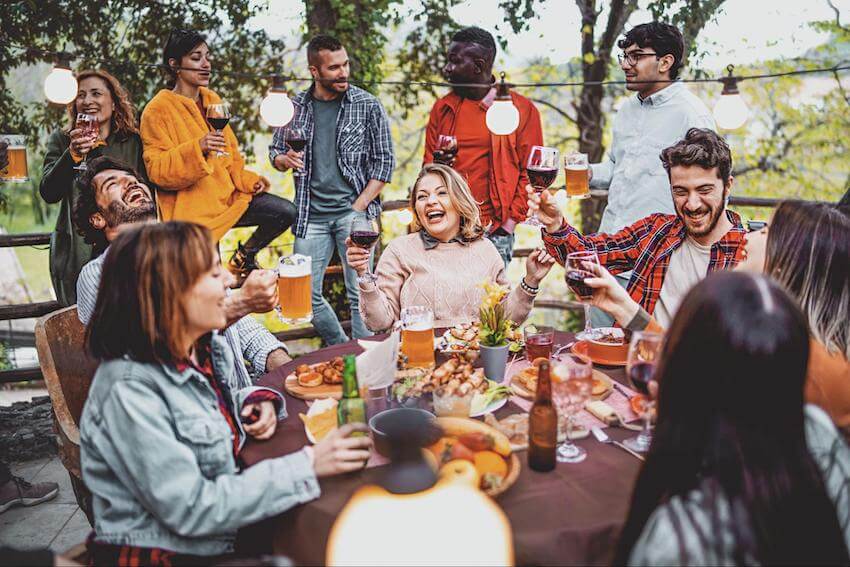 Whatever the reason for the split, planning a divorce party puts a positive spin on the situation. It's a chance to celebrate yourself and welcome new beginnings. As it turns out, you're not alone — divorce parties are trending, with a 55% increase in people looking to plan a divorce party. Here's how to approach party planning to put together the best divorce party ever. 
Keep the Mood Light-Hearted
Your divorce party should feel empowering and fun — not an excuse to talk negatively about your ex-husband, wife, or partner. Think of this as a way to leap into your new life with joy, curiosity, and excitement. Say goodbye to your wedding dress or wedding ring however you wish, but keep the mood of your event upbeat and positive. 
Invite Your Closest Loved Ones
This is the time to celebrate alongside your best friends and closest family members, so keep your guest list short and sweet. Invite those who have supported you and cheered you on throughout the divorce process as you take your steps towards a new adventure. 
Customize any of Greenvelope's party invitations to share the news about your upcoming celebration. You can add a funny divorce quote like "The ball and chain has been broken," "I used to be married but I'm better now," or "Yay, it's finally done!" 
Get Creative with a Theme
Your party doesn't need a theme, but it's a fantastic way to turn your event into something even more memorable. There are plenty of great divorce party themes — from sleepovers and spa days to escape rooms and campouts. 
Choose a Fun Venue
For a big moment like this, look for a venue to match. Think rooftop bars, sprawling hotel gardens, or a beachside restaurant. If you're hosting at home or at a friend's place, use party decorations to bring your theme to life. You don't always need a big, fancy venue — any space can suit your celebration once you've added some color, sparkle, and decorations. 
Focus on Treats
This party is all about celebrating you and the exciting next chapter in your life. Mirror that in your choice of theme and activities by focusing on pampering elements, tasty treats, and self care. It's the ideal moment to indulge in delicious food, relaxing spa treatments, or a hike in your favorite National Park to get closer to nature. 
Have a Divorce Party Cake
Weddings are known for having luxurious cakes, but so are divorce celebrations. This is one of our favorite divorce party ideas, especially if you go for a decadent design and stage your own "cake cutting" moment! If a big cake isn't your thing, try cupcakes instead with fun cupcake toppers celebrating your newfound freedom. 
9 Fun Divorce Party Ideas and Activities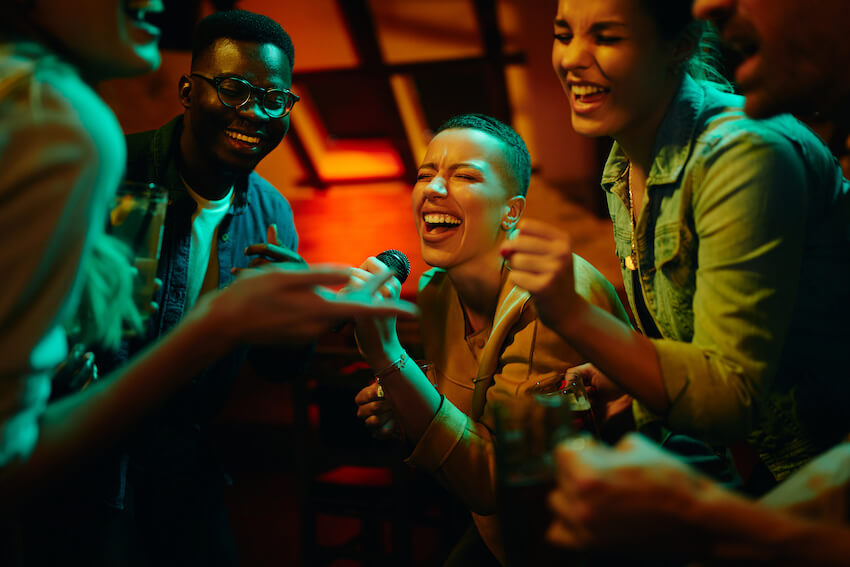 Wondering which theme to build your divorce celebration around? Here are some of our favorite divorce party ideas, themes, and activities.
1. Throw a House Party
A house party is a great option for any event, and divorce parties are no different. Invite your nearest and dearest, put together a memorable playlist, and dance and laugh your way into this new chapter of your life. Add in some pizza, board games, and drinks and you have the recipe for a fun divorce party. 
2. Host a Retro Sleepover
Sleepover parties aren't just for kids. Relive your childhood and host a slumber party with plenty of popcorn, movies, and party games. Choose a rom-com and bond together over the storyline, or opt for a horror movie that'll keep you up all night. 
3. Go on a Weekend Break
Take your close friends on an adventure that's not unlike a bachelorette party — only now you're celebrating your singlehood! Head to an exotic destination if your budget allows, enjoy a staycation at a local hotel for a night or two, or head to the coast for a seaside getaway. 
4. Treat Yourself to a Spa Day
Head to the spa for a special treat to honor your fresh start. Book a facial, pedicure, manicure, massage, or whatever treat sparks your interest. Whether or not your spa day is part of a larger weekend getaway, it's a lovely way to unwind and relax after what might have been a stressful time in your life. 
5. Go Camping Together
If a spa break isn't your style, a campout adventure in nature is a wonderful way to slow down, spend time with your closest friends, and usher in a new beginning. Gather your tent and camping supplies and choose a spot to set up a base for exploring, campfire songs, and plenty of s'mores. 
6. Visit an Escape Room
Feel like you've "escaped" a situation? Well then, an escape room is one of the best divorce party ideas. Take your friends to an escape room experience and work together to solve puzzles, tackle challenges, and make your way out of the room. Pair this with a trip to your favorite bar or restaurant and you have the makings for an upbeat and interactive divorce party. 
7. Take a Cocktail Masterclass
When you're ready to raise a glass to your next chapter, a cocktail tutorial is the perfect divorce party idea. Head to your favorite cocktail bar or book an at-home masterclass with a mixologist and make your own fabulous creations. Try new flavors, learn new techniques, and enjoy the experience with your friends and loved ones. 
8. Belt It Out at a Karaoke Bar
Sometimes the best thing to do is to sing your heart out. If you're full of emotion and want to release it, head to a karaoke bar and let it all out. You can book a private booth for your group of friends or enjoy a raucous evening with the whole pub. Sing along to your favorite tunes and use this as a way to say goodbye to your old life and hello to the next chapter. 
9. Host a Self Care Day
A divorce party doesn't have to be all about drinking, dancing, or high-action activities. If all you want to do is rest and unwind, plan a self care day for you and your close friends. Walk somewhere scenic, make vision boards, cook together, and relax in front of the TV with your favorite snacks. Send your guests home with a mini self care kit as a party favor and as a reminder of how important it is to take care of ourselves. 
Celebrate Your Way with These Divorce Party Ideas
A divorce party can take many forms. For some people, it's a moment to let loose and dance the night away. For others, it's a time to slow down and unwind. However you want to celebrate, these divorce party ideas can help you plan an event that you'll fondly remember for years to come. 
When you're ready to spread the word about your divorce party, do so with one of our online invitations. They're easy to customize and you can send them to your guests in just a few clicks. Here's to new beginnings!