October 15, 2019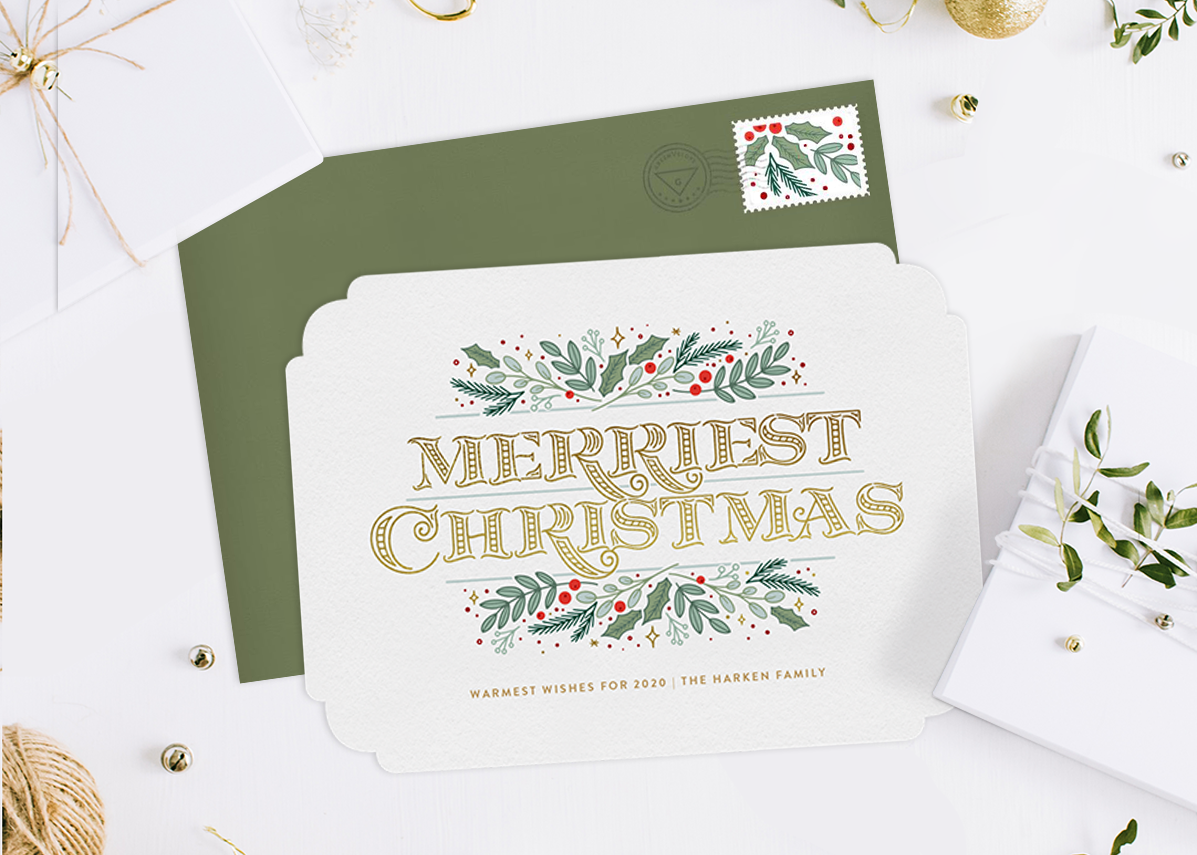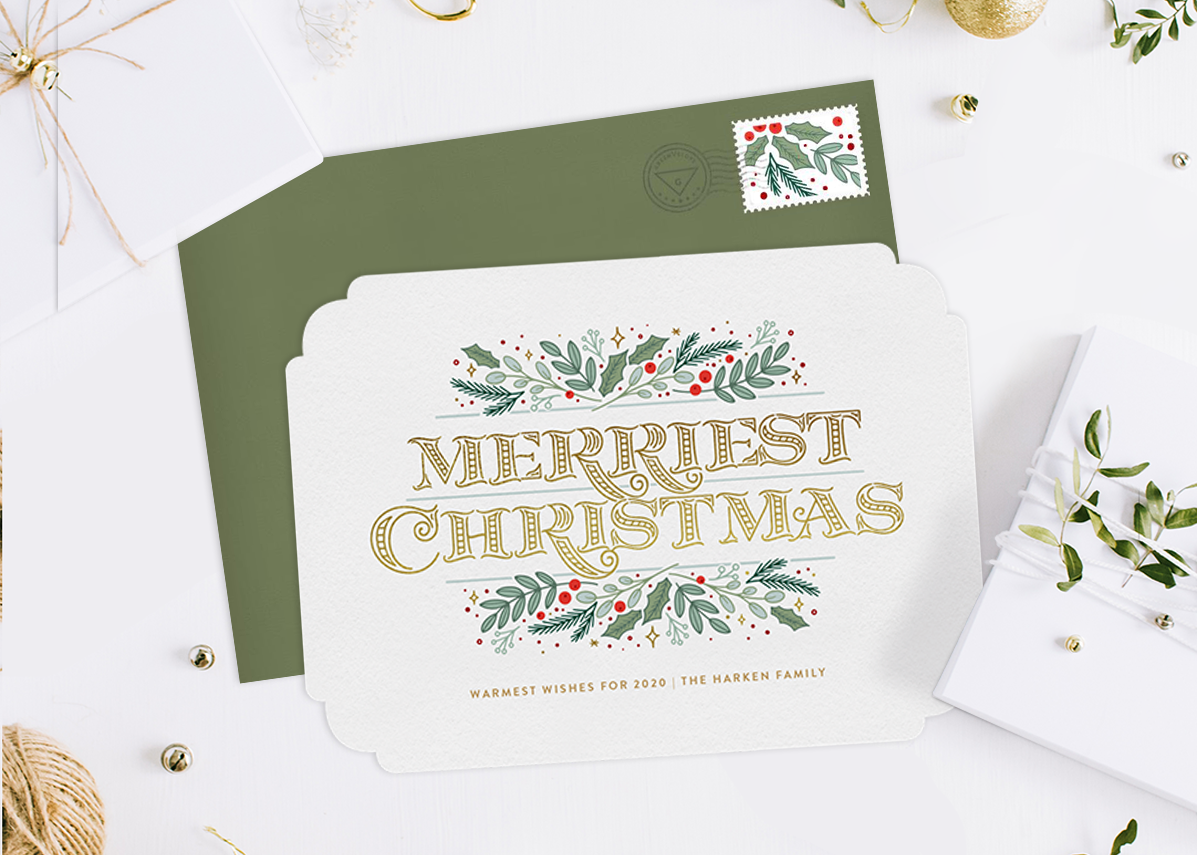 It's that time of year again — the temperature is dropping, the snow is falling, and the keyboards are typing because it's time to send out your Christmas cards. But before you put pen to paper, excuse us, fingers to Macbook, you have to figure out what to say. That's why we're helping you out with 50 Christmas card greetings to send out this season.
Just as there's a perfect gift for everyone, we believe there's a perfect message for everyone on your (e)mailing list. Whether you're writing to your colleague, bestie, or boss, there's a heartfelt note for each person.
Below, you'll find 50 different ways to wish your loved ones happy holidays. Send it to all your friends and family or craft an individual message for each and every person on your list. No matter how you choose to spread the holiday cheer, they'll certainly be happy to hear from you.

Short Christmas Greetings for Just About Anyone
Not sure what to say this year? Did you put your Christmas card writing off until twelve days before Christmas? Not to worry, these short Christmas messages apply to everyone on your list. Send them one of these festive greeting cards to get your notes out and delivered by the 25th:
Wishing you a warm, glowing Christmas this year.
Thinking of you this holiday season. Have a blessed Christmas and a happy New Year!
May you have a jolly holiday season. Hope your Christmas is merry and bright!
Hope all is well with you and your family. Sending thoughts and warm wishes from our home to yours.
Grateful to have you in our lives. Hope you have a merry Christmas and a happy New Year.
Hope your holiday season is filled with friendship and festivities. Looking forward to seeing you in the new year!
Have a happy Christmas and a wonderful holiday season.
Sending merry Christmas wishes to you and your family.
Spreading Christmas blessings to you during this joyous season.
May your holiday season be merry and bright.
Sending Season's greetings to you this Christmas.
Heartfelt Christmas Greetings for Family Members
If you won't be going home this Christmas season, send a note off to your parents, grandparents, and aunts and uncles letting them know they're in your thoughts. You can't be everywhere this holiday season, but perhaps these holiday cards will let your family know you're hoping to make it home next year.
I won't be able to make it home for Christmas this year, but know that I love you, appreciate you, and miss you every day.
The only present I want under my Christmas tree this year is one weekend with all of you. Thinking of you and sending my warmest wishes.
Having family like you is the greatest Christmas gift anyone could ever ask for. I can't wait to make it home next year.
Anyone who says you don't choose your family doesn't know the meaning of family. I'd choose to spend every holiday with you from now until forever.
Nothing can ever replace having a family like ours. Looking forward to spending time with you when I arrive home for the holidays.
Sending lots of love and best wishes from far away. Have a happy holiday season!
Funny Christmas Card Greetings to Send Your Friends
Your friends have loved you at your worst and cheered you on at your best. To those who have been your ride-or-dies through high school hallways, college dorms, and every new beginning in between, wish them well this holiday season with these personal Christmas card messages.
Remember when we actually stayed up past midnight for New Years? Yea, me neither.
Peace on Earth and praise be to the positive balances in our bank accounts. Merry Christmas and happy New Year of adulting.
I love you enough to take on your student loan debt. Not really, but hoping you get some dollar bills in your stocking.
Here's to Santa Claus placing a Frenchie puppy under your Christmas tree. No one deserves it more.
I can't imagine anyone else I'd rather grow old and watch Golden Girls with. Here's to another merry Christmas and happy New Year with you by my aging side.
Sending you warm, fuzzy wishes of good health, even after all the spiked eggnog we both know you'll drink.
On Christmas Day, my only hope is that you survive your mother's long list of questions.
There's no one I would rather spread some Christmas cheer with — i.e., watch cheesy Netflix Christmas movies with, sing Christmas carols off-tune with, and drink spiked apple cider with.
Warm Christmas Greetings to Send to Colleagues
Sometimes it's difficult to find the right words to show your coworkers your appreciation. For those who have shared in your success, stood by your side, and always been there to cheer you on, here are several holiday greetings to send at Christmas time.
Thank you for all your hard work this year. Have a relaxing holiday, you deserve it!
Hope you enjoy this time of year with family and friends.
I appreciate your business and hope our success continues through the New Year.
Have a festive holiday season. Cheers to a wonderful New Year!
It's been a great year having you as a teammate. Have a blessed holiday and prosperous New Year with family and friends.
Have a wonderful Christmas — see you after the New Year!
Have a very merry Christmas and a well deserved break.
The past year would not have been possible without you. Have a great Christmas with your family and friends.
Religious Christmas Greetings to Spread the Joy
If you or your loved ones celebrate Christmas for religious reasons, the holidays can be a special time to express your faith. Here are several religious greetings you can send out to celebrate the true meaning of Christmas.
May God bless your family with hope and faith this holiday season.
Sending thoughts and prayers to your family this Christmas.
May your home be filled with joy, as unto us a child is born.
Hope your home is filled with Christ's magic of Christmas this time of year.
May the Lord fill your home with the spirit of Christmas this holy season.
On the first Christmas, God gave us Jesus as the greatest gift. Sending Christ's blessings to you and your family.
Blessings to you and your family, may your home be filled with the true meaning of Christmas this holy night.
We hope your family is filled with the Christmas spirit and your home is filled with the gifts of faith and love this season.
Merry Christmas Greetings for that Special Someone
This season, there's only one person you want to be cozied up next to by the fire. To the person who's keeping you warm this winter, send them one of these Christmas card sayings to show how much you care.
All I want for Christmas is you.
Santa baby, hurry and pick up Dominoes tonight.
I'm so glad we found each other before "Netflix and chill all winter" season started. Merry Christmas!
I feel so grateful to have you in my life. Here's to another cozy holiday season with you by my side.
Being with you is such a rush — you make me so blissfully happy, yet so deeply terrified to meet your parents. Happy holidays!
With you by my side, I have no doubt this will be the best Christmas ever.
Come Christmas Eve, I hope to be unwrapping you.
You are the best gift I could have asked for. Here's to a perfect Christmas with you by my side.
The best gift you can give me this Christmas is saying nice things about me to your mom. Merry Christmas, Baby!
Send Greetings to Those You're Thankful For
All too often, an entire year goes by without showing our appreciation for those around us. Christmas is such a wonderful way to celebrate, show gratitude, and spread joy with those we care about.
Whether you're sending your Christmas messages to family members, coworkers, or friends from college, Greenvelope is here to share your holiday message. Choose from dozens upon dozens of holiday designs, all of which can be customized. Personalize your Christmas card with a photo of you or your family, add a fun note or a life update for a personal touch, or type a simple "Merry Christmas and Happy New Year!"
Hopefully this gave you a little bit of holiday inspiration to spread the joy this season. From all of us at Greenvelope, Merry Christmas!