December 12, 2021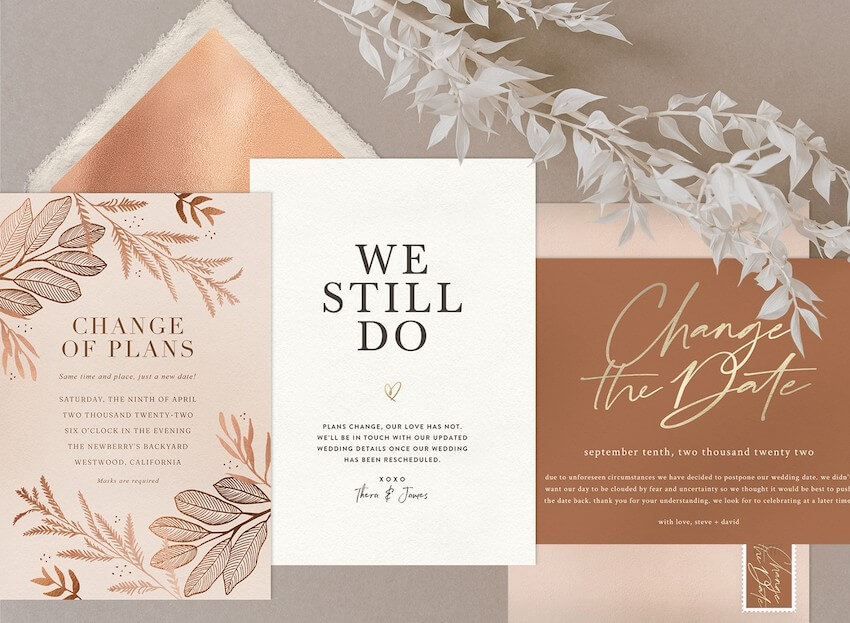 Not everything goes according to plan. Sometimes, things out of our control create unpredictable circumstances. When it comes to weddings, that can be a stressful scenario. Fortunately, switching to a new wedding date or changing to a new plan doesn't have to mean the end of your happiness. It's simply a shift to a new vision of your dreamy day.
When plans change, you need to let friends, family, and loved ones know. The best way to do that is to send out a postponed wedding card. Here, you'll find tips and wording ideas you can use for your wedding postponement announcement. Plus, you'll find stunning postponed wedding cards you can send out before the big day.

Postponed Wedding Card: Tips and Tools to Use
Whether you have a change of date due to the COVID-19 pandemic or need to reschedule because of health, venue, or family reasons, a wedding postponement card is a great way to tell guests about the change of plans. Couples use this card to include information on the new wedding date as well as any changes to the program. The card can also include information such as mandates for vaccinations or masks during the ceremony if you're planning a wedding during COVID.
If you have to postpone your wedding, consider using digital announcement cards as they are the most convenient option. Greenvelope offers a vast selection of wedding update cards and wedding stationery including wedding invitations. All the offerings are digital, so you can send updates and make changes with the click of a few buttons. 
You don't need to deal with going to the post office or worrying about losing the cards in the mail. It's all sent electronically and you can easily track who's opened the postponed wedding card in your dashboard. That way you know which people on the guest list you need to follow up with for an RSVP.
With online invitations, it's easy to make changes. You can choose a new card that fits with your existing wedding suite or opt for a new design based on the changes you're making. With Greenvelope, you can even upload your own design for a personalized announcement.
When writing a wedding cancelation or postponement announcement, it's important to use the right wording and include key details.
What to Include in Your Postponed Wedding Card
The main thing to include is the new date so guests can make arrangements to attend on the rescheduled date. If you've already sent save the date cards, you can use the same guest list or email list to send out the new date announcement. 
You'll also want to include if the venue or time has changed as well. Choose a card and font that makes the changes clear so guests can easily understand what's different from the first invitation. Include a link to your wedding website where guests can get further details on the delay and changes.
When it comes to wording, you can match the tone in the announcement to the tone of your wedding day. If you're having a laid-back and fun event, you can include messaging, such as "let's try this again" or "better late than never." If you're hosting a formal event, it's better to stick with wording like "wedding update" or "change of plans."
Stunning Postponed Wedding Cards to Announce Changes
With dozens of designs ranging from modern and classic to bright and fun, you're sure to find a postponed wedding card that fits your mood. Here are some of our favorite designs that you can use to tell guests about your nuptial changes.
1. Better Late Than Never Announcement
This new date card is elegant and personal. The gold foil heading makes it clear that there are changes to the event and the date is easy for guests to see. There's also plenty of space to share as many details as you'd like.
2. Estella Invitation
This classic and simple postponed wedding card is a simple way to tell guests about wedding updates and changes. It features a floral accented envelope for a touch of color while keeping the focus on the changes at hand. The clean design means you can use it for other occasions, such as a save the day card or thinking of you card.
3. Enthralled Invitation
This modern and moody wedding update card features an alcohol ink background that looks like a watercolor painting. Customize the template by changing the calligraphy and color scheme to fit your wedding theme.
4. Patient Love Announcement
This wedding update card says it all: love is patient. Things come up and plans get changed, but love remains constant. In fact, change can be beautiful, just like this postponed wedding card. Featuring greenery embossed in gold foil, it's elegant and sophisticated while also maintaining a whimsical simplicity.
5. In the Time of Announcement
This witty wedding update card offers a little levity in the midst of difficult circumstances. It works well for changes to weddings as well as other events like birthdays and baby showers.
6. New Date TBD Announcement
Let everyone know you still plan to say "I do" with this fun photo card — even if you don't know the new date yet. The bold, minimalist text makes it clear that the event has been delayed. You can include a fun photo of the happy couple and choose from a variety of colorways.
7. Watercolor Anemone Announcement
This watercolor update card features delicate florals and eucalyptus greenery to announce wedding changes. It's colorful and soothing, helping to add a touch of cheer to a less-than-cheerful situation.
Share Your Love Story — Even If It's Late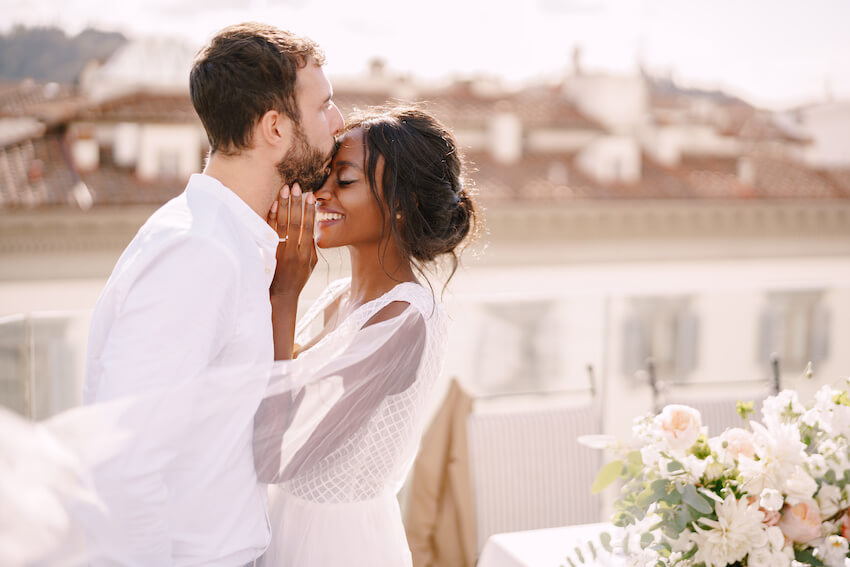 Things change. Sometimes that means important events and wedding dates change. Whether you're having to postpone due to the pandemic or for another reason, a postponed wedding card can help you get the word out. 
With Greenvelope, you can send updates and changes to the wedding date and venue in a matter of minutes. Plus, you can choose wedding stationery that matches your wedding invitations and wedding thank you cards for a cohesive look.
Need help with wedding planning? Discover COVID wedding ideas and tips for postponing a wedding that will help streamline the process.
Remember: Just because you have to make changes doesn't mean you can't still have the day of your dreams. Love is patient and the focus should be on sharing your love story with friends and family — regardless of what day it is.