May 12, 2022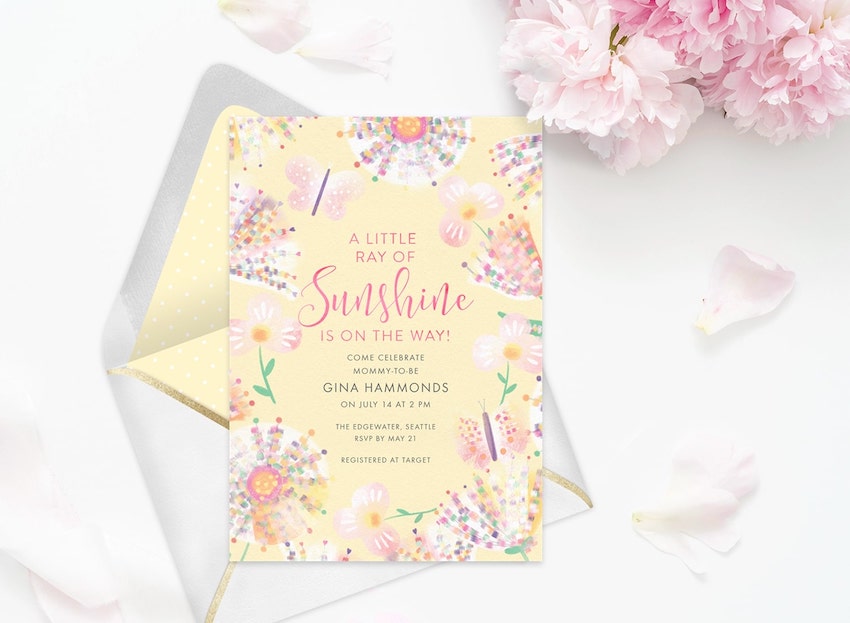 Butterflies are symbols of rebirth, hope, and spirituality, with their popularity dating back centuries. It's no surprise that these dainty creatures are a favorite motif when celebrating the birth of a new little bundle of joy. The butterfly's journey from a tiny caterpillar to a beautiful flying creature is symbolic of your own baby's growth. 
If you're looking to host a butterfly baby shower, you'll need invitations to match. Discover butterfly baby shower invitations ranging from dainty and magical to bold and captivating, plus get ideas on what to include as part of your message.

What to Include in Your Baby Shower Invitations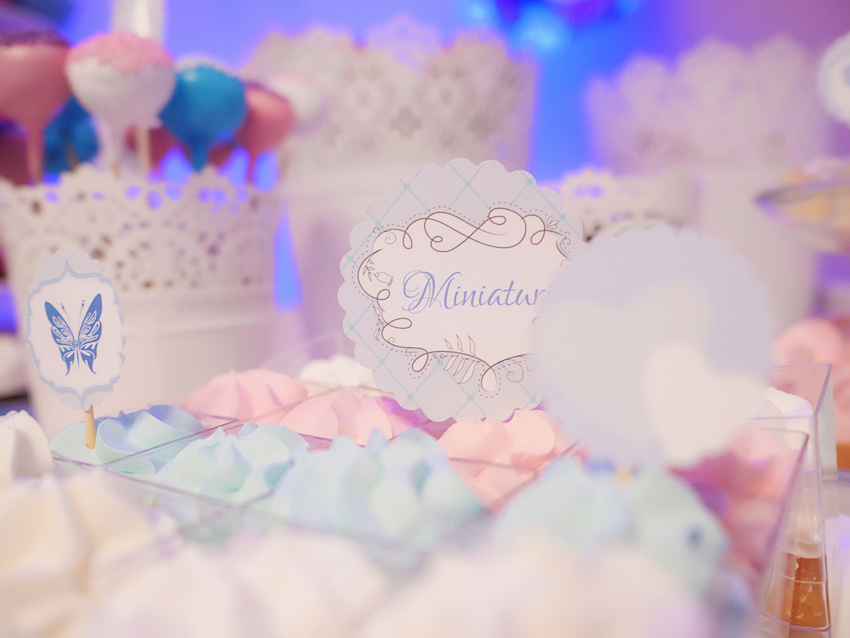 Before you can choose gorgeous butterfly baby shower invitations, you'll need to nail down a few party details. If you're hosting a baby shower for a close friend or family member, start by discussing what type of party they want. Maybe they want a garden party or perhaps a woodland-themed shower. Whatever their preferences, decide on a venue for the baby shower as well as a date and time. 
Here's a quick checklist of what to include in your baby shower invitations:
Name of the parent(s)-to-be

Name of the hosts (if the parents aren't hosting the event)

Date, time, and location of the baby shower

RSVP date and information

Gift information 

Party theme and dress code requirements, if applicable
Aside from essential information, you can also make your butterfly baby shower invitations more memorable with your messaging. Choose cute and punny sayings that pair well with the butterfly theme, or opt for a more formal or traditional route. Here are some ideas for weaving the butterfly theme into your baby shower invitation wording:
It's almost time for our caterpillar to evolve into a beautiful butterfly. Join us in celebrating this special moment with a butterfly-themed baby shower. Please wear the colors of your favorite butterfly.

Join us in celebrating the upcoming arrival of our new bundle of joy on Sunday, June 16th. It'll be a day filled with butterfly kisses and sweet wishes.

Come celebrate as we spread our wings and broaden our brood with a butterfly-themed baby shower.

Our new bundle of joy makes our hearts flutter. Come celebrate this special moment with us at a butterfly-themed baby shower on September 24th at noon in our backyard.

We're flying high with news of our baby's arrival. Please join us for a butterfly-themed brunch as we celebrate the latest addition to our family. 
10 Butterfly Baby Shower Invitations You're Sure to Love
At Greenvelope, you'll find hundreds of digital invitations for all occasions, including baby showers. With so many options, there's a style for everyone. Best of all, these online invitations are completely customizable. You can upload your own design or change the color, font, and layout of the template to make it all your own. Here are some of our favorite butterfly baby shower invitations.
1. Flutter Over Invitations
This whimsical butterfly baby shower invitation features fluttering, pastel-hued butterflies. There is gold glitter detailing for added shimmer and a hint of glam. It's perfect for both boy and girl baby showers as well as parties where the gender hasn't been revealed. Customize the template by changing the color palette or font.
2. Sweet Butterflies Invitation
This hand-drawn invitation features magical creatures like butterflies and bees surrounded by greenery. There's plenty of space to include all the event details. Plus, the design makes it suitable for other events like bridal showers, christenings, and birth announcements.
3. Woodland Whimsy Invitation
This sweet baby shower party invitation offers a much more minimal approach to the butterfly theme. It features an array of adorable woodland creatures like bunnies, hedgehogs, and a fox, along with miniature butterflies and bees. It's sweet and whimsical, just like your new little bundle of joy.
4. Sweet Pastels Invitation
This floral butterfly invitation features festive flowers and beautiful butterflies in pastel hues. It has a hint of abstract style, making it modern and fun. In addition to baby showers, this watercolor invitation card also works well for rehearsal dinners, a small baby sprinkle, and birthday party invites.
5. Folksy Butterfly Invitation
Invite guests to a butterfly baby shower with this eye-catching, vibrant invitation. It features a large, multi-colored butterfly surrounded by cheerful florals and greenery. You can customize it by changing the color palette or opt for a simple white envelope to make the design pop.
6. Butterfly Bouquet Invitation
This classic invite features a minimal color palette that keeps the focus on a stunning bouquet of butterflies and flowers. It's ideal for garden party baby showers as well as bridal showers and other wedding events. Add a digital sticker or wax seal for a touch of sophistication.
7. Garden Party Invitation
This baby card invitation is perfect for garden party showers. It features bold butterflies and florals with vintage styling. It comes in pink and orange color palettes, but you can also create your own color scheme for something truly unique.
8. Monarch's Tale Invitation
Inspired by the iconic 1999 Monarch Dress from Luly Yang, this butterfly baby shower invitation features watercolor-stained butterflies. The moody, captivating, and dynamic aesthetic makes a bold statement and veers from traditional pastel colors. Change up the color scheme to make it suit a boy or girl baby shower invitation if desired.
9. Happy Toadstools Invitation
Another woodland invite, this design depicts a magical garden complete with butterflies, greenery, and colorful mushrooms. The card also works well as a birthday party invitation and tea party invite. 
10. Wild Garden Invitation
Love the idea of a wildflower garden? You'll love this magical butterfly and flower invite. The design features watercolor depictions of flowers as well as a detailed butterfly. You can choose from six different color palettes to suit the mood and color scheme for your event. Not only is this invite great for butterfly-themed baby showers, but it's also well-suited for religious events like christenings, first communions, and bat mitzvahs.
A Few More Ideas for Your Butterfly Baby Shower
Once you've selected your butterfly baby shower invitations, it's fun to begin planning other aspects of the baby shower. This can include gathering party supplies, party decorations, and DIY baby shower favors to build on the theme of the event. 
Don't forget to plan some fun baby shower games — print out butterflies on cardstock and have guests decorate one for a keepsake album or opt for a butterfly-themed diaper raffle. Find more baby shower ideas to help you plan the perfect party and enjoy a full day of fun. 
It's Time to Enjoy Your Butterfly Baby Shower 
Whether you want invitations that are dreamy and soothing or bold and exciting, it's fun to choose a design that sets the tone for the type of baby shower you're hosting. Butterflies continue to capture our imagination, and these transformative creatures offer a wonderful theme to welcome a new bundle of joy. Continue browsing our Stationers blog for more tips on how to host the party of your dreams and make everyone's hearts flutter.