February 20, 2022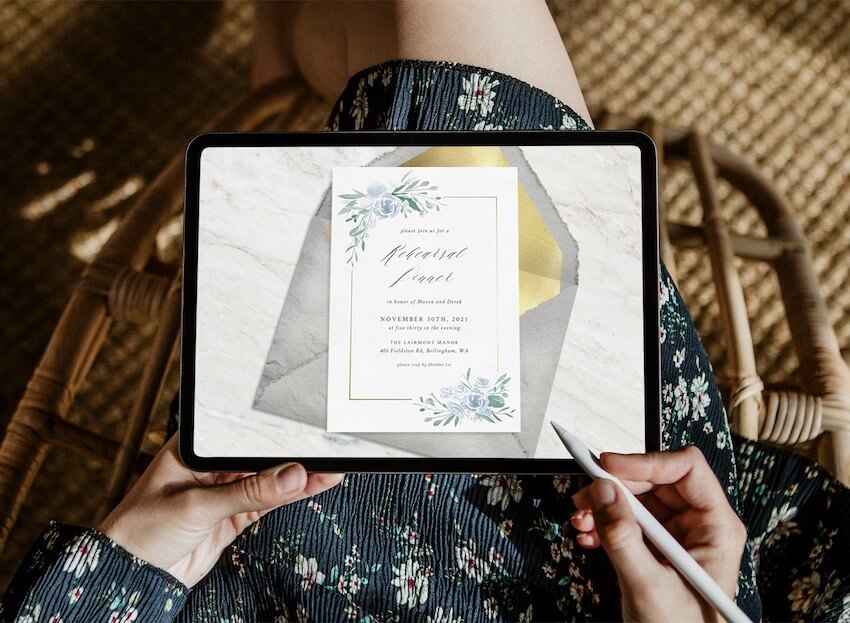 Planning an event can be a lot of work, but we also think it should be a ton of fun. One of the best parts of event planning is sending out invitations. They build excitement for your upcoming event and they're a great way to show off your personality. If you're not sure where to start when crafting your dream evite, this guide will show you how to send an evite using Greenvelope.

How to Send an Evite with Greenvelope
Greenvelope offers thousands of digital invitations spanning everything from birthday parties and anniversaries to wedding invitations and company celebrations. You can send your evites to guest email addresses as well as social media pages and phone numbers. Here's how to send an evite using Greenvelope in six easy steps.
1. Choose a Design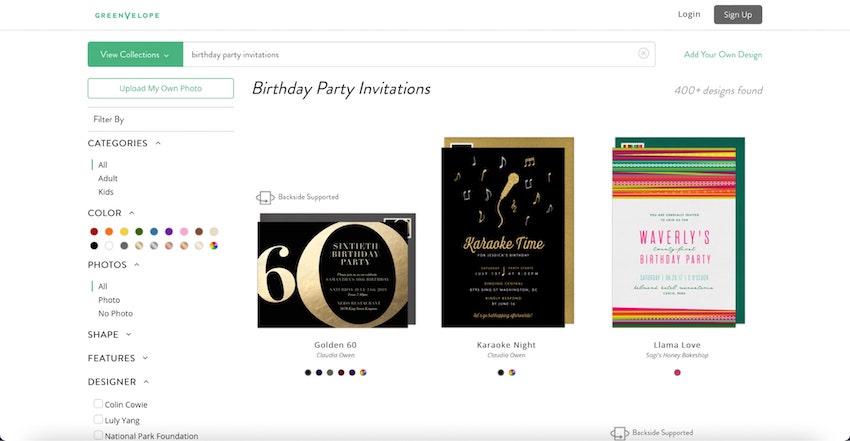 The first step in how to send an evite is choosing a design. You can browse hundreds of online invitations on Greenvelope by heading to the design page. Here, you can use the "view collections" tab to search for a specific type of invitation — such as wedding invitations, baby shower invites, or birthday party invites. You can use the filters on the left side of the page to narrow down options to specific color palettes, shapes, features, and styles. There's even a button where you can upload your own design if you want to craft an evite that's all your own.
2. Edit the Evite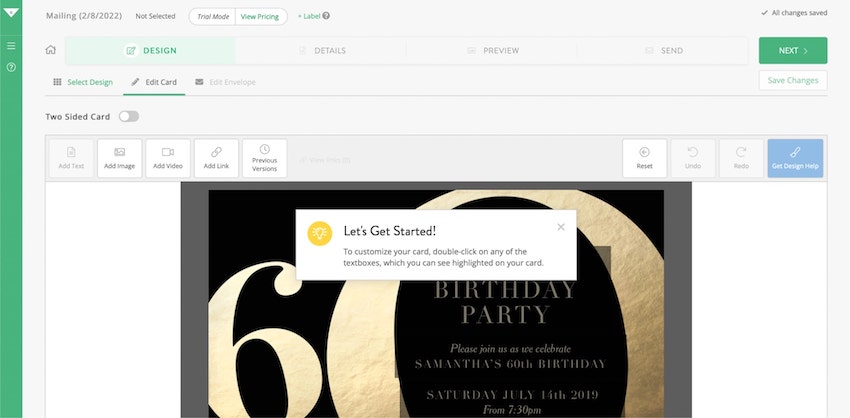 Found the perfect evite template to fit the theme of your event? Click "start customizing" and you'll be taken to the editor view where you can edit and add text, photos, and videos to the design. Here you can upload photos to make it a photo ecard or you can add a video to make it even more engaging. 
During this step, you can also customize the digital envelope for your evite invitation. Choose from different digital stationery options including felt, metallic, deckled, and vellum styles. You can also customize the color palette or add a lining, stamp, or wax seal.
3. Customize the Mailing Details
Once you choose the perfect evite design for your event, you can set the mailing details for the card. You'll start by choosing the type of mailing from the following options:
Invitation and RSVP

: Includes an invite, RSVP tracking, and survey questions — you can track guest menu selections, song ideas, and any other questions you ask via the survey question tool

Save the Date

: A notification card for an upcoming event that doesn't include RSVP tracking

Thank You Note

: Standard or customized thank you cards without RSVP tracking

Card/Announcement

: A greeting card or announcement of a special occasion that doesn't need any RSVP tracking
After selecting the type of mailing you want, you'll enter the party details including the event name, venue name, venue address, and date and time of the event. You can also add music and details such as a gift registry or event website depending on the type of party you're hosting. You can even allow card personalization for each guest to make the invite extra special.
4. Preview the Evite
When it comes to how to send an evite, one of the most important steps is to preview the design and information. That way, you don't send out a card or electronic invitation that has spelling errors or inaccuracies. 
The preview panel mimics the look of your invite as guests will see it. It starts by displaying the front of the invite, then flips around to the back, showing off any wax seals or stamps you chose to include. The envelope then opens up, revealing the invite. 
Make sure to check the spelling of all names, dates, and event details on the card. If the preview is perfection, head on to the next step. If you need to make changes, you can navigate back to any tabs where you need to update information.
5. Send the Evite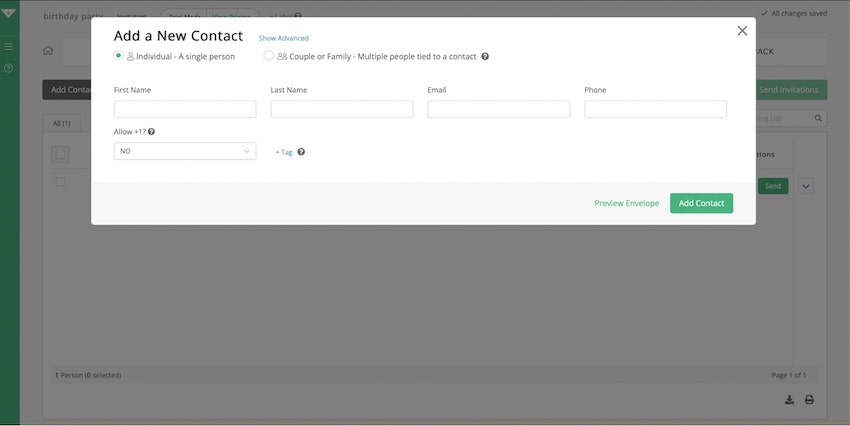 Now that your design and information are all set, here's how to send an evite using Greenvelope. The first thing you need to do is create contact information for everyone you're inviting. You can choose to manually add contacts or you can import contacts from your email provider (Gmail, Yahoo Mail, etc.), your Greenvelope Address Book, or by uploading a spreadsheet with everyone's contact information.
If you don't have the email addresses of everyone you're inviting, you can click "Share URL," which gives you a public link that you can share with guests on social media sites, in your newsletter, or on your website. You can also choose to send the evite via text message or SMS including to Android and Apple iPhones by using the guest's phone number instead of an email address.
In this section, you can also include whether guests are allowed to have plus ones and add tags if you want to be able to sort your guest list into categories — like family and colleagues. Once you have all the guests entered, you can hit send and start sending out the invites!
6. Tracking

Once you've sent the event invitation, you can easily track who is attending, who can't make it, and who you're waiting to hear from. You can also set up event and RSVP reminders to be sent out automatically on certain dates. 
In the tracking section, you can also create name tags and set up seating charts for the event. You'll even see the survey responses (if you choose to send survey questions) in the tracking dashboard.
Benefits of Using an Evite
Sending digital invitations has many advantages over traditional paper invites. First, it's easier to send an online invitation — no need to buy stationery and fancy pens. Plus, you don't have to wait in line at the post office and pay for postage. With evites, you simply choose a design, customize it, and send it off with the click of a few buttons. No hassle and no need to leave the comfort of your home or office.
Second, evites are better for the environment. They don't waste paper and they don't have to be trucked hundreds of miles in polluting vehicles. By choosing a digital evite, you can help protect the planet while still sending gorgeous designs to friends and family.
What's more, sending an evite with an invitation service like Greenvelope means it's easy to make changes with just a few clicks. You can add guests to your dinner party or change the time of a get-together by updating the card. This will trigger a notification letting guests know of any changes — all without running to the post office, making calls, or wasting paper and stamps. Evites save you time and money. 
Get Excited for Your Event With Evite Inspiration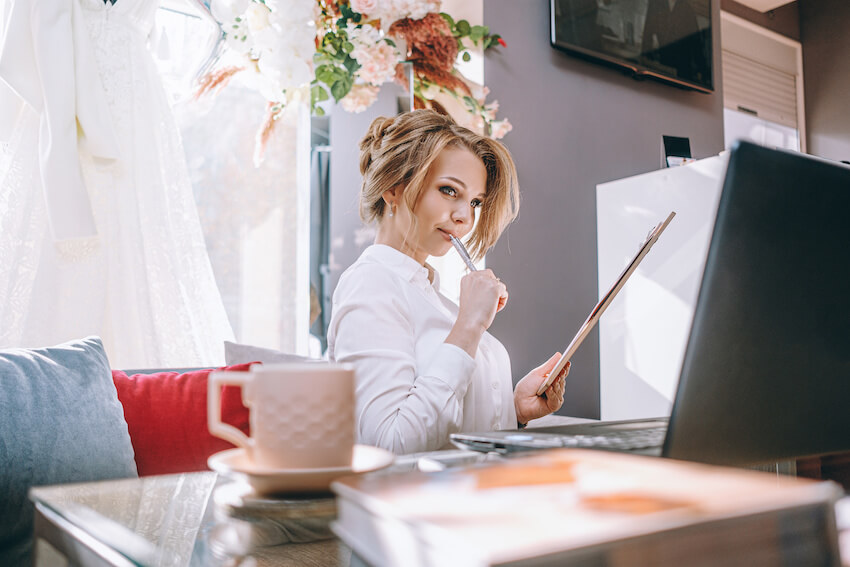 Knowing how to send an evite with Greenvelope opens a world of creativity and simplicity no matter what type of event you're hosting. Create an invitation for any event from a bridal shower or kids birthday party to a bat mitzvah or holiday party using Greenvelope. From premium invitations for fundraisers to casual announcements for a backyard tea party, there's a design for every theme.
Get inspired by our invitation designs that feature professional artwork that ranges from colorful festive cards to elegant and sophisticated styles. Continue browsing our Stationer's blog for more party planning tips including party themes and ideas as well as must-have tips on how to choose the perfect wording for your invites. You can also watch a short intro video going over the process so you can get started on sending your evites right away.