April 18, 2019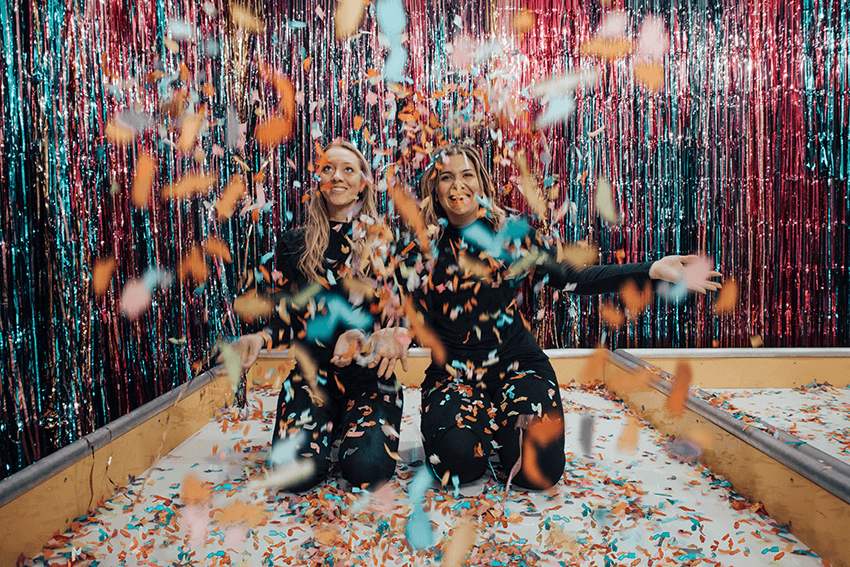 The key to pulling off a successful birthday party? A little cake and a lot of fun. Whether it's a celebration in honor of a child or an adult, you can make this year's occasion truly special with a party full of family and friends. Along with candles and cake, there are several other factors to finalize before the party can start. To help ease you into the planning process, we're excited to share some expert insights that break down everything you need to know for hosting a memorable and modern birthday party.
Share Event Details
Informed guests are happy guests. In fact, any details surrounding your birthday party can be easily communicated ahead of time—all you need is an invite!
Elana Hopman, owner of Annabel Reese, recommends arming your guests with the information they need. "A party runs smoothly when it feels organic, and no one is wondering where to go or what to do next. Before the party, this means sending an invitation with all the necessary information to prepare (like time and date and what to wear). On the day of, I like to focus on details like place cards and menus, or small signs describing food and drinks. These details don't take much time or money to create, but guests appreciate not having to ask questions of the host," explains Hopman. Brett Galley, founder and Director of Special Events at Hollywood Pop Gallery, reiterated the importance of the invitation: "Your invitation is your calling card so make sure it reflects you & your celebration."
Make it Personal
Planning a party is only half the fun. The other half is expressing your creativity and personal style.
Clara Isabella Boatto and Eva Zoe Trevisan of Design Anarchy by Chic Weddings encourage you to, "Be uncommon. Don't limit yourself to what you see on Pinterest. Instead, opt for a celebration that truly reflects your personality. For instance, if you love cooking, invite a chef to lead a pasta or pizza-making class with your guests for an experience they won't forget. If you love cocktails, have a mixologist onsite to serve a signature cocktail in your honor."
Plan a Budget
Whether you want to spend $30 or $3,000 on your birthday celebration, you'll need to establish a budget.
Sarah Carroll of Small Shindigs explains, "My number one tip for planning a party is to have a budget in mind and prioritize the items that are most important to you. This will help you get clear on where you want to put your money and what you want guests to enjoy most. For some, that's the food, for others it's decor. Once you have that list, it will be easy to spend your time researching what matters most to you."
Establish a Theme
Themes have a way of making a party feel extra special, but that doesn't mean you have to go completely over the top.
Vanessa Valiente, the creator of V-Style, explains, "Themes can detour some guests from coming and enliven others, so create a theme that no one has to shop for. The best way to prevent people from skipping due to the theme is to choose one that is already in their closet. I recently threw a color theme party that requested everyone be dressed in color. The party was truly sensational. Everyone commented on how all the colors energized and entertained them. A friend said to me, "I can't believe how much more fun I was having because of the way we were all dressed."
Regardless of the theme you pick, be sure all of your party details coordinate. "Make sure your food, your decor, your activities (games!) and even your cocktails tie back to the theme," says Erica of HTW Podcast.
Make a Memorable Statement
Want your party to be memorable? Incorporate a visual statement!
Event Producer Brian Worley says, "When planning any type of party, I always like to have one large or memorable statement piece of decor or activity.  Something that is personal to the event and also makes people remember the event. At a recent 40th Birthday party, we did a 40' dessert buffet with the birthday boy's 40 favorite desserts. Everyone know he loves sweets and dessert!" When thinking of how you want to personalize and make a statement, Galley adds that oftentimes "small touches can make the greatest impact," so don't overlook the little touches that can bring the party together.
Assign a Mingle Master
Make sure all your guests feel included and welcome.
Executive Producer and Filmmaker April Washko explains, "My biggest party planning tip is to have at least one person in charge of 'connecting the dots.' Someone's job the whole evening should be to make sure no one is sitting in the corner by themselves left out of anything. If someone prefers to hang alone or take a break or something that's fine, but I've thrown many parties, mixers, and premieres, and I always make sure I have at least one person out there to introduce people, chat with the people who seem alone, and make connections."
Activities
There's nothing like a birthday party activity to draw people together.
Emily, Head of Events at Fueled explains, "The hallmark of a great event is making sure every detail is unique. If you plan a party with activities that people have experienced before, they will lose interest faster and won't consider it memorable if they've already experienced similar activities in the past. Moreover, if there is a group activity that draws people together, I find that people tend to have a better time. For example, when I planned my barbecue for SXSW, I made all attendees rate the hot sauces to determine a winner and also had a cornhole tournament. People loved coming together for some friendly competition."
Ciara, personal party host and marketing strategist for Fueled, recommends planning an activity where guests can create something. She explains, "When guests are involved in the main activity of an event, it not only helps to break the ice and create bonds with other guests, but it also provides entertainment they can take part in (and potentially learn from). Some ideas for kids: arts and crafts or creating your own sundae (or other type of food). Some ideas for adults: a gourmet cocktail class or cooking something together (homemade pasta, dumplings, or a fun dessert). Guests will love being involved and will be happy they don't have to worry about the mess or clean up afterward."
Lucy of Hello Baby Bump explains, "When it comes to planning a memorable party, my number one tip is to always have music playing and something available to do. Parties become boring if everyone is just chatting away, and there may even be bouts of awkward silence. If you constantly have music playing, it sets the atmosphere and encourages people to dance and have fun. Having activities or things available to participate in also decreases the possibility of boredom. They don't have to be expensive either, things like a ping pong table, musical chairs, a deck of cards, musical statues, or a dart board are great options."
Plan a Menu
One of the best things about a birthday party? The food. Whether it's a full meal or simple snacks and treats, food is a key element to any birthday celebration.
Chef Shelley of Chef in the Burbs explains, "Food can make or break your event. Good hosts consider the time, length of event, and type of guests when planning a menu. Is it an afternoon birthday for your bestie? Then there's no need to serve a meal, but if it's at noon you should provide lunch. For a cocktail party from 5 – 7 p.m., light nibbles are fine and your guests won't expect a full meal. At a party for an 18-year-old, you will need to have plenty of food available. The best thing you can do is set expectations on the invitation. Stating that 'light refreshments will be served' or 'dinner will be served' lets your guests plan accordingly."
Valiente adds, "Always plan for snacks or food to be served half way through the party. This prevents guests leaving because they're hungry or guests overindulging in alcohol."
What other party planning or hosting tips would you recommend? Share with us on Twitter or Instagram!