November 21, 2017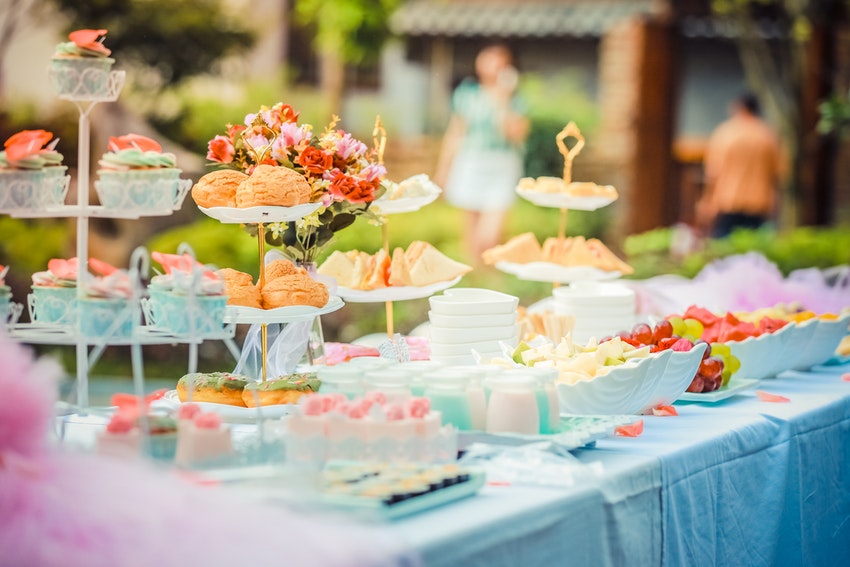 There's certainly nothing wrong with a traditional baby shower, especially if you know the mom-to-be would appreciate a go-to classic. But if you're looking for a theme that's a little more out-of-the-box, we've rounded up some inspiration from fellow party experts to help spark your creativity!
Under the Sea
You can create a gorgeous party spread filled with sea-inspired detailing (starting with the color palette!) We love how an elegant combination of marine blues, sea foam greens, and a touch of blush pink can beautifully tie this whole theme together. Featured on Kara's Party Ideas, this under-the-sea inspiration offers a number of helpful ideas (from clam macaroons to jellyfish jello cups!) First things first, set the stage with an invitation to match. We recommend Signature Greenvelope's What Whale it be or Mermaid Magic invitations.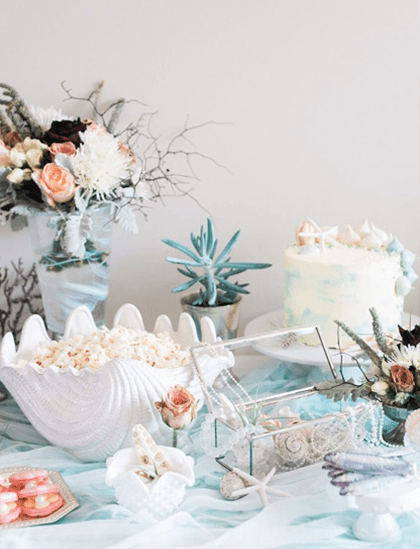 Safari
With just the right touches, your safari theme can come to life. We love how this jungle-inspired baby shower, featured on Catch My Party, incorporates rustic chandeliers with draped greenery, marquee lighting, and s'more party favors (that were pre-wrapped for the taking!) With the right invitation, your safari will begin the moment the envelope is opened (check out Robinson Paperie's Get Wild invitation!)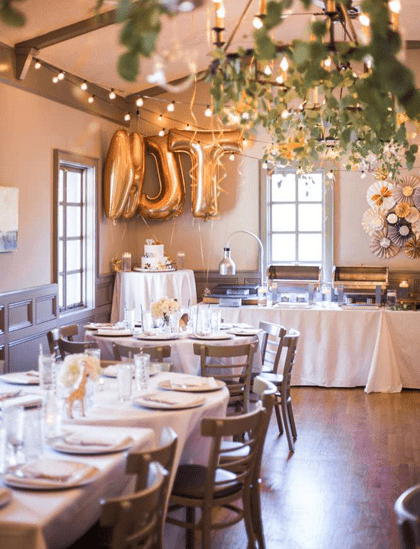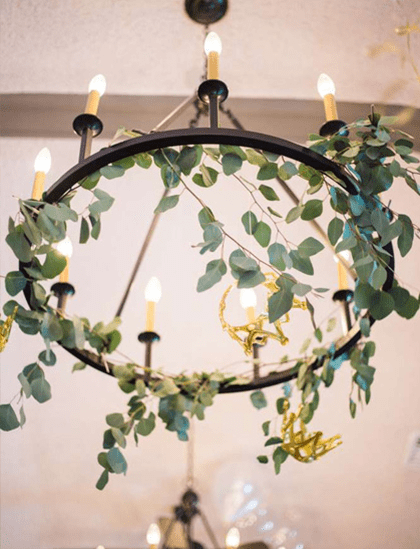 Photos by Kate Garland of Kennedy Grace Photography
Woodland Animals
The great thing about a woodland baby shower is that it's neutral and totally versatile. Keep your eye out for details that have an earthy feel (like burlap runners and wooden centerpieces!) We love how Irina with Sweet Somethings incorporated delicate, white florals to add a touch of softness. Colin Cowie's exclusive baby shower collection include a number of precious, woodland animals that would beautifully set the stage for this theme.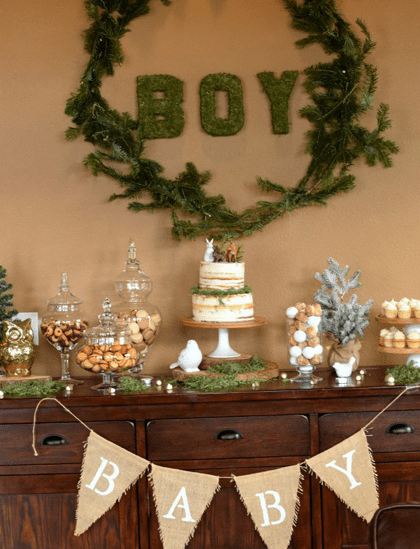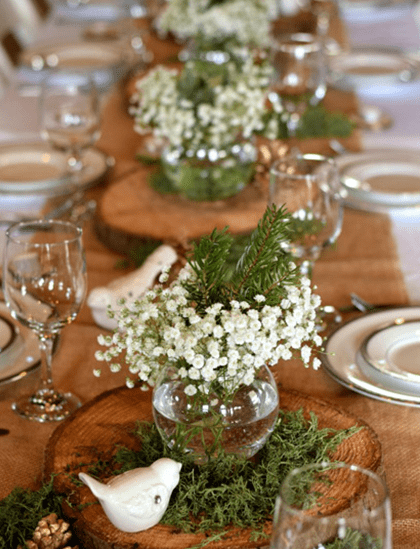 Baby It's Cold Outside
This theme certainly has potential to be one of the coziest (just add hot chocolate and marshmallows!) There's also opportunity to incorporate a gender-neutral color palette of icy blues and wintry silvers. Or, Brit + Co recommends taking a cue from the snow and making your theme all white. Regardless, just make sure you offer a warm beverage and consider an invite that's just a cozy as your décor (like this one!)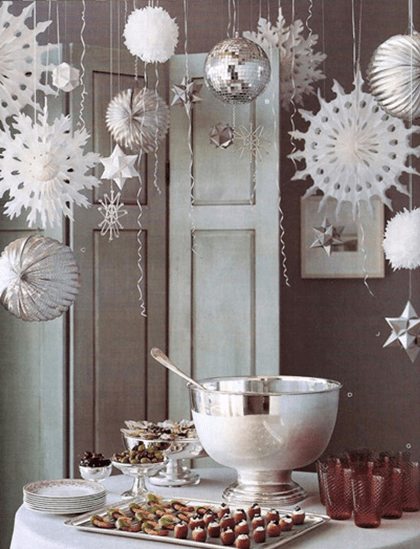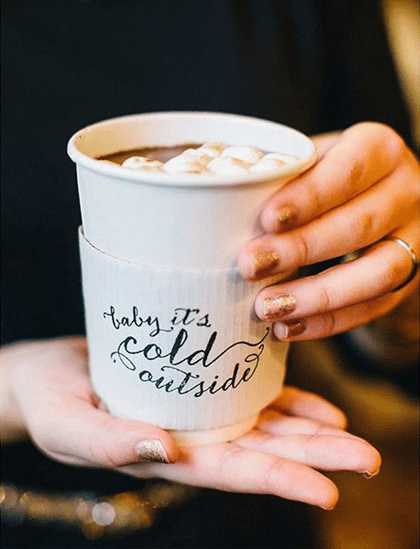 Welcome to the World
Adventure truly awaits with this baby shower theme. You can pull this look off with décor pieces that include old-fashioned globes, worn books and trunks, and vintage cameras. We love how The TomKat Studio added interest to their chair backs with white coffee filter poofs (secured with an elegant, black satin ribbon). Even the simplest of DIY detailing can complete an overall look. You can take this theme one step further by including Colin Cowie's Welcome to the World invitation.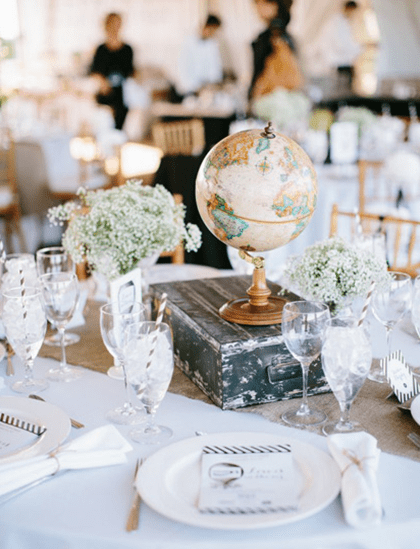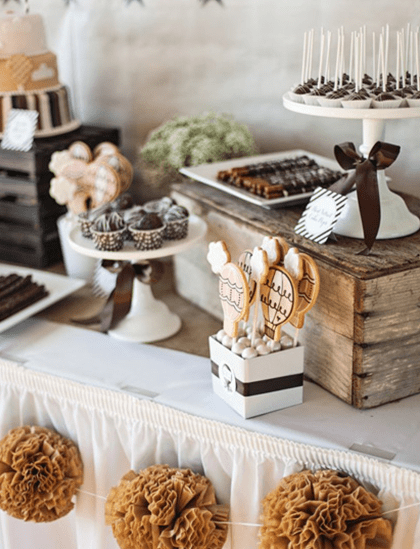 Twinkle Twinkle Little Star
You can keep this theme clean, simple, and modern by opting for a color palette of mostly white with chic pops of metallic. Jenny with Bloom Designs incorporated gold accents wherever possible (including the dessert table!) You can even incorporate a subtle metallic pop on your invites, like this Twinkle Little Star invite by Robinson Paperie.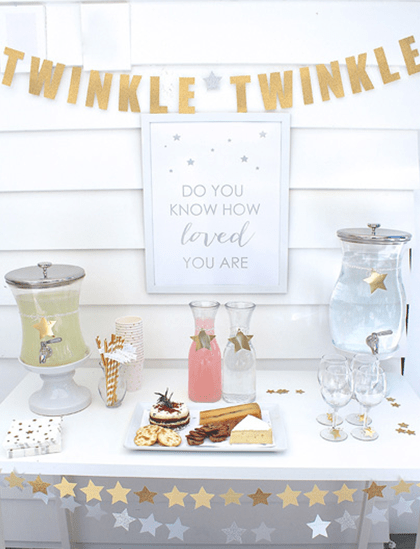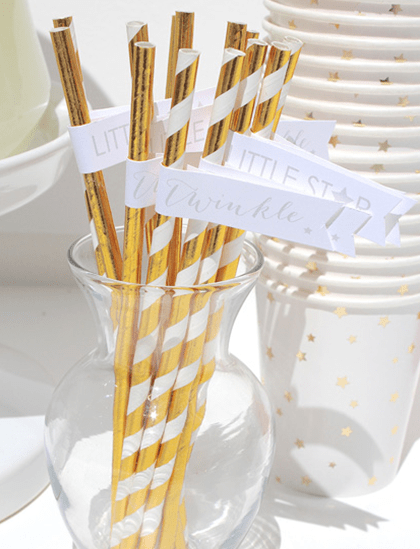 Mommy to Bee
This theme is both beautiful and buzz-worthy. Cheerful, bright tones of yellow pair beautifully with rustic, wood-toned accents or gray neutrals. We absolutely love how Joanna with Queen Tut Events & Design created this eye-catching honeycomb structure (made from wooden hexagons!) You can kick this theme off with a festive invitation to match. We recommend Elizabeth Silver's Mom To Bee invitation.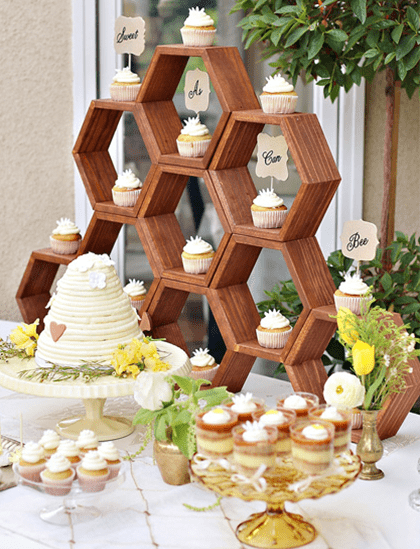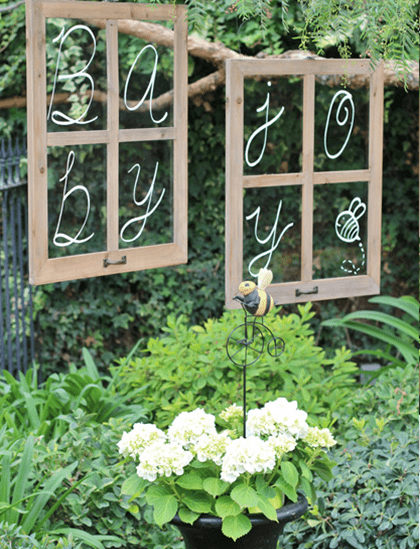 Still in need of inspiration? We have a full collection of baby shower invites here!